A.D. Cook is an avid motorcycle enthusiast and an internationally renowned master artist whose brilliant career spans decades. His creative imagery busts out of traditional art forms, leaving collectors marveling at his paintings' power, passion, and detail. The very nature of his art provides a lifetime of lasting enjoyment and increasing value for his collectors.
A.D.'s original paintings are often featured in magazines and books as masterworks. In addition, his art has been exhibited in galleries from Key West to Hawaii, and he has been a featured artist at ArtExpo in New York City.
His current art series features larger-than-life creations that showcase pride and patriotism through iconic American motorcycles and sports cars.
Visit the LUSTER: Realism and Hyperrealism in Contemporary Automobile and Motorcycle Paintings page for updates.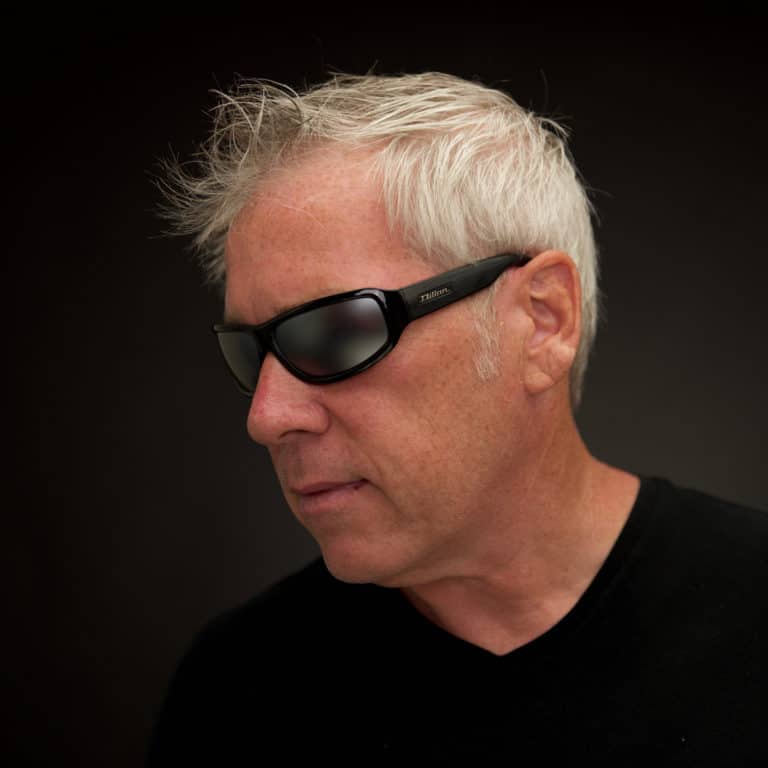 I learned that I was an artist very early – it was more of a knowing than learning. I remember drawing and painting as a five or six-year-old child and realizing, "This is it, I'm an artist." From that point on, I dedicated my life to developing my talents.
As a young artist, I traveled the country with my family – often moving from state to state, sometimes two and three times a year. Along the way, I developed my self-nurtured natural talent and passion for art. Although I was always the new kid, I quickly made friends with my pencils and paper, drew mascots, and designed sets for school plays and productions. Later, I drew portraits for friends to hone my skills. While I've explored several creative disciplines, drawing and painting have always remained my primary focus.
During the late '80s through the early '90s, I served as the marketing force behind the massively successful and fast-growing Hollywood Video stores. During my five-year tenure, I created and managed their corporate identity. However, my greatest joy at Hollywood Video was painting dozens of large-scale murals of movie stars and Hollywood personalities that ultimately ended up on the walls of stores across the nation.
After leaving Hollywood Video in 1994, I refined my creative skills, producing a series of realistic motorcycle paintings and other subject matter before finally transitioning to mostly figurative artworks and abstract originals.
My search for the perfect inspiring genre led me to focus predominately on fine figurative art. I was always a fan of classically beautiful women. I was propelled to begin collaborating with contemporary muses to explore the creation of original epic art that celebrates their timeless beauty.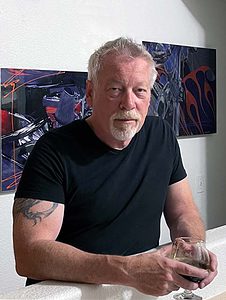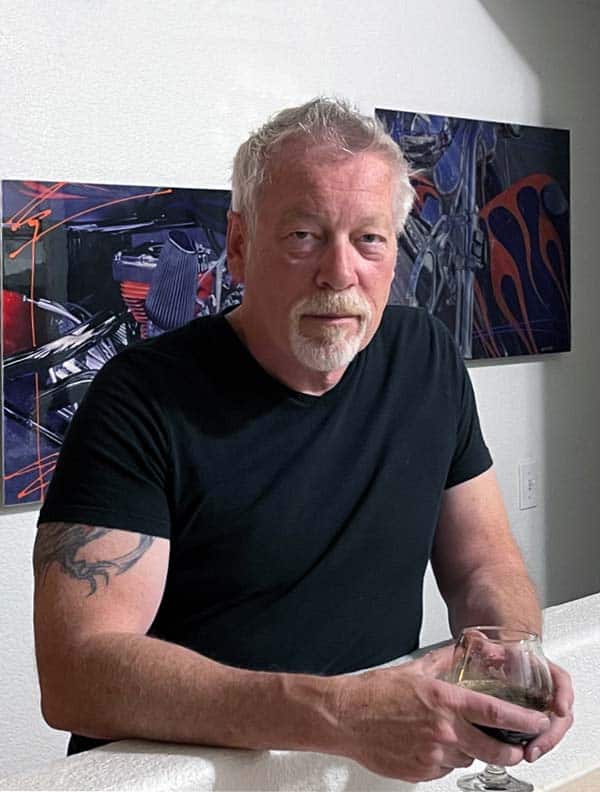 Today, I create original fine art nudes and figurative artworks on specially prepared canvas and hand-ground metal. Most are painted life-size and more prominent, featuring a contemporary approach to this time-honored genre. My imagery bursts out of traditional art forms, leaving viewers appreciating their sensual nature, beauty, and detail. My metal creations are often compared to sculpture and holographic mediums – dimensionality and motion are visible in every artwork.
My paintings are truly unique, not only in their painting process but also in their preparation. I meticulously prepare my canvas and metal surfaces specifically for each intended artwork. Every painting goes through several steps throughout its creation process. Using various mediums, each piece is crafted from beginning to end, producing an original artwork to create something unique and inspiring. My pearl canvas series and metal paintings change appearance with shifting light throughout the day. A painting viewed by sunrise looks entirely different in the evening.
The very nature of my artwork provides long-lasting beauty and enjoyment. I hope they bring you lasting pleasure, as they do for me.
• • • • •