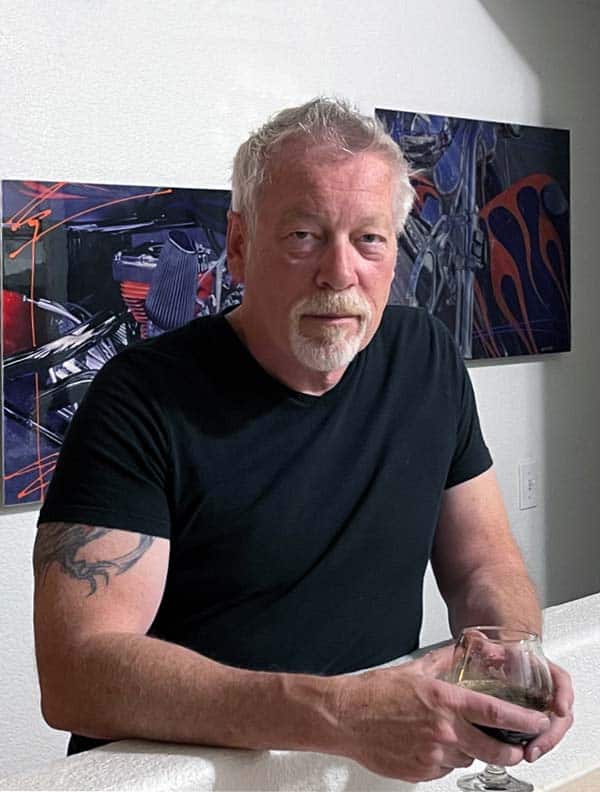 Forever an artist, A.D. started drawing early and has explored a variety of created media and techniques over a lifetime.
The artist's original paintings are featured in magazines and books as masterworks. In addition, his artworks are exhibited in national museums and galleries from Key West to Hawaii, and he has been a featured artist and speaker at ArtExpo New York City and Las Vegas.
In the Spring of 1989, A.D. accepted a position with Hollywood Entertainment dba Hollywood Video stores in Portland, Oregon, to create dozens of large-scale hand-painted murals of movie stars and celebrities for the growing retail giant.
Five years later, A.D. left Hollywood Video and formed a successful graphic design and print brokerage firm in Portland, Oregon's Pearl District.
During that period, he began producing a series of realistic paintings of iconic American motorcycles and abstract artworks while managing the design firm.
In 2004, he created the first of many life-size realistic fine art nudes on specially prepared canvas and metal, represented and sold in art galleries coast-to-coast.
A.D.'s creative imagery busts out of traditional art forms, leaving collectors marveling at his artwork's power, beauty, and detail.
The very nature of his art provides a lifetime of lasting enjoyment and increasing value for his collectors.
A.D. Cook currently resides in Las Vegas, Nevada, USA.
Featured in Airbrush Action Magazine, Airbrush Magazine, American Art Collector, Art & Beyond, Easyriders, Las Vegas City Life, Las Vegas Weekly, L'Vegue, ModelsMania, Quick Throttle, and The Ultimate Airbrush Handbook.
Thanks for taking the time to visit my online art archive.
I'm excited to share my collection of 145+ artworks created over a lifetime.
I love creating art, but knowing that you enjoy my work brings me even more joy. My art is  created to be shared.
So, I invite you to browse this site and stay tuned for new art as added.