Italian Sports Car Day just keeps getting better and better.
This past Sunday was the third year for the event hosted at Siena Italian Authentic Trattoria "Where the best Italian food meets the best Italian cars." There was no shortage of beautiful cars showcasing Maserati, Alfa Romeo, Fiat, Ferrari, and of course, Lamborghini.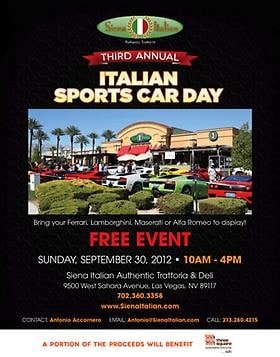 September 30, 2012 — Italian Sports Cars Day was the third annual event and ran from 10 am – 4 pm at Siena Italian Authentic Trattoria & Deli at 9300 West Sahara in Las Vegas. This event is always free and open to the public. Guests enjoyed the opportunity to view some of the finest Italian sports cars, and car enthusiasts were also encouraged to display their Italian pride and joys. Guests enjoyed live music, a raffle, and wine tasting with a portion of wine sale proceeds and all raffle ticket sales benefiting Three Square Food Bank, feeding hungry children in Las Vegas. The turnout for this year's event was awesome, especially considering that there was no shortage of local car events this past weekend and the President was also in town. I had a great time catching up with friends and taking in beautiful cars. It's no secret that I am a car fan – especially Italian exotics – so I look forward to this event now every year.
Each year, I help my buddy Tom Brazill at Lamborghini Las Vegas by driving a car down and hanging out for the day. Why? Because that's what buddies do – lol. Seriously though, the crowd is so great, the weather perfect, and the food at Siena Italian so awesome; how could I resist? This year, my buddy professor, Michael Andreas, also joined us as a driver. Also present is Tony, Tom's assistant.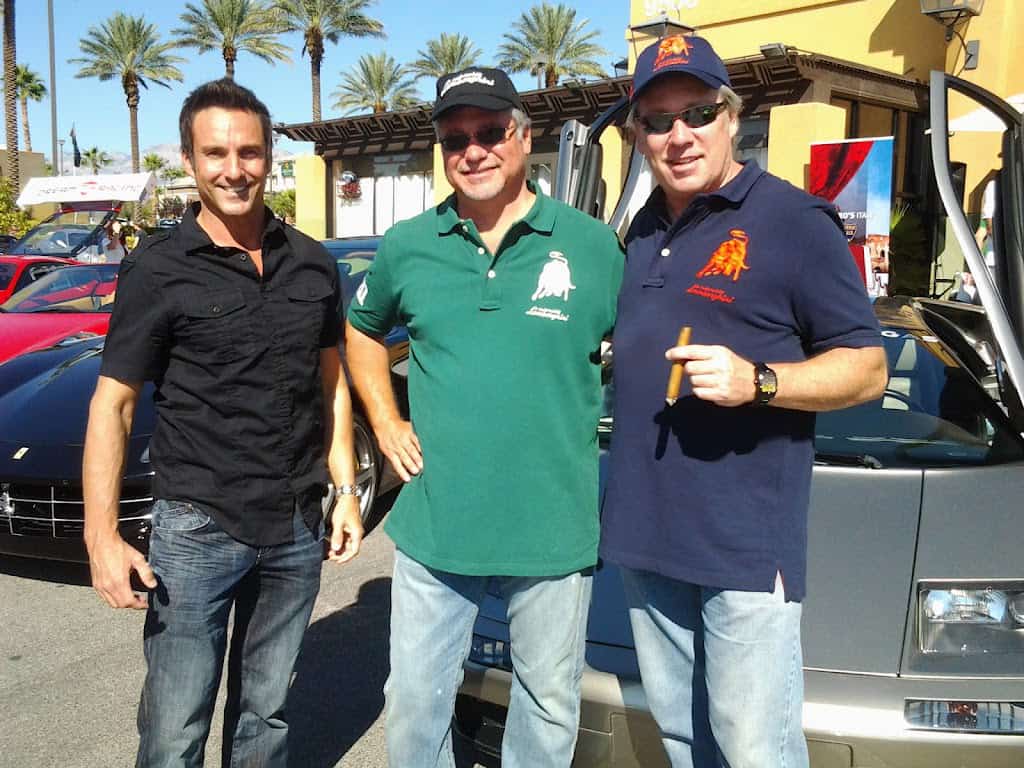 above: Michael Andreas, Tom Brazill, A.D. Cook (photo courtesy of Rose Harrington)
For my part, I drove my favorite Lamborghini of all – the LP-700 Aventador. What an amazing car: beautiful, powerful, and refined – for me, the perfect exotic. This year's model is green, aka Verde Ithaca.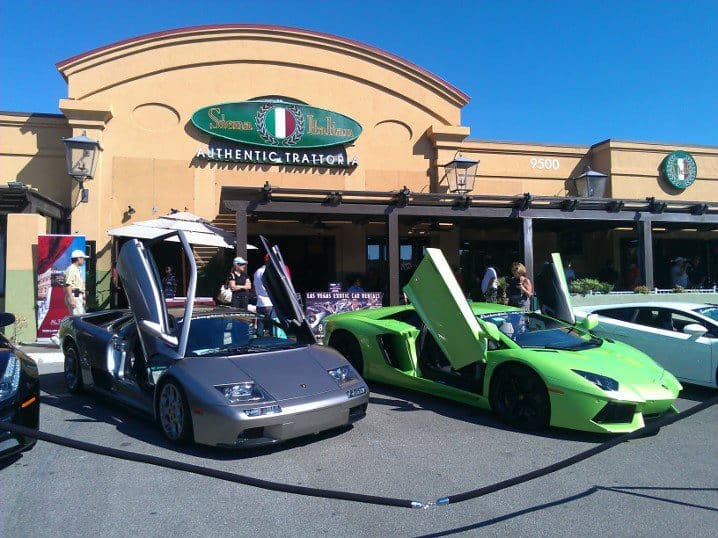 The Lamborghini Diablo and LP-700 Aventador guard the gate at Seina Italian.
All-in-all, nine Lamborghinis were represented this year – the four we brought along with five others to round out the selection of eye candy. It was a great showing of both new and classic models alike.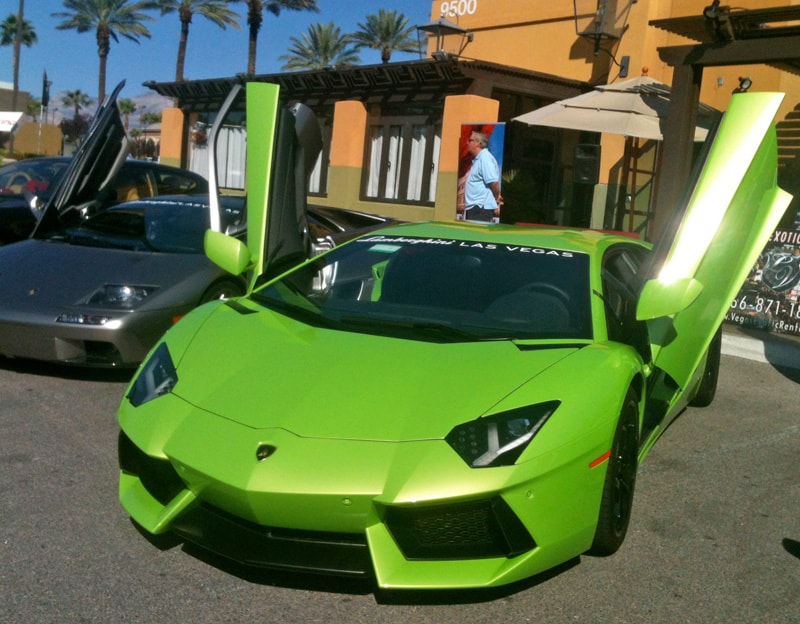 The 2012 LP-700 Aventador… inviting.
1967 Lamborghini 400GT 2+2
If Ferrari is your style, this was probably one of the best outdoor representations around. While I didn't do a count, there were easily a couple dozen or so.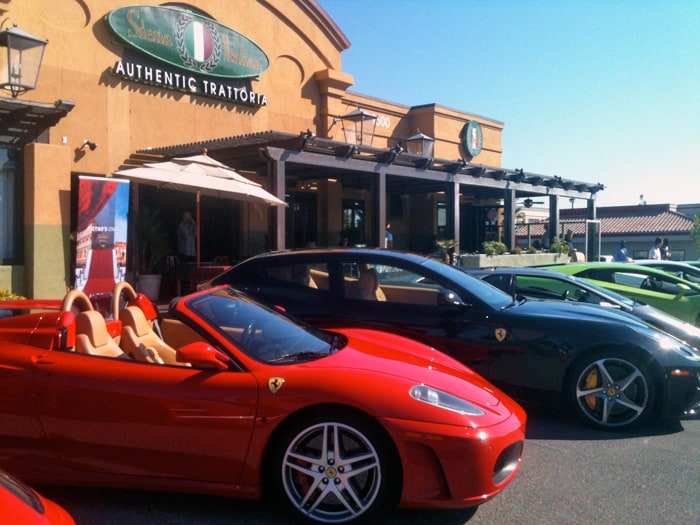 Italian beasts everywhere.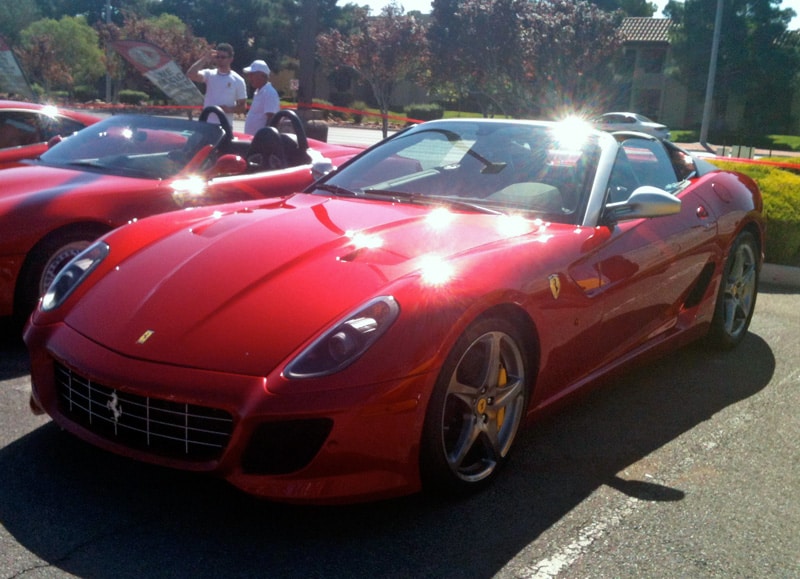 The very rare 2012 Ferrari 599 SA Aptera Cabriolet.
Antonio unveiled his spankin' new and super rare Ferrari 599 SA Aptera Cabriolet. The SA Aptera is Ferrari's rarest road car, fewer even than the Enzo.
Dream Racing brought out their race-ready Ferrari. This car isn't even close to street legal, so they had to trailer it in for the event.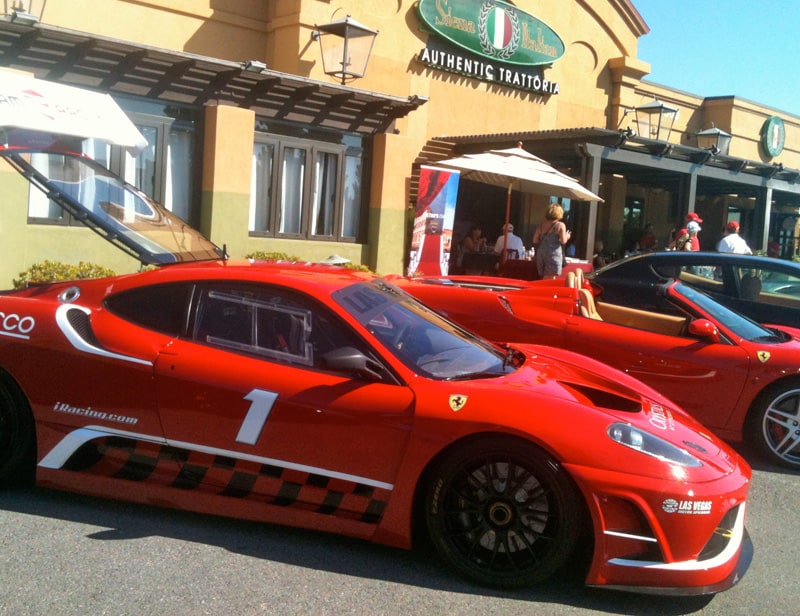 The Dream Racing Ferrari F 430 GT race car.
You can catch Dream Racing at Las Vegas Motor Speedway for an authentic Italian racing experience or online at DreamRacing.com. Dream Racing offers thrill-seekers the opportunity to become race-car drivers for the day, taking a track-ready Ferrari F430 GT (above) for fast laps just like a professional.
I'm tellin' you… there is so much to enjoy at these events. As if the exotic cars and great crowd weren't enough, fantastic live music was inside.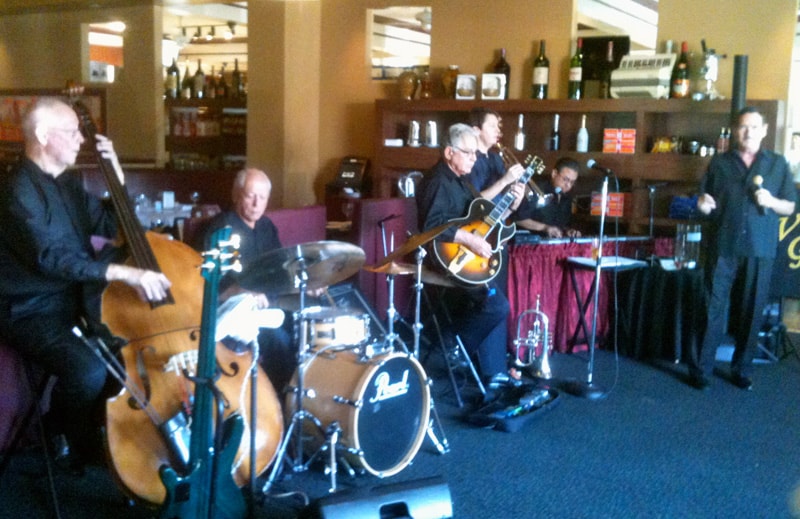 The Vegas Good Fellas.
Throughout the day, The Vegas Good Fellas were joined by local talented musicians and singers performing in old-school Vegas tradition.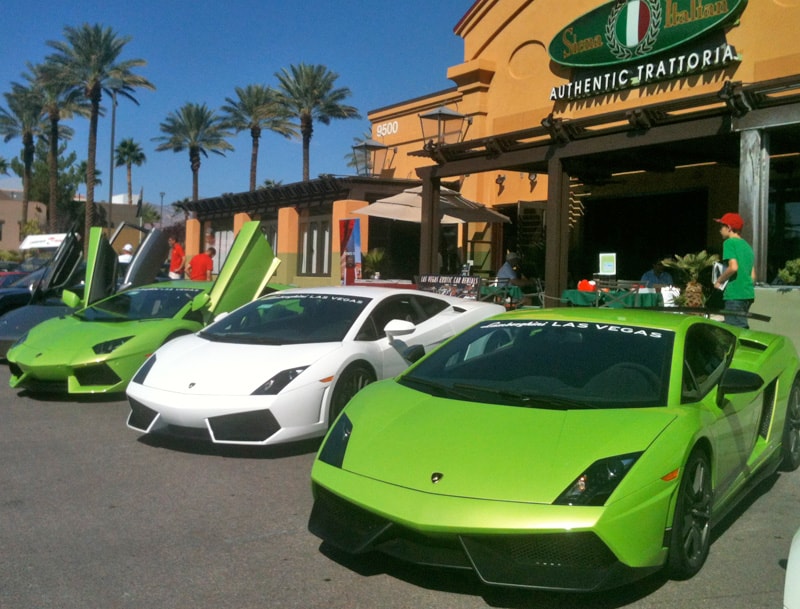 A beautiful thing… Lambos are ready to roll.
It's always a great time. I'm already looking forward to next year's Fourth Annual Italian Sports Car Day. Until then… Cheers!

Lamborghini Las Vegas — Follow Tom at Twitter|SinCityLambo
Special thanks to Antonio Accornero of Siena Italian for hosting this great event and to Tom Brazill of Lamborghini Las Vegas for including me.
Also, thanks to Rose Harrington for the pic above of Mike, Tom, and me. If you're you are ever looking to plan a divine trip to Italy to visit exotic car makers, contact Rose at Altour (altour.com) or email her at [email protected]
• • • • •
5TH ANNUAL FATHER'S DAY CAR SHOW    |    LAMBORGHINI LV GRAND OPENING    |    2ND ANNUAL ITALIAN CAR SHOW