The Three Graces of the 21st Century
It's my pleasure to invite you to share in my celebration of beauty and experience my passion and creative energy embodied in an original, epic, and contemporary figurative painting on metal.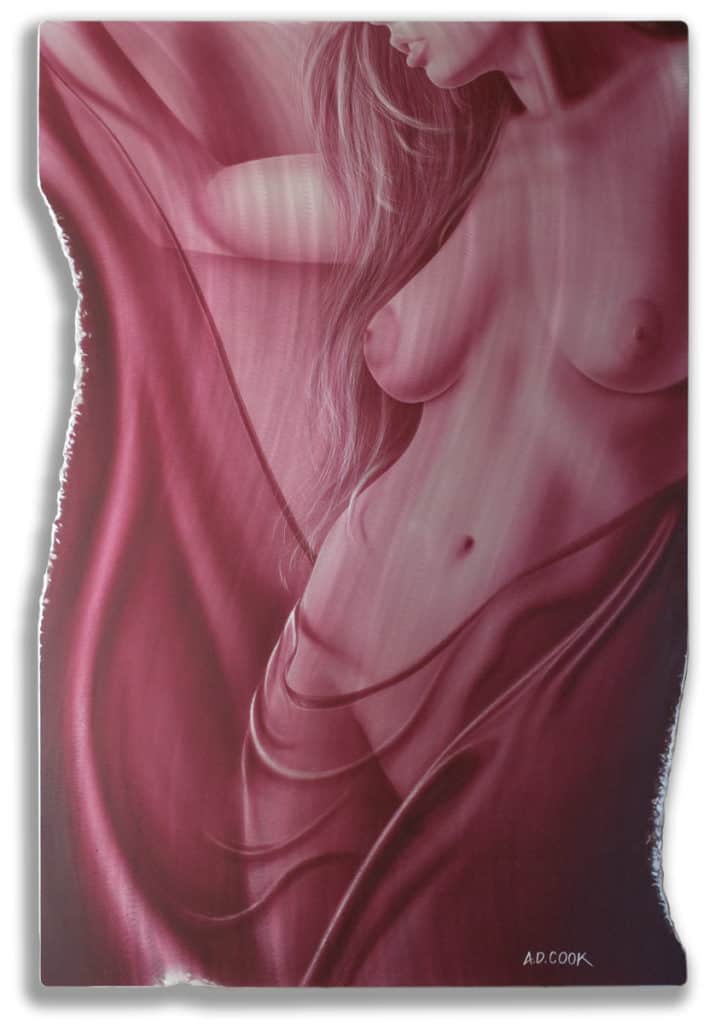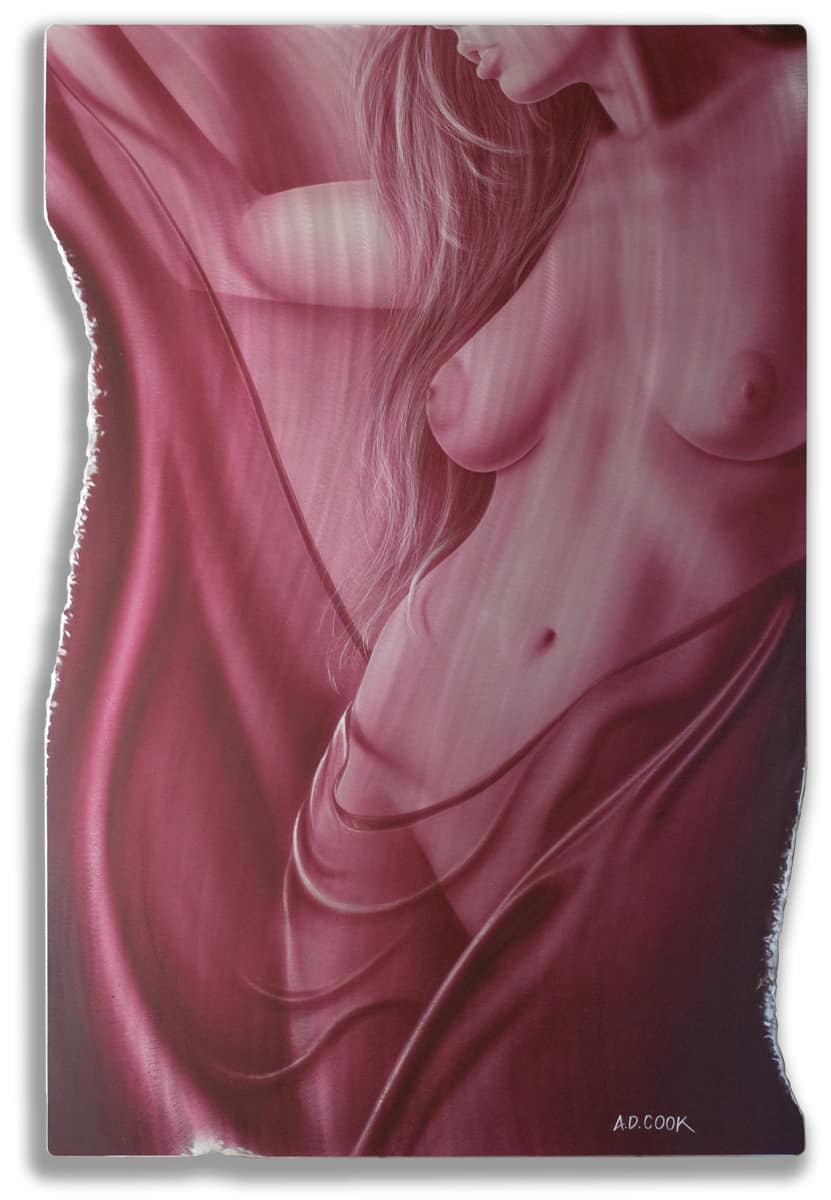 Beaujolais, 2011 ~ 54" x 36"
To love beauty is to see light. ~ Victor Hugo
The Three Graces
The Three Graces, goddesses of charm, beauty, and creativity, has been an iconic inspiration for artists throughout the centuries. This enduring theme has inspired Raphael, Rubens, Canova, and other masters of the past. Their touchstone is timelessness.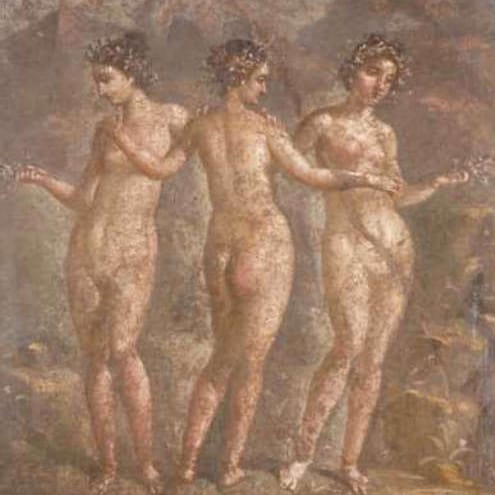 The Graces in a 1st-century fresco at Pompeii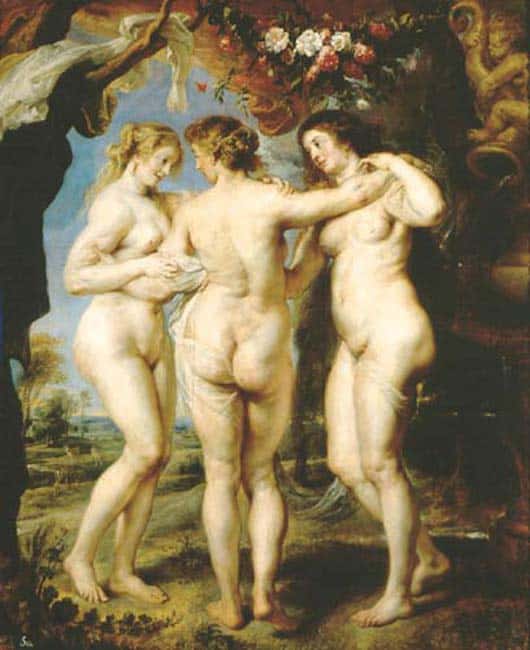 The Three Graces ~ Peter Paul Rubens 1639
A thing of beauty is a joy forever: its loveliness increases; it will never pass into nothingness. ~ John Keats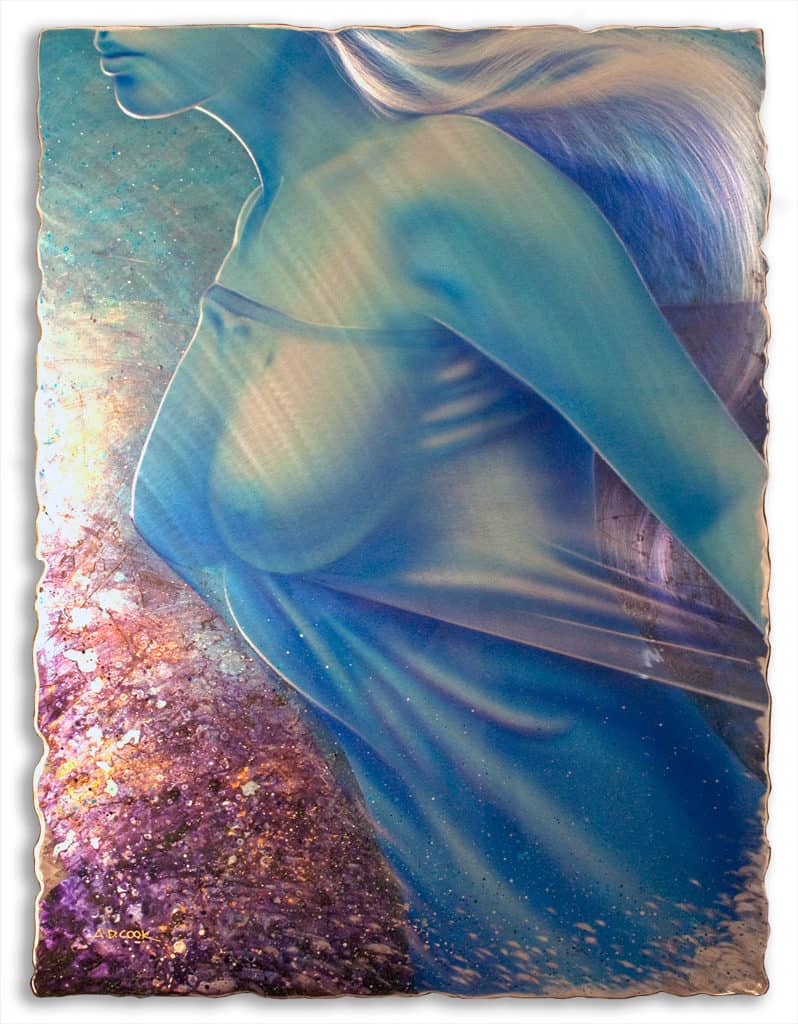 Brooklyn, 2011 ~ 40" x 30"
My 21st-Century Approach
Like artists before me, I am inspired by great natural classical beauty. Since 2002, powerful art nudes have been the focus of my art and creative energies.
Unlike artists before me, my approach celebrates beauty and energy in true 21st-century style. My signature process produces a seemingly holographic effect reflecting this engaging imagery uniquely and stylishly.
My metal art dynamically alters in appearance as natural light shifts throughout the day to display lighting by night. With my metal grinding processes, unique treatments, and color-shifting pigments, only my original paintings exhibit this illusion so dramatically.
Inspired by the classics, I intend to create a contemporary version of the Three Graces masterpieces paying homage to their time-honored lineage.
The Three Graces of the 21st Century will be the masterwork of my body of art to date and begins with a single sheet of specially-prepared metal — 4 ft. x 10 ft. in dimension — transformed into my interpretation of this timeless and iconic theme. This particular hand-crafted artwork will be unique in every regard.
Beauty is eternity gazing at itself in a mirror. ~ Khalil Gibran
Exclusivity
Beauty is fleeting. Art is eternal. This is a rare and exclusive opportunity to participate in the creation of an epic original artwork and be part of a truly historic project.
An original creation of this special will require naturally beautiful women of the highest caliber. Therefore, I will meticulously hand-select three perfect models for this masterwork to reflect the essence of charm, beauty, and creativity.
Only one exclusive painting of epic proportions will be created as my Three Graces masterpiece. It will measure approximately four ft. tall x 10 ft. wide, featuring my three world-class muses. Furthermore, I will never authorize its reproduction.
Your Participation…
We'll begin with a photo shoot with our three muses in a spectacular setting. It could be a Las Vegas mansion or other exotic location. Traditionally, the photoshoot is a beautiful day of creative energy. You may be called upon to participate actively as my assistant.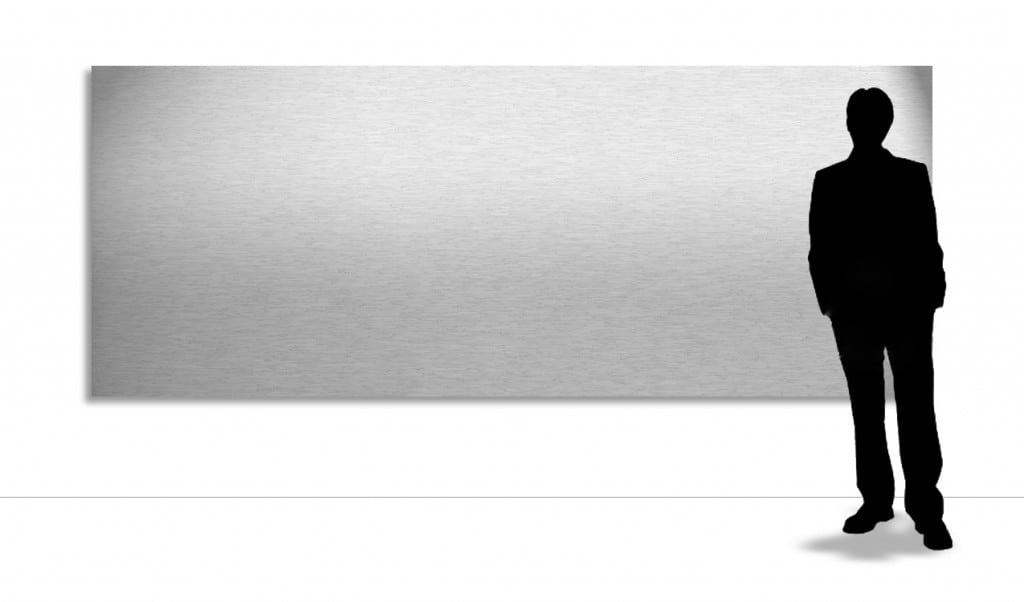 for scale: proposed artwork 48″ x 120″
Following the photo shoot, I will select the images that inspire my artwork.
Next is the process of grinding the metal according to the flow of energy and imagery that I intend to capture. This is a very intense and time-consuming step and an important one in achieving the holographic illusion my metal art is known for. Once I've completed preparing the metal surface, I will meticulously paint, scribe and apply other treatments to obtain the same imagery I envisioned before adding my organic edges. The next step is to clear and polish the artwork to a deep, high-gloss finish. Finally, the completed painting is bonded to a specially constructed metal structure allowing the art to float from the wall. The entire process will take approximately six to twelve months to complete.
Everything will be documented with video and photography, then journalized online for provenance. A certificate of authenticity will accompany the artwork.
A special unveiling event can be coordinated to share your Three Graces artwork with friends, family, or business associates. As the artist, I will make an appearance and perform the unveiling. The muses featured in the painting can also be invited to attend.
At your request, I will be available to assist with the installation and lighting of your artwork.
Finally, as a beautiful record of our collaboration, the Three Graces project will be documented in a leather-bound book. This coffee table heirloom will be hand autographed by myself and, if possible, our three muses.
"The Three Graces" by A.D. Cook is offered as a commissioned creation. Serious inquiries only, please. [ contact ]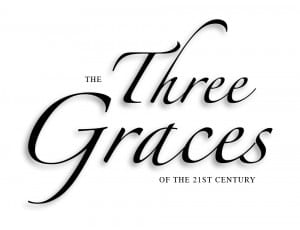 Art is not a study of positive reality, it is the seeking for ideal truth. ~ John Rushkin
---
A.D. Cook is a world-renowned, internationally established master artist whose brilliant career spans decades and includes hundreds of spectacular artworks utilizing various media. His creative imagery busts out of traditional art forms, leaving collectors marveling at his artwork's power, beauty, and detail. The very nature of his art provides lasting enjoyment and increasing value for his collectors.
The international art community continues to recognize him as a pioneer in his genre. His original paintings on canvas and metal have often been featured in magazines and books as masterworks. In addition, his art has been exhibited in fine art galleries from Key West to Hawaii, and he has been a featured artist at ArtExpo in New York City. Since 2002, large-scale figurative art has been his specific creative focus and passion.
---