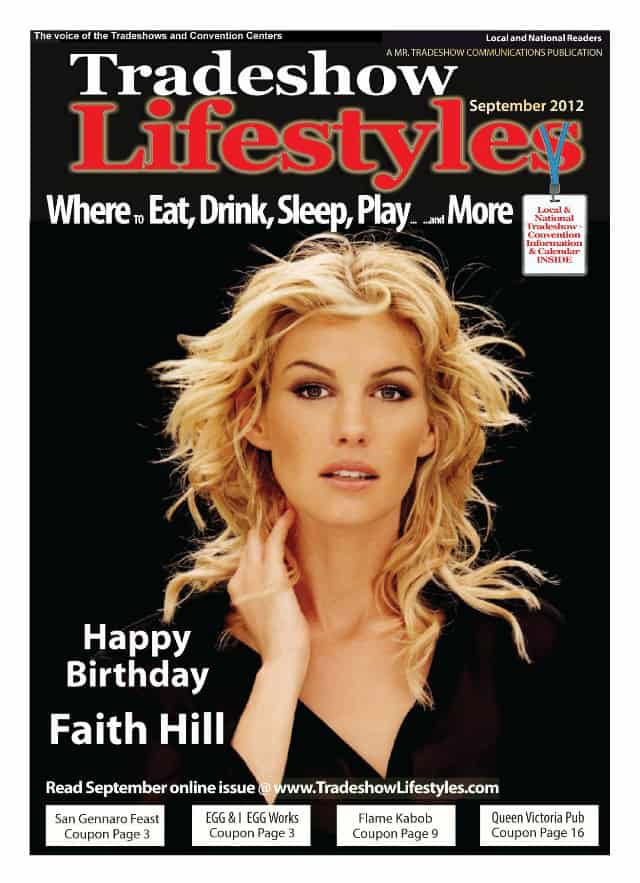 The Art Beat by Steve Connolly
Recently, I was interviewed by entertainer, artist, writer, and friend Steve Connolly for Tradeshow Lifestyles, the voice of trade shows and convention centers in Las Vegas.
Scroll below for the complete interview.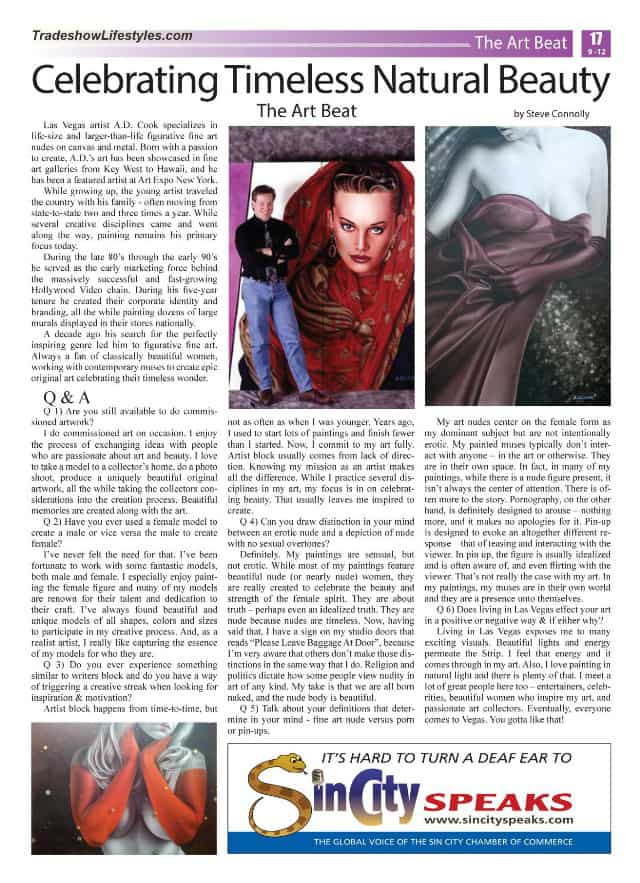 Celebrating Timeless Natural Beauty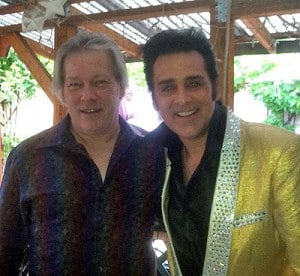 Las Vegas artist A.D. Cook specializes in life-size and larger-than-life figurative fine art nudes on canvas and metal. Born with a passion for creating, A.D.'s art has been showcased in fine art galleries from Key West to Hawaii, and he has been a featured artist at Art Expo New York.
While growing up, the young artist traveled the country with his family – often moving from state-to-state two and three times a year. While several creative disciplines came and went along the way, painting remains his primary focus today.
During the late '80s through the early '90s, he served as the early marketing force behind the massively successful and fast-growing Hollywood Video chain. During his five-year tenure, he created their corporate identity and branding while painting dozens of large murals displayed in their stores across the United States.
A decade ago, his search for the perfect inspiring genre led him to fine figurative art. However, he has always been a fan of classically beautiful women, working with contemporary muses to create original epic art celebrating their timeless wonder.
Q 1) Are you still available to do commissioned artwork?
I do commission art on occasion. I enjoy the process of exchanging ideas with people who are passionate about art and beauty. I love to take a model to a collector's home, do a photoshoot, and produce a uniquely beautiful original artwork while taking the collector's considerations into the creation process. Beautiful memories are created along with the art.
Q 2) Have you ever used a female model to create a male or vice versa, the male to create a female artwork?
I've never felt the need for that. Instead, I've been fortunate to work with some fantastic male and female models. I especially enjoy painting the female figure, and many of my models are renowned for their talent and dedication to their craft. I've always found beautiful and unique models of all shapes, colors, and sizes to participate in my creative process. And as a realist artist, I like capturing the essence of my models for who they are.
Q 3) Do you ever experience something similar to writer's block, and do you have a way of triggering a creative streak when looking for inspiration & motivation?
Artist block happens sometimes, but not as often as I was younger. Years ago, I started many paintings and finished fewer than I started. Now, I commit to my art fully. Artist block usually comes from a lack of direction. Knowing my mission as an artist makes all the difference. While I practice several disciplines in my art, my focus is on celebrating beauty. That usually leaves me inspired to create.
Q 4) Can you distinguish an erotic nude and a depiction of a nude with no sexual overtones?
My paintings are sensual but not erotic. While most of my images feature beautiful nude (or nearly nude) women, they are created to celebrate the beauty and strength of the female spirit. They are about truth – perhaps even an idealized truth. They are nude because nudes are timeless. Now, I have a sign on my studio doors that reads "Please Leave Baggage At Door" because I'm very aware that others don't make those distinctions the same way I do. Religion and politics dictate how some people view nudity in the art of any kind. My take is that we are all born naked, and the nude body is beautiful.
Q 5) Talk about your definitions of determining fine art nude versus porn or pin-ups in your mind.
My art nudes center on the female form as my dominant subject but are not intentionally erotic. My painted muses typically don't interact with anyone – in the art or otherwise. They are in their own space. In many of my paintings, while a nude figure is present, it isn't always the center of attention. There is often more to the story. Pornography, on the other hand, is designed to arouse – nothing more, and it makes no apologies. Pin-up is intended to evoke a different response: teasing and interacting with the viewer. The figure is usually idealized in pin-up and is often aware of and even flirting with the viewer. That's not the case with my art. In my paintings, my muses are in their world and are a presence unto themselves.
Q 6) Does living in Las Vegas affect your art positively or negatively & if either, why?
Living in Las Vegas exposes me to many exciting visuals. Beautiful lights and energy permeate the Strip. I feel that energy, and it comes through in my art. Also, I love painting in natural light, and there is plenty of that. I meet a lot of great people here, too – entertainers, celebrities, beautiful women who inspire my art, and passionate art collectors. Eventually, everyone comes to Vegas. You gotta like that!

For more information or to get a copy of TSL, call 702-309-8023. Email: Aunt Sharron
Tradeshow Lifestyles 1675 E. Desert Inn Road Las Vegas, NV 89109 702-309-8023 702-309-8027 (fax)
Steve is also a fantastic Elvis performing tribute artist and painter. Visit his site at Spirit of the King.com.
Edited for clarity, grammatical errors, and updated links ~ July 30, 2022