Dream 103. Bike Wash.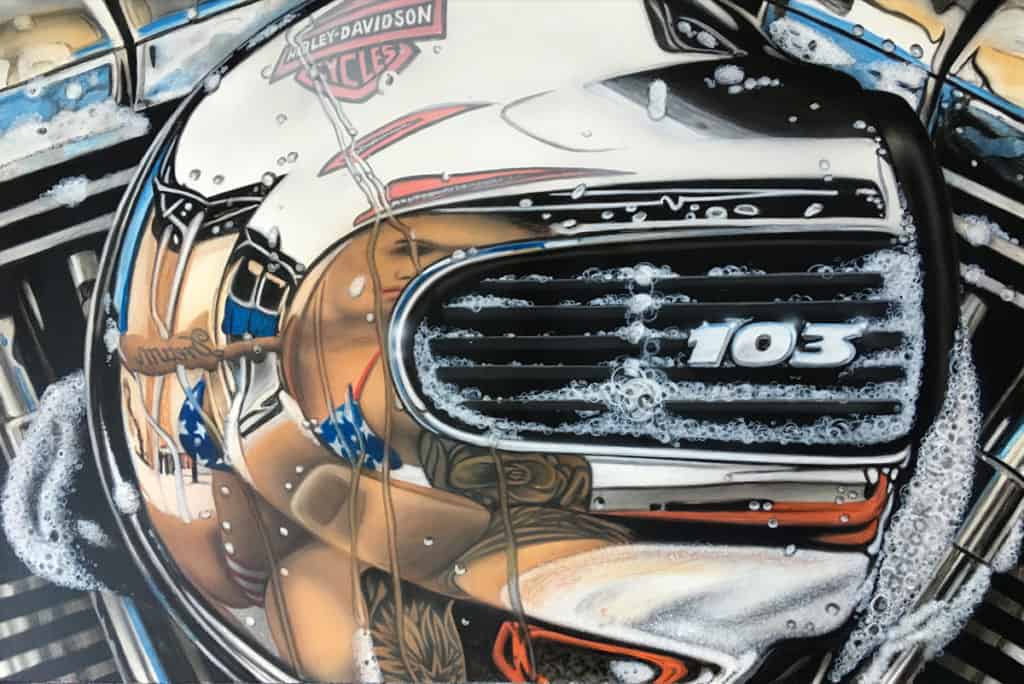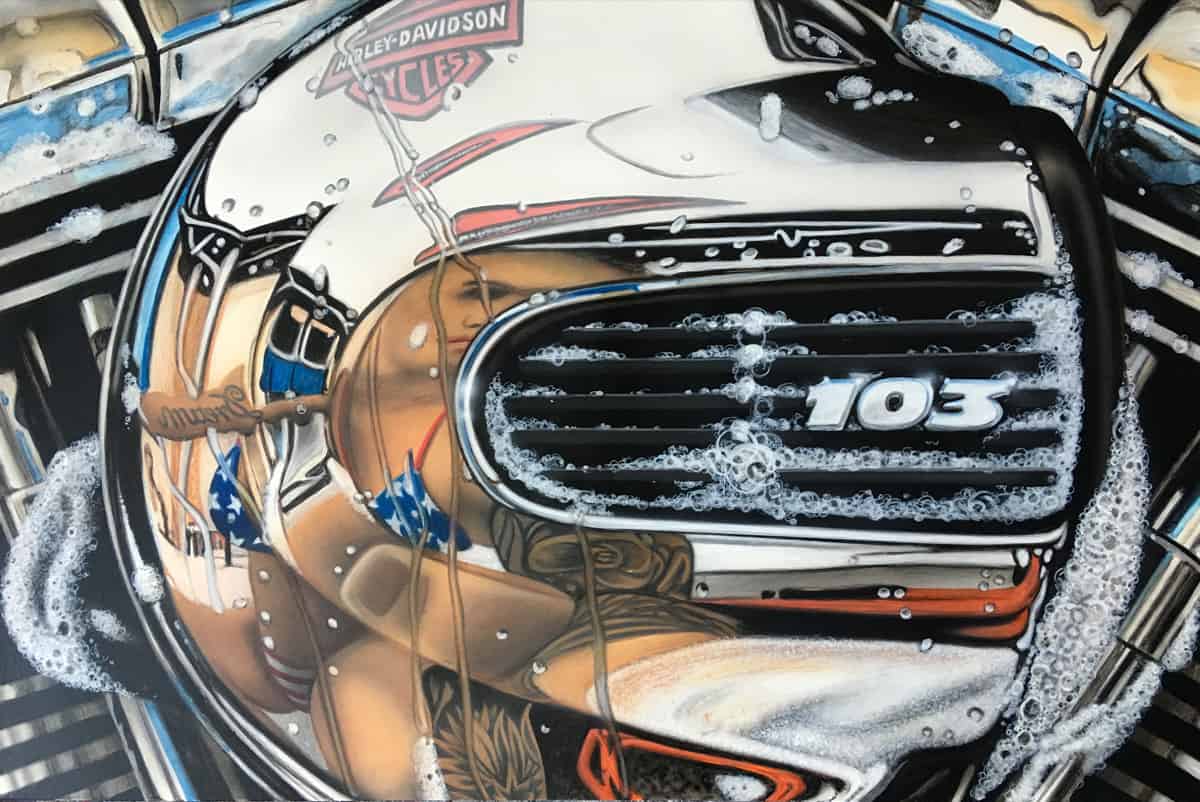 DREAM 103 by A.D. Cook, 24″ x 36″, acrylic on canvas
I'm one of those guys who believes that things happen for a reason, and still believes that dreams really do come true. I'm a little old fashioned that way. A romantic of sorts. And maybe I'm a taste patriotic as well, since both my latest paintings feature stripes of red and white and stars in fields of blue.
DREAM 103 is an inspired piece. I wanted to create something that connected my current series, AMERICA FIRST, with something tattoo inspired.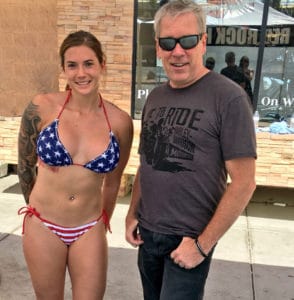 This latest painting celebrates the art of the tattoo. There's actually a lot happening in this painting… first off, it's both motorcycle and tattoo inspired. But, it all came about in a funny sort of way – like a dream, really. I had a completely different vision, but I always try to keep an open mind when it comes to art. I did have a few criteria though: tattoos, motorcycle, and America. Beyond that, I trusted that it would all come together. And it did.
On Saturday, July 2nd, I stopped by Red Rock Harley-Davidson in Las Vegas to be inspired by chrome. While it was only 95 degrees that day, it felt like 103, which coincidentally, is the average temperature for that day ( http://www.accuweather.com/en/us/las-vegas-nv/89101/july-weather/329506# ). As I approached the dealership it became obvious pretty quick that this was meant to be. Why? Glad you asked… well, as it so happened, they were hosting a bikini bike wash that day – and I just happened to have my camera (and a model release) with me. (Hey, I was a Boy Scout – art merit badge and all.)
Two young ladies in Stars and Stripes bikinis with sudsy sponges in hand were washing customer's bikes, protected from that blazing sun by the Harley-Davidson pop-up tent.
It was perfect. One of the young ladies, Ashley was inked with a beautiful tattoo sleeve on her right arm.
I saw it! My next painting. Her tattooed Dream is revealed within the reflections and images are hidden within the soapy suds, including a plethora of skulls – Skin and Bones.
• • • • •
Own the original DREAM 103.
• • • • •
DREAM 103 was created especially for the Skin & Bones Tattoo Inspired Motorcycles and Art Exhibit 2016 at the Buffalo Chip during the 76th Sturgis Motorcycle Rally.
Observe a harmonious marriage of inner power and outer beauty during the 2016 Motorcycles As Art Exhibition: Skin & Bones, curated by renowned motorcycle photographer Michael Lichter. Take a walk through this one-time collection of tattoo-inspired motorcycles and art on display at the Sturgis Buffalo Chip's Russ Brown Events Center, and the experience is sure to leave a permanent mark on your soul.
— Michael Lichter
Source: http://www.buffalochip.com/EVENTS/Motorcycles-As-Art/Skin-Bones
With 30 of the coolest motorcycles in the world on display and around 100 artworks on the walls, the SKIN & BONES show is the art shows of art shows in the motorcycle shows, so I'm honored to share my latest painting at this year's event. ( As a side note, I'm actually showing two pieces – more here: adcfa.com/skin-bones ).
Custom Motorcycle Builders and Artists Prove Beauty Isn't Just Skin Deep in Skin & Bones Exhibition Curated by Michael Lichter.

Over 30 masters of the trade earned the invitation to display one of their custom motorcycles in the 2016 Skin and Bones exhibit. You'll be able to closely examine each of their works as they sit atop elevated pedestals that offer an unencumbered view from every angle.
Artists to present include…
Richie Pan – More than 50 pieces of art by Richie Pan will be displayed in his memory.
Other Artists Include:
A.D. Cook
Darren McKeag
George the Painter
Latricia "Trish" Horstman
Mario Burkhardt
Michael Lichter
Nik Pew
Tay Herrera
Timothy White
Biltwell helmets – There will also be a display of Biltwell "Gringo" helmets painted by tattoo artists from around the country.
This is going to be a great show! And while you're there, check out my paintings. Maybe now is the time to add an original painting to your collection that has a fun story and provenance to share.
Don't miss the once-in-a-lifetime opportunity to get up close and personal with this incredible collection of motorcycles and art at the Buffalo Chip's Russ Brown Event Center, because once the Sturgis Rally is over, it will never be seen again! As always, Motorcycles As Art is free and open to the public.
• • • • •
View "DREAM 103" at the Skin & Bones
Tattoo Inspired Motorcycles and Art Exhibit
Brown Events Center near the East Gate of the Sturgis Buffalo Chip®
Sunday, Aug. 7 through Friday, Aug. 12, 2 p.m. – 10 p.m.
• • • • •