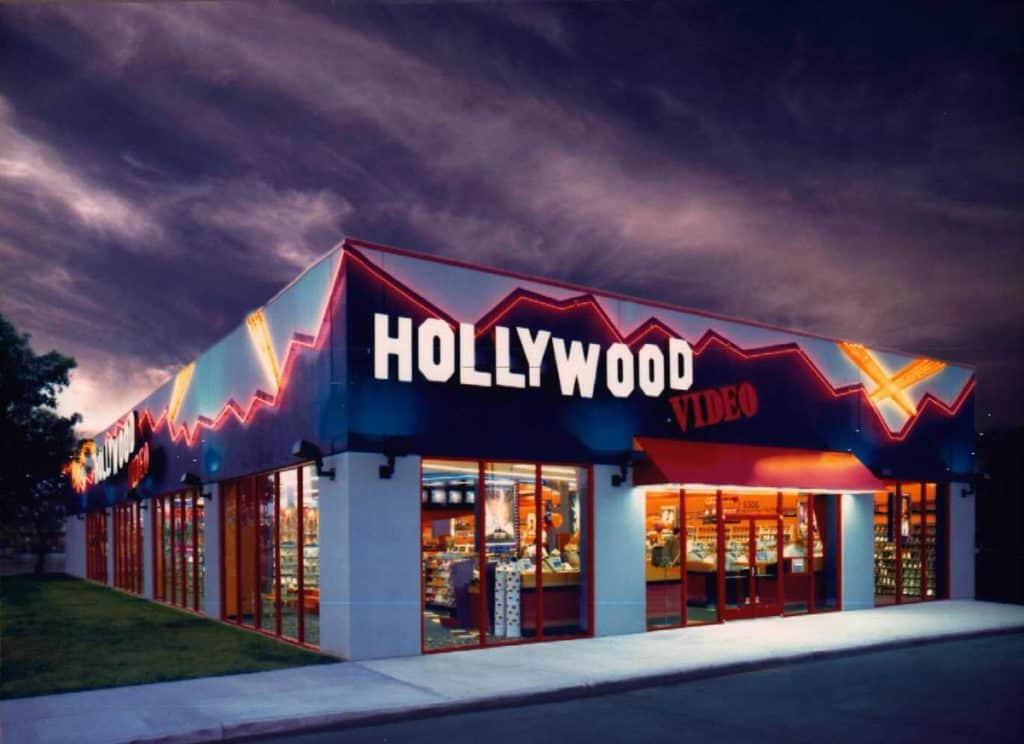 Sometimes it's hard to believe that 20 years have passed since my five-year tenure as the Hollywood Video mural artist.
As Hollywood Video's creative director and resident artist from 1989 to 1994, I created over a hundred hand-painted murals, measuring upwards of ten feet tall and eight, ten, and sometimes 20 feet across. The pace was fast and furious, and it was a hugely creative time for me. At first, we opened a new store every month, and all the murals were hand-painted, so I worked day and night, often painting until the early morning hours. Then, after only a short break, I would return to the studio and start again. It was a prolific experience that helped make me the artist I am today.
Initially, I painted my murals on location on the store walls. The Three Stooges, Rhett and Scarlett from Gone with the Wind, and Sidney Poitier were hand-painted as one large mural measuring approximately 9′ tall x 22′ wide. Not shown here, but Jackie Gleason ("To the Moon Alice") and Clint Eastwood as Dirty Harry were in the mural. I started this mural during the construction phase of the Lake Oswego store and completed it, along with a few other murals and graphics, about a couple of weeks after the store opened for business.
The Terminator (above) was one of my first murals for Hollywood Video, which I painted at the Vancouver, Washington location. The Vancouver store was the very first HV location. I had painted several murals there, but we worked long hours, and I neglected to take pictures back then. Overall, I painted around 1,400 square feet of murals at that store, including Rambo, Frankenstein, the Bride of Frankenstein, Teenage Ninja Turtles, and many other obscure movie references.
I went on to airbrush murals in several other locations at Kelso, Washington, along with Tigard, Beaverton/Hillsdale, and Lake Oswego, Oregon, along with a few different places before we realized that it was best to set up a studio in and paint the murals on stretched canvas. The canvas murals were installed at the stores rather than painted on location. That allowed me to be in the new store for a day or two instead of a month.
I created all my murals in the studio as large paintings on canvas from that point on.
Over the years, I painted many movie stars and celebrities: John Wayne, Elvis, Bogart, and Schwarzenegger. They were subject to my art if they were hot on the screen. One of my all-time favorite movie stars to paint was Marilyn Monroe. I must have painted her iconic imagery a dozen times – maybe more.
Later, as stores opened more frequently, my hand-painted murals were photographed with an 8 x 10 view camera reproduced as photo murals and installed in numerous Hollywood Video locations throughout the United States.
"Starring Steve Martin" and "Marilyn Monroe" (below) were created as a diptych/two-piece mural. They were awarded first place in the Airbrush Action 7th Annual Airbrush Excellence Competition in 1993 for their Mural Category. Both original paintings were displayed together at the Beaverton, Oregon, location until closing. At that time, I rescued and archived them until 2011, when a local collector added them to his collection. Both murals and the "Elvis & John Wayne" mural are currently on display in a private Las Vegas, Nevada residence.
The murals shown here represent only a tiny sampling from the many I created for the Hollywood Video stores over the five years I was with them. But, of course, I was young then (28-33 years old) and had no shortage of creative energy. My passion consumed me with painting. And that I did, sometimes creating a mural a week, often painting two or three at any given time in my studio.
In 1993, Hollywood Entertainment moved its corporate offices to Beaverton, where I had a larger design office but the days of painting murals was gone. The murals I painted were now being produced as wall paper for the new stores.
I following year I left Hollywood Video and started a creative design company while directing my attention towards creating fine art.
In 2012, I was inspired to pull the last two remaining Hollywood Video murals out, unroll them, and enjoy a moment of retrospection. It was the first time time I had the opportunity to view them since painting them in 1993. Since then, a couple of the original paintings have been in the archive, rolled up, and stored away safely. Over the last couple of decades, many canvas murals were damaged or lost as stores opened and closed. The murals painted in the stores have since been painted over as Hollywood Video stores closed and new tenants remodeled those spaces.
In most cases, the images above are all that remain. Only a few of the original Hollywood Video murals exist today of the canvas series. And of those, only two remain intact and are available to serious collectors.
January 13, 2022 — Post updated and edited for added links, grammar, and added content.