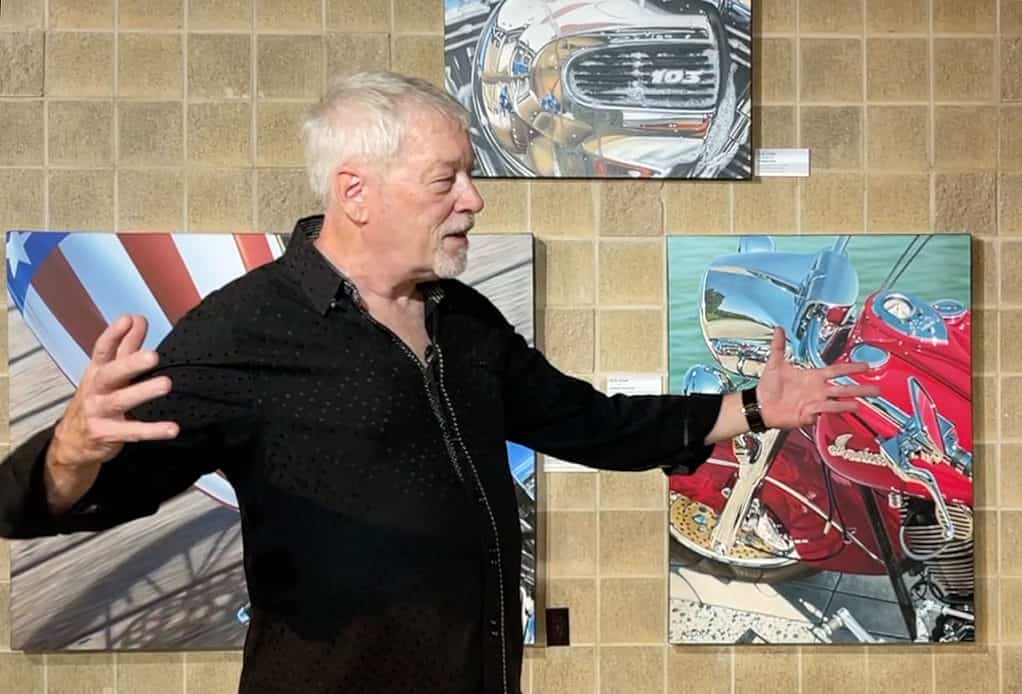 The Luster Exhibition at the Auburn Cord Duesenberg Automobile Museum
DANIEL —
Please introduce yourself.
A.D. —
Hi, I'm A.D. Cook.
DANIEL —
And your role with the exhibit.
A.D. —
I'm an exhibiting artist with the Luster Exhibit, with three paintings out of about sixty on display.
DANIEL —
So to begin, can you tell me about the Luster Exhibit, how long it has been going on, and some of the areas it's been.
A.D. —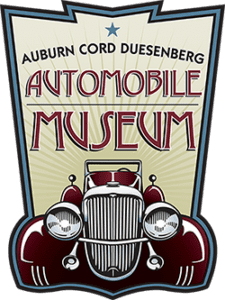 The Luster Exhibit was launched in March 2018 at the Daytona Museum of Arts and Sciences in Daytona Beach, Florida. This [ The Auburn Cord Duesenberg Automobile Museum ] is the 14th museum to date. So, it's been traveling all around the country to large and notable museums across the United States, and there are still a couple more on the list.
DANIEL —
Can you tell me what kind of feedback or what you have heard from people who have seen these pieces?
A.D. —
The response has been amazing and very positive. With the level of work, I think it's such a privilege to be included in the shows. I think the show has been very positive, even for people who aren't motorcycle or car people. But, again, the reaction has been great.
DANIEL —
Why don't you tell me you're in a dual role. You're the representative of Luster, but you're also an artist. So can you tell me about your work as an artist?
A.D. —
I'm that kid that was drawing and painting in first grade. I started drawing cars in junior high school and motorcycles later. I mainly was known back in the day when I did all the murals for the Hollywood Video stores for five years. And then, after that, I started my motorcycles and figurative paintings, so I went from big giant murals to four, five, six-foot by five to six feet paintings and more significant works. So, I've just painted my whole life, and I love drawing and painting.
( PAUSE )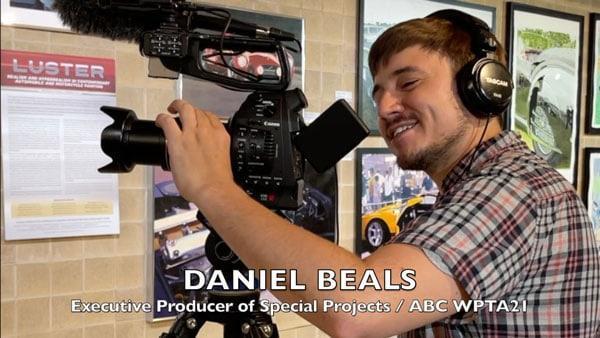 DANIEL —
I'm behind the camera for a reason.
A.D. —
That's where I'm most comfortable, too :-)
DANIEL —
When I think about what I saw, this show was about realism, and when I think about a motorcycle, I think of it as static. But when I look at these, there's so much going on in the actual material of the motorcycle and the reflections. So can you tell me about the challenges because this does not look easy?
A.D. —
It's a blast. I love getting lost in it. In the Indian motorcycle painting, one of my favorite parts is how the chrome reflects into its chrome and back. So it's kind of like a mirror looking into a mirror scenario. And it was created for Airbrush Action Magazine in 2000 when I wrote an article on how to create the illusion of chrome in a painting. So this painting [ Indian Summer ] is known for that. I love it; as you said, you can build and hide so much into a small piece of chrome. One reason I love these cars is that they have so much chrome, creating stories within stories.
DANIEL —
Just being here a few minutes and seeing a couple of people look at your work, there's kind of like Easter eggs and hidden elements. Can you tell me about those?
A.D. —
I like to hide things, little surprises, not all my paintings but most of my paintings, more so as I've gotten older, especially over the last several years. For example, the motorcycle painting with the '103' [ Dream 103 ] has 103 small skulls hidden in the soap bubbles. In my America painting, I've hidden my signature in the carburetor and embossed it, so it's part of the motorcycle. So, all of them have little things, like the Indian motorcycle reflecting the park where I photographed it for the painting, so it has the tree lines and all that. So, you can paint just the motorcycle or put it in a setting by including that whole story in the process.
DANIEL —
is there anything you want to say about other artists? I know you've mentioned one of the late artists [ Kris Preslan ] has her work here, but is there any other thing you want to highlight about the others who have lent their work to go on tour?
A.D. —
Again, I'm honored to hang with these artists because some fantastic work is here. Everything in the show is original paintings. We get a certain thing from looking at an original painting instead of reproductions because so much gets lost in reproductions. So, I enjoyed looking at these paintings up close, seeing how they were created and what inspires them. I've gotten to know some artists over the last couple of years. It's just been a great opportunity to connect with fellow artists as people who have a similar appreciation for these machines.
DANIEL —
Lastly, we'll have some people from northern Indiana here tonight – it's a members thing. So for people from the public through this year, what do you hope the people will take away from this?
A.D. —
I hope they realize that beautiful cars, you know, don't just happen by accident. You know, there's a lot of talent that goes into creating the vehicles, and there's a lot of talent and energy that goes into glorifying them or celebrating them, on canvas or metal, or whatever the medium is. So I think that regarding the whole art thing, cars are one of the most creatively inspired things that we can all relate to; we all have a car, we love our cars, they're approachable, so it's just that mutual appreciation. These cars have so much personality, so I hope people pause to appreciate them.
DANIEL —
I just thought of another question. As someone from Las Vegas, you see stuff like this all the time, but I imagine it's eye-opening to step foot in this museum because of its rich history and massive collection. What were your first thoughts?
A.D. —
We have nothing like this in Vegas. There are a couple of smaller collections, but there's nothing as awesome, and this is overwhelming! I could spend days here, just looking.
We have a different kind of enthusiasm for cars in Vegas, a lot of sports cars, a lot of newer cars, but you rarely see a collection like this. So for me, that's great. Not everything is in Vegas – the real stuff is happening outside.
DANIEL —
Anything else you think needs to be mentioned that I didn't ask you about?
A.D. —
Not that I can think of. Again I'm excited to be here. I hope to revisit the show, since it's here for six months, because like I said, I could spend hours, and I hope people come out to check it out, not just for the artworks, but for the fantastic cars on display.
DANIEL —
Perfect, thank you, I appreciate it. We're good to go.
Story edited for clarity.
Thank you, Daniel Beals. Also, a special thanks to my collector Mark McAlister for his video help from the sideline.