For my part I know nothing with any certainty, but the sight of the stars makes me dream.

~Vincent van Gogh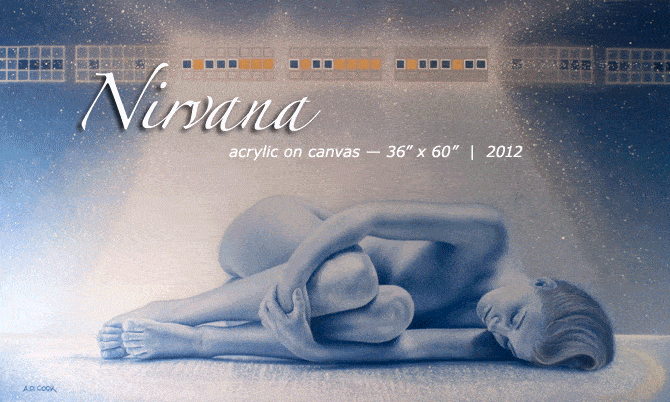 The pearl/phosphor starfield turns on when the lights go off, transitioning from pearls to a florescence.
She rests quietly in her stillness of mind after the fires of desire, aversion, and delusion have been finally extinguished. She has found her Nirvana.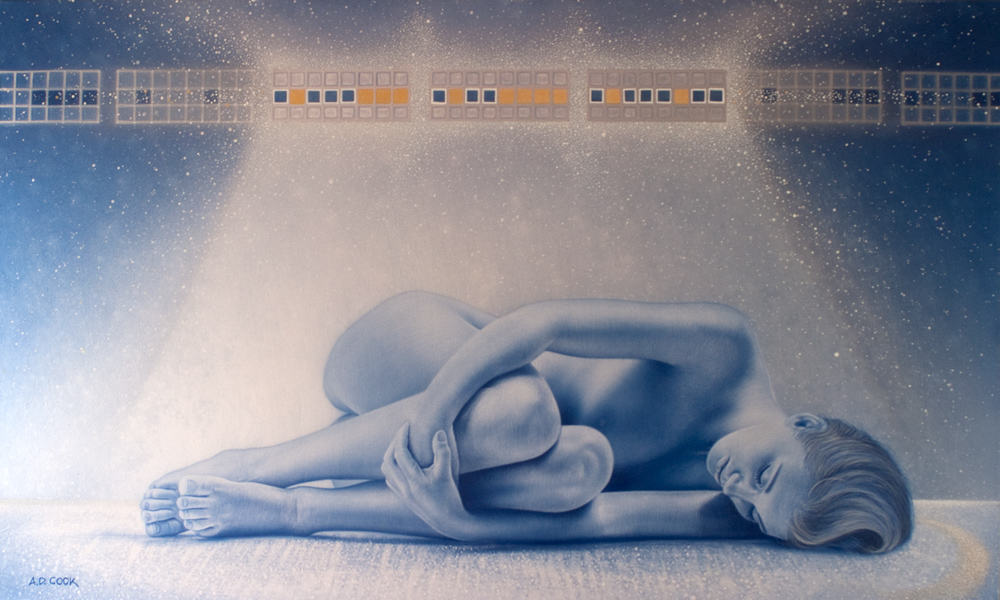 Nirvana – Acrylic on canvas, 36″ x 60″ [91.44 cm x 152.40 cm] © 2012 A.D. Cook
Created in beautiful pearl metallic blues over a hand brushed pearl base layered on a specially-prepared canvas surface. Metallic mediums mixed into my paints create a glistening effect with the changing light, creating a new experience with each viewing. The graphic and energy burst is phosphorous – capturing light throughout the day and emitting a glow of energy. In this painting, my muse is portrayed about life-size. Completed on November 30th, "Nirvana" is my fifth and final life-size figurative painting for my pearl series for 2012.
01000111 • 01001111 • 01000100
The graphic across the top of this painting is the binary code for "GOD"
Enjoy my newest video of Nirvana – art in process. Special thanks to Tim Catching who's fantastic music vibe is always welcome in my studio.
Previous artworks featuring Lynsey:
Eclipse
|
Backdraft
|
Repose
|
Brooklyn
|
Lynsey
|
Waiting
|
Spring
 |
Catching Wind (drawing)
• • • • •