2016, 24″ x 36″, acrylic on specially-prepared canvas
Some stories are told in ink. Some are told in paint.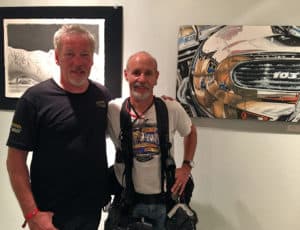 I created DREAM 103, especially for the SKIN AND BONES Exhibit at the 2016 Sturgis Motorcycle Rally.
One afternoon in the summer of 2016, motorcycle photographer Micheal Lichtner and I were chatting about art and motorcycles. He mentioned putting together his annual exhibit at the Buffalo Chip.
Michael mentioned that the exhibit's theme was to be Skin & Bones. Skin to represent tattoos, and bones to represent motorcycles. He asked if I had any pieces that featured both of those. I didn't.
I've seen that over and over throughout the years. As a young man, I considered becoming a tattoo artist. But instead, my art took me in another direction. First as a graphic designer, then a wall artist/muralist for Hollywood Video, and then on to my epic motorcycle paintings.
Today, my art embodies my passion for America's motorcycles and inspiring lifestyle. Like tattoos, my paintings tell stories of individuality, freedom, and remembrance.
Tattoos are a Healing Form of Art
Aside from cave paintings and early wall art, tattoos are among the earliest art forms. We collect them to celebrate our passions, spirituality, and memories and mark accomplishments. Each shares a story and connects us.
I got my first tattoo in 2007. After considering it for a long time, I knew it had to be something profound that meant enough to me to wear for the rest of my life. After all, tattoos are a permanent statement.
When my father passed away in 2001, I knew I wanted to somehow pay homage to him through art. Since I had considered getting a tattoo for years, it seemed like the obvious choice, but it took me a while after his passing to resolve how I would commemorate his memory. We shared a passion for motorcycles and often rode together. He was a charismatic man of optimism, creativity, and new beginnings. So, in many ways, was a Phoenix. 
My ink needed to be a joyous remembrance and unforgettable. I decided on a mighty Phoenix symbolizing my birthplace, where my father's journey ended, and my rise from the ashes to a new beginning. And while he is long gone, my ink is a daily reminder to be the best new me.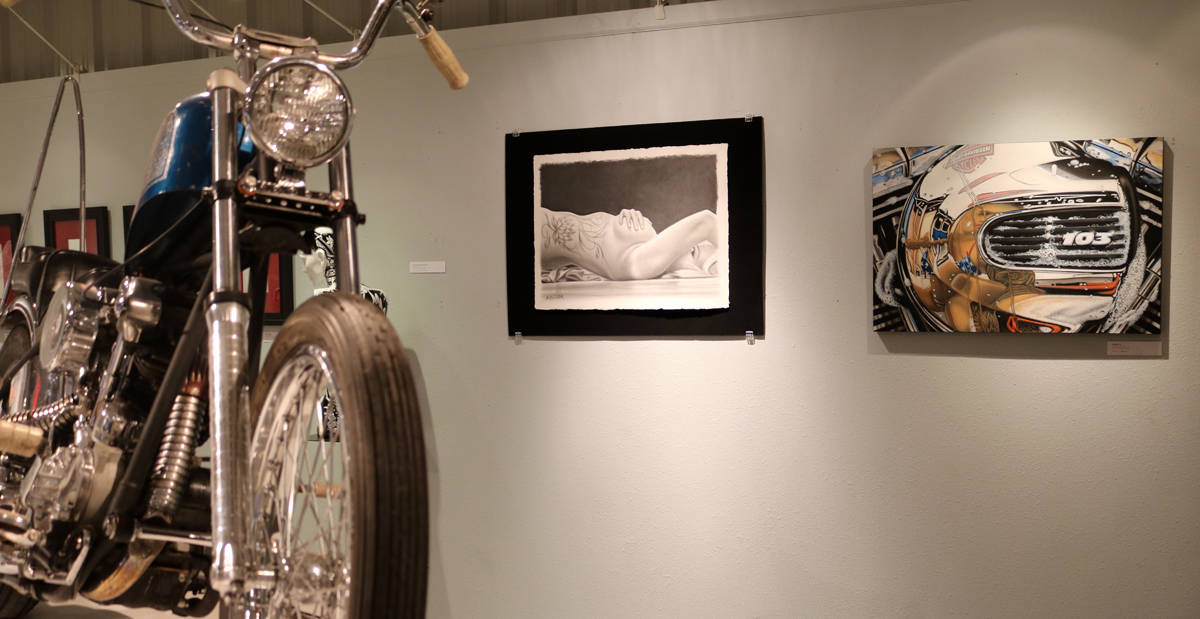 The original painting is in a private collection.
DREAM 103 PROVENANCE
LUSTER: Realism and Hyperrealism in Contemporary Automobile and Motorcycle Paintings
Throughout the 20th and 21st centuries, cars and motorcycles have been ubiquitous on the nation's streets and highways and in the film, top forty hits, and paintings. However, with the emergence of photo-realism in the 1960s, motor vehicles assumed a unique distinction as subject matter in American art's iconography.
Since Dream 103's creation in the summer of 2016, the original artwork has been showcased throughout the United States, starting in Sturgis, SD, for the SKIN & BONES Exhibit. Shortly after, the painting traveled with the Luster Exhibition and was featured at the Museum Of Arts And Sciences (MOAS), Dane G. Hansom Memorial Museum, Maria V. Howard Arts Center, The Evelyn Burrow Museum, Saginaw Art Museum, Sangre De Cristo Arts & Conference Center, Haggin Museum, The Morris Museum of Art, The Michelle and Donald D'Amour Museum Of Fine Arts, The Ella Carothers Dunnegan Gallery of Art, Art Museum of South Texas, Lyman Allyn Art Museum, the Museum of the Rockies, the Auburn Cord Duesenberg Automobile Museum, The Citadelle Art Museum, and the Dennos Museum Center.
Output a print from this super-sized digital file for your home collection.
High-resolution digital scan of A.D. Cook's original painting titled "Dream 103" for the Skin and Bones Exhibit at Sturgis 2016.
File size: 30″ x 20″ x 225 ppi, 91 MB file created by the artist.
Rights associated with this digital file allow the NFT owner to create one full-color print for their personal display and viewing.
Sale ends
February 14, 2022, at 5:09 am PST