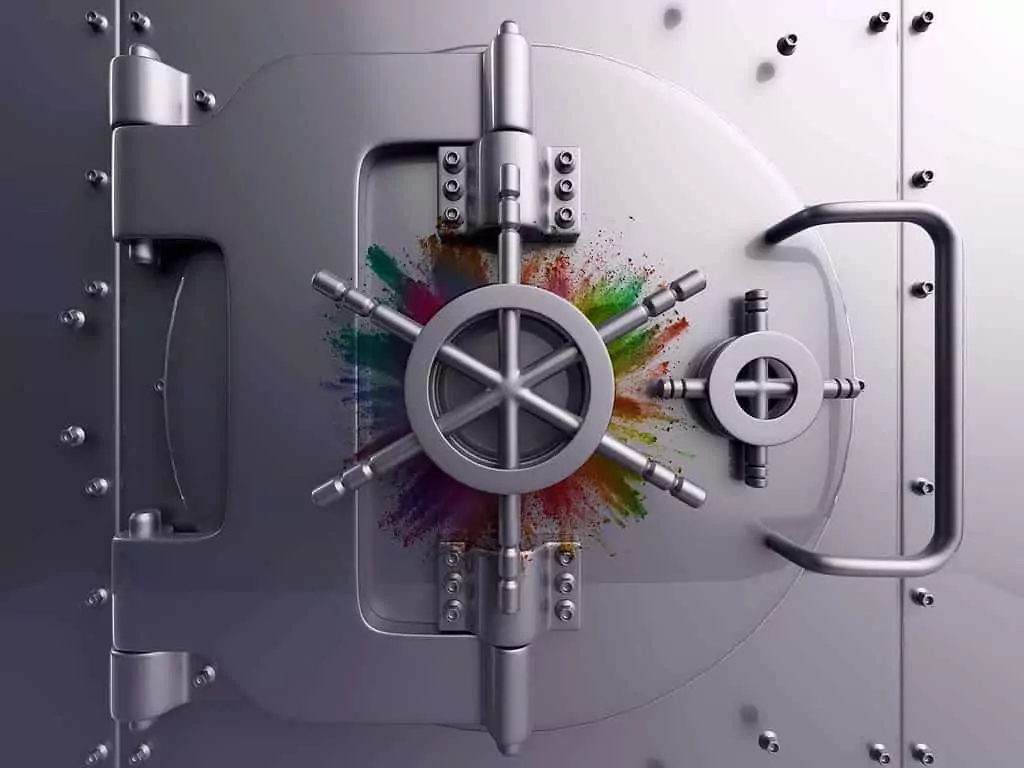 Forgotten Art And Memories
Have you ever experienced the melancholy feeling of packing away a lifetime's worth of art and memories only to store them for an entire decade? If the answer is yes, then you will undoubtedly be able to relate to my recent experience.
Ten years ago this month, I went through a divorce and a complete dismantling of my world. But, of course, I only mention that as a point of reference. In haste, I liquidated everything I owned that was too large or cumbersome to store and moved what I could into a ten-foot by fifteen-foot storage space, all safe and sound. And aside from the monthly storage fee, I forgot about it for the most part, or what was even there (out of sight, out of mind). Sure, I remembered the big things, like the two original Hollywood Video murals rolled around their ten-foot-long tubes and my jumbo-size flat file cabinet full of who knows what. But, at the same time, I couldn't remember everything if it was worth keeping if it was in there.
My long-term storage scenario changed recently when I decided enough was enough and finally moved everything out of that space. What a project – it was more than I recalled and heavier than I remembered. It was a lot of stuff, and it wouldn't move. But with a couple of long days, some help from friends, and a few truckloads, I was vacated, and the space was now empty for the first time in ten years. What a relief, though, to just be reunited with my art and great memories.
Art is not just about striking brush strokes on a canvas or sculpting a masterpiece out of clay. It's about creating something that can evoke an emotional response and make a lasting impression. Art is a powerful tool that can capture the essence of a moment, the memories we hold dear, and the beauty of the world around us. When we look at a piece of art, we do more than see it; we connect with it on a deeper level. The memories we hold dear often inspire many works of art. Art can preserve those memories and emotions tangibly and timelessly. Whether painting, sculpture, or photograph, art can transport us to different times and places and help us relive those unforgettable moments.
While sorting through the seventeen overpacked three-foot by four-foot drawers of my flat file, I stumbled upon a treasure trove I had mostly forgotten about. Among the collectibles and memorabilia were artworks I created thirty to forty years ago and hadn't seen for over a decade or longer. Rediscovering these pieces was like looking through a time portal, being transported back to when creativity and inspiration surged through me so effortlessly, a time before computers.
I rediscovered several design projects and illustrations created in pen and ink, like hand-drawn band logos, restaurant menus, and magazine ads. In the early days, I did a lot of illustration work, which I loved because I got paid to draw cars, jewelry, and lots of fun stuff. Surprisingly, I even found a couple of drawings I did for the school newspaper around nineteen-seventy-six through seventy-seven or eight. Sorting through these old projects brings back countless memories and a reminder of how I got here in terms of my passions and skills.
Some of my favorite freshly rediscovered pieces are hand-drawn menus and band logos. But, of course, I did a lot of pen-and-ink work back then. 
My greatest joy was mainly finding art, including some of my artworks created in the early eighties and paintings created by other artists.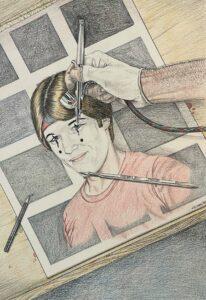 In terms of my art, I found some great (and some not-so-great) drawings, a few early pastel art nudes, and a few beautiful prints of my motorcycle paintings and other works. However, I was surprised to find "THE ILLUSION," a self-portrait from nineteen-seventy-six.
But many of my favorite art pieces within those drawers are other artists' works I collected over a lifetime. Many of these guys are renowned in the airbrush and illustration worlds. And because they were friends, I am proud to have collected as much as possible. So digging through the archive, I discovered several original artworks and signed prints by realism artist Dave Malone, hyperrealism artist Dru Blair, Jeff LaFever, Raphael Schnepf, legendary illustrator Stanley Mouse, conceptual artist Stephen Barnes, and others.
The discovery didn't end there. As a special bonus, I found some great art supplies, including acetate sheets, heavy watercolor paper, and even a few illustration boards.
Who knew one flat file could hold so much?
This, That, and The Other Things
Of course, not everything is about the king-size flat and its contents. That one-hundred-and-fifty-square-foot storage space was also packed with art and shipping crates, a dozen easels, and boxes of whatnots and oddities I'll be sorting through for months.
Beyond that, I was excited to find an original painting by abstract artist Barry Mack and Rodd Ambroson and a couple of other pieces.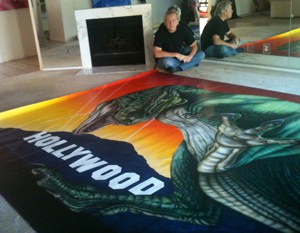 I also retrieved two Hollywood Video murals I created in 1993! I painted a ton of murals back then. Still, unfortunately, I only have the T-Rex Visits Hollywood and the Star Trek Enterprise canvas art originals, which are in decent shape from their thirty years of archived storage since they were painted.
I remember painting each of these murals like it was yesterday. Both were painted in my Hollywood Video art studio in Tigard, Oregon. Each mural is about nine-and-one-half feet tall by about fourteen feet wide on a single canvas and takes about a week from start to finish.
Later, these murals and several others were photographed and installed in the stores as commercial-grade heavy-duty wallpaper, marking the beginning and end of hand-painted murals. Read more here.
As I soaked in all the memories, I realized how much I loved those days spent in my art studio drawing and painting or learning graphic design, pre-computer. Of course, I still love all that, but it was somehow different. In the early eighties, an artist or designer had to connect more tactilely with the process. Before computers, everything was drawn on art boards with technical pens and acetate overlays. Mechanicals were used to pre-press a project before printing; and before computers, they were a lot of work to create. It was fascinating to trip across a few of those old (ancient) graphic design projects from forty years ago.
If you enjoyed this post, check back on occasion, as I'll update you with pics as I discover anything interesting. Also, who knows what other collectibles and treasures I might share next?