Elvis '68 Comeback Special – 1991, 9-1/2 ft. tall x 13 ft., acrylic on canvas
The Impact Of Some Events Lasts A Long Time
Do you remember where you were 45 years ago today? I do. I was a young teenager working as a carry-out boy at a local Thriftway grocery store in Oregon City, Oregon, on August 16, 1977, That was the day Elvis Presley died and I remember it like it was yesterday.
Today, August 16, 2022, marks the 45th anniversary of the passing of Elvis, who died at the age of 42 in Memphis, Tennessee.
Viva Las Vegas Is Synonymous With Elvis
You can not hear the song, Viva Las Vegas, and not think of Elvis Presley, especially in Las Vegas.
On May 20, 1964, "Viva Las Vegas," the movie starring Elvis Presley and Ann-Margret, was released.
Over a half-century later, the film remains inexorably woven into the fabric of its namesake city, Las Vegas, Nevada.
Elvis was inducted into four music halls of fame for anyone unfamiliar with his work. Over 150 albums and singles have reached at least one of the following: gold, Platinum, or multi-Platinum.
As a kid, I grew up hearing a lot of Elvis' music, and I remember seeing his '68 Comeback Tour on TV when I was only seven years old. And I watched several movies starring Elvis growing up. So, by the time that I was a teenager, I was very aware of him.
At one time, our next-door neighbor was a huge Elvis fan. I actually still believe that all he ever listened to was Elvis. He loved to play his albums and share some of Elvis; lesser-known tunes. He was a huge fan. And over the years I became a fan as well.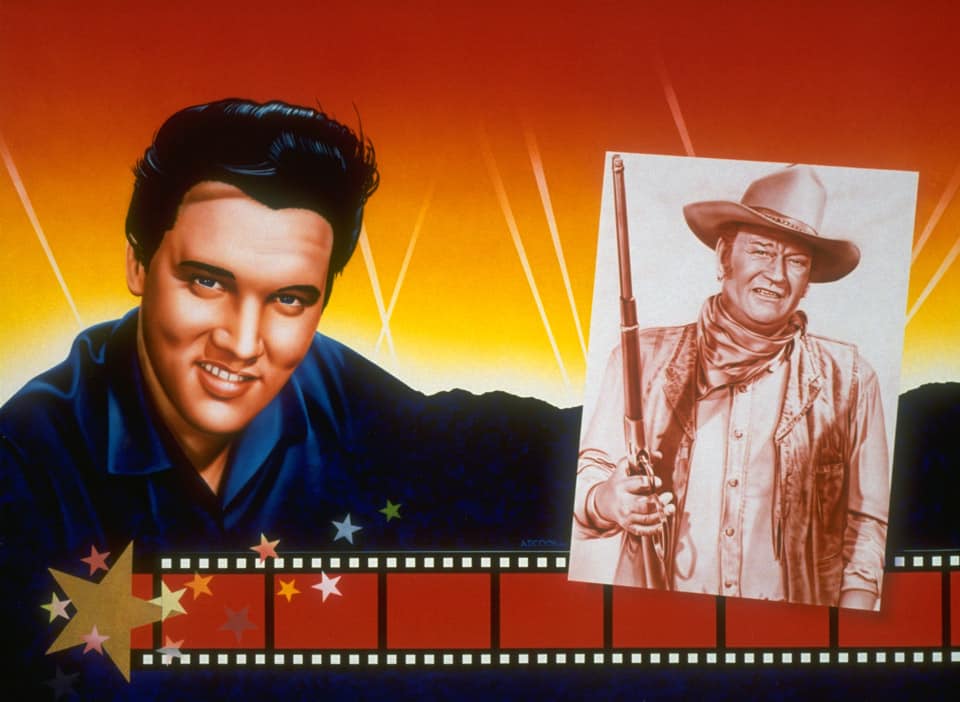 Elvis & John Wayne – 1993, 114.75″ tall x 153″ wide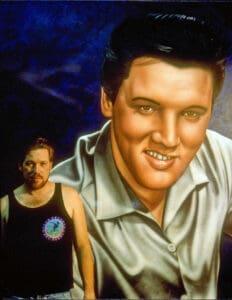 Elvis had a notable impact on my art. As a young artist, I drew Elvis using his album cover as my inspiration a couple of times, not even knowing how that might come into play years later.
As the mural artist for Hollywood Video, I painted a few murals to honor the King of Rock n' Roll across the walls of video stores throughout Oregon and Washington. One of my favorites was the '68 Comeback Tour mural that I painted in 1991 in the studio on canvas and installed on location in the Eugene, Oregon store.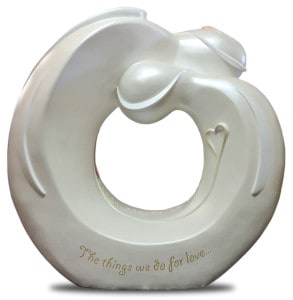 A few years back, I had the pleasure of experiencing Elvis' famous home, Graceland. Some artist friends and I were in Memphis for the St. Jude Children's Hospital and Research Center tour as part of our Sculpture project event. And decided to check out the mansion built by Elvis Presley. The line was already forming when we arrived, but we didn't care. We didn't know how long it would take, but we knew it would be worth it. We could see Elvis' famous estate up close and in person, everything from his living room to his bedroom. In addition, we could tour his gold record collection and private recording studio.
Graceland is still one of the most popular tours in Memphis. Be sure to visit the Elvis Presley car collection across the way from Graceland.