As we wrap up an old (and tired) year, I can't help but be excited for what lies ahead.
2021 was my year to return to the studio. I'm back at the easel with a renewed vision and a deeper passion for creating new art!
Poised for a creative year in 2022, my focus is on creating original bespoke automotive artworks, lifestyle art, and fine art nudes on canvas and metal, with a strong focus on metal art nudes.
Bespoke is unique by definition, meaning to create a commissioned custom piece, in this instance, art, a complete one-of-a-kind piece. Unlike limited edition, you are the only person in the world with anything like it!
Throughout my creative life, I have always had a profound passion for creating original artworks instead of reproductions and editions. My greatest joy comes from creating specific one-of-a-kind pieces for my special collectors.
Bespoke artworks are crafted according to the home's unique space and the collector's tastes and requirements.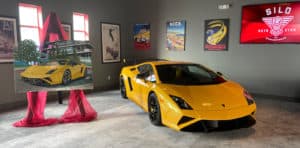 I recently completed a Lamborghini portrait titled BRICKYARD BULL for my collectors in Indianapolis, which I delivered and unveiled in November. I created the artwork, especially for a specific wall in my collector's home, which showcases a beautiful collection of race-themed paintings.
My current work in process is a unique metal art nude that I am super-excited about. ETERNAL (previously tilted "Phi") is well underway and will be my first completed original epic creation for 2022. I'll look forward to sharing more as this lifesize artwork progresses.
All original artworks on this website were created by hand with traditional media and tools; canvas, paint, pencils, paper, mixed media, airbrushes, paintbrushes, and assorted power tools. Watch my videos to see my creative process.
If you've viewed the
original artworks for sale
 on this website and still haven't found the perfect painting, consider commissioning an original artwork created to compliment your unique tastes.