Merry Christmas & Happy New Year!
Wishing you all the best holiday ever!
What a year 2021 has been. In some ways, it was a year of regrouping and adjusting to what many refer to as "the new normal." Normal? What is normal, anyway? From an artist's perspective, it's business as usual. Change is inevitable. Change is good.
The year began with the Luster Exhibition at the Ella Carothers Dunnegan Gallery of Art in Bolivar, MO. It ran through April 25th before moving to the Art Museum of South Texas through September 12th. Finally, the Luster Exhibit will close out the year at the Allyn Lyman Art Museum in New London, CT.
In the Spring, just after my sixtieth birthday, I began writing a memoir (of sorts), which I am still working on. In truth, I never planned to take on the writing of a book. And when I began, all I wanted to do was create an audiobook. But as things go, one thing leads to another, and before I knew it, I was deep into a fifty-thousand word (so far) story of how I got from there to here, all to figure where I wanted to go next in my creative journey.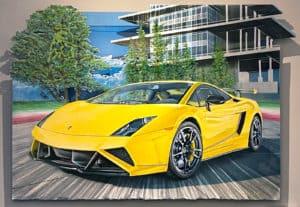 In late summer, I completed a painting that I had begun in late 2020, titled Brickyard Bull, 40″ x 60″, a pearl yellow Lamborghini Gallardo Squadra Corsa created in automotive urethanes on hand-ground metal.
I created a new dedicated website for my fine art nudes at about the same time. The new site allows anyone to view my art nudes separate from my other works. My art nudes will always be archived on the ADCook.com site along with my other creations, like my motorcycle paintings and automotive artworks.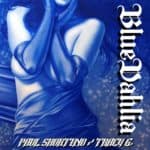 Towards the end of Summer, I checked off a bucket list item when rocker Paul Shortino and ex-Dio guitarist Tracy G. released their debut album as BlueDahlia. Encore and Ariel 11, two of my artworks, are featured on the album's covers (front and back, respectively).
On October 23rd, the ADCook.com website celebrated 25 years online. Over the years, the website has taken on various evolutions, but it has always been about art. Today, ADCook.com features over 140 artworks, 40 pages, and over 350 articles and posts.
I enjoyed catching up with my airbrush friends and the Team Iwata crew at the SEMA Show 2021 in Las Vegas in early November.
I embarked on a four-thousand-mile road trip to Indianapolis, Indiana, to unveil the Brickyard Bull original artwork at the Silo Auto Club and Conservancy in mid-November.
At this writing, I am creating a new life-size fine art nude on metal, titled Eternal. This unique artwork, made in an all-new style, will be my first finished piece for 2022. Previously titled "Phi" (working title), Eternal is inspired by my muse's elegant lines and the golden ratio; this creation is the first of a new series of original life-size contemporary metal art nudes created by scratch (lots of scratches).
Thank You for a Great Year!
As this year comes to an end, my focus shifts to 2022 and all the fantastic possibilities that lie ahead.
In 2022, the Luster Exhibit will continue to art museums in Bozeman, MT, and Auburn, IN., and I have a new series of metal art nudes in the works that I am very excited about.
Stay tuned for updates.