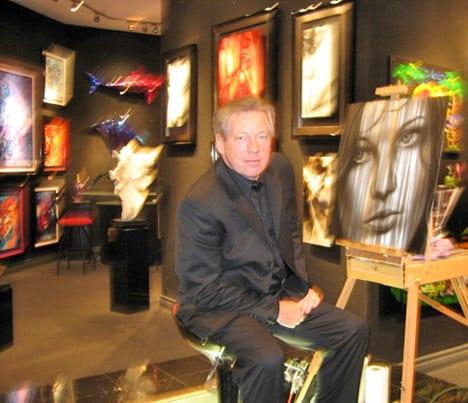 November 25, 2006 - The newest series of A.D. Cook's original paintings was revealed at the OH MY GODARD GALLERY at the Aladdin Resort & Casino in Las Vegas.
Explore the newest works of art by A.D. Cook created using an innovative mixture of techniques and mixed media. The art itself is aesthetically pleasing with a highly sensual and figurative component. Automotive urethanes have been used to airbrush the designs onto the hand-brushed metal, creating a unique composition that is sure to entice the senses.
What's more, it has been announced that these remarkable pieces will be presented in partnership with Michael Godard Fine Art. Not only does this signify the quality of the art on display, but it also opens up exciting new opportunities for collectors and admirers of contemporary art alike. Overall, this is a highly impressive showcase of A.D. Cook's artistic genius, and a must-see for anyone with an interest in mixed media and figurative art.