December 2, 2006 – A.D. Cook made a scheduled appearance at the Desert Sun Art Gallery located within the Scottsdale Fashion Square, Scottsdale, AZ
Showcasing new art and hobb-knobbing with gallery patrons. Owners Don and Melissa Dufek prominently displayed a beautiful collection of A.D.'s newest paintings while he demonstrated his craft to gallery patrons.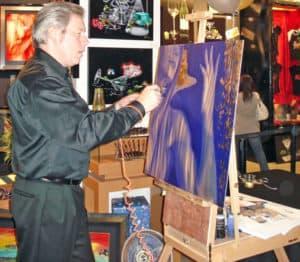 David Smith and A.D. Cook with Don and Melissa Dufek, owners of Desert Sun Art Gallery.
Follow us to A.D.'s next scheduled appearances at the Oh My Godard Art Gallery in Houston, TX – Saturday 12/16/06, 2-4pm and 6-8pm