Bigger! Better! Bolder!
Once again, Arizona Bike Week rocked the southwest in the true spirit and style of riders and enthusiasts alike. This past couple of weeks, BIKE WEEK celebrated its 18th year of motorcycles and the lifestyle around the biker's passion and culture.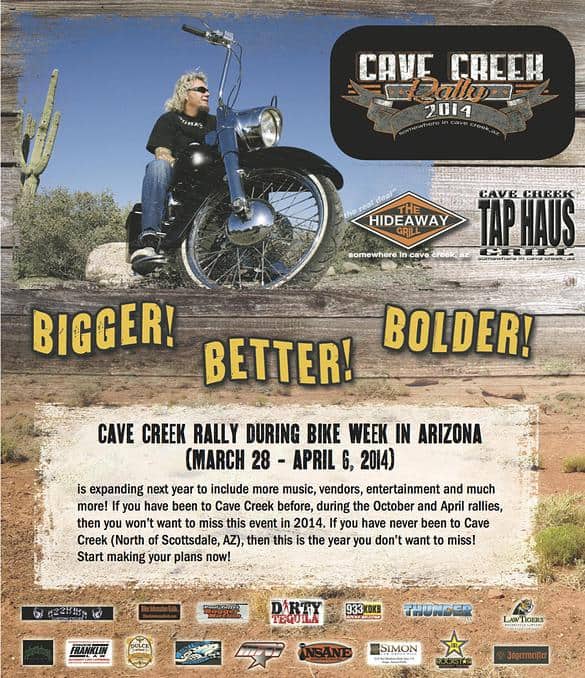 The Cave Creek Rally during Bike Week in Arizona expanded this year to include music, vendors, entertainment, and more.
That biker community has changed in many ways over these last few years, but many things have remained constant. Comradely and community still rule. Beyond that, creativity and innovation are more prevalent. I've been going to motorcycle rallies since the mid-nineties, and each year, I'm still impressed with the machines man makes in the name of artistic expression and freedom. That's what many of today's motorcycles are to me — art. Sure, they are functional art, but art nonetheless.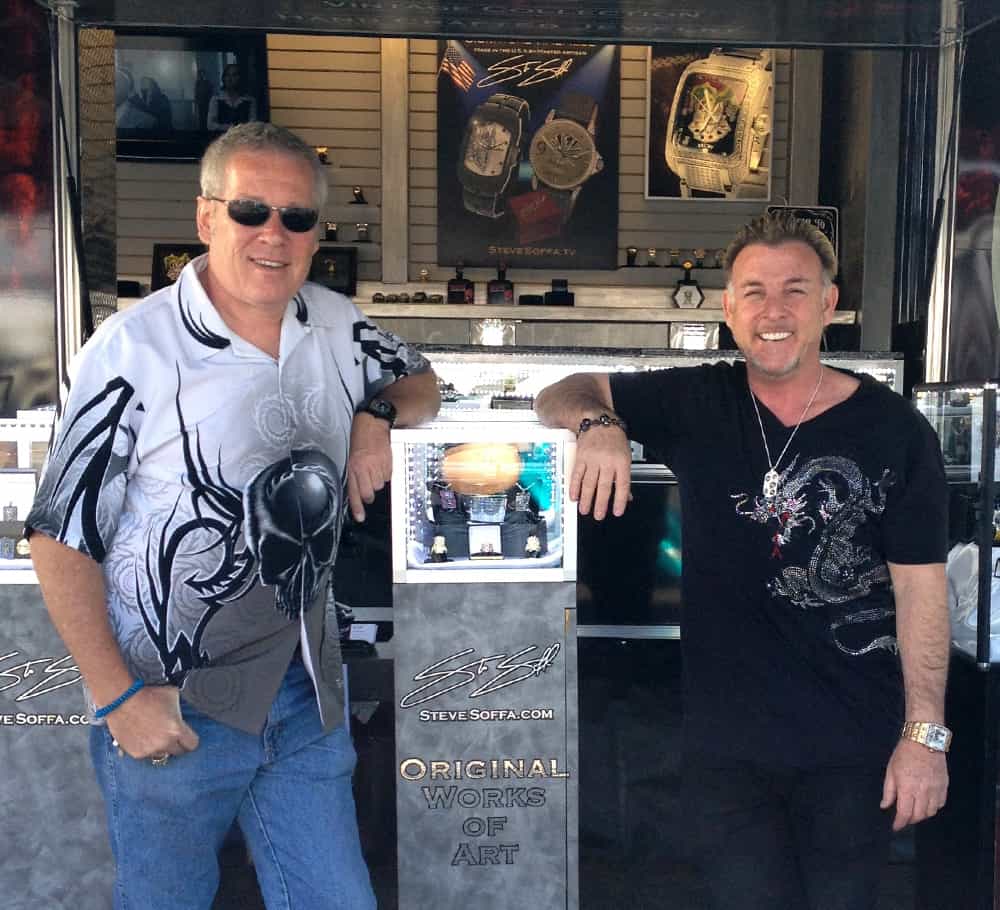 A.D. Cook and Steve Soffa, Bike Week 2014
This year, like last, I went there for the entire ten days and worked with master artisan Steve Soffa in presenting his line of timepieces and one-of-a-kind jewelry. Check out last year's blog post here > adcook.com/kindred-spirits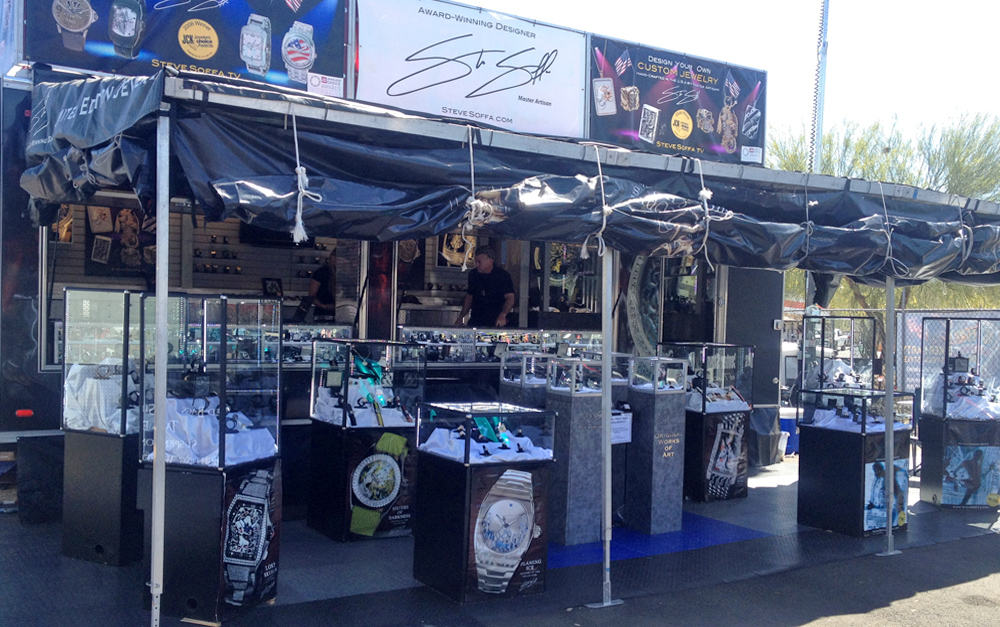 Steve Soffa's rolling showroom is impressive.
Steve Soffa is celebrating, too… this is his ten-year anniversary of creating beautiful custom timepieces and jewelry for the motorcycle community.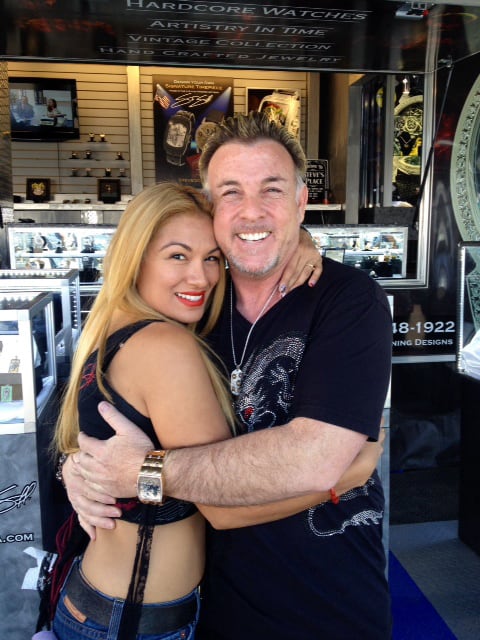 Like last year, Steve was set up at the Cave Creek Tap Haus Grill with his rolling showroom.
He brings out new designs every year; this year was no exception. New timepieces. New jewelry. There is tons of new stuff. Do you like bling? He's got plenty of it. His designs are diverse, too. Naturally, Steve offers a lot of designs that feature skulls and flames (staple themes of the biker community). But Steve also creates cool playing card watches, poker-themed timepieces, jewelry, new tiki, reaper designs, and timeless ladies' rings in his new "Just for Her" Collection.
Steve and Maria will show his artistic creations at Laughlin River Run next and other venues over the summer, including the famous Sturgis Motorcycle Rally in South Dakota. Look for him at One-Eyed Jacks.
It was an awesome event as old and new friends celebrated and supported this fantastic annual biker rally. It was such a great event that I hardly even knew where to start. I took hundreds of pictures (it's hard not to take them). There is so much to see there — bikes, babes, and beautiful weather ruled the week.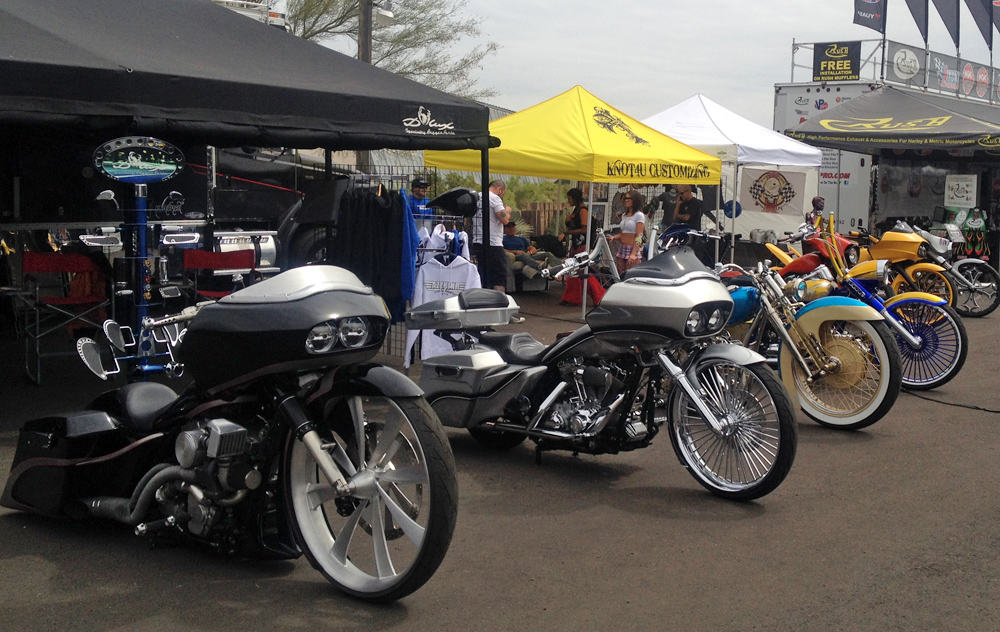 Big-wheeled baggers rule at Bike Week.
Custom baggers rule. It seems radical baggers are everywhere, which is cool since I like the newer custom baggers. The front wheels keep getting bigger and bigger. There was no shortage of bikes with a 30″ front wheel, and there was plenty of talk about the new 34″ wheel coming out soon.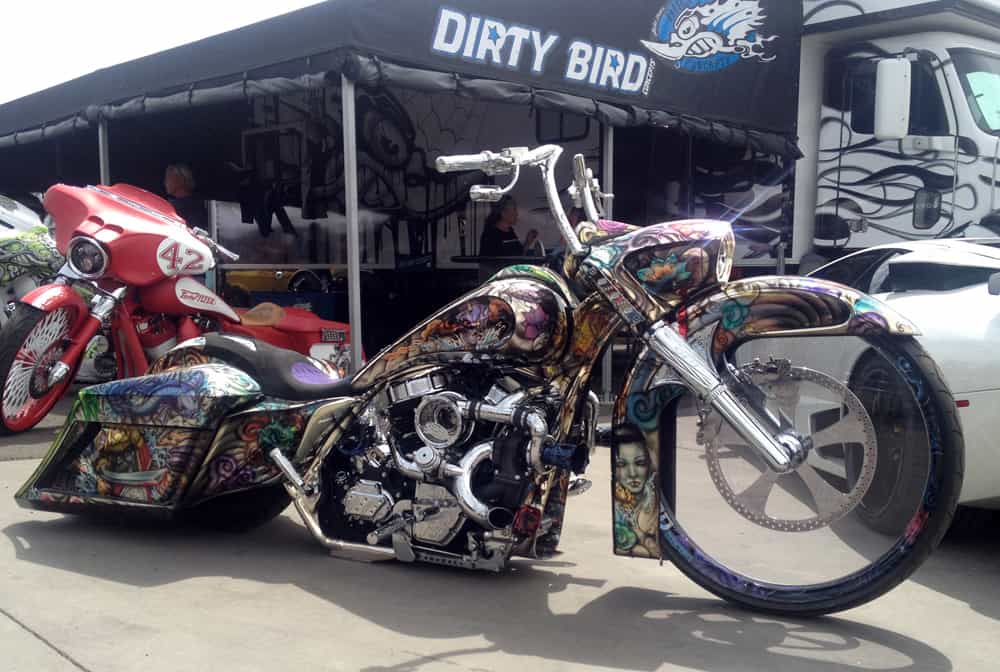 Dirty Bird Chrome Bagger.
Speaking of big wheels, when was the last time you saw a see-through Plexi wheel on a bike? It was all new to me, as it was for many people who checked out the Dirty Bird Concepts Chrome Bagger.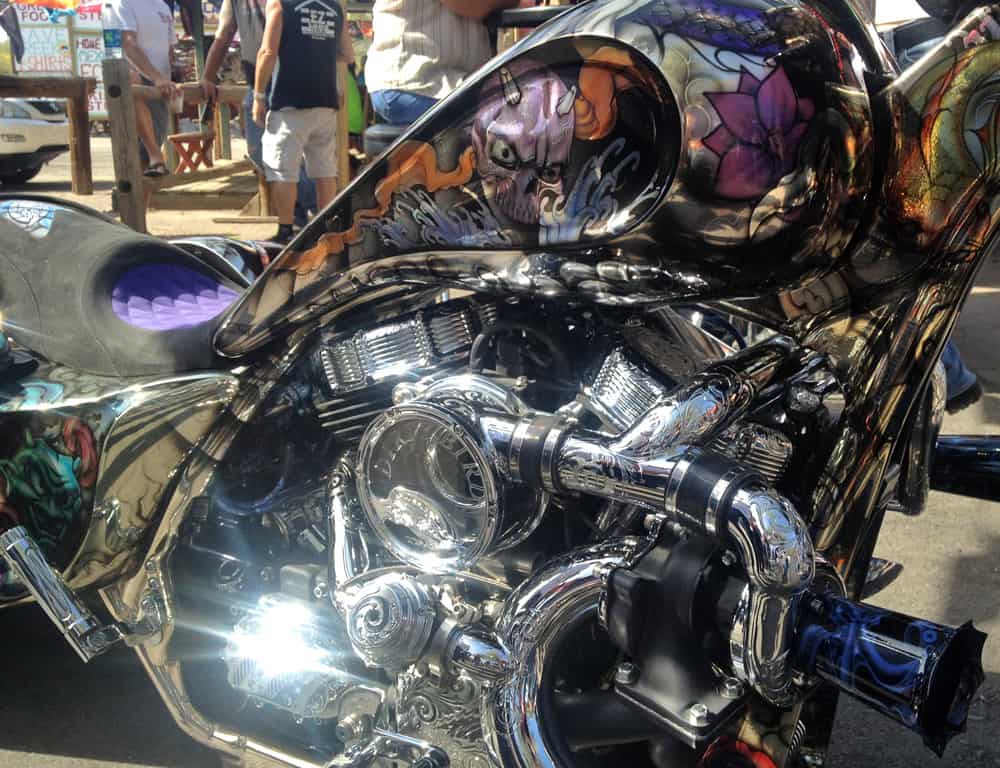 Beautiful from any angle, this chrome chopper has it all – looks and power.
There were, in fact, a ton of custom big-wheel baggers. A few years ago, it was long choppers, but today's trend has changed the motorcycle landscape too long and low extreme machines featuring a little storage space for your jacket, gloves, a couple of cigars, and stereo speakers.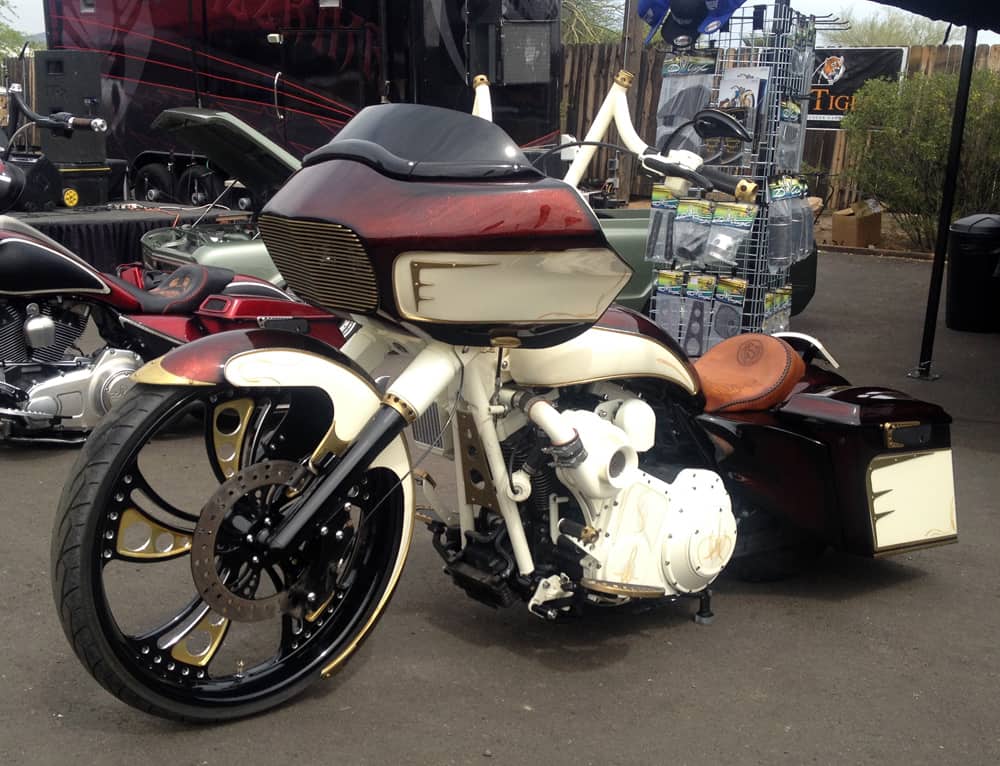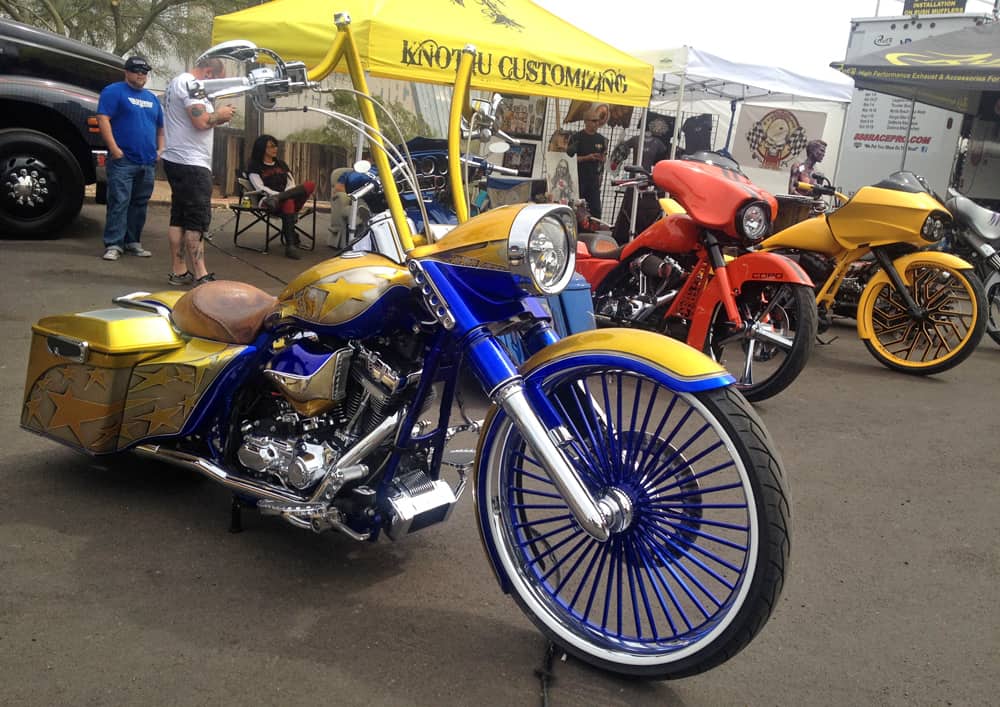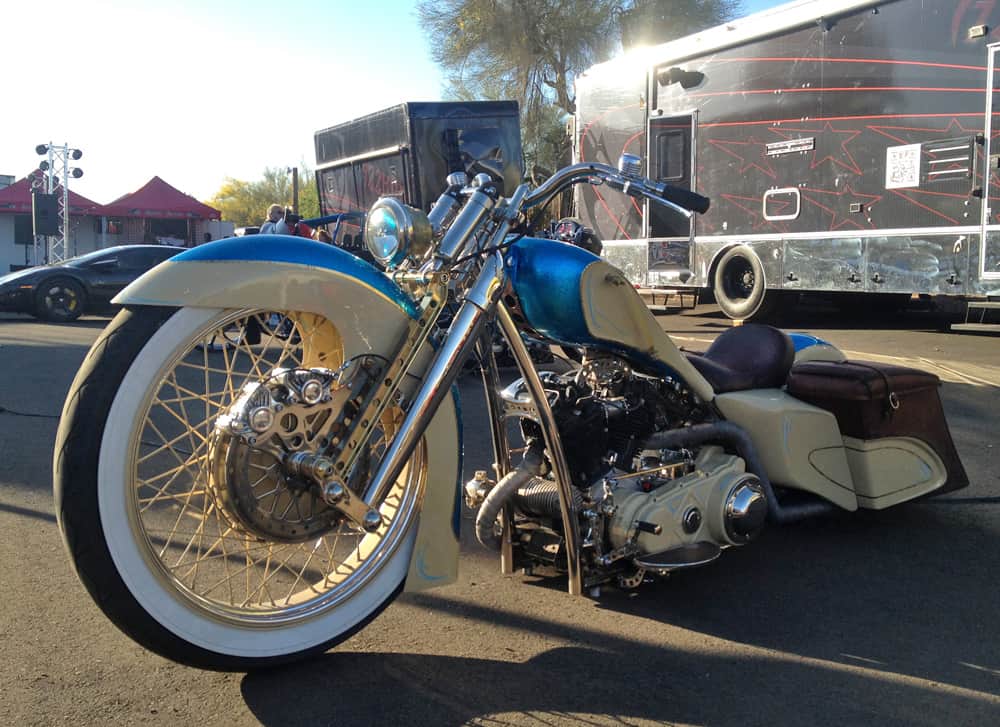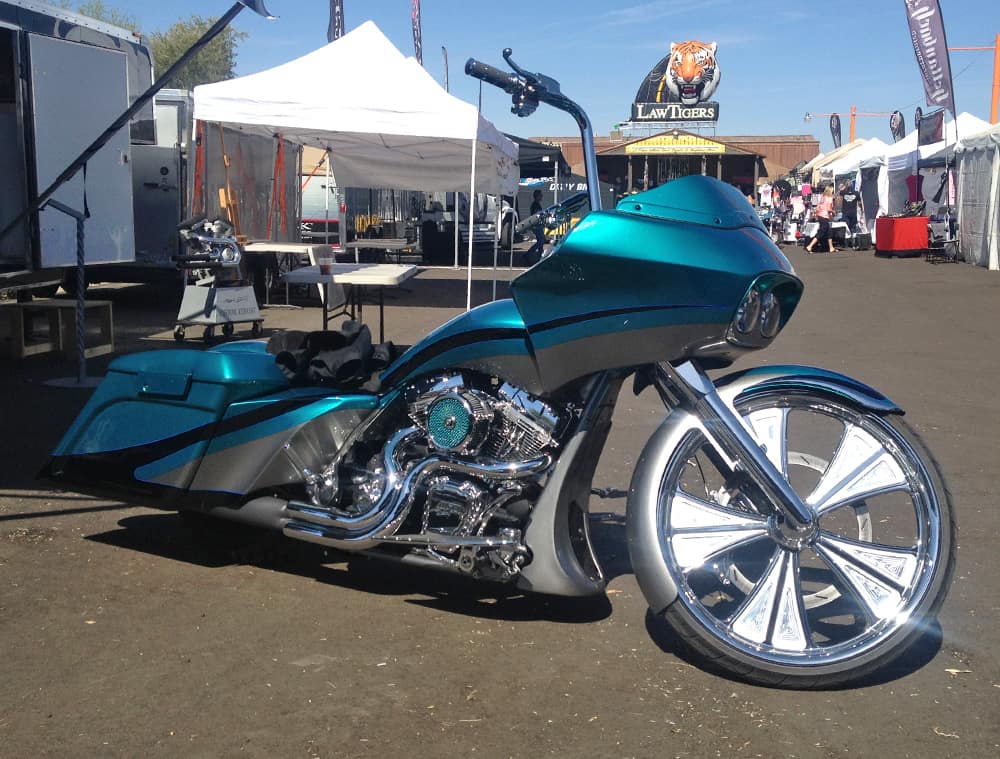 MRI creates stunning baggers – tasteful and elegant. Check them out at MattRisleyInnovation.com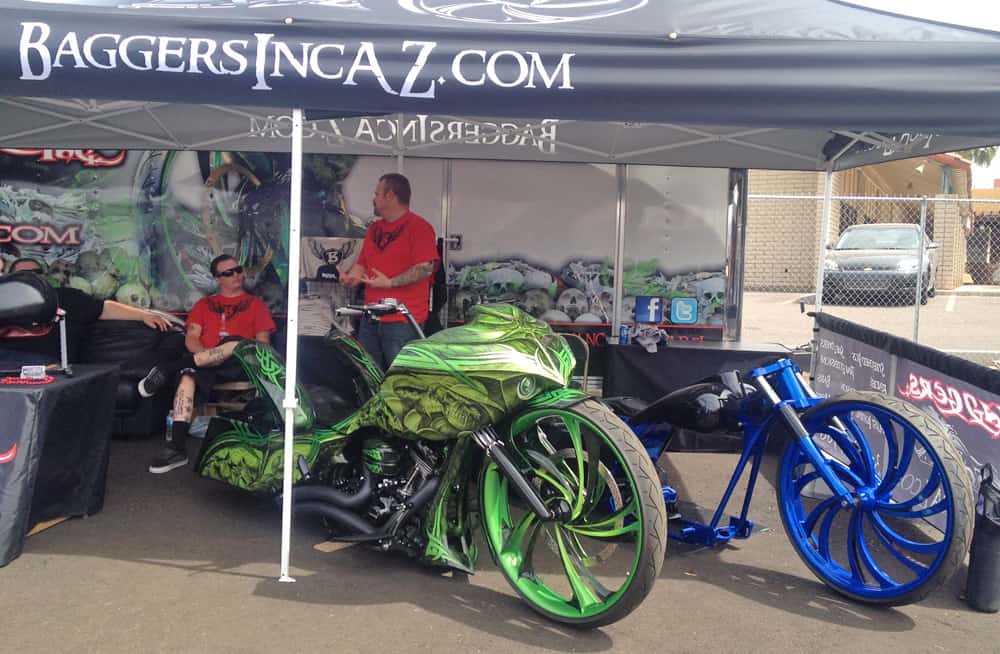 Completely wicked. Check out the custom bikes by BaggersIncAZ.com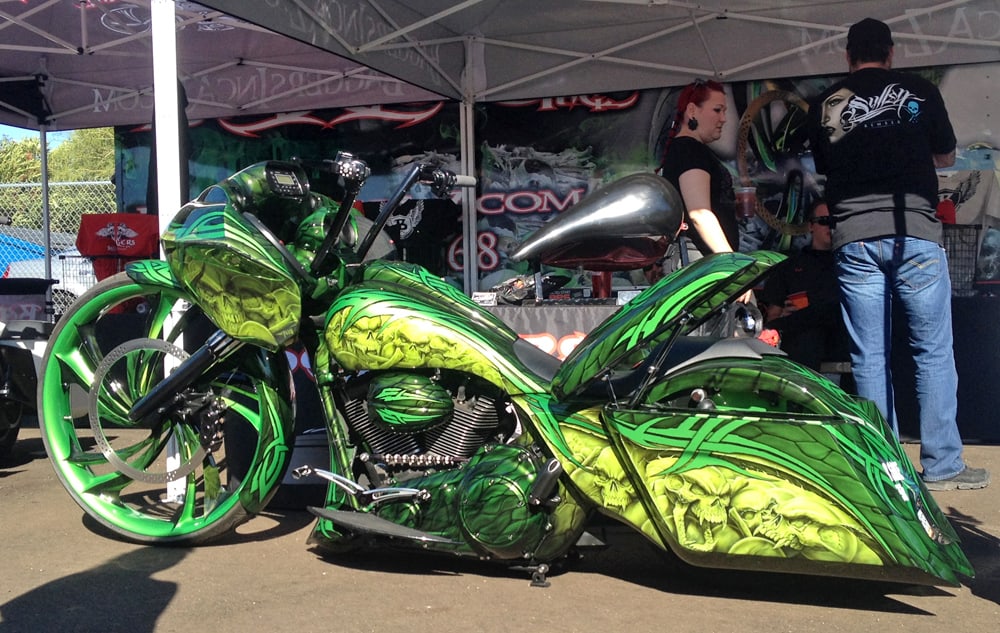 This bike is stunning from any angle. It boasts a 30″ front wheel and custom paint from our friends at Devious Designs in Las Vegas.
Crazy paint. The view from the front is pretty wicked.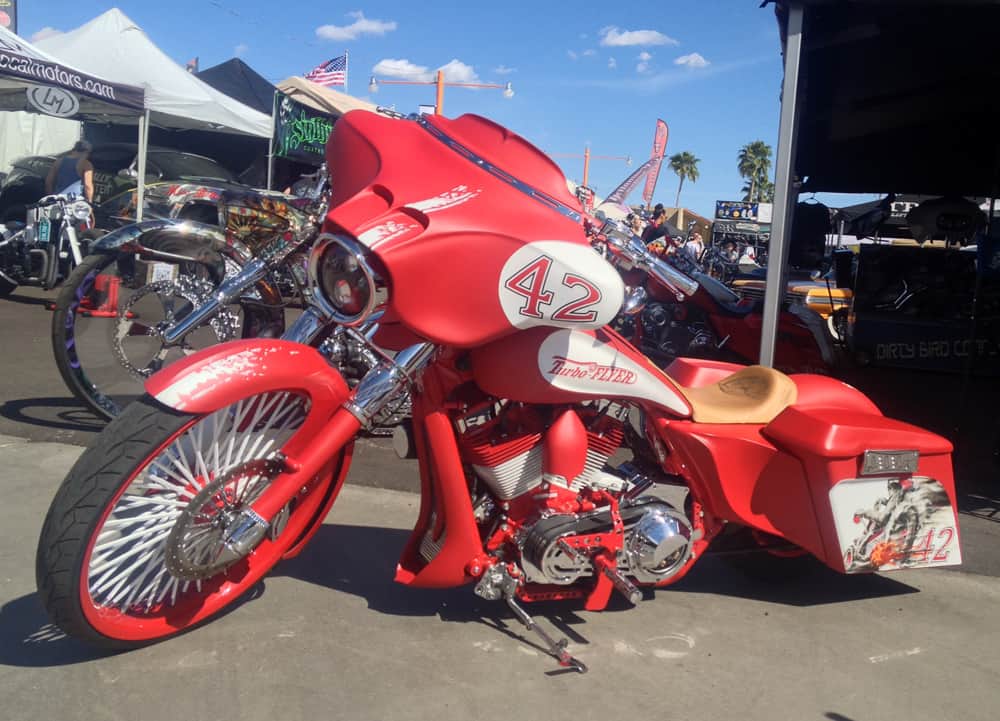 This Dirty Bird Turbo Flyer 42 is sweet.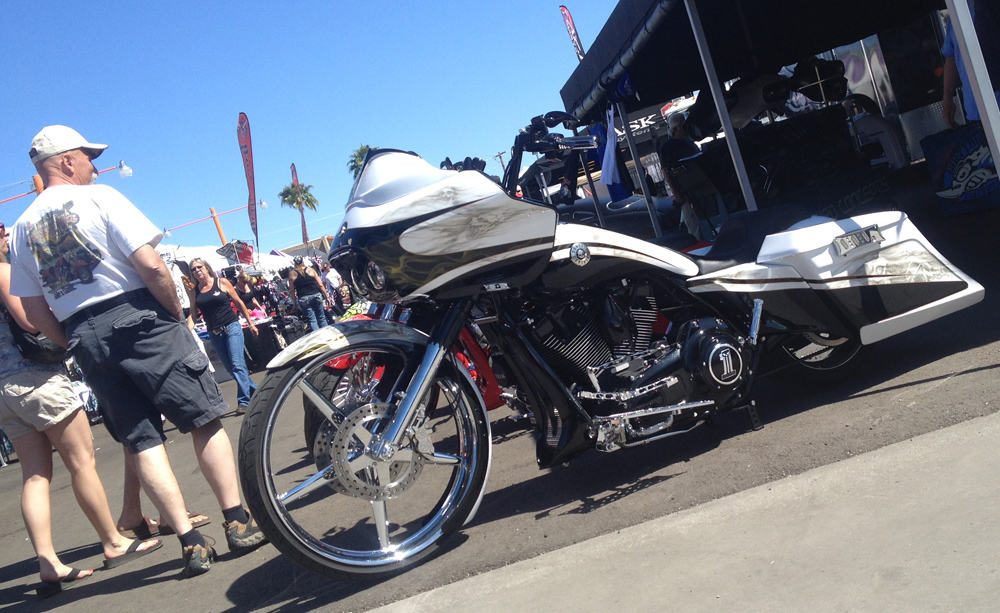 This stunning black and white custom bagger was among my favorites.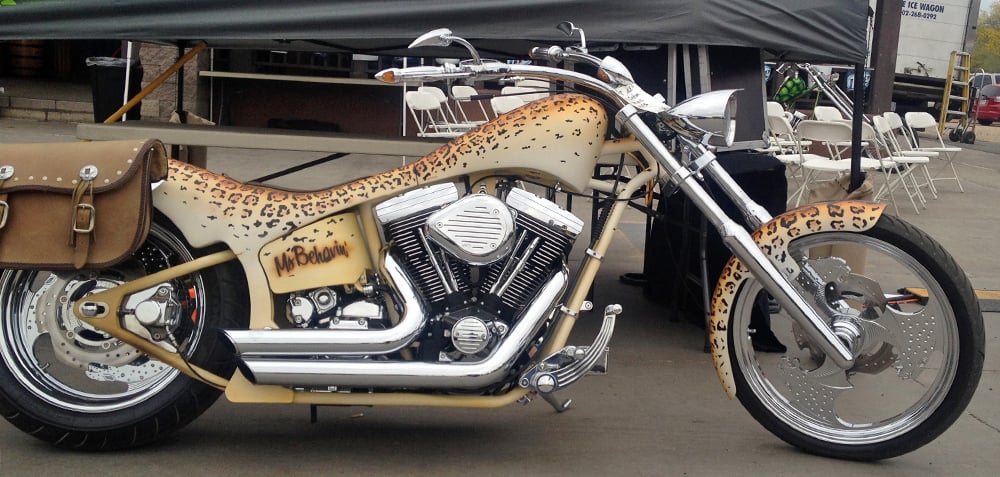 Ms. Behavin'.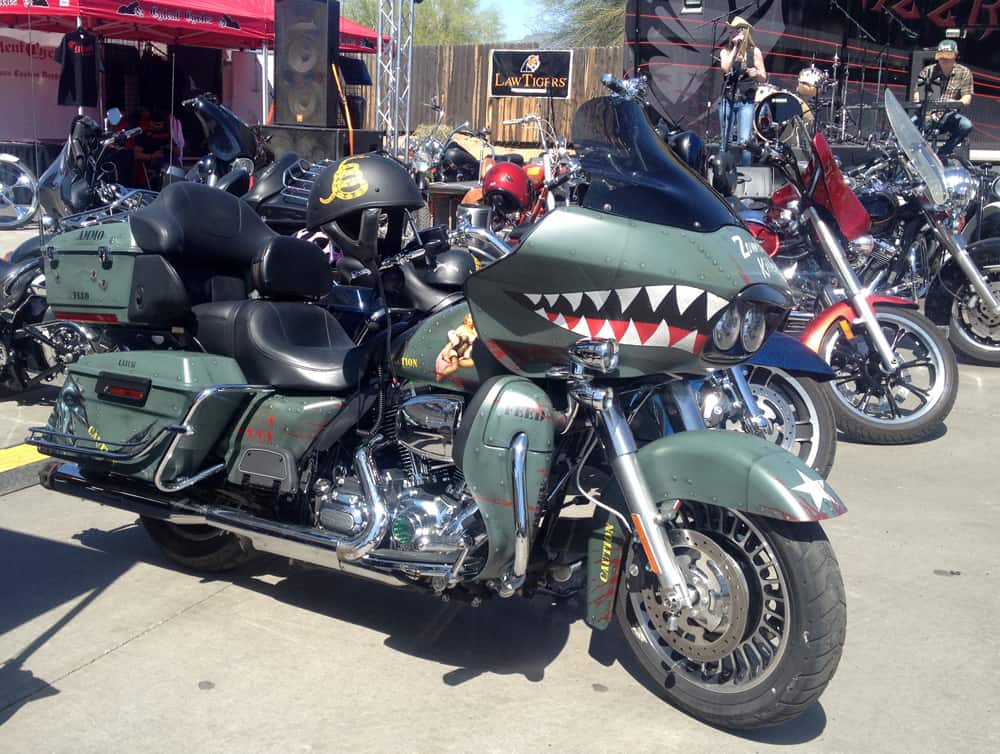 This P-40 Warhawk-inspired is a nice tribute to WWII fighters.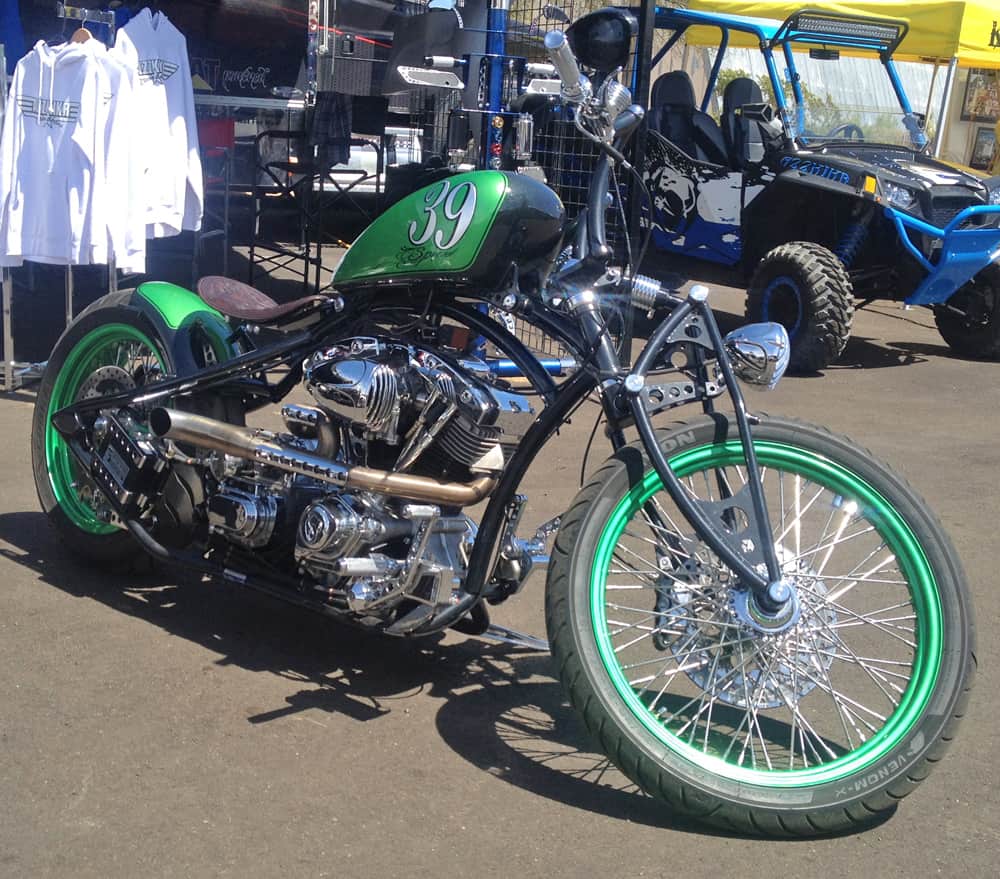 This lean and mean green machine is sweet.
Of course, not every bike at Bike Week is a big-wheeled bagger. There were several beautiful "old-school" rides as well. Everything from totally custom to the newest thing off the showroom floor. This event drew thousands of riders to Cave Creek. Some rode Harley, some rode metric, and some rode big. Boss Hoss is big.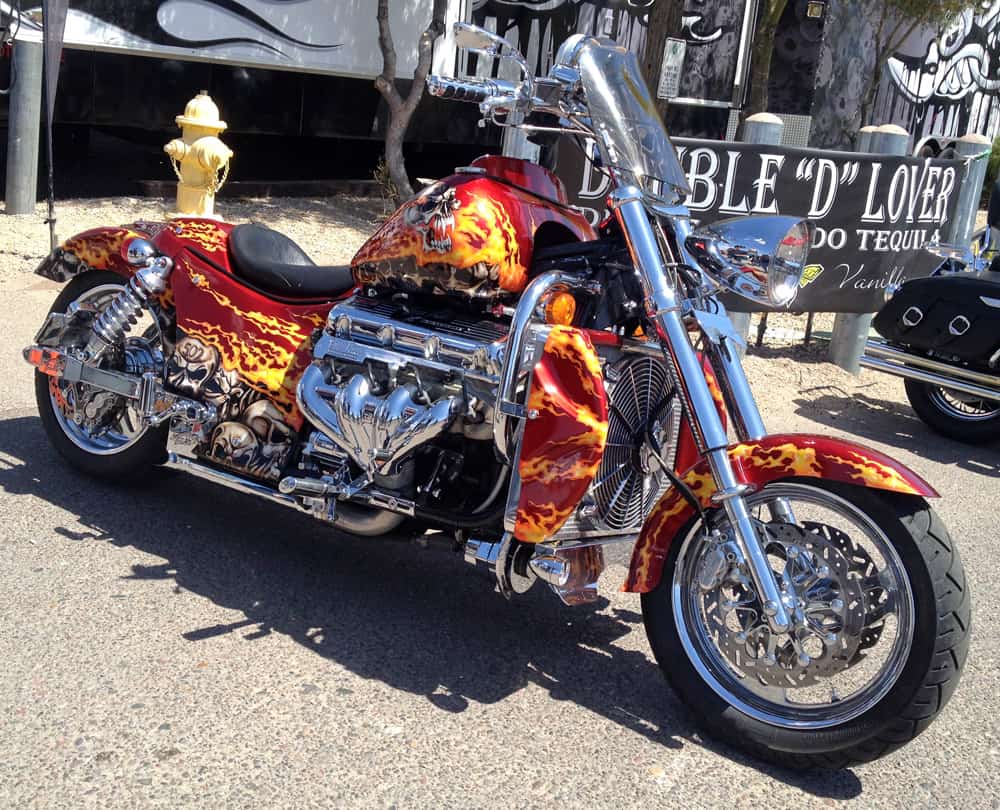 The BOSS HOSS V8 motorcycle.
The Boss Hoss motorcycle is big. Really big. It's 106″ long and weighs in at 1100 pounds (dry weight). The Boss Hoss features a liquid-cooled V8 with 295 horsepower – like a car, but without all those unsightly bumpers and airbags. This is a serious muscle machine.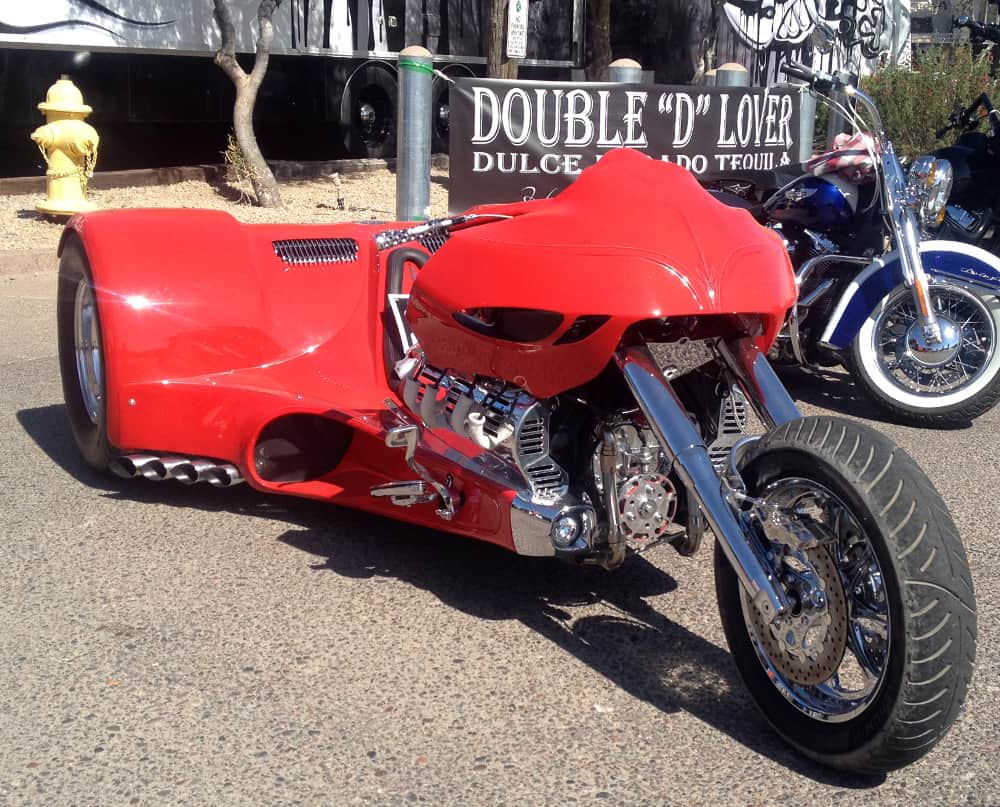 V8 trike.
Later, another V8 beast took the same spot. I'm guessing it has something to do with a fire hydrant. This time, it was a red V8-powered trike. This actually looks like fun.
And there was quite a collection of custom cars, street rods, and exotics. I saw a few Lamborghini, Ferrari, and other exotic machines drift through town over my days there.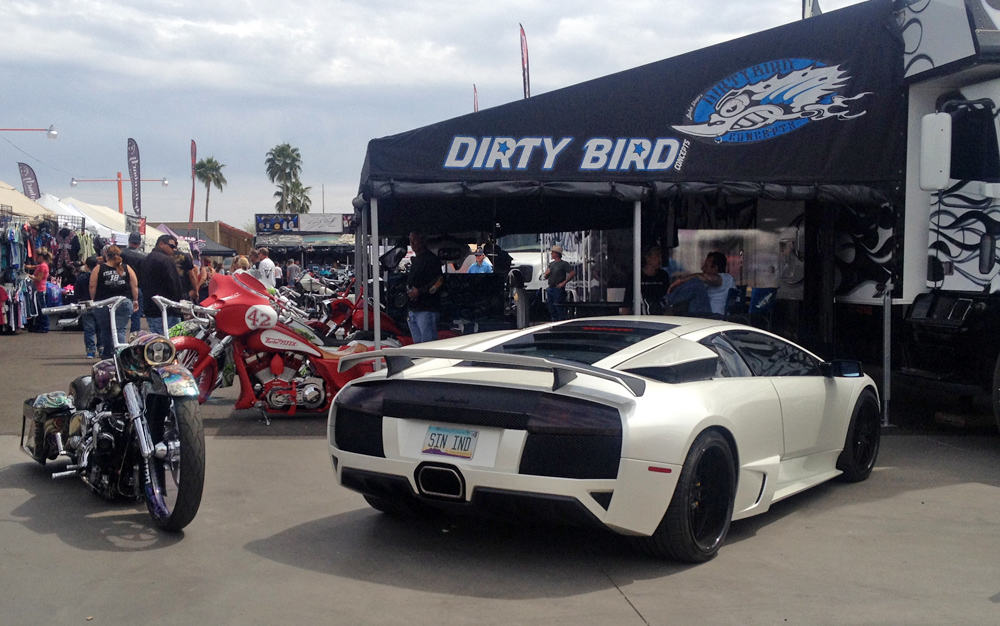 This beautiful white Lamborghini Murcielago was right at home among all the custom bikes…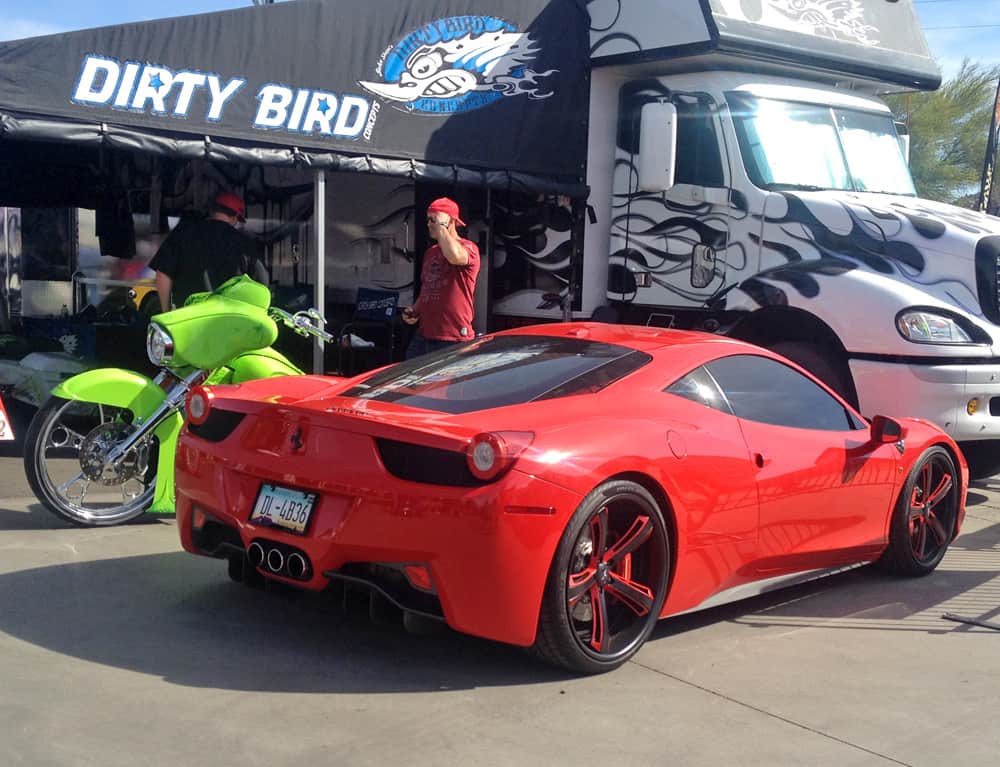 …as was the Ferrari 458.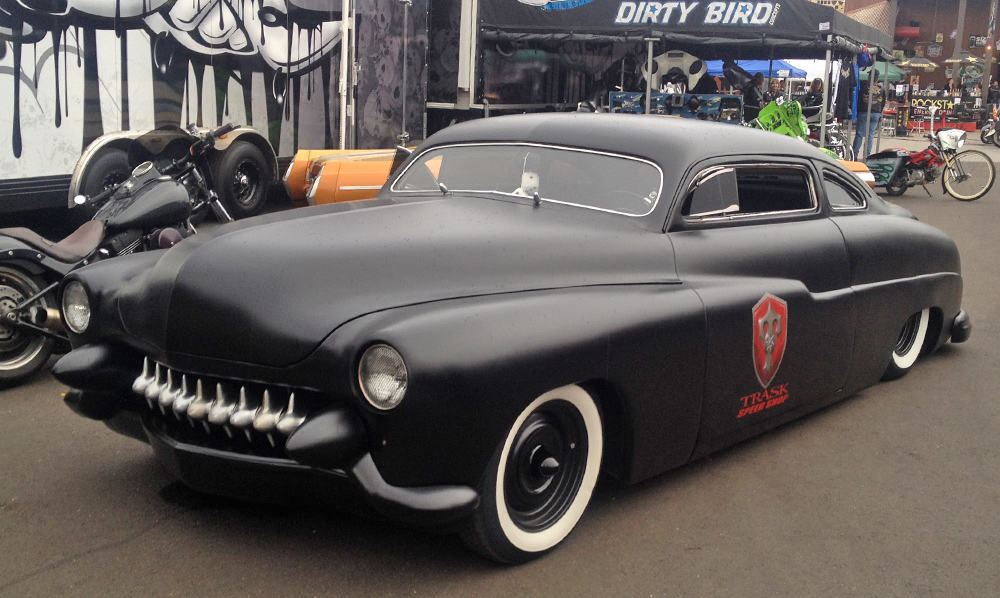 The Trask Lead Sled is very retro.
And what is a bike rally without beautiful ladies? Hopefully, we'll never have to answer that question.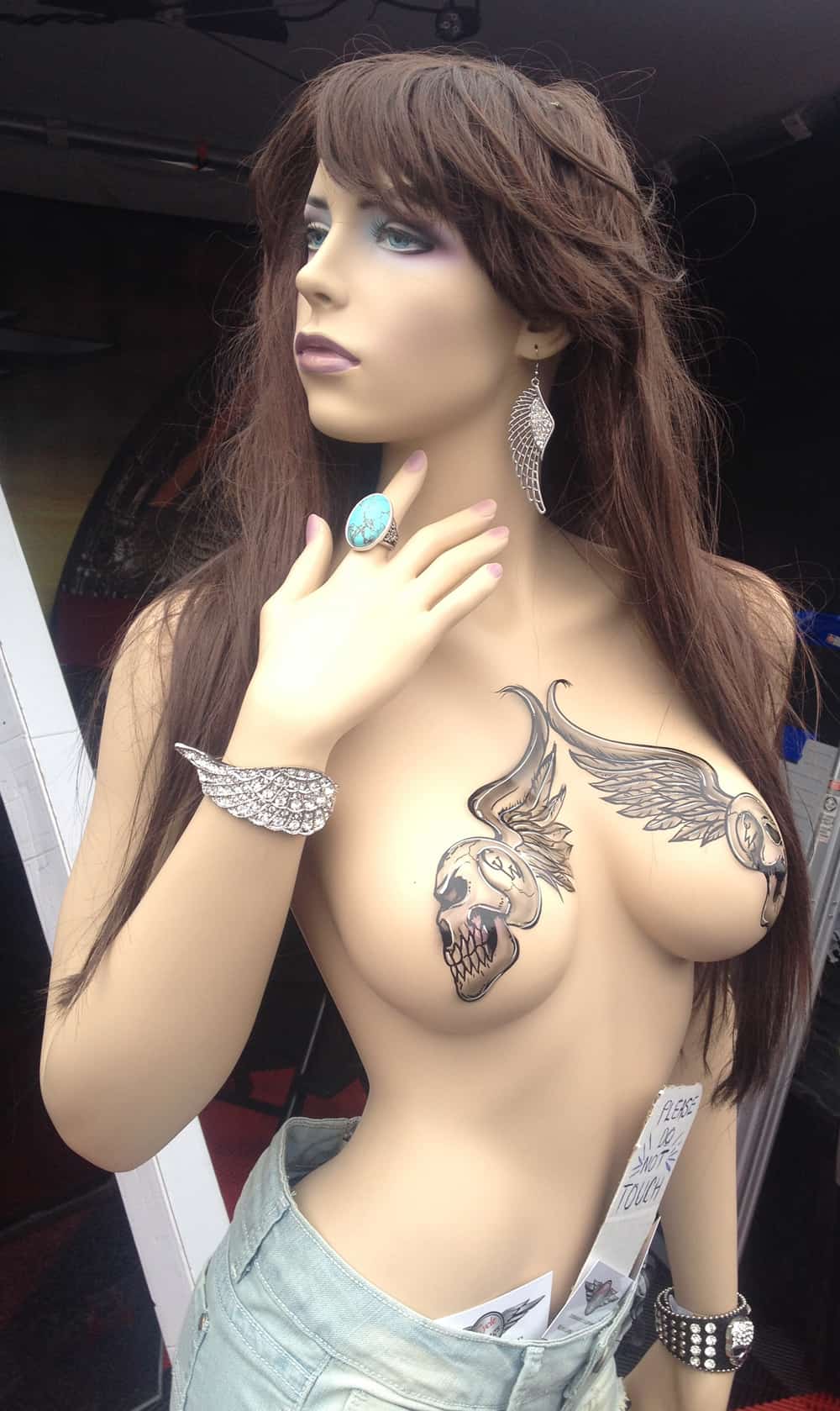 This girl seemed to get a lot of attention. Relentless, too, she posed all day and never seemed to tire. A true professional.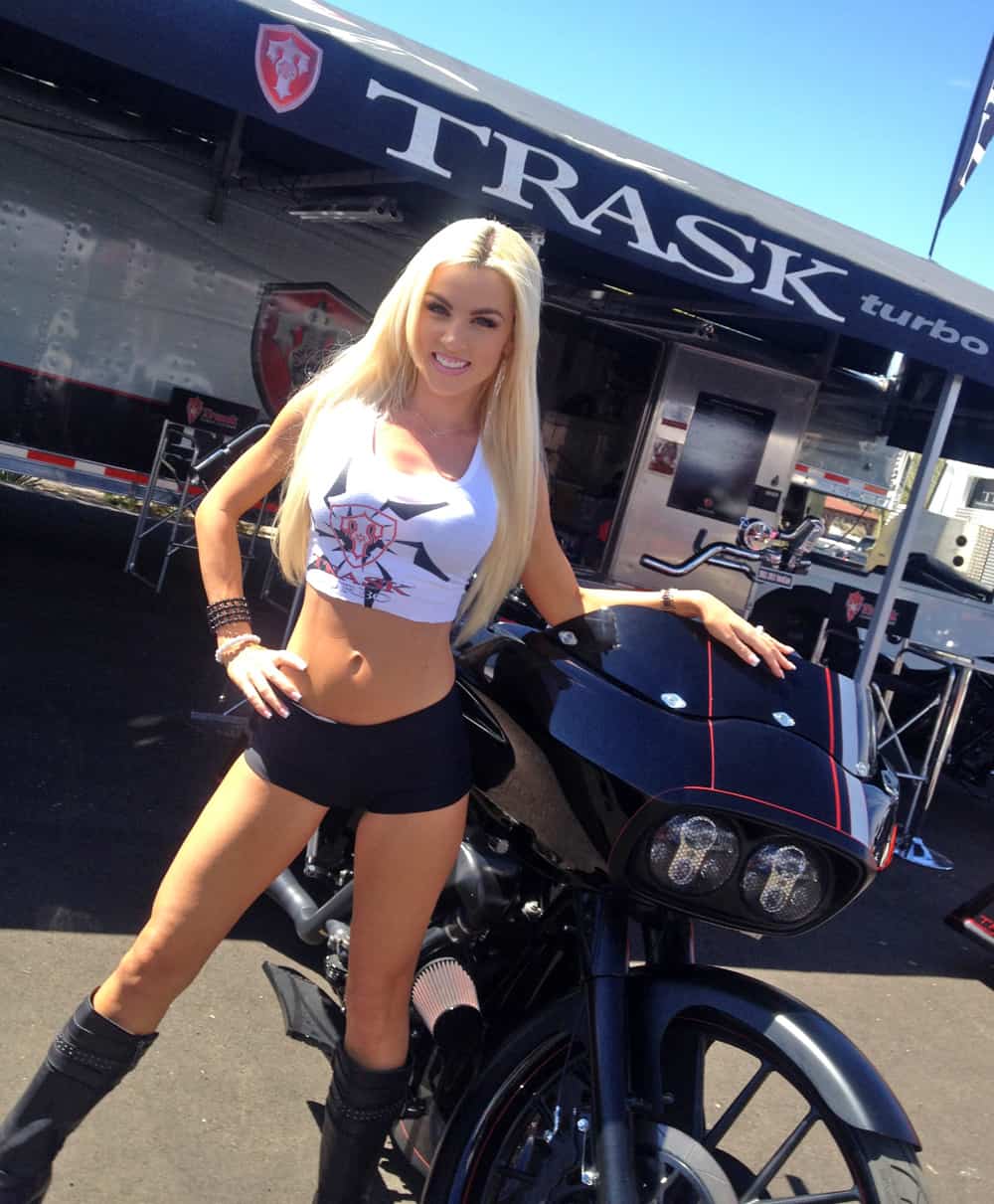 The stunning Jen Republic at the Trask display.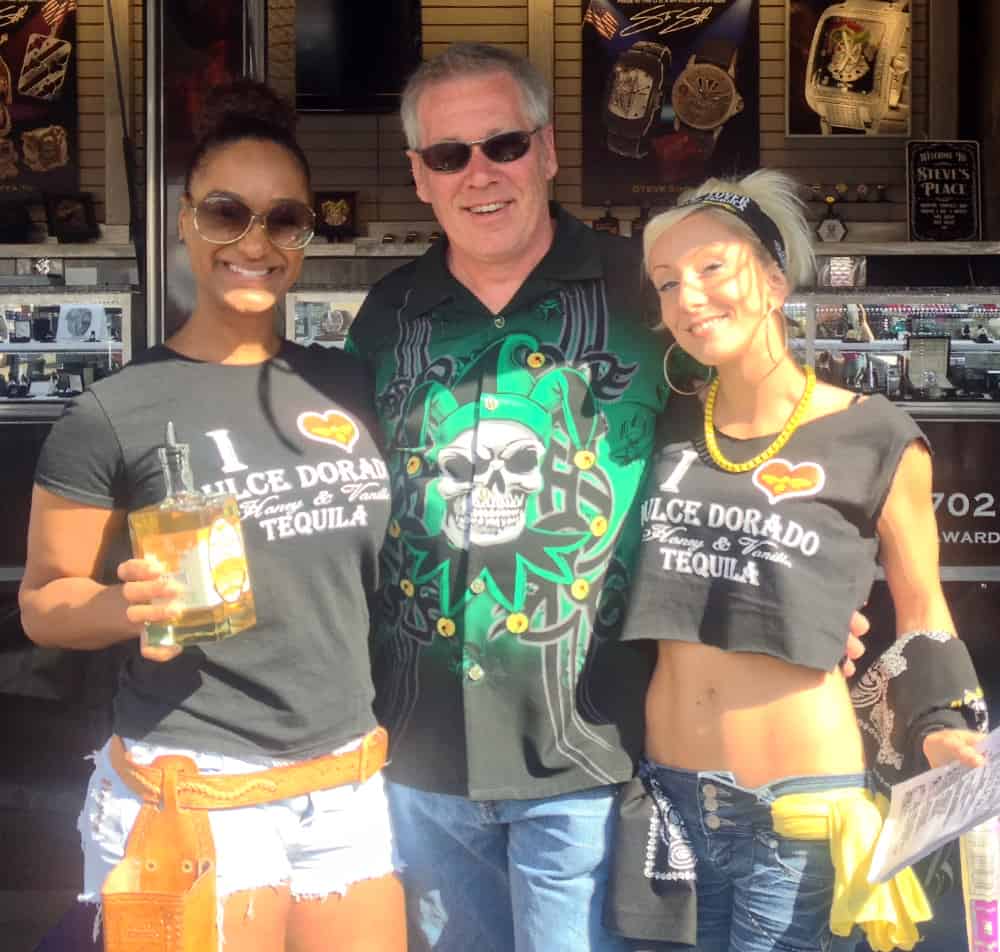 The Dulce Dorada Tequila ladies stopped by with samples and smiles to warm our day.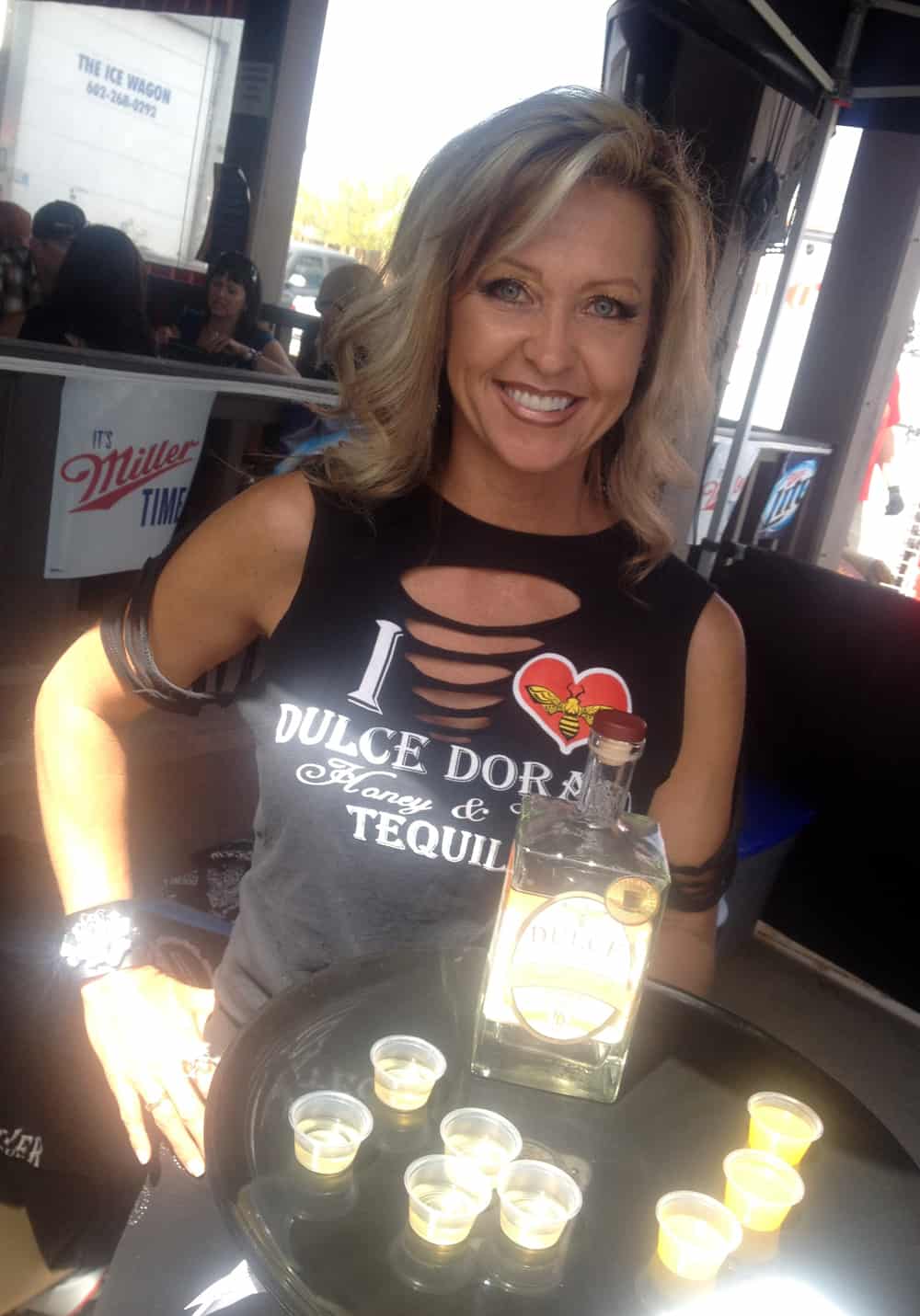 I suddenly have a craving for honey tequila. Maybe it's the smile, but I think this looks good. Cheers!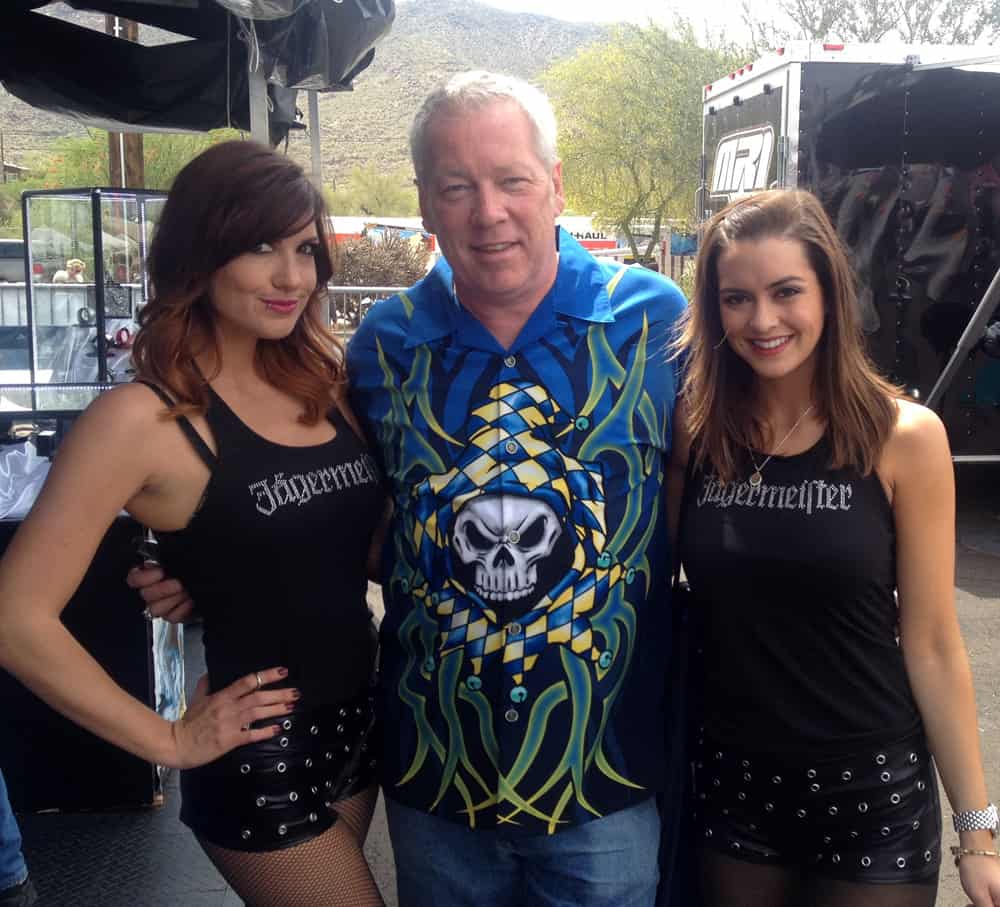 The beautiful Jägermeister ladies were there as well.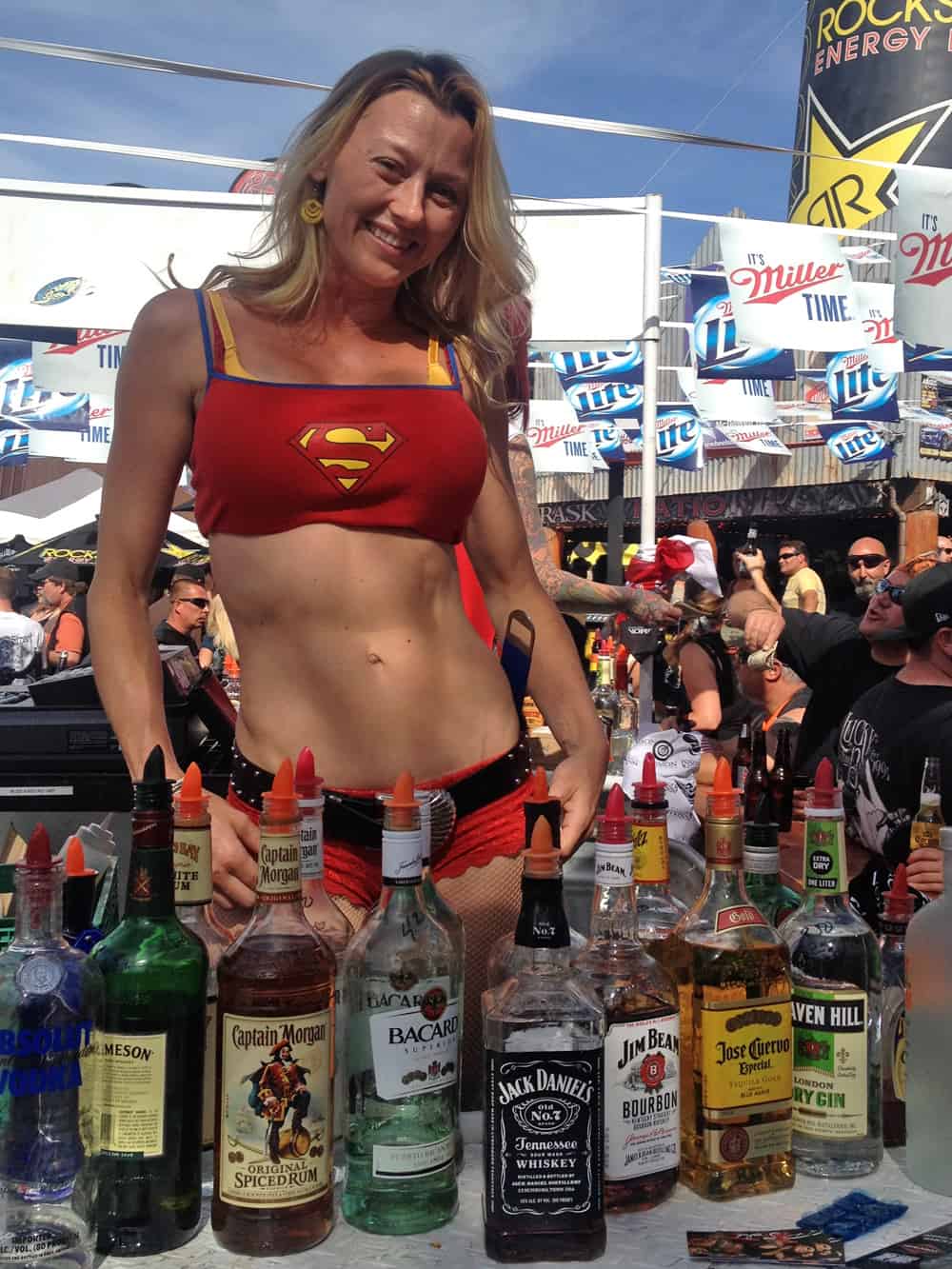 Captain Morgan, Jack Daniels, Bacardi, or just a smile. Whatever you want, The Hideaway is center stage as party central in Cave Creek. My kryptonite?… Old No. 7 for me, please. Cheers!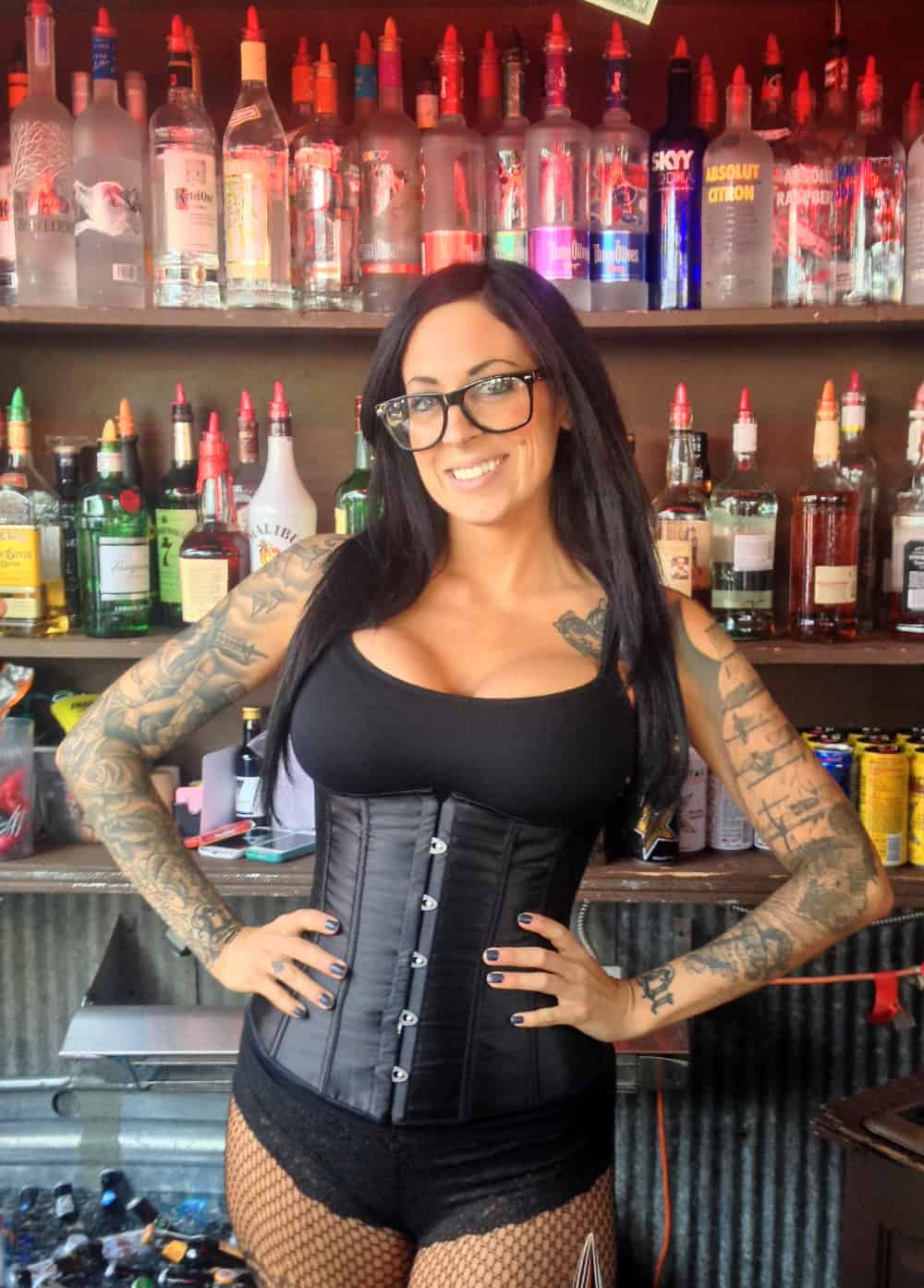 The Hideaway features as many pretty ladies as drinks. Lovin' the ink, darlin'.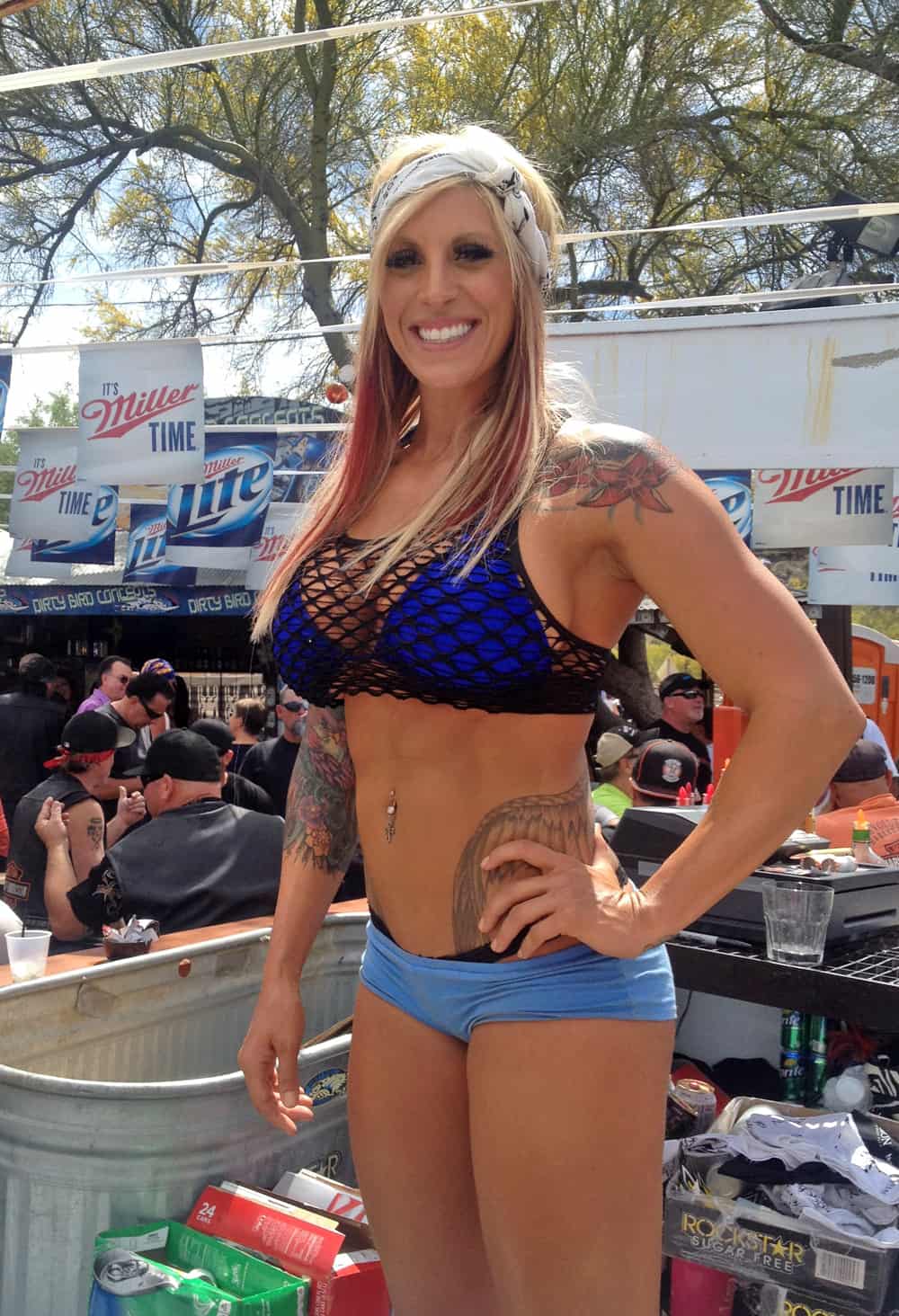 What a smile.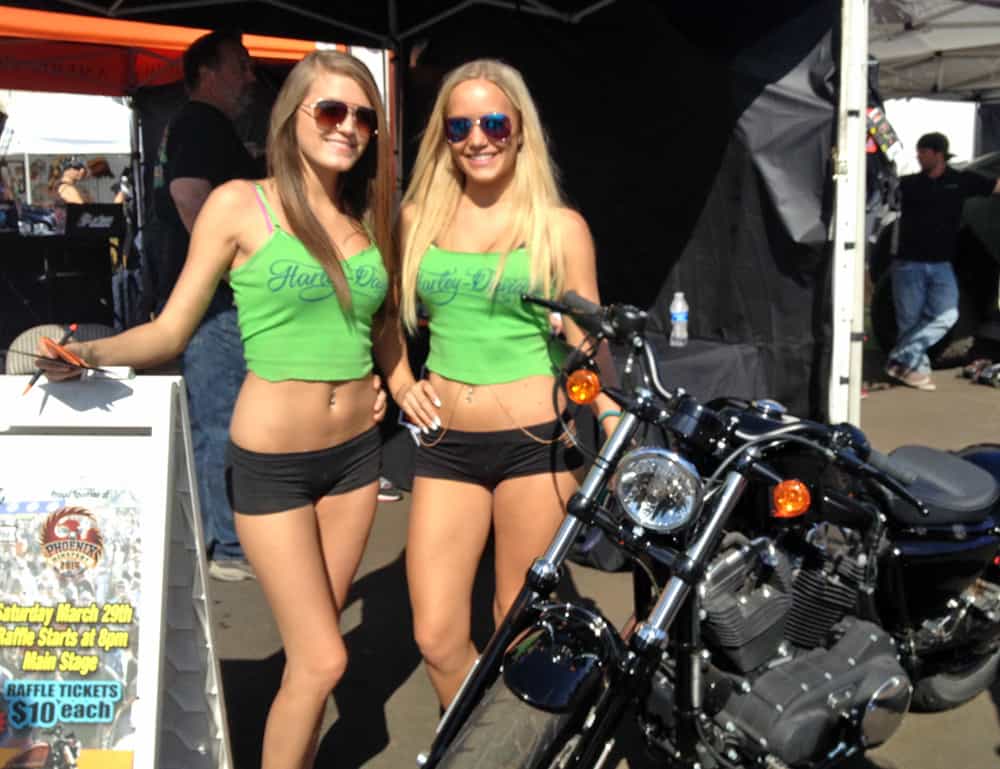 One ticket, two bikes, two chances to win. Hey, you can't win if you don't enter. For a mere $10, you could win one of two cool Harley-Davidson Sportsters from Buddy Stubbs Harley-Davidson. You can take a picture of these two lovely ladies for a smile. That folks, made me the winner that day.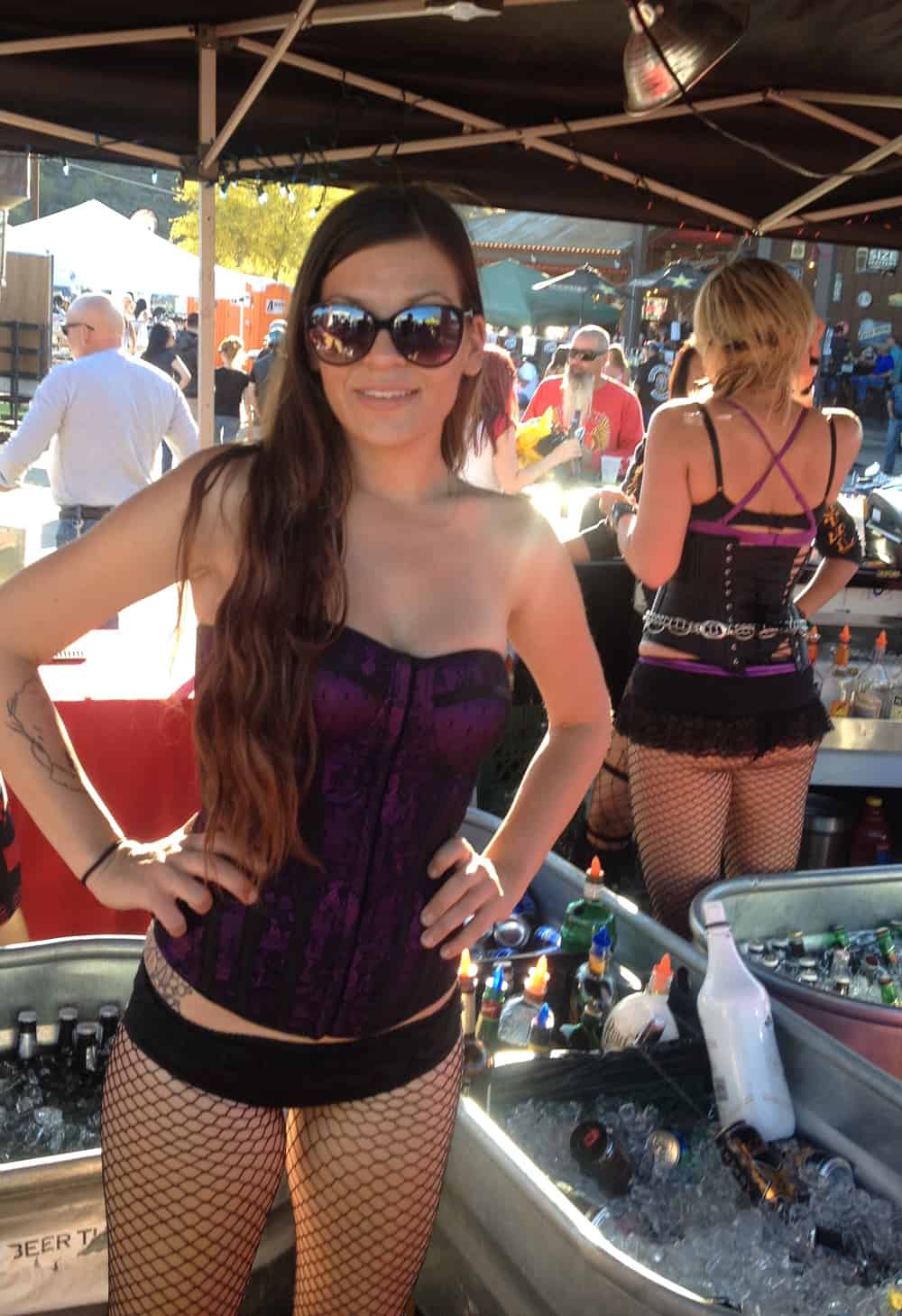 I love the shades… and the smile.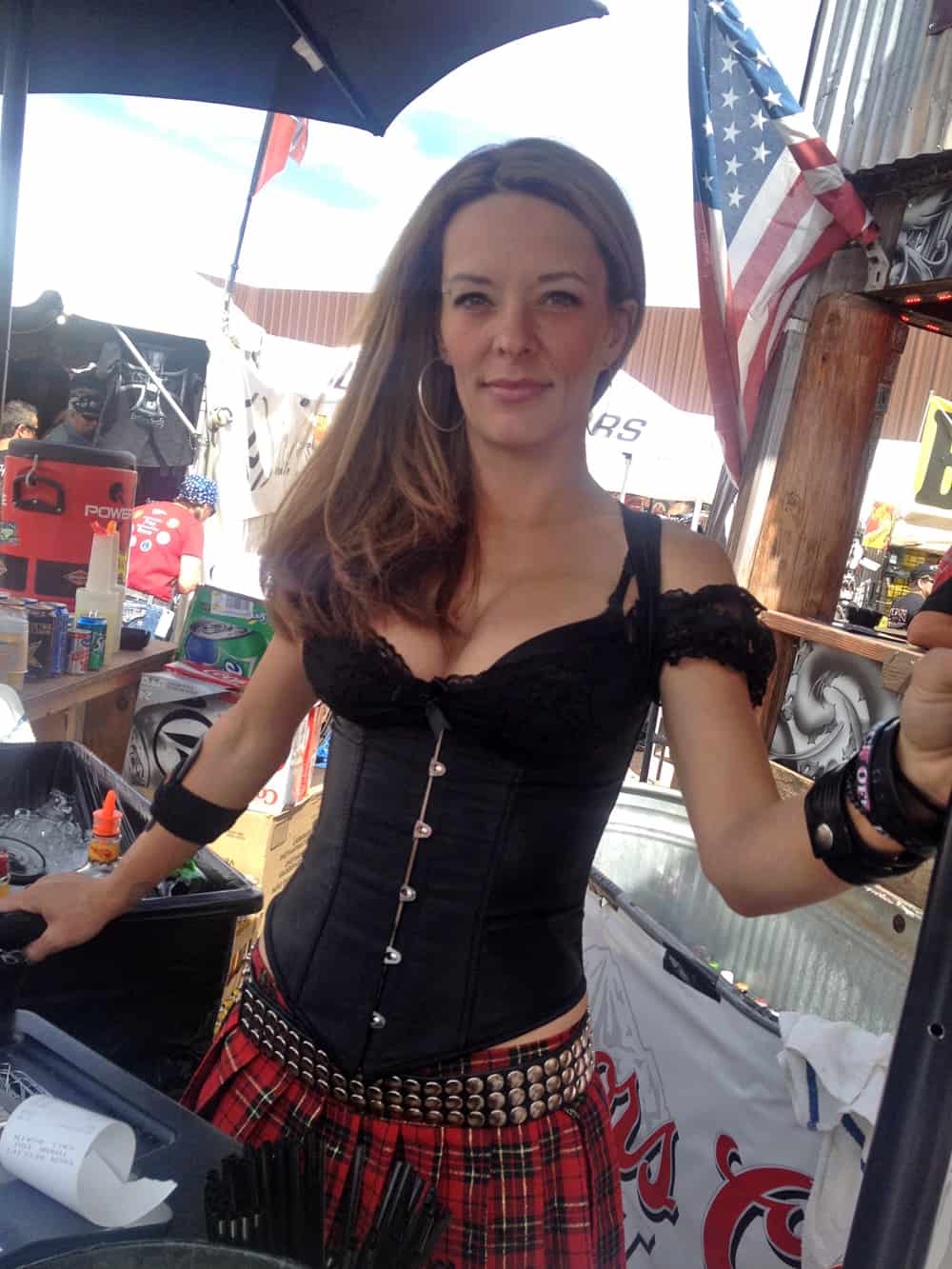 Beauty abounds in Cave Creek.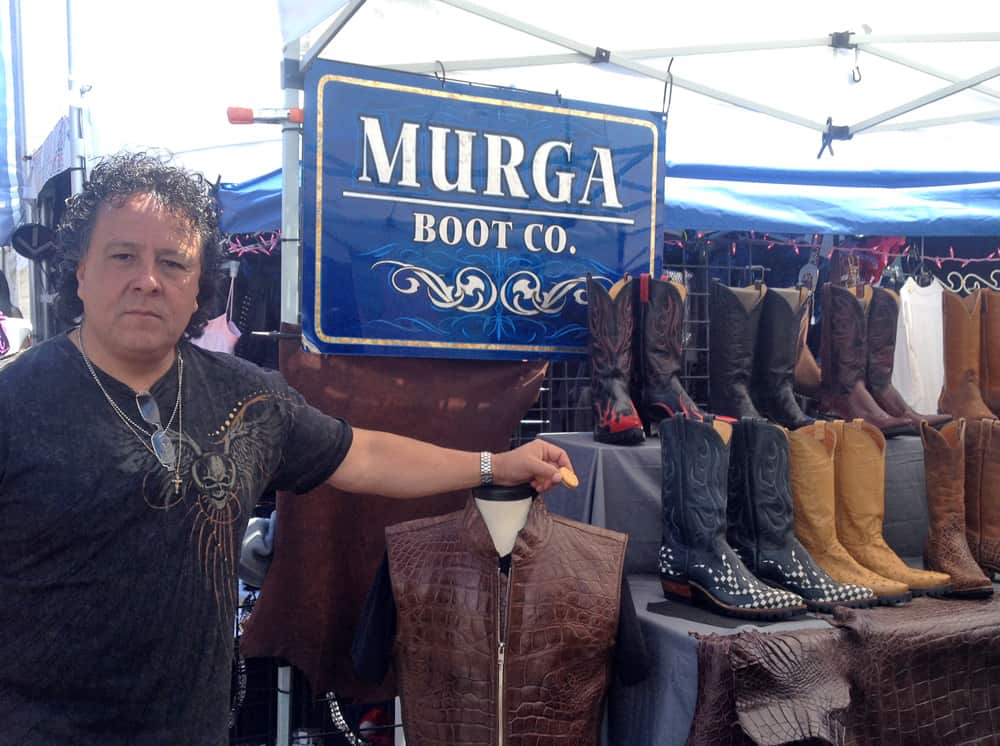 Tony Murga from Murga Boot Company.
Of course, Bike Week is more than great bikes and beautiful ladies. Tony Murga from Murga Boot Company was there showcasing his custom hand-made boots. Check him out online at MurgaBoots.com
There are a lot of talented folks at this rally. From master boot designers (like Tony above) to airbrush artists and pinstripe masters alike, talent abounds.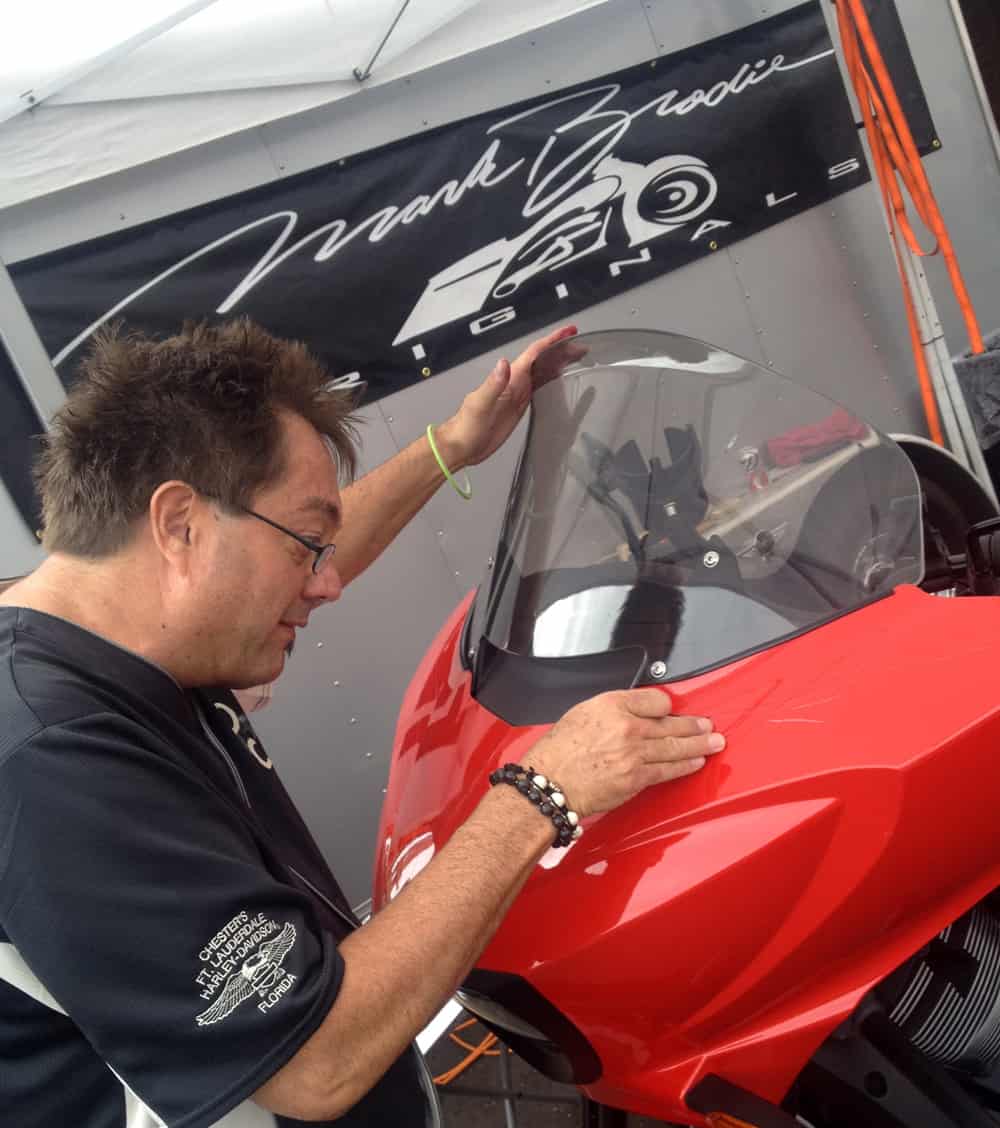 Master pinstripe artist Mark Brodie laying down some lines.
It was a pleasure to see master pinstriper Mark Brodie lay down some lines. With a steady hand and a lifetime of practice, he truly does amazing work (and I don't say that lightly).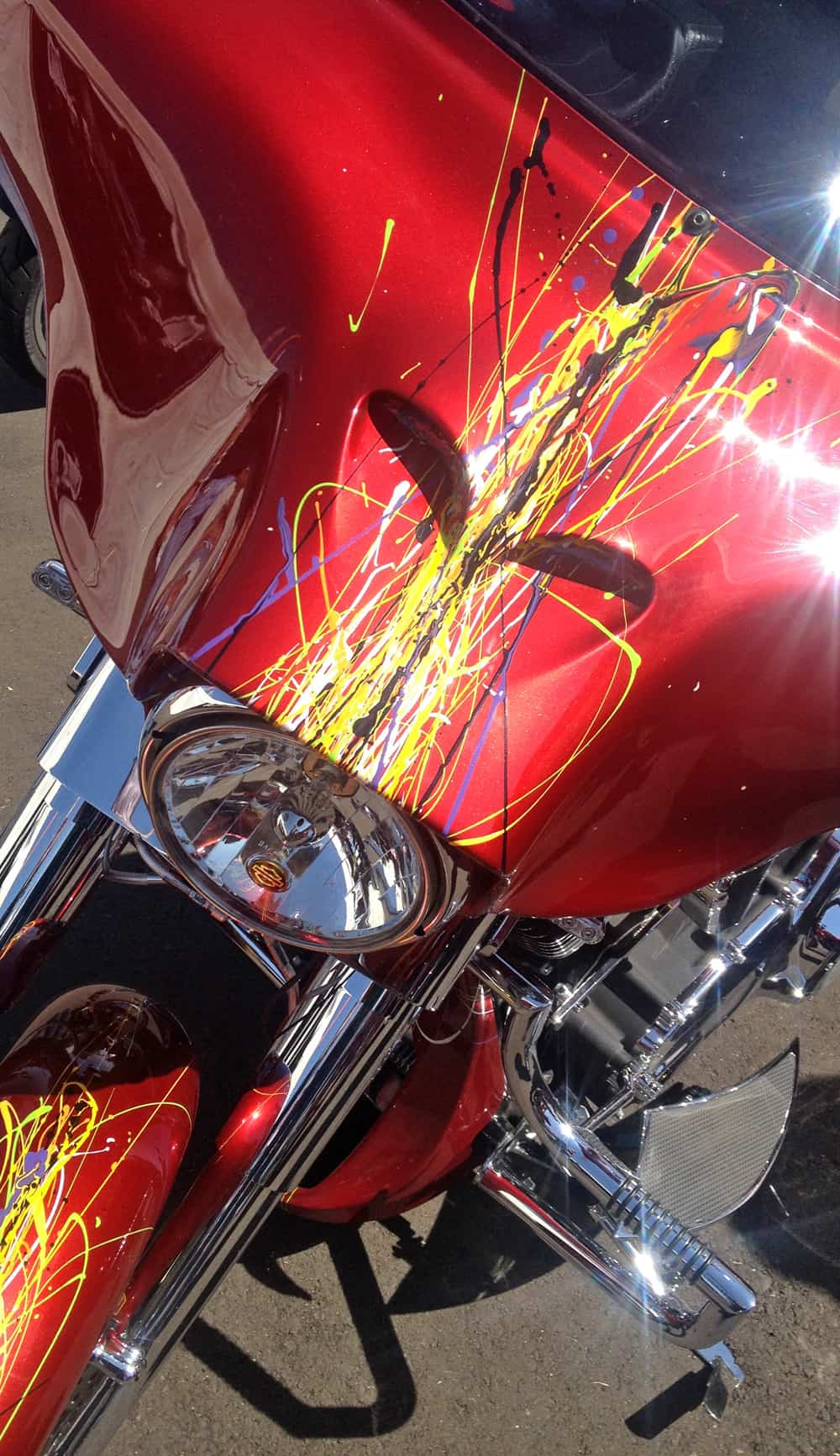 MARK BRODIE is considered "NASCAR's Celebrity Artist." His work can be found everywhere, between his custom-built motorcycle designs gracing the covers of magazines like AMERICAN BAGGER and his work with NASCAR greats Dale Earnhardt Sr., Dale Earnhardt, Jr., and Mark Martin. The fine art is all one-off originals. Mark has performed custom work for many of the world's top bike builders and has also, in '03, had the privilege and distinction to helm the paint scheme for logo changes for the WINSTON/NEXTEL changeover with NASCAR.
From old-school pinstriping to in-your-face head-turning paint schemes and FINE ART, Mark is one to see this year. Come and meet him for a signature photo or pinstripe on your car or bike, modifying it from your usual "STOCKER" to something personal and custom.
I really like his splatter-painted bagger (left), which featured bursts of energetic paint from front to back.
And his other red bagger is pretty amazing – my kind of bike. Both beautiful and road-ready. I do not doubt that this stunning custom Harley-Davidson touring bagger is a head-turner wherever he rolls. Well done, Mark.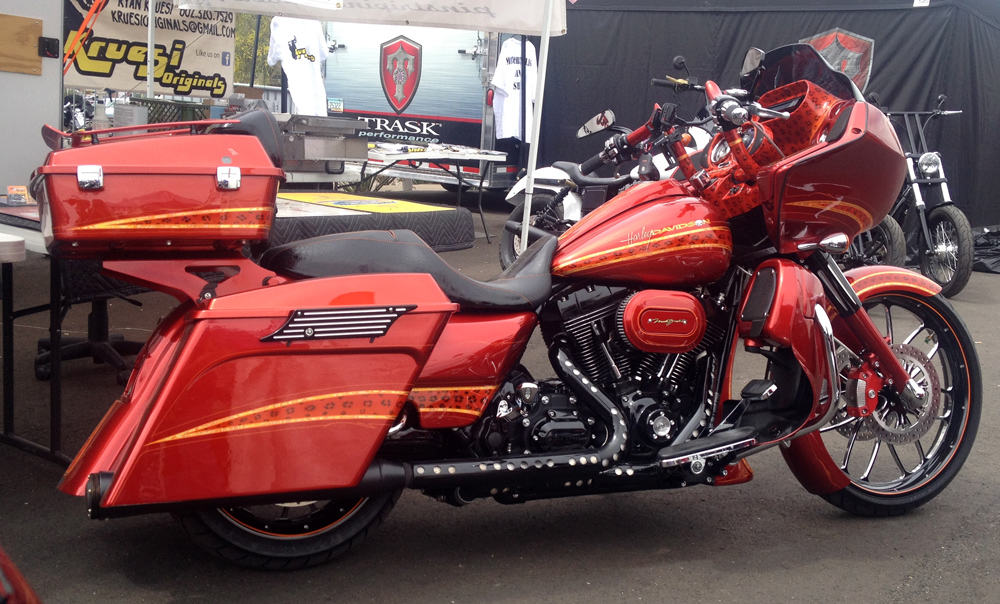 Mark Brodie's Custom Bagger.
Among other great talents at Bike Week was airbrush artist Shawn Wilken, who showcased his designs on bikes and panels.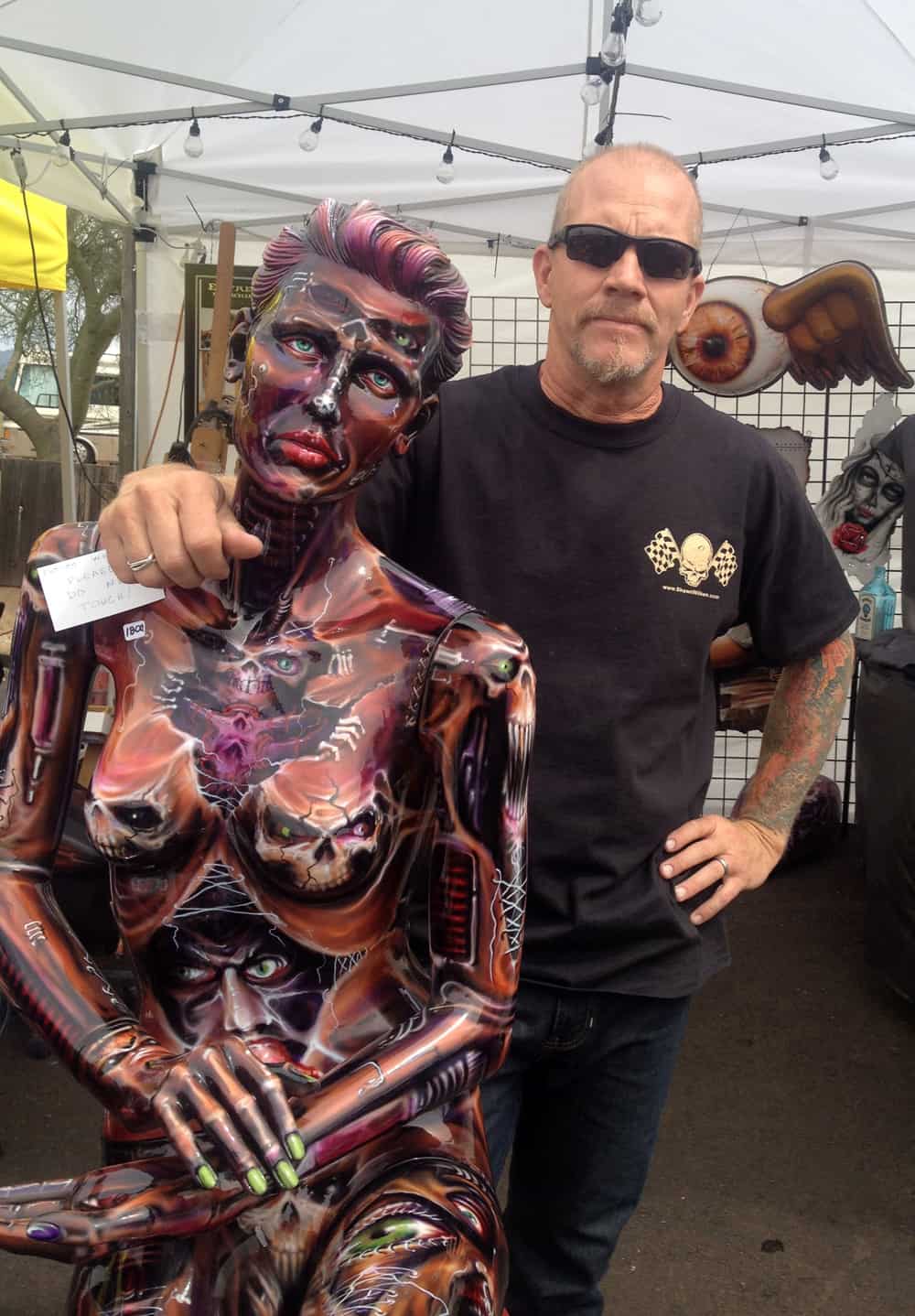 Artist Shawn Wilken at Bike Week.
Born and raised in Phoenix, Arizona. Shawn grew up with a passion for drawing. Self-taught at a young age, he became interested in all forms of artistic media.
He started his career in the early 80s as an artist in the textile industry. This experience helped him expand his knowledge. From there, he ventured into multiple industries – tattoo, motorcycle, automobile, and fine art. I've known Shawn casually for years and didn't even know until recently that he has over twenty-three years of experience in professional tattooing. Shawn prides himself on the ability to paint anything and everything – being versed and highly experienced in all forms of artistic media.
He lives and works out of his private studio in Phoenix, Arizona. Contact him at ShawnWilken.com to make your ride stand apart from the others. He actually painted several bikes featured in this post. His style is all styles and no style.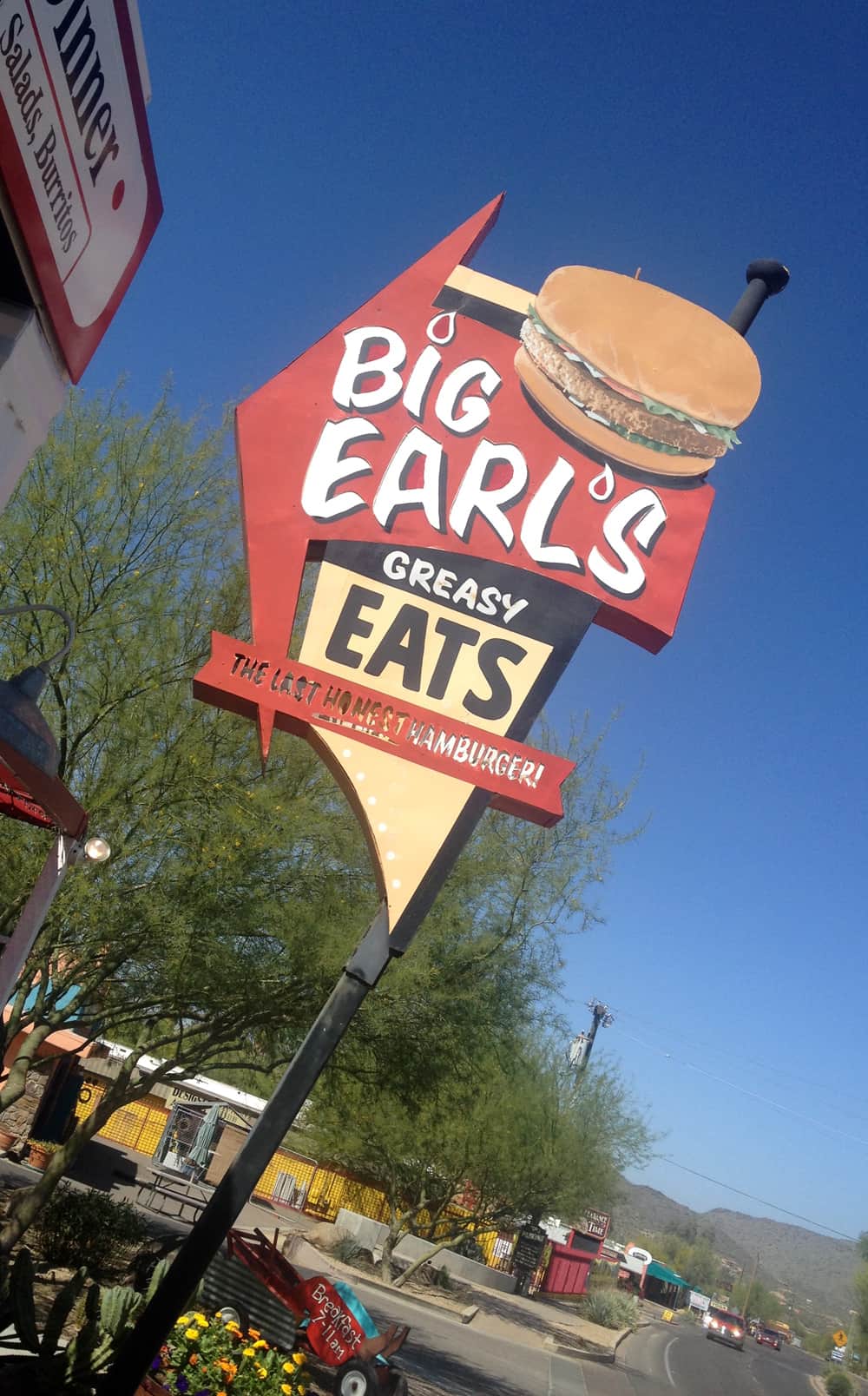 • • • • •
And Cave Creek is so much more than Bike Week. This little town has many great attractions, awesome food, and fun places to see.
I loved Z's Asian Fusion. I could easily become addicted to their deep-fried salmon dish, and their calamari was as good as any I can find in Vegas. We dined there a couple of times in our ten-day stay in Cave Creek and have never left there less than unsatisfied.
Big Earl's Greasy Eats is another great spot just down the street from Z's. Their diverse menu features everything from burgers and burritos to awesome daily specials. It takes me back a bit to dine at these "old school" eateries with a flair for the past.
Big Earl's is Located in the heart of Cave Creek, Arizona, and started out in the 1930s as a gas station. In 2002, it blossomed as Big Earls Greasy Eats. When they say "The Last HONEST Hamburger!" that is exactly what they mean. Check it out next time you roll through Cave Creek.
And, of course, there is the Cave Creek Tap Haus in the center of town. The Tap Haus and Hideaway are the heartbeats of the Cave Creek motorcycle rally experience. Large gatherings of motorcycle enthusiasts center around these two hot spots and spill into other venues around Cave Creek, but for the most part, if you miss what's happening at Yap Haus and Hideaway, you pretty much missed the event. Seriously.
But in reality, it would be impossible to miss these two venues. Both locations feature fantastic music daily and host all the contests and events worth seeing. Pretty much all the shots in this post are from those two venues and trust me when I say that these shots barely scratch the surface of festivities and eye candy.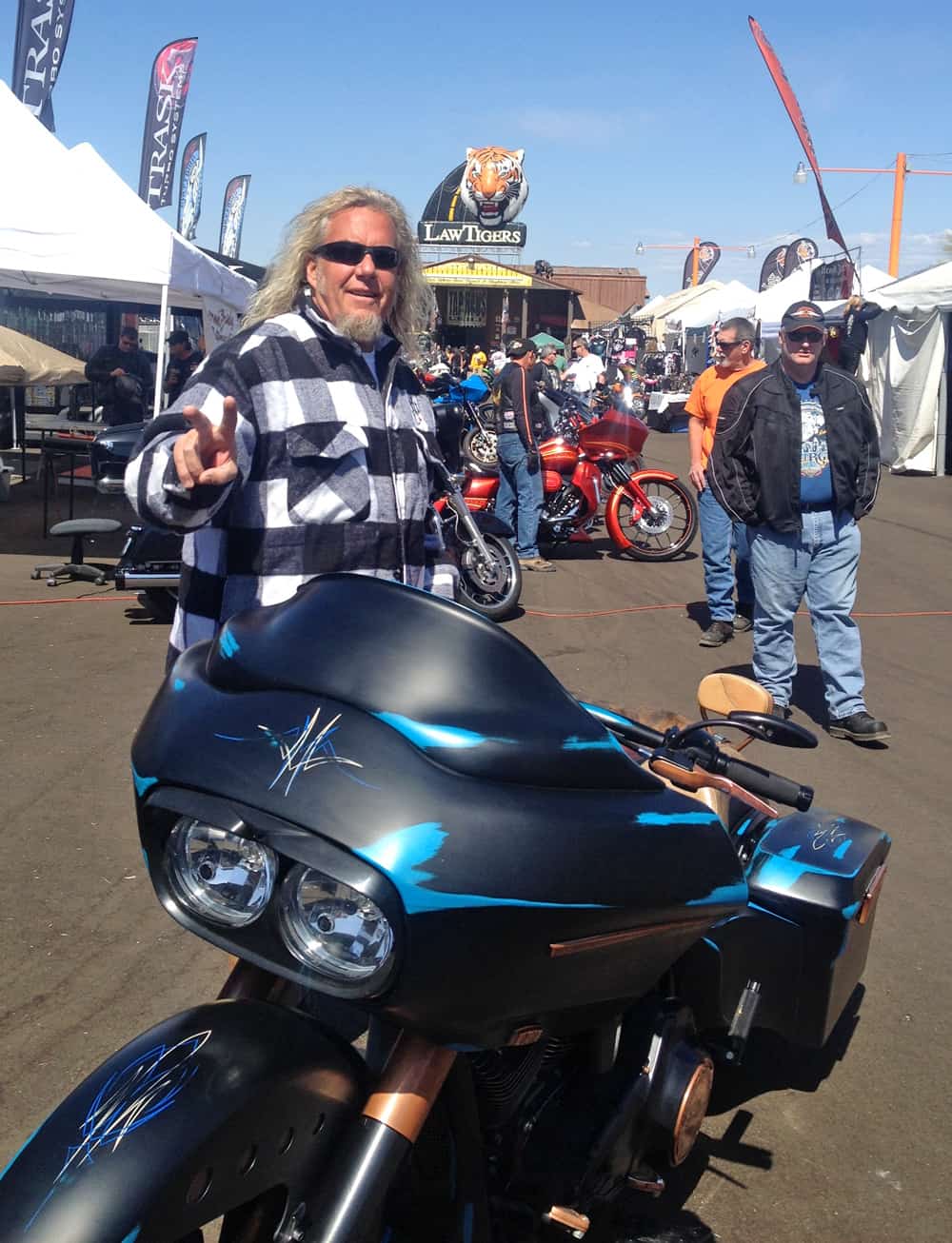 Mark, owner of Cave Creek Tap Haus, Cave Creek, AZ. Peace Mark. Kudos to an event well done.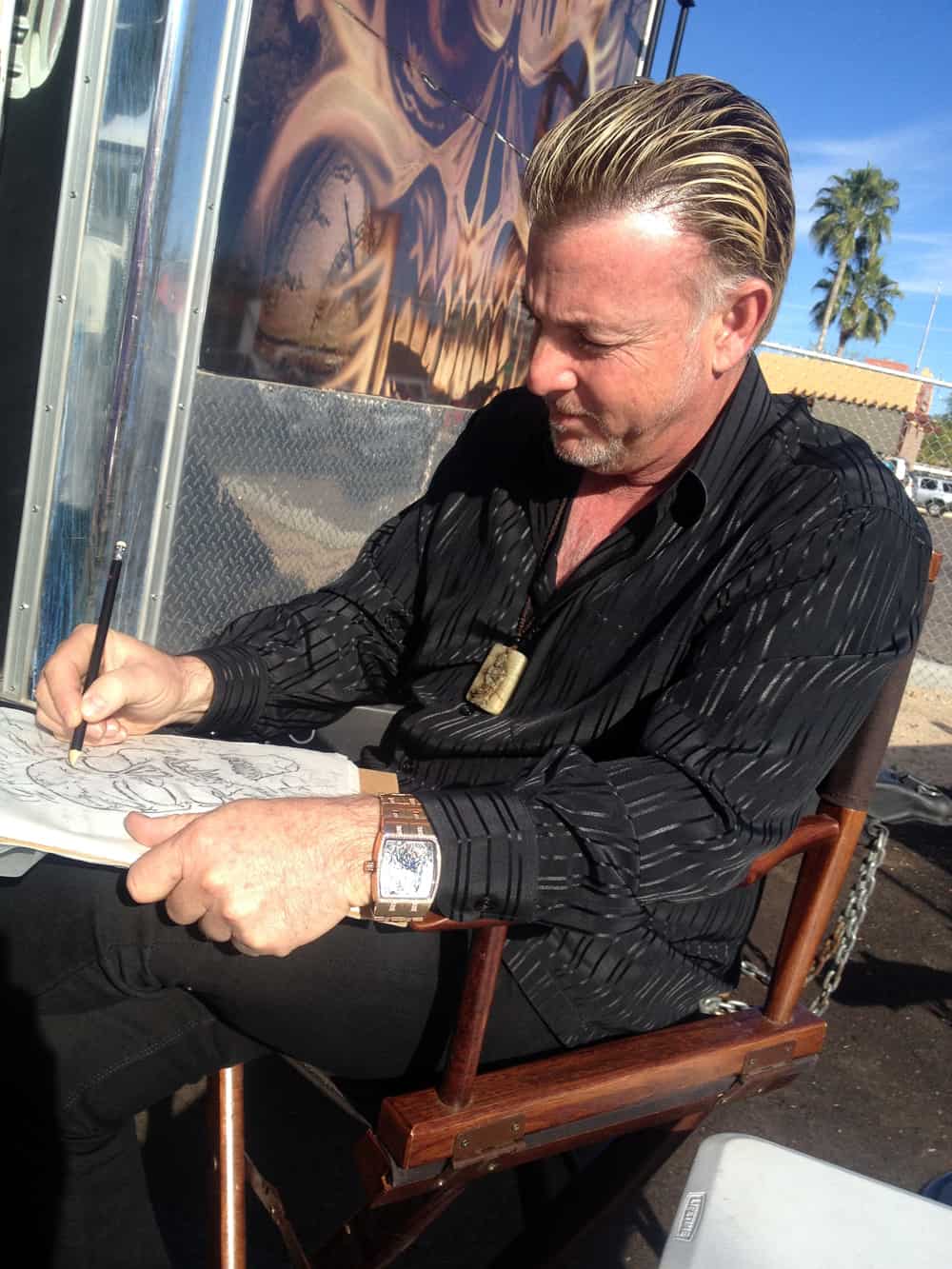 Artisan Steve Soffa takes a little time between customers to work on his next creation.
No rest for the creative; with a pencil in hand, artisan Steve Soffa is always working on new creations. Join him next year at Arizona Bike Week to check out his latest creations, or visit him online at SteveSoffa.com
• • • • •
Somewhere in Cave Creek, the party continues…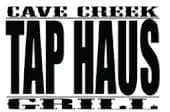 Cave Creek Tap Haus
6900 E. Cave Creek Rd.
Cave Creek, AZ 85331
(480) 488-3300
• • • • •
Click here to read last year's post on AZ Bike Week, "Kindred Spirits."
Cheers!
• • • • •