It's only natural for me to create motorcycle paintings. As the saying goes, "I was born to ride."
My earliest memories of motorcycles were riding with my dad when I was only three or four. He would sit me in front of him on his big 'ol Harley, and I would hold on to the sides of the gas tank as he drove. I loved the sound and the feeling of flying as we rolled down the street. Although we didn't ride far, it was enough to know that I loved it. It was like nothing else. And dad was cool in his dark brown bomber jacket, white t-shirt, and engineer boots. He was my hero. I was immediately hooked on the whole motorcycle experience. So I guess you say I was born into it.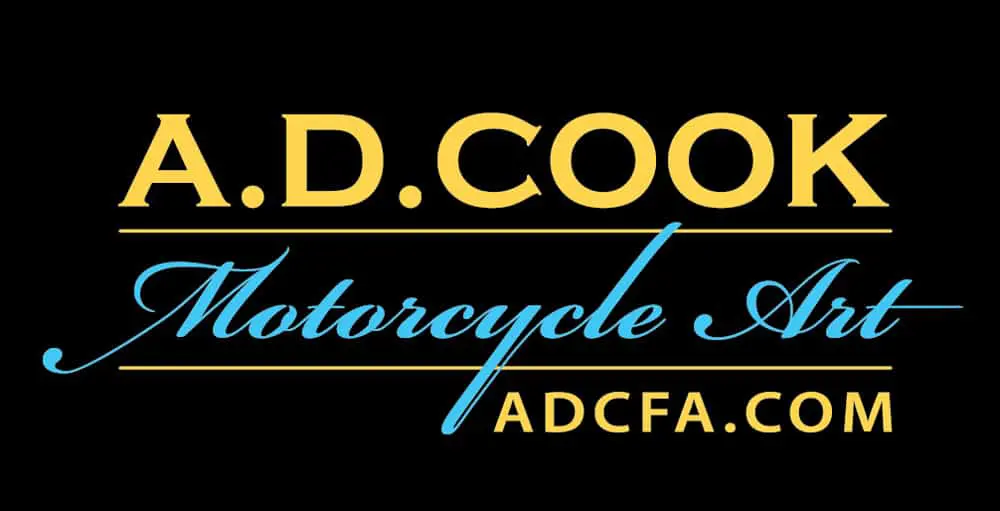 Over the years, I've owned several motorcycles – mostly Harley-Davidson® baggers and Softails™, along with a few other bikes. When I was younger, my motorcycle was my only means of getting around for a few years. I never minded that because I loved riding. After all, bikes are cool. When I was seventeen, I bought my first bike from a friend. At eighteen, I strapped everything I owned to the back of my burgundy red Honda 400 Four SuperSport and moved from Oregon to Arizona, making the fourteen-hundred-mile ride in two-and-a-half days. Since then, I've logged thousands of miles straddled upon my iron horse of one brand or another. So, as a rider and enthusiast, painting iconic motorcycle art is only natural for me, and I've been painting my passion for years. I share a sampling of my motorcycle paintings with you here.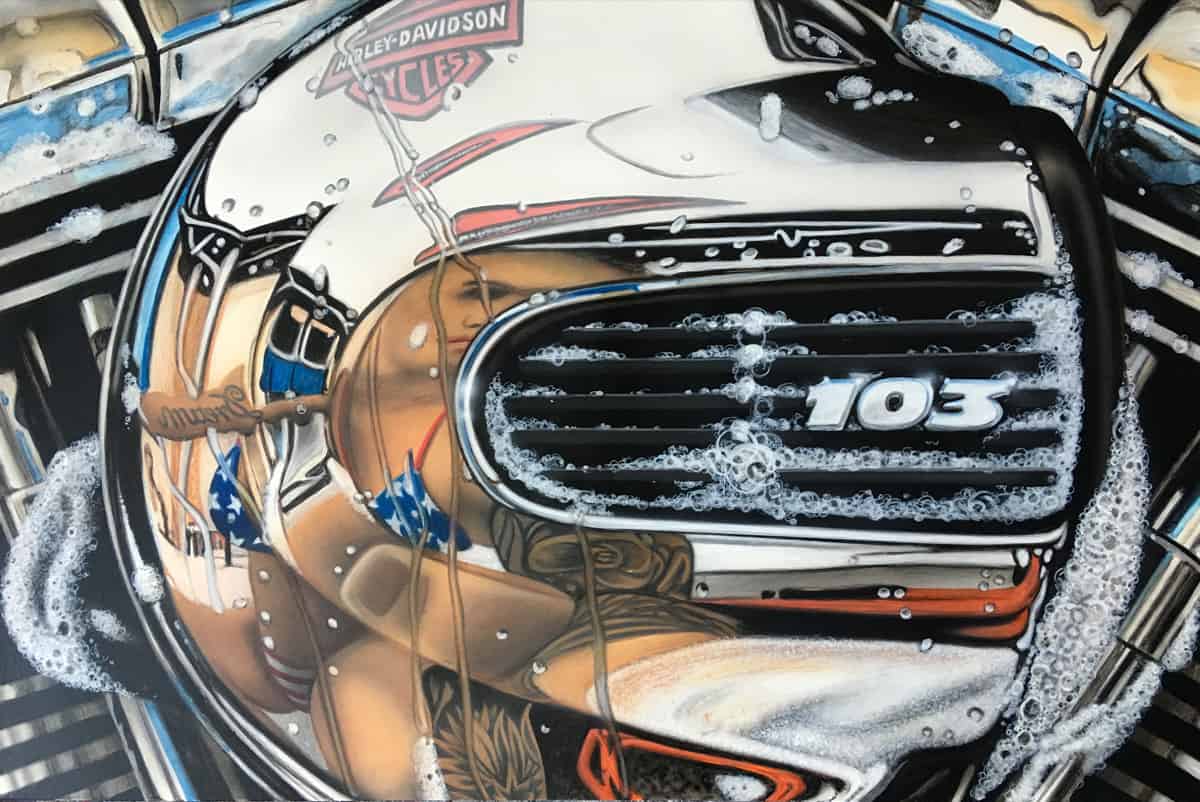 DREAM 103, acrylic on canvas ~ 24″ x 36″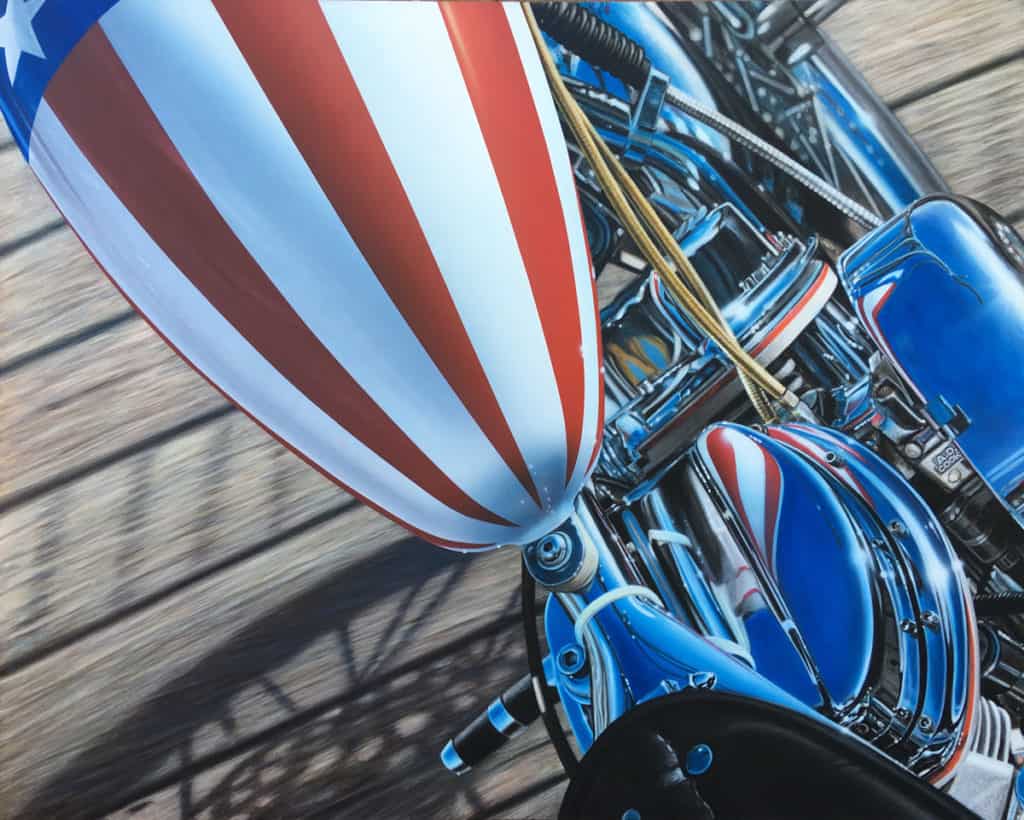 AMERICA, acrylic on canvas ~ 48″ x 60″

One of my favorite things about creating motorcycle art is the story behind each painting. Of course, each artwork has a story to tell.
AMERICA, my latest creation as a motorcycle artist, was a real journey for me in many ways, and I had a great story to share. My collector, "E.J." of Destination Harley-Davidson fame, commissioned my latest painting on canvas. For years, he had a collectible replica chopper from the classic movie Easyriders, starring Peter Fonda and Dennis Hopper, on his showroom floor. But like all good things, that ended as he put the bike up for sale. So that's where I went into the story. I've known E.J. for a long time, and he has a few of my favorite motorcycle paintings adorning the walls of his beautiful home in Tacoma, Washington.
So, when E.J. called, it didn't take long for me to fly up to visit him and photograph his bike before it was long gone. I enjoyed scouting a fun location for my shoot, and we ultimately decided to roll her onto the pier and shoot her in all her glory. But that was just the beginning. I took over 700 photos of that bike over the two days I visited E.J. and his family. It seems like a lot, but the motorcycle-inspired me, so I explored my creative options.
AMERICA video ~ Art by A.D. Cook. Music by Charlie Brechtel  © 2016
The AMERICA video above shows some effort and passion for creating my motorcycle art. Special thanks to Goodtime Charlie and the Charlie Brechtel Band for the rockin' tune "Made in the U.S.A."
Inspire the rider with "AMERICA," my newest epic motorcycle artwork. Driven by a desire for freedom and the open road, this super-sized painting showcases American pride and craftsmanship. AMERICA is the first from my new series AMERICA FIRST, which will showcase American motorcycles realistically painted in a patriotic theme.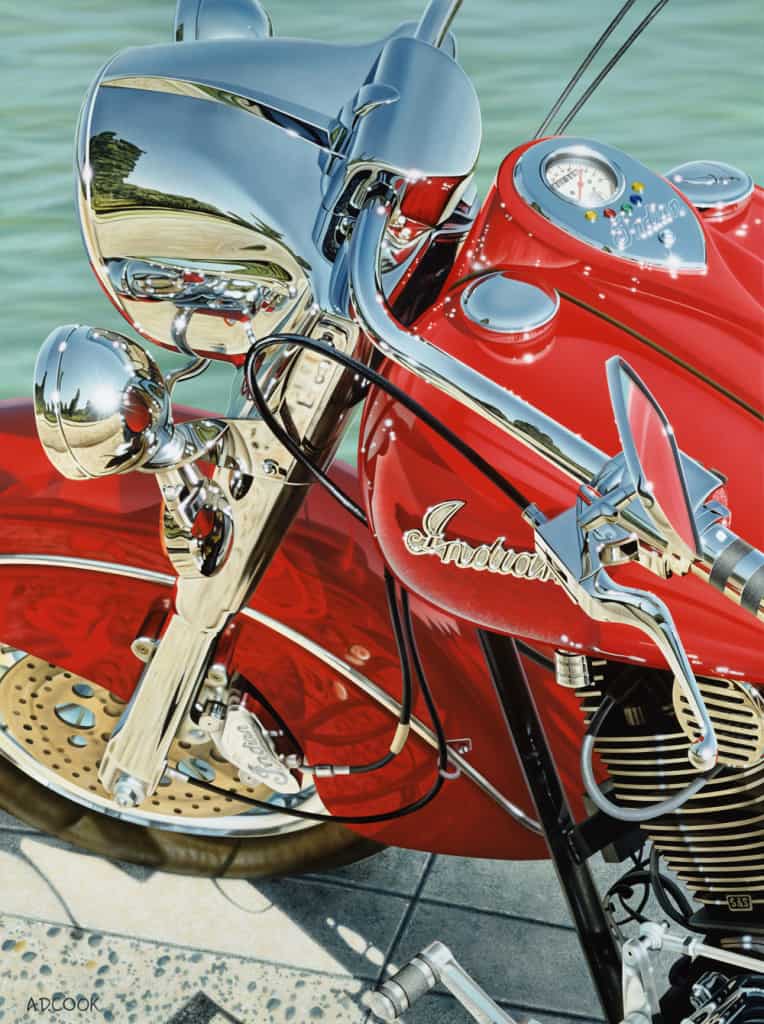 INDIAN SUMMER, acrylic on canvas ~ 48″ x 36″

It started in October on a beautiful Indian Summer's day. In Oregon, those kinds of days are rare – especially in autumn. So, I called my buddies at Indian Motorcycle of Portland and asked them if they had a bike I could borrow for the afternoon. They were kind enough to offer me anything on the floor, and a hot red Indian Chief caught my eye. I wanted to take one of those out for a spin for quite a while, and the day and the opportunity were perfect. After loading the camera and equipment in the saddlebags, the Chief and I made our way to an incredible Portland park with a pristine lake. So after shooting a couple of good rolls of film, I had reference material for Indian Summer – the fifth painting from my motorcycle series.
INDIAN SUMMER is my most recognized painting from my motorcycle series, appearing on the cover of Airbrush Action magazine in April 2001 for my article "A Study in Chrome and Reflected Surfaces," which can be read on this site (click here).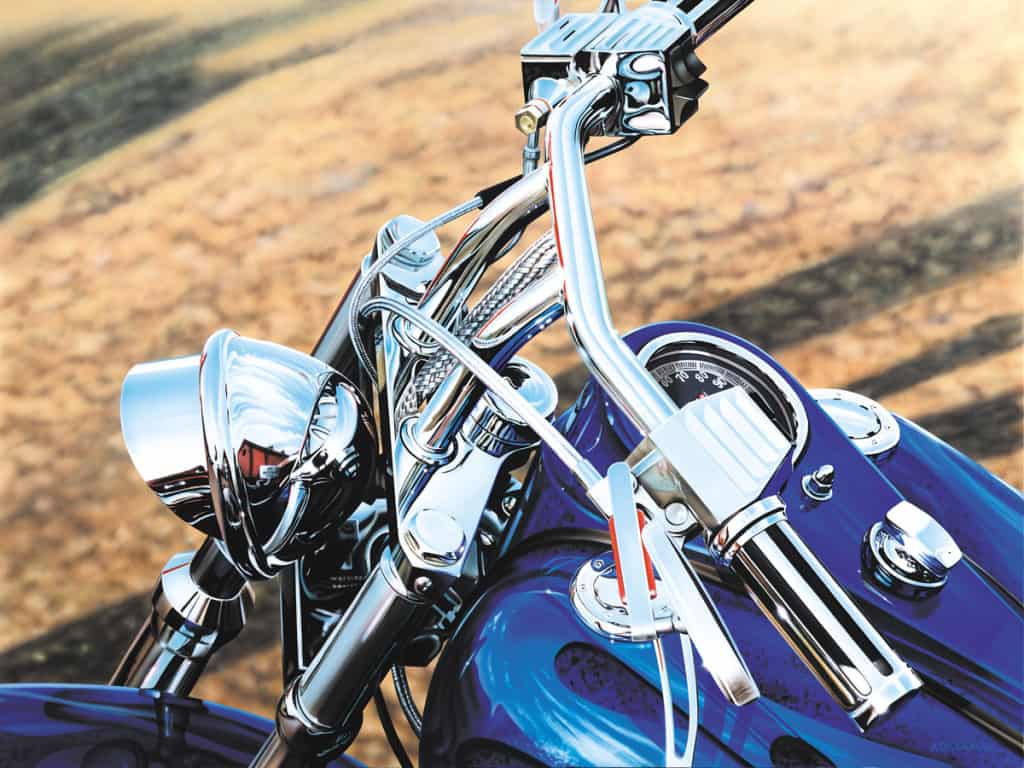 PASSING TIME, acrylic on canvas ~ 36″ x 48″
Art Imitating Art. A.D. Cook paints pictures of Harleys and man does he ever. "Passing Time" is his latest piece, and it's a fine one. No question about it, either, the guy knows how to lay down an airbrush acrylic image on canvas. "Course, he has been doing this for over 20 years, so the flow should be dialed in by now. A.D. Cook's work can be seen at www.adcook.com, if you wanna adorn your walls thusly.
— Easyriders, April 2001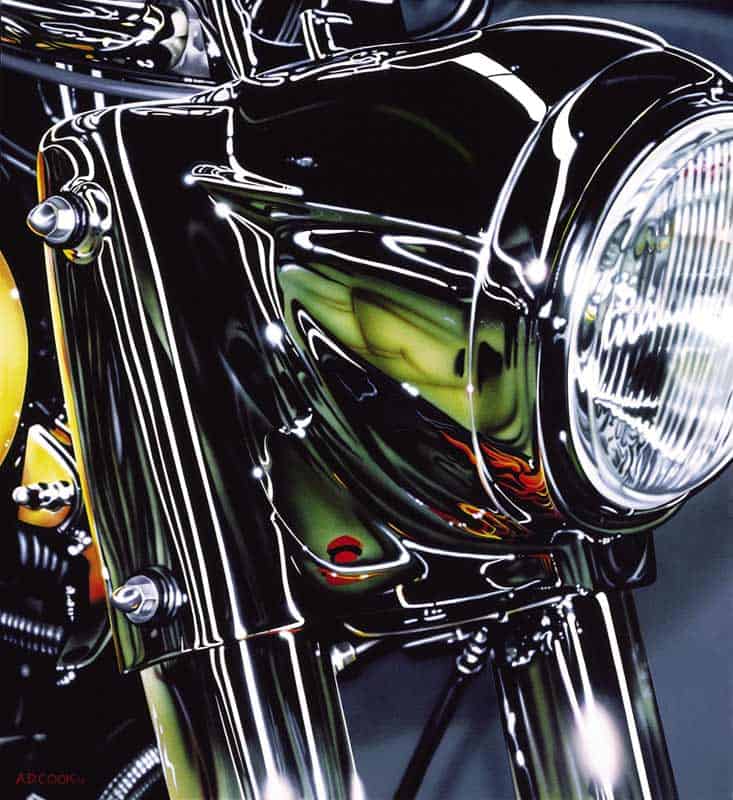 FOR SHOW, acrylic on canvas ~ 48″ x 44″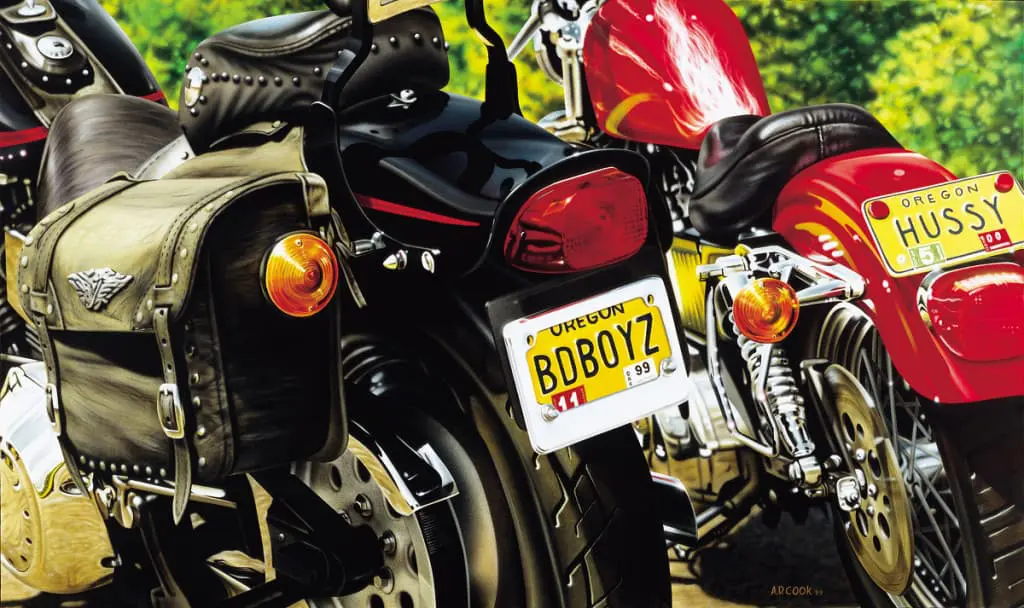 DUET, acrylic on canvas ~ 36″ x 60″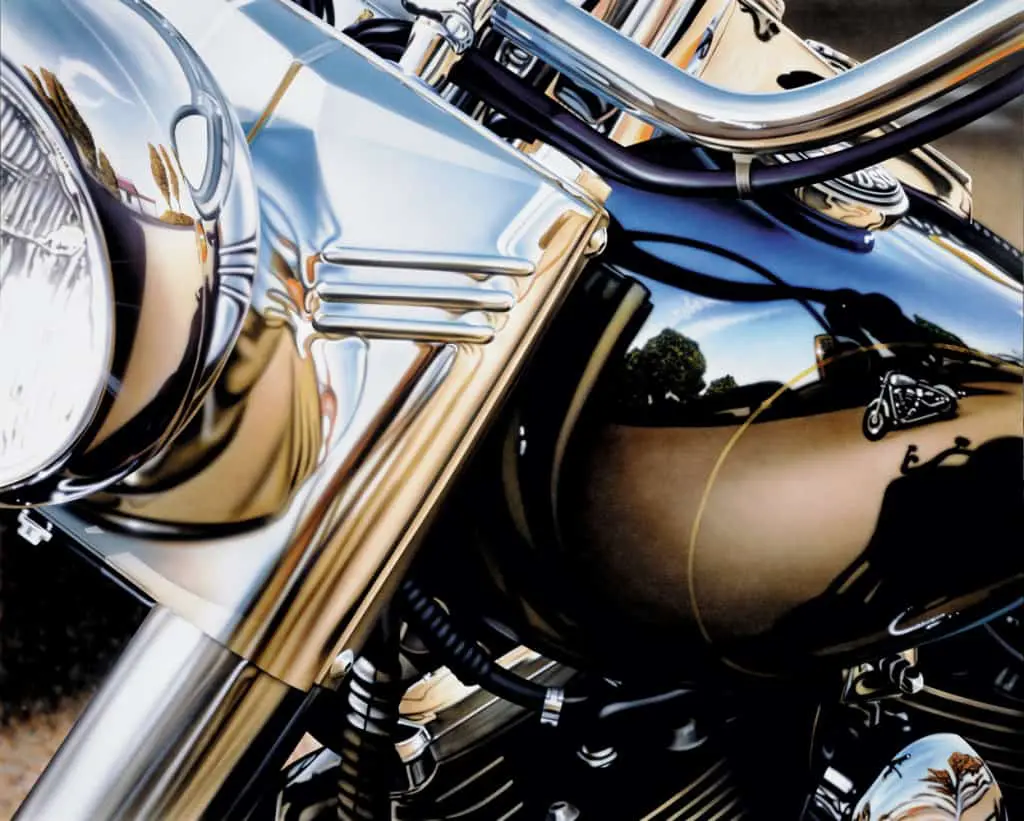 AUTUMN RIDERS, acrylic on canvas ~ 48″ x 60″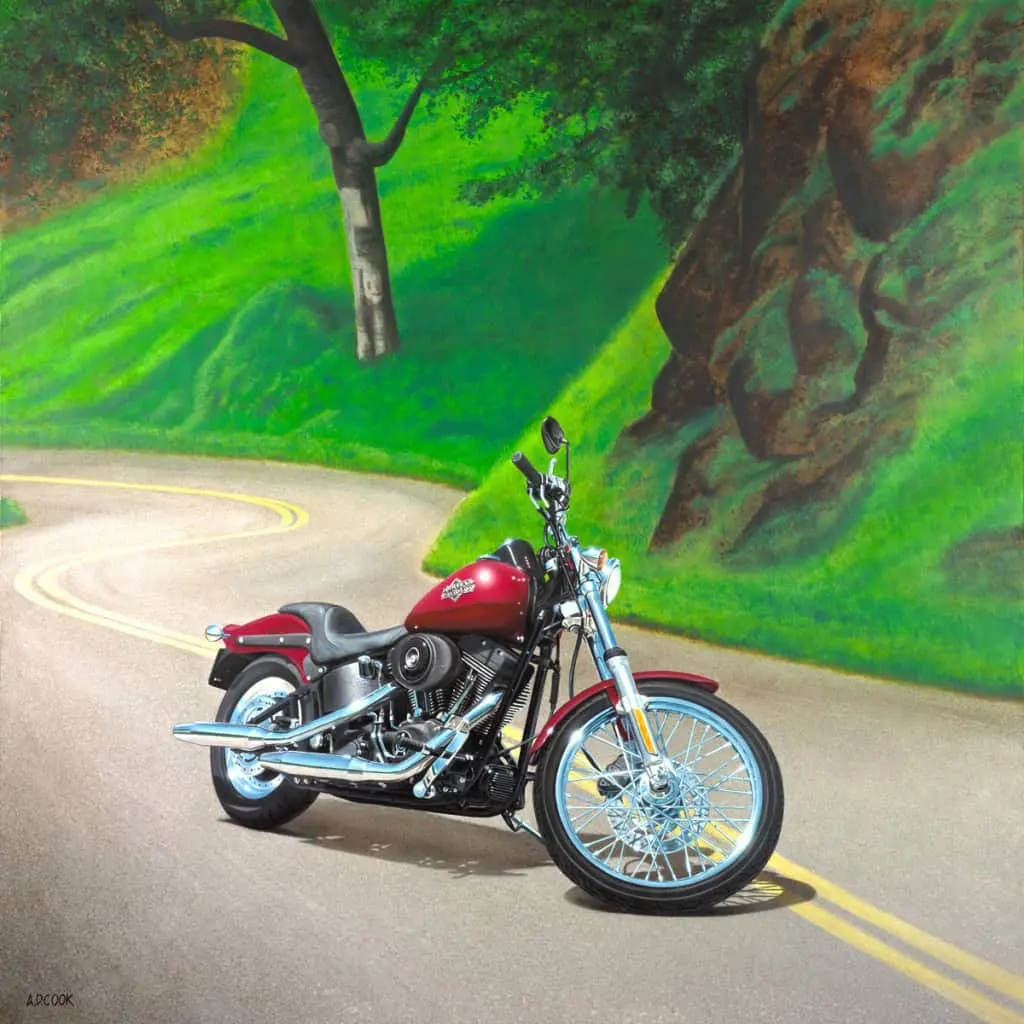 NIGHT TRAIN, acrylic on canvas ~ 48″ x 48″

My passion for motorcycles and the open road are expressed through my meticulously executed epic artworks.

Featured in Airbrush Action Magazine, Easyriders Magazine, Quick Throttle Magazines, and  The Ultimate Airbrush Handbook.
• • • • •
Featured motorcycle paintings: America, Indian Summer, Passing Time, For Show, Autumn Riders, and Duet.