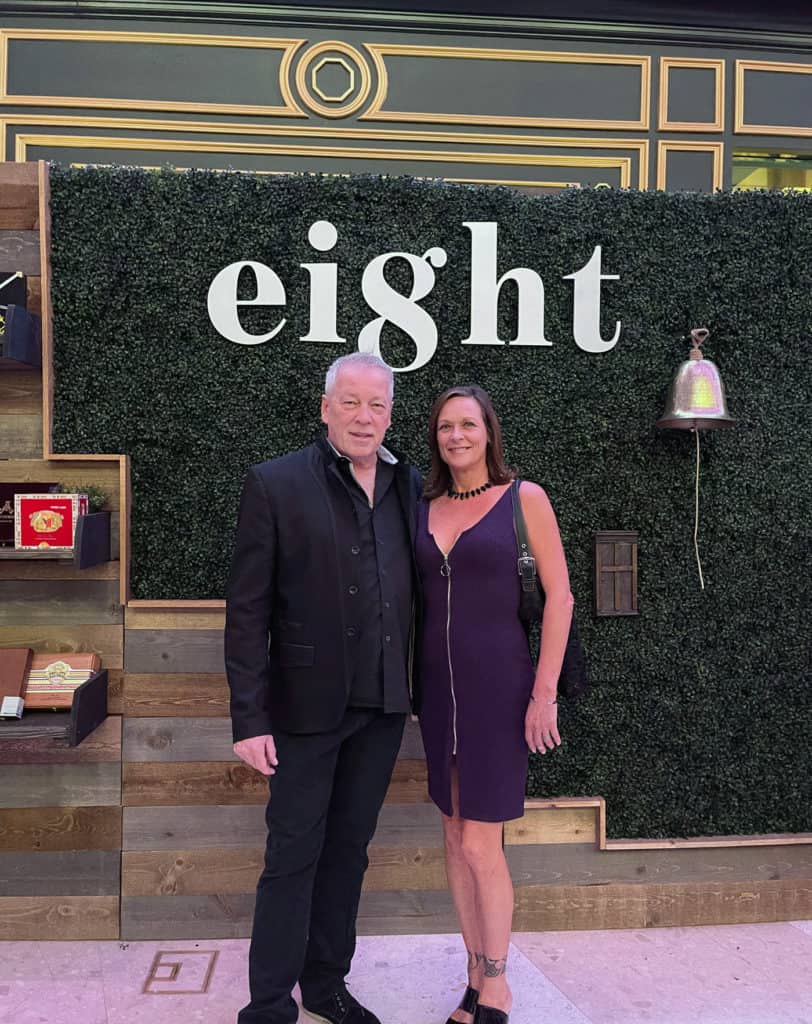 Iconic Celebrities Celebrated with Fine Liquors and Cigars at Las Vegas' Newest Cigar Lounge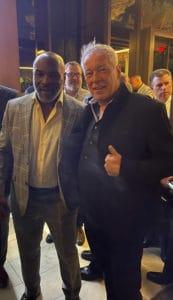 Iconic Boxer Mike Tyson, Award-Winning Actor Michael Cudlitz, Hockey Legend Wayne Gretzky, Baseball Star, and Commentator Alex Rodriguez, NBA Great Charles Oakley, Legendary Poker Player Phil Ivey, Poker Player, and Social Media Star Dan Bilzerian; soccer star and commentator, Cobi Jones, and others joined owners and visionaries Giuseppe Bravo and David Chesnoff, Esteemed Celebrity Attorney, and Andy Masi, Clique Hospitality Founder, for a week-long celebration.
I was honored to attend Eight's grand opening celebration by invitation of Wicked Creative, and was accompanied by Susie Q as my "plus one." [ story continued below ]
Las Vegas – November 5, 2021 – Entrepreneur Giuseppe Bravo and esteemed celebrity attorney, David Chesnoff, along with Clique Hospitality founder, Andy Masi, celebrated the grand opening of Eight Cigar Lounge last night with legendary boxer, personality, and entrepreneur, Mike Tyson; award-winning actor Michael Cudlitz, known for his roles in "The Walking Dead" and "Southland;" professional boxer, Ryan Garcia; NBA great Charles Oakley; professional poker player, Phil Ivey; poker player and social media star, Dan Bilzerian; and soccer star, Cobi Jones, among others. The party culminated a week-long celebration that included A-list guests such as hockey legend Wayne Gretzky, and baseball star and commentator, Alex Rodriguez.
Some of Las Vegas' top power players took in picturesque views of the Las Vegas Strip from Eight's stunning terrace while sitting by the fireplace, smoking cigars, and socializing. Guests were treated to ample supplies of Casa Fuentes and Drew Estate cigars, bottles of Casamigos and Grey Goose on all the tables, and signature cocktails, including the Macallan 18 smoked Old Fashioned. Sultry singer, Christina Amato, entertained a lively crowd indoors, where guests enjoyed passed hors d'oeuvres including mini caviar blinis.
The architecturally stunning cigar and spirits lounge spans 7,000 square feet of indoor-outdoor space overlooking the Las Vegas Strip. A limited number of exclusive, personal lockers are marked with gold nameplates and store cigars and spirits for Eight's exclusive clientele, including the iconic Michael Jordan and country superstar Luke Bryan.
What a fantastic evening! Susie and I arrived a bit early to stroll Resorts World Las Vegas and explore the Strip's all-new casino/resort. It's an impressive property with its stunning casino and plenty of dining and libation choices. Our stroll to our evening's venue quickly revealed that I would have to visit again and explore a few of these beautiful spaces.
On the main level, closest to the Strip, we found our destination, EIGHT. Beautifully=adorned cigar aficionados were meeting and greeting as we waited for the clock to strike 8;00, as the local paparazzi were ready at the red carpet, with cameras in hand.
While waiting, we chatted with local artist David Leiserowitz, who was creating a large cigar artwork on-site, and making our way through the red carpet, we found ourselves inside the spacious new cigar lounge. However, it didn't take long for us to discover the outside smoking lounge, where we ran into old friends and made new ones as we enjoyed libations and hand-rolled cigars throughout the evening.
Legendary boxer Mike Tyson was standing nearby and has long been on my list of people to meet. Other renowned celebrities were notably visible as the evening looked like a who's who of Las Vegas.
We met so many amazing people, most locals, and a few who traveled just for this opening. The one thing we all had in common is our love for Las Vegas and an appreciation for a great cigar. That appreciation was satisfied by hand-rolled cigars from Cigar Bella, who was rolling cigars on-site as sharing their cigars in delicious flavors.
All in all, it was a fantastic evening, and Susie Q and I had a great time, and I have no doubt that we'll be back soon for an entertaining evening of cigars and celebration soon.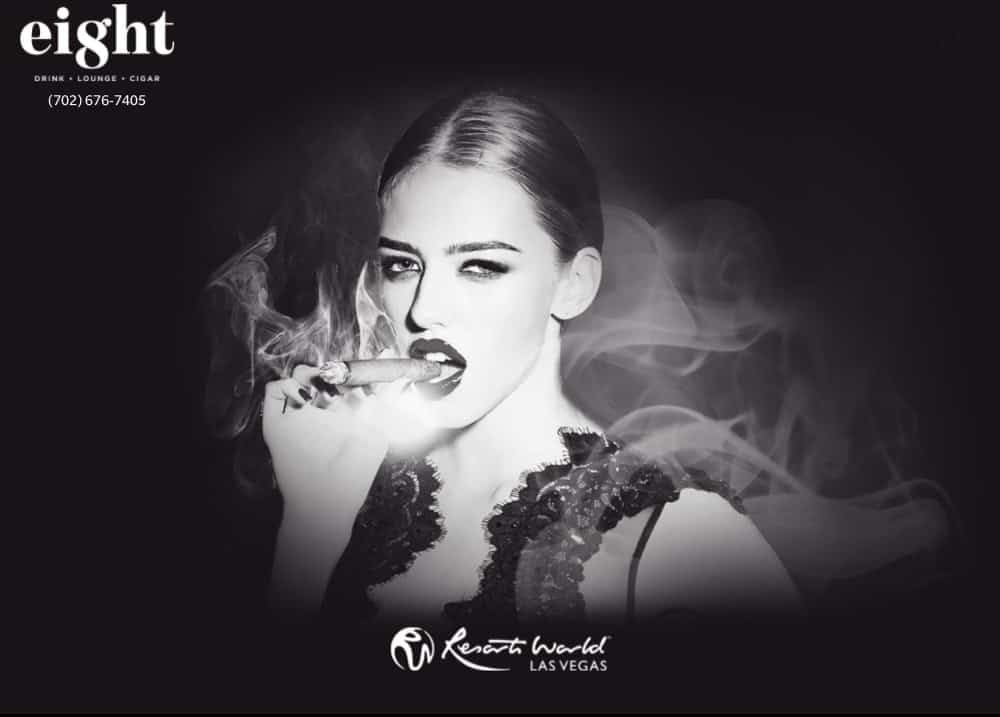 Conceptualized by entrepreneur Giuseppe Bravo and esteemed celebrity attorney, David Chesnoff and operated by Clique Hospitality, Eight Cigar Lounge at Resorts World takes its name from the lucky number in Chinese culture. The number eight is incorporated throughout the 7,000-square-foot indoor/outdoor space, which is divided into eight distinctive spaces, including a picturesque 2,200-square-foot terrace overlooking the Las Vegas Strip. Eight sections divide the opulent, custom-built humidor, where a limited number of exclusive, personal lockers will be marked with gold nameplates and store cigars and spirits for Eight's exclusive clientele, including the iconic Michael Jordan and country superstar Luke Bryan. Eight's expertly curated cigar list includes more than 150 cigars, priced from $18 to $1,500, by some of the most revered makers of cigars in the world, including Drew Estate, Arturo Fuente, and Ashton. Signature cocktails and spirits are crafted and curated by mixologists well-versed in the flavor profiles of premium tobaccos for optimal pairings. Eight seamlessly transitions from a classic daytime cigar bar to a lively indoor/outdoor "cigar friendly" lounge in the evening. More information is available at https://eightloungelv.com.