Catching Up with Airbrush Friends and Artists in Las Vegas
SEMA SHOW 2021 marked a notably different event than previous years. Despite the downsized venue, fewer displays, and smaller crowds, there was still plenty to see. And as always, the SEMA SHOW is a great place to catch up with old friends, who are more like family, and share a few moments in a world of automotive creativity and celebration.
The SEMA Show > November 2 - November 5, 2021 at the Las Vegas Convention Center in Las Vegas, NV
There is no other trade show where you can see thousands of product innovations from 1,300 new and iconic exhibitors, experience the latest product and custom vehicle trends, get access to 70+ free professional skill-enhancing education sessions and make career-changing connections with peers, leaders, and celebrities at the industry's most anticipated in-person networking event.
source: SemaShow.com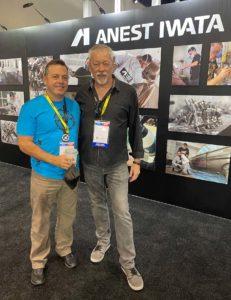 My experiences at Specialty Equipment Market Association Show are mostly centered around the airbrush art and custom painting community (although I also did design work for PIAA Lights and Bushwacker years ago). Over the years, I've been to SEMA many times, and each is an inspiring experience.
My first stop, as always, is at the ANEST IWATA display to catch up with friends see their impressive lineup of airbrushes and spray guns.
Iwata-Medea President Gary Glass; Director of Sales Brooke Cedros; and Creative Development Director Cindy aka "Doc," all of Iwata-Medea Airbrush Products, were on hand with the Anest-Iwata team to share the best-of-the-best airbrushes and spray equipment.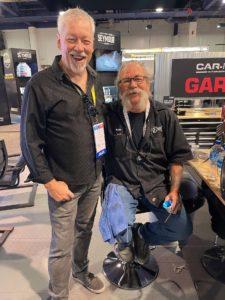 Renowned artists Gerald Mendez and Scott McKay shared their airbrush knowledge with curious onlookers as they painted panels in the Anest-Iwata booth. Then, an isle over and a few displays down, I ran into pinstripe legend Keith Eccles, who I last saw at The Show at Willy's Garage in Salt Lake City.
For me, these shows are about connecting with talented friends and seeing what they are up to in the studio.
Of course, one of my favorite things about the SEMA SHOW is the cars. There are so many unique vehicles of every variety that choosing an ultimate favorite is challenging at best. Whether you love cars, trucks, motorcycles, or four-wheeled land speed rockets with parachutes for brakes, it's all there.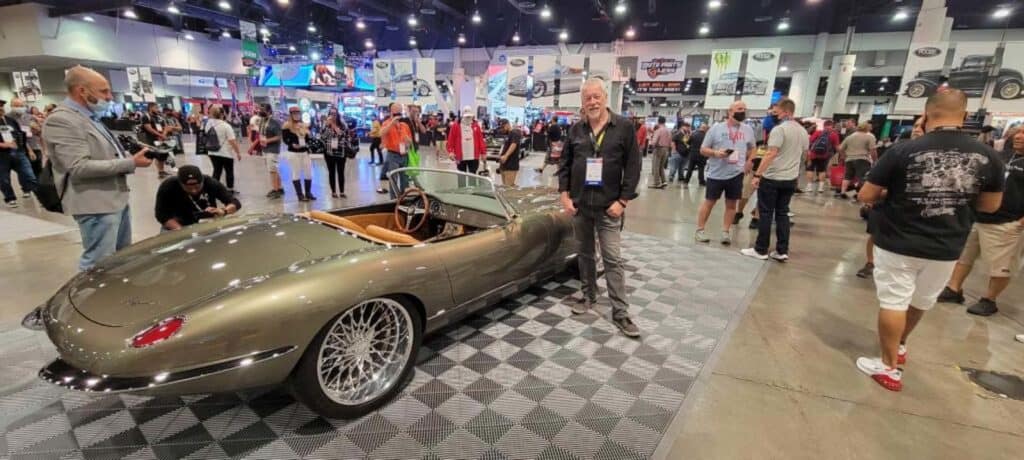 Each of us has our favorite mode of rolling the highway. Several cars were on display that would beautifully complement any garage. My personal favorite was the Foose Design 1974 Jaguar E-type Roadster. The E-Type Jaguar, in my opinion, is one of the most beautiful cars ever built, to begin with. Those lovely lines and sleek design caught the world's attention when first introduced in 1961. But a car like that in the hands of a master builder, and bam, magic happens! Read how Chip Foose invested two-and-a-half years creating this stunning one-of-a-kind rolling masterpiece.
Roll through the pics below and find your favorite from the SEMA SHOW 2021. See you all again, next year.