Shifting gears — in art and life…
Years ago, I did a series of motorcycle paintings — big epic original artworks celebrating the passion and freedom of the two-wheel lifestyle. I enjoyed creating them, mostly I think, because they represented something I was (and still am) passionate about – motorcycles and the culture and lifestyle that surrounds them. I love that world and still have lifelong friends through my connection to the American motorcycle community.
After wrapping up the motorcycle series, I shifted gears and went a couple of different directions, reconnecting with abstract art and celebrating timeless beauty with my decade-long series of figurative paintings. I started my life-size and larger nudes on canvas and metal in 2003, and I have no doubt that I'll create art nudes until I can paint no more.
Sometimes, though, life presents you with a renewed vision and opportunity. Vision because the subject of attention is in alignment with a passion. In this case, I truly love exotic cars. I always have. You only have to read past blog posts to see that. The design cues and graceful lines of exotic cars are often inspired by a beautiful woman. Fast Forward to 2013. My newest creation features a beautiful lady in her own right – the Ferrari FF, Ferrari's only four-wheel-drive four-seater – in this case, a 2012 model in pearl white, which I recently had the opportunity to experience first-hand and create a painting in celebration.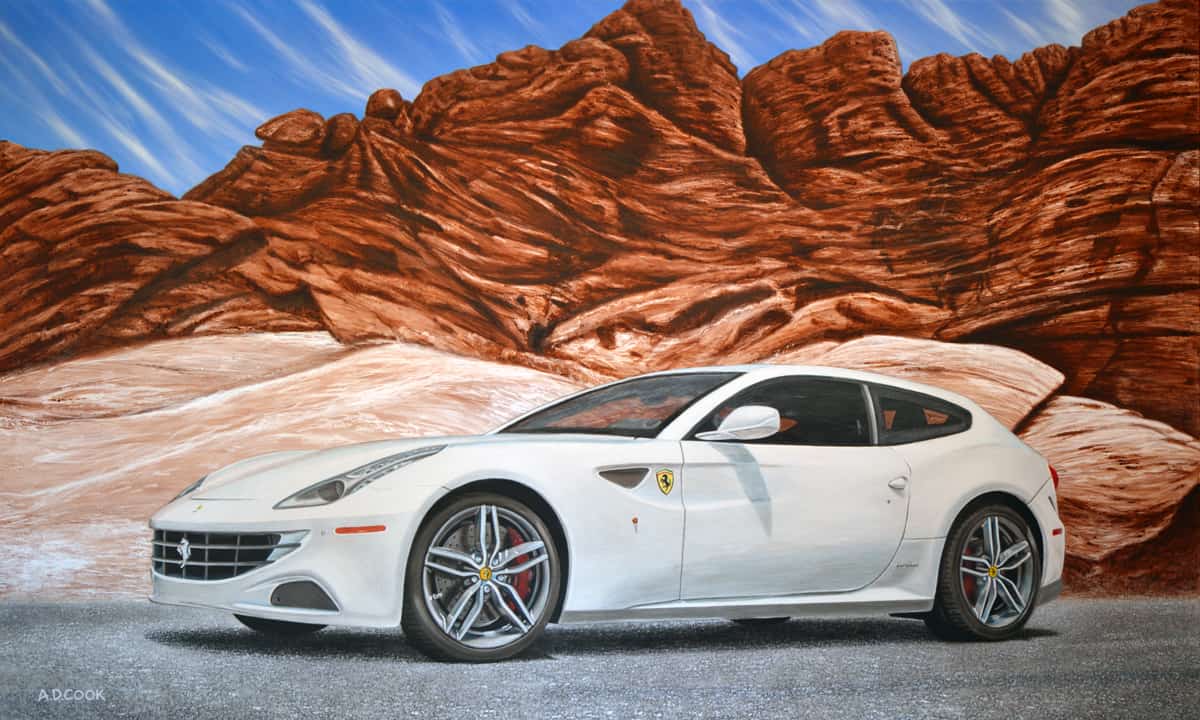 FAST FORWARD –  36″ x 60″, original painting on canvas © 2013 – Private Collection, Las Vegas, NV
FAST FORWARD is my return to painting shiny surfaces in truly original epic artworks celebrating a unique lifestyle of exotic cars and inspired settings.
This painting started off beautifully as my collector and I took his FF to the Red Rock mountains just outside of Las Vegas, NV. It was a perfect day, too, for a leisurely drive in a truly unique exotic. Naturally, we stopped, and I took plenty of pictures of the car with those timeless majestic mountains as our setting. Those shots became the reference images for my painting.
Next step – canvas prep. My Ferrari painting is created almost entirely with small artist paintbrushes, so I prepared my canvas to create a slate-smooth surface, ensuring that I could include more close-up detail than a regular canvas allows. See my article "Creating the Perfect Ultra-Smooth Canvas" for insight into my process. Working on a smooth surface makes it possible for me to paint more details, which is especially great for things like cars.
After a dozen coats of gesso and lots of fine wet sanding, my canvas prep is complete and has the perfect surface for my painting. The next step is a few coats of pearl white via spray guns.
I typically work on my paintings back-to-front >> sky >> mountains >> asphalt >> car >> and so on. The sky and clouds are airbrushed, but everything else was painted with small artist paintbrushes. So, as it goes, I enjoyed countless hours at the easel, painting detail upon detail until I achieved this big, bold piece.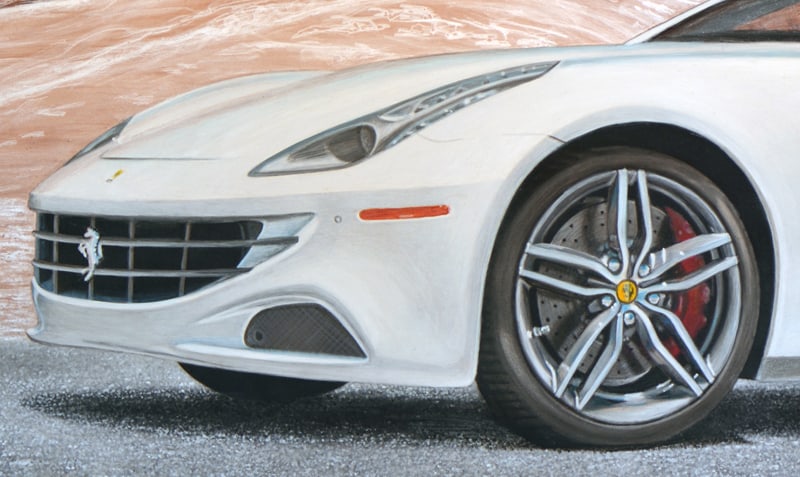 Beyond tons of details, some special features in this painting include pearl mountains that shift colors as the day's light changes. Look closely; an Italian stallion is hidden within the rocks along with a Nevada map.
Forward momentum and shifting gears are what my art is all about. I'm very excited to continue this line of original art. Stay tuned for my next original painting, or join my email list for updates ( email.adcook.com ).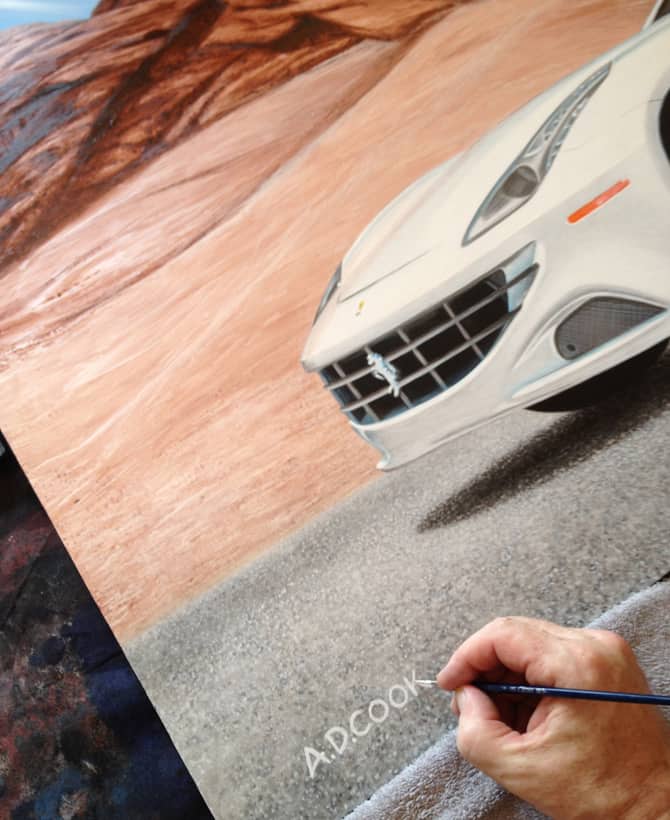 Signing Fast Forward, August 31, 2013
I really enjoyed creating this painting. I'm looking for more time at the easel with these beautiful ladies. Italian cars, American motorcycles, airplanes… I enjoy painting them all.
RELATED ARTWORKS:
Autumn Riders   |   Departure   |   Duet   |   For Show   |   Indian Summer   |   Night Train   |   Passing Time
• • • • •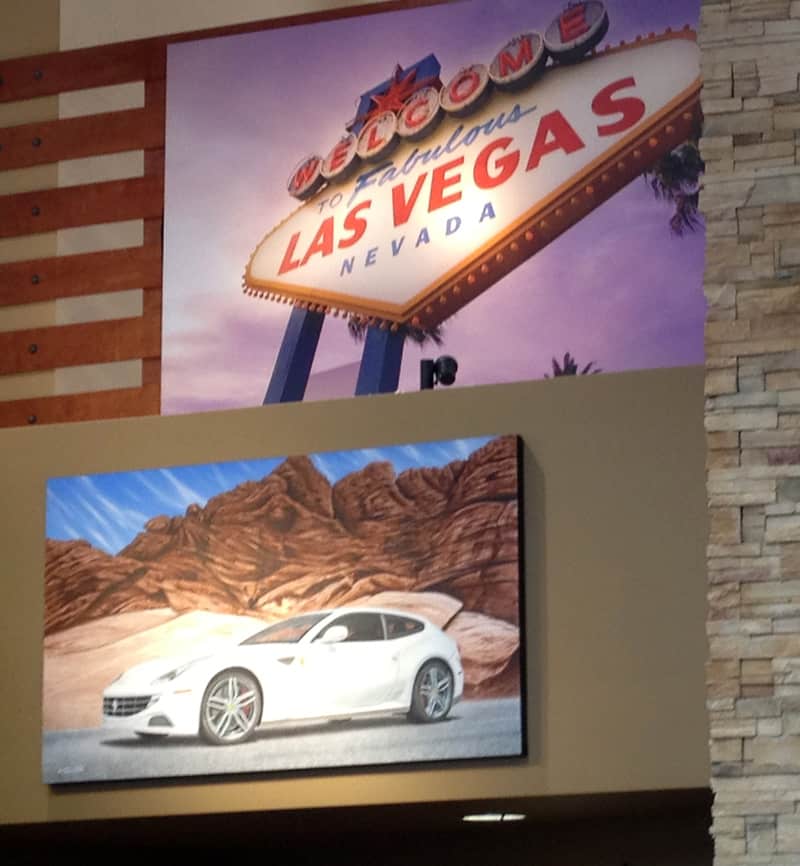 I am proud to announce that FAST FORWARD is on permanent display at Red Rock Harley-Davidson, the largest H-D dealership in Las Vegas. Stop in anytime to view the painting in person. It's a huge store, so the easiest way to see the painting is to enter through the main doors and look to the left. FAST FORWARD is displayed near the Sale Offices below the large Las Vegas sign wall graphic.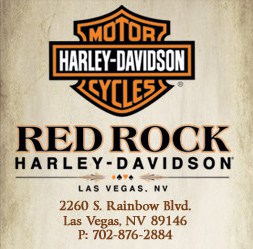 Red Rock Harley-Davidson
2260 S. Rainbow Blvd.
Las Vegas, NV 89146
• • • • •