I was organizing my studio recently and tripped across "The Illusion," a self-portrait I created in colored pencil back in 1983. I drew that portrait after discovering Iwata airbrushes earlier that summer and receiving an Iwata HP-C as a gift. For some reason, I felt compelled to include that airbrush in my portrait, not realizing then the impact it would have on me even to this day, forty years later.
I created "The Illusion" drawing while living in Phoenix, Arizona. I was getting heavily into art, especially airbrush art. While I had already owned a few Paasche and Badger airbrushes along with a few other oddities, they were nothing like the Iwata airbrush I discovered on my visit to the FLAX art supply store in Phoenix. The Iwata brushes were cool, stylish, and shiny with deep chrome tapered designs. At first feel, they felt more precise to me and more elegant than any airbrush I had ever seen or held before.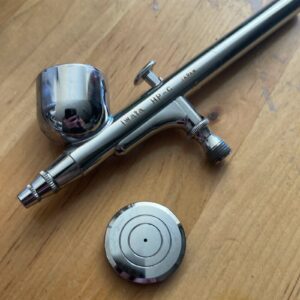 Discovering that airbrush made such an impact on me that I must have talked about it so much that my then girlfriend (and later my wife) was compelled to surprise me with it on my drawing table one day, complete with a "Happy Unbirthday" card. I could not have been more excited, that airbrush immediately became my favorite, and I still have it to this day. That first airbrush inspired the drawing above, completed on October 31, 1983, forty years ago this year.
I could not have imagined then how that one airbrush would change everything.
Airpowered and Northbound
As I continued to develop my airbrush skills, I relied more and more on my Iwata airbrush and began building my arsenal of spray equipment using Iwata exclusively. In time, I acquired an Iwata RG-2 spray gun, a couple of bottle-feed airbrushes, and some others that I couldn't resist.
The other thing I discovered at that FLAX art supplies store that day was a magazine called Airbrush Digest. I bought every back issue I could find and subscribed to the magazine for future issues, and it didn't take long to see a pattern. The magazine was printed out of Portland, Oregon; most of the featured airbrush artists were in Portland, and coincidently, so was Iwata-Medea, the U.S. importer and distributor of Iwata airbrushes. It didn't take long before I decided to move back to Oregon, where I lived before moving to Phoenix. I wanted to connect with the airbrush community, and it was clear that Portland was the epicenter of everything airbrush.
In time, I met and friended many of the airbrush artists featured within the pages of Airbrush Digest, along with a few other artists, through courses and workshops. As I learned to airbrush, a few of the my teachers became my friends and mentors. One of them, my friend Dave Malone, an amazing realism artist, introduced me to the Iwata team. The rest, as they say, is history.
As it went, one thing led to another, and for a few years, I painted the Hollywood Video murals and taught a few airbrush workshops along the way, always with my trusted Iwata airbrushes. I even co-instructed a few at my Hollywood Video studio in Tigard, Oregon, and at the Airbrush Action getaways with my Iwata friends, artists Michael Cacy and Raphael Schnepf.
Around that time, I  also began creating more of Iwata-Medea's packaging and adverting design, along with making an occasional appearance on the back cover of Airbrush Action magazine and inside their catalog pages as a mural artist.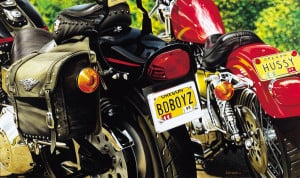 After leaving Hollywood Video in 1994, I began painting my realistic motorcycle paintings on canvas and, later, my life-size realistic fine art nudes on canvas and metal, along with some custom artwork on motorcycles, including my own trophy-winning Softail, the Art Hog — all with my trusty Iwata airbrushes and spray guns.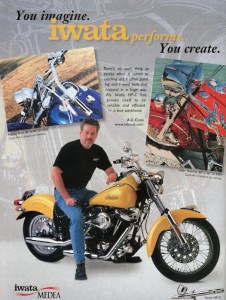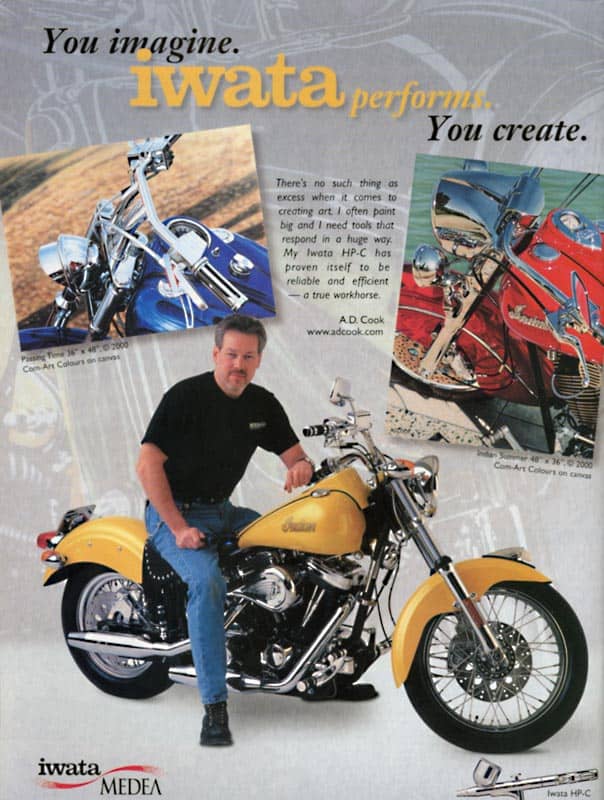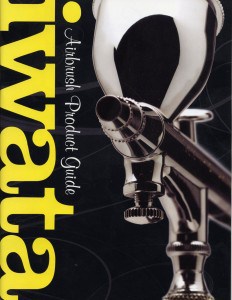 Over the years, I've enjoyed sharing Iwata professional airbrushes, and Com-Art paints through their magazine ads, Airbrush Product Guides, and airbrush workshops. But mostly, I've enjoyed using them to create my art and will continue using them exclusively. After all, when you're lucky enough to discover the best, why would you not?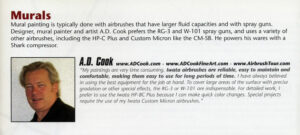 This post wasn't intended to be a testimonial or endorsement, but Iwata has both in my book. Instead, I'm extending gratitude to Iwata and the Iwata family for inspiring my creativity to another level that I am certain would not have happened otherwise. So, with appreciation, thank you, Iwata.
Stay tuned over the next few months and follow my Corvette 70th Anniversary diptych.
• • • • •
In memory of past mentors, a signed copy of Dave Malone's amazing hyper-realist Champagne & Cherries poster still hangs in my office. It is inscribed "A.D. – Keep trying." I'm still trying, Dave. 
Iwata, Iwata-Medea, and their respective ads are I© ANEST Iwata-Medea, Inc. ANEST Iwata-Medea, Inc.