Owning original art is an enjoyable experience. Participating in its creation brings that experience to a whole different level.
Collaboration in the creation of art is a union of energies – a creative energy exchange. As is with my art, that union is often between artist and muse. Sometimes that energy exchange is with artists and collectors.
Collectors usually have an idea in mind for a particular artwork they are looking for, often hoping to find it at a gallery or show, and often discovering that special something doesn't exist. In those cases, working with an artist to create something unique while fulfilling that vision can be a very gratifying experience. As an artist, I've had the pleasure of collaborating with others to create beautiful art that I might not have created independently. Often, collectors bring a unique perspective to a project that I may not have otherwise considered. As is the case in my examples below, the shared vision and experience of collaboration can create powerful art and cherished relationships that last a lifetime.
Beaujolais – 53.5″ x 35.5″, original painting on metal © 2011 ~ Private Collection, Henderson, NV
Beaujolais is a very special painting and was a pleasure to create. My collectors were looking for something extraordinary to hang above the fireplace in their great room. They had already owned a couple of my metal figurative artworks and were looking for another to augment their collection. We discussed their ideas for a new painting over a bottle of wine. Then I had the pleasure of selecting the perfect model and scheduled a shoot with her in the very room where their new painting was to hang. It was a delight for everyone involved to turn their living space into a photography studio. Over the next few hours, I photographed my muse, the beautiful Jessi June, while my collectors enjoyed a "behind the scenes" experience of my creative process. Later, I presented my collectors with several image options and color ideas. Over the next couple of months, I created Beaujolais in my studio. Once the painting was complete, my collectors planned a delightful unveiling party for their friends and family. We served Beaujolais wine and enjoyed a lovely spread of hor d'oeurves. We played our video of the creation process, sharing our art experience with others. It was a celebration of art and beauty – a memorable event and a very satisfying project, which I am very pleased to include among my body of work.
Watch the video above for the creation of Beaujolais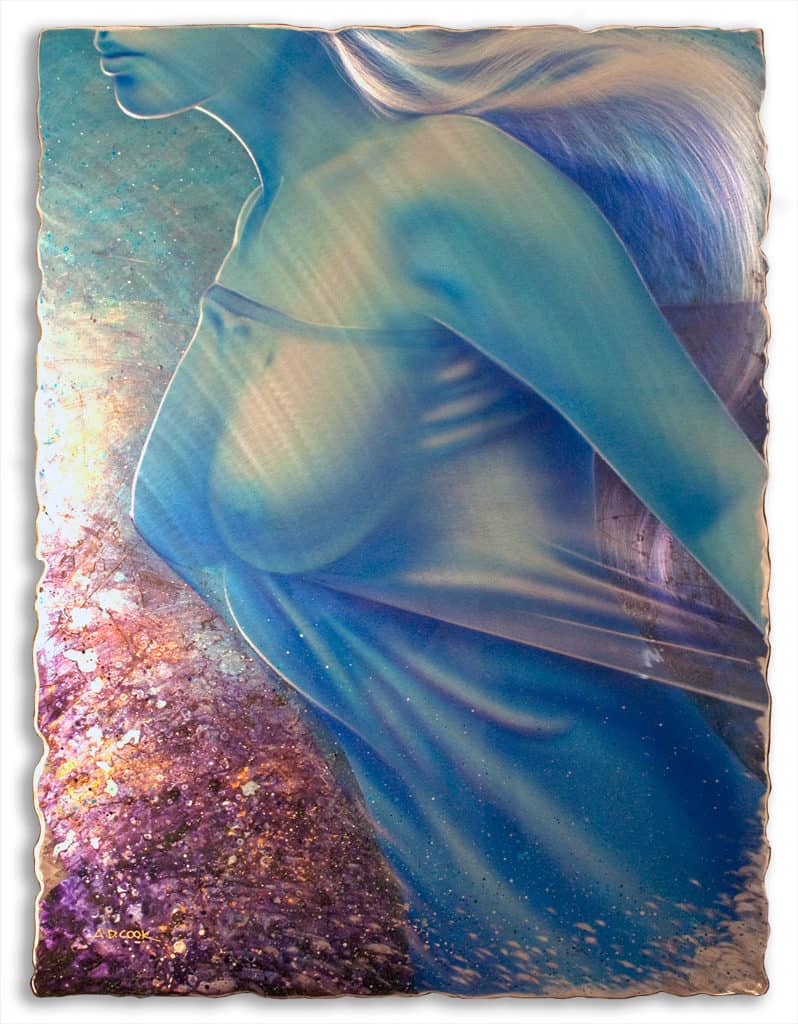 Brooklyn – 40″ x 30″, original painting on metal © 2010 – Private Collection, Las Vegas, NV
Brooklyn (above) was a great project with a fun story. Like my collectors mentioned above, this couple also owned a selection of my figurative artworks as part of their beautiful collection. This time though, these collectors were looking for something to complement their magnificent amethyst geode. I love beautiful stones and natural artifacts, so I drew a lot of inspiration and creative energy from their geological treasure. The geode's colors and sensual movement moved me to create Brooklyn, a 100% hand-painted original on specially prepared metal. Her appearance changes throughout the day as available natural light moves from morning to dusk. Her hand-scribed hair dances as you move about the artwork. Like the geode, Brooklyn has organic edges all around that capture and compliment the beauty within.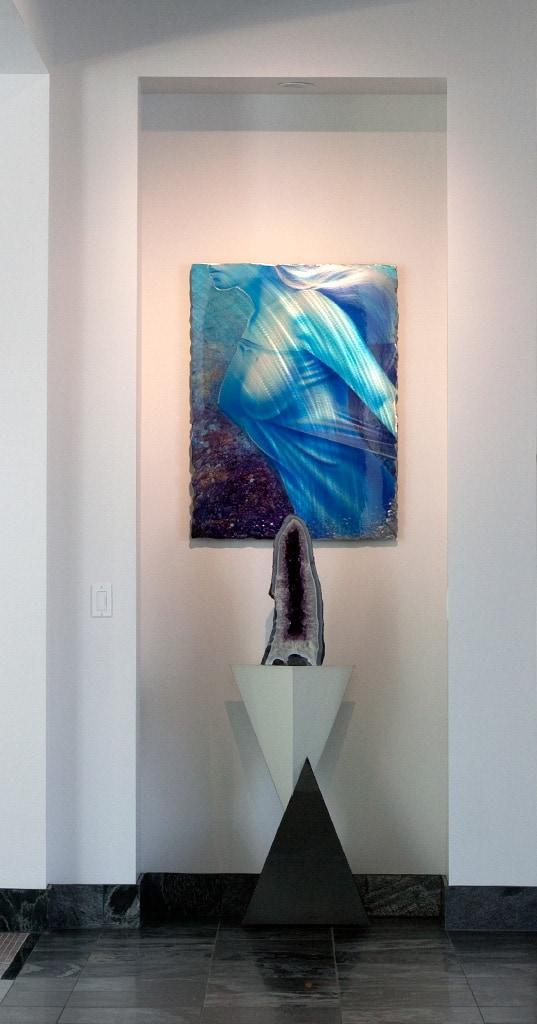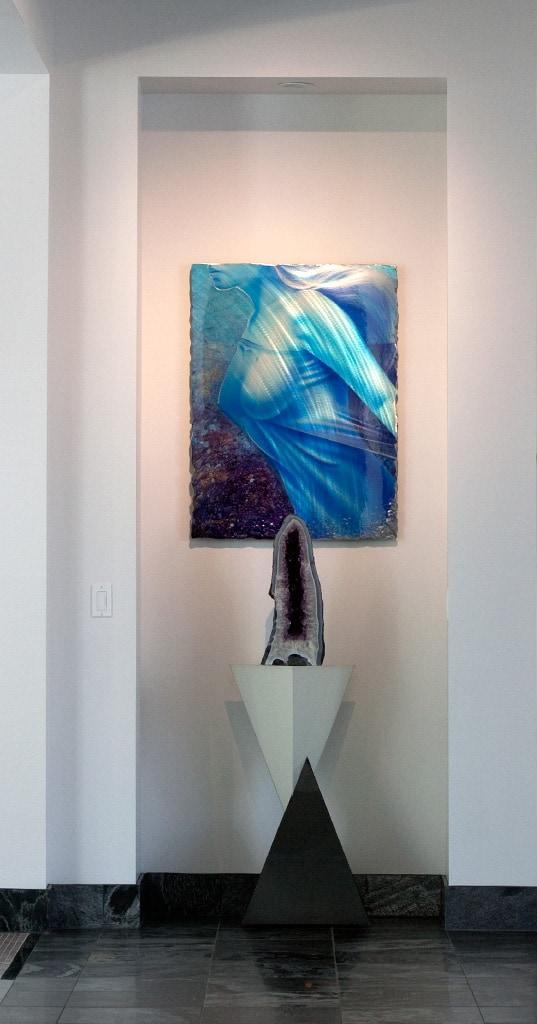 Brooklyn on display with this magnificent amethyst geode at collector's home.
View my metal art in the process from ground metal through the finished painting. Watch the video above for the creation of Brooklyn.
"Make visible what, without you, might perhaps never have been seen."

~ Robert Bresson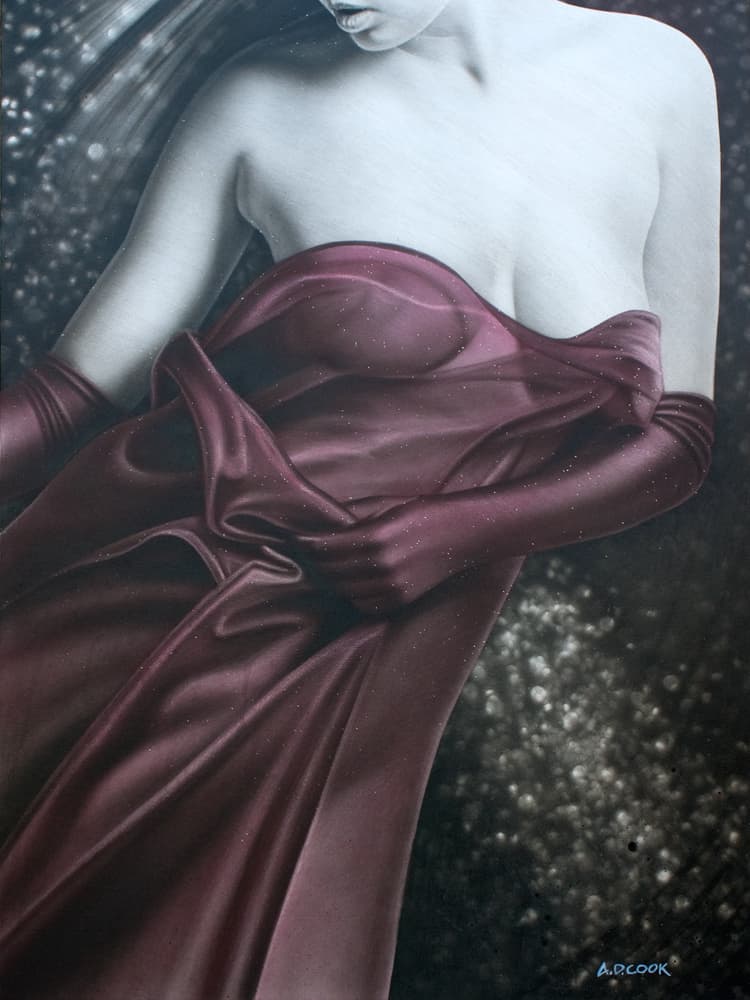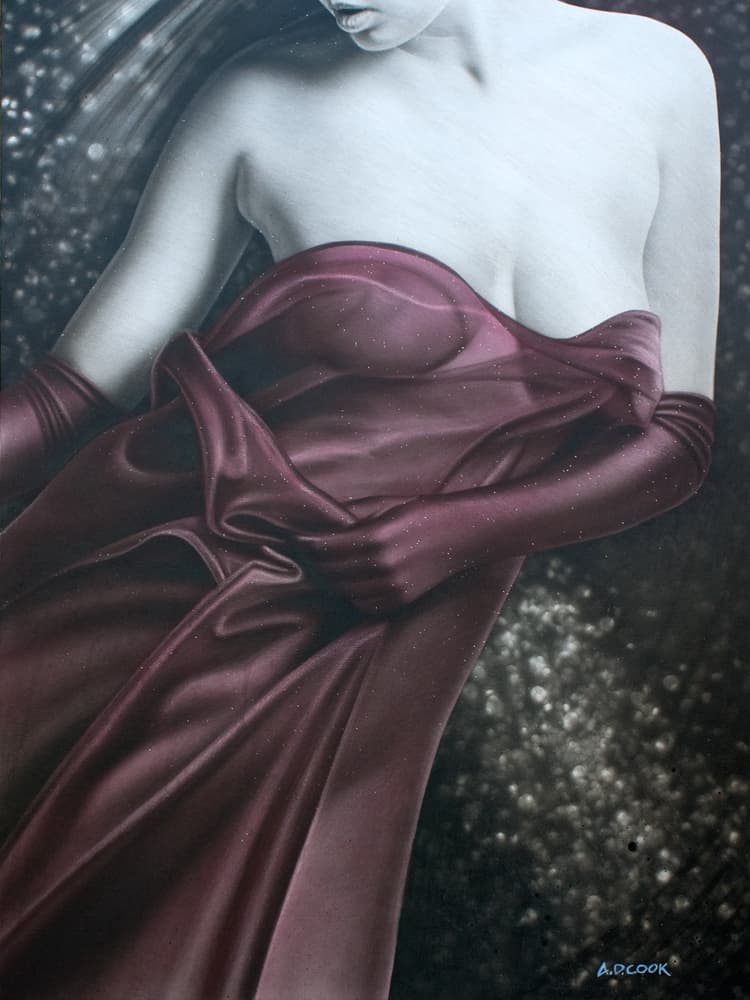 Premier – 48″ x 36″, acrylic on canvas © 2012 – Private Collection, Las Vegas, NV
"Premier" featuring the beautiful Jess Robinson as my muse, is another example of collaboration between artist and collector. In this case, my collector was looking for a canvas interpretation of my painting Infinity (created on metal in 2010), which he viewed before and loved, but wanted something with more color. Premier is created in pearl black and red with metallic gold fragments – her colors shift from soft red to bright red as the day's light changes, with the gold fragments dancing as you walk past her.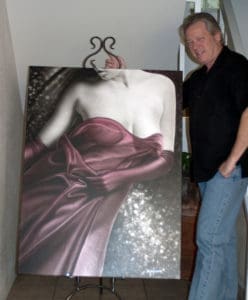 A.D. with Premier, 2012
Beauty is fleeting. Art is eternal.
Sometimes, an art commission can come in the form of an art patron desiring a painting of themselves…

Solitaire – 24″ x 72″, acrylic on canvas © 2005 – Private Collection, Portland, OR
Both Solitaire (above) and Nuance (below) where commissioned original paintings for the same beautiful lady, who is featured as my muse for these original artworks. She wanted to capture a moment in time. These heirloom originals do just that. While the collector desires to remain anonymous, her paintings will live on through eternity as a celebration of a special time for her.
We discussed her thoughts on creating these paintings, followed by a fantastic and relaxing day with a special photo shoot at my studio. From there, I allowed the images to inspire these life-sized paintings for her home. Our shared art experience makes her the subject of truly original personalized artworks.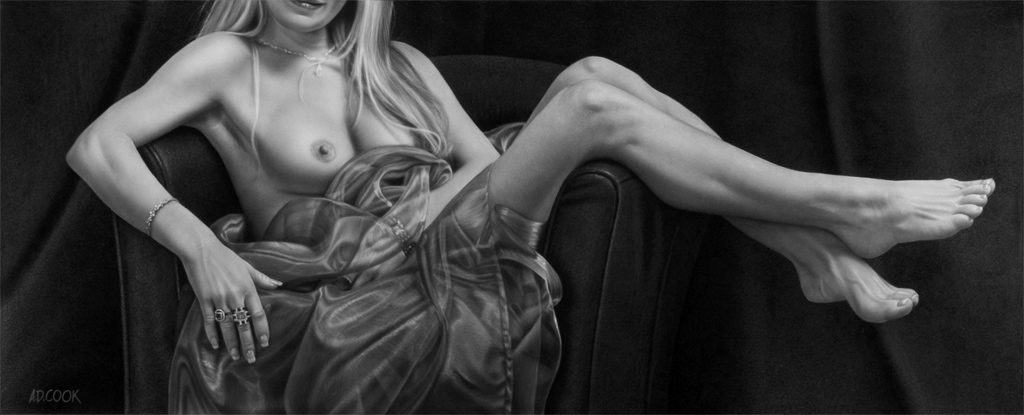 Nuance – 24″ x 60″, acrylic on canvas © 2005 – Private Collection, Portland, OR
I believe it's every woman's dream to eternally capture her beauty and allure. Mine is to create beautiful art that you will enjoy for a lifetime.
"People with small minds talk about other people. People with average minds talk about events. People with great minds talk about ideas."

~ Anonymous
While I truly enjoy painting the beautiful lines and intricacies of the female form, I also enjoy creating other subject matter. Over the years, I have produced several original artworks of other subjects, including airplanes, motorcycles, and collectors' special treasures.

Departure – 36″ x 60″, acrylic on canvas © A.D. Cook 2004 – Private Collection, Portland, OR
"Departure" was a commissioned original painting on specially-prepared canvas. The plane's owner and pilot above wanted something epic for his man-cave/hanger, and an original painting was the perfect fit. Departure was a real pleasure for me to create. We started with a photoshoot at Portland Hillsboro Airport (Hillsboro, Oregon) of his parked plane with engines running. Once I had my reference images, I began creating Departure in such a way as to represent the Cessna 414 Chancellor aircraft as though it were in flight. I really enjoyed painting the majestic sky and powerful clouds in this painting, and of course, this freshly restored twin-engine aircraft was an inspiring model.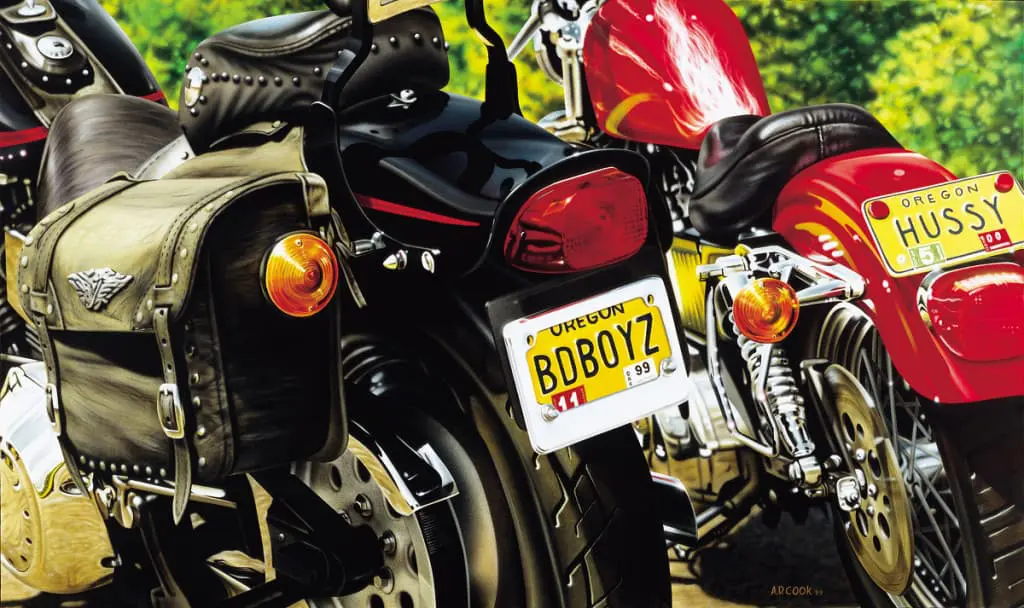 Duet – 36″ x 60″, acrylic on canvas © A.D. Cook 1999 – Private Collection, Lake Oswego, OR
"Duet" was a commissioned painting for an engaged couple in Portland, Oregon. The bride-to-be wanted to present her groom with a unique, truly one-of-a-kind engagement gift. As avid riders, she thought a motorcycle painting would be perfect, and I agreed. It was a great idea. So, while her fiancé was out of town, I photographed their bikes at a local park. Then, it was off to the studio to paint my special creation for them. When the time was right, she presented him with the completed painting to represent the many happy miles they would share. The tags on the "BDBOYS" license plate represent the month and year of their wedding (11/99).
"When I think of art I think of beauty. Beauty is the mystery of life. It is not in the eye – it is in the mind. In our minds there is an awareness of perfection."

~ Agnes Martin
There are many great reasons to collect original art, but I hope that first and foremost, people collect because they love art. Special art creation can capture someone or something special – that certain person or memory of a moment in time. Sometimes it is a personal treasure portrait – a beautiful plane in flight, a custom motorcycle, or an exotic car. Anything is possible.
Working together, we can create an heirloom artwork of someone or something special in your life, all the while enjoying a unique, exclusive, and singular lifetime experience specially created just for you.
Commissioned Creations —
If you've searched my site and still haven't found the perfect painting for your home, consider commissioning me to create your distinct artwork specifically produced to compliment your unique tastes. [ contact ]