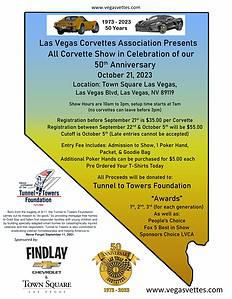 The Las Vegas Corvette Association recently marked a major milestone as it commemorated fifty years of existence. In what turned out to be a truly remarkable showcase, the association exhibited a wide range of sixty (give or take a few) Corvettes that spanned seven decades of America's Sports Car's illustrious existence.
The event was nothing short of exhilarating as car enthusiasts from all walks of life showed up in droves to witness the spectacle firsthand. For someone like me who loves these magnificent cars, it was virtually impossible not to check out the exhibition. So, I made a beeline for Town Square Las Vegas, where I got up close and personal with these stunning beasts, taking lots of snaps to share with friends and family.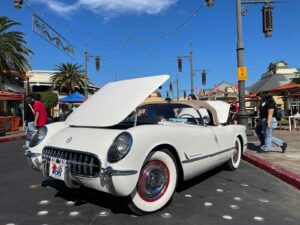 It was great crossing paths with the 1954 Corvette featured in my current painting in the studio to be unveiled at the National Corvette Museum next March as part of the LUSTER Exhibition of through 2024. This is the car that started it all back in 1953 leading to seventy years of America's Sport Car.
The Las Vegas Corvettes Association (LVCA or "Vegas Vettes") is in its 50th year supporting America's Sports Car in Las Vegas. With around 140 members, Vegas Vettes maintains a full schedule of events for a diverse range of interests, all centered around the Corvette sports car. Learn more about the LVCA at VegasVettes.com. Meanwhile, enjoy the pics.