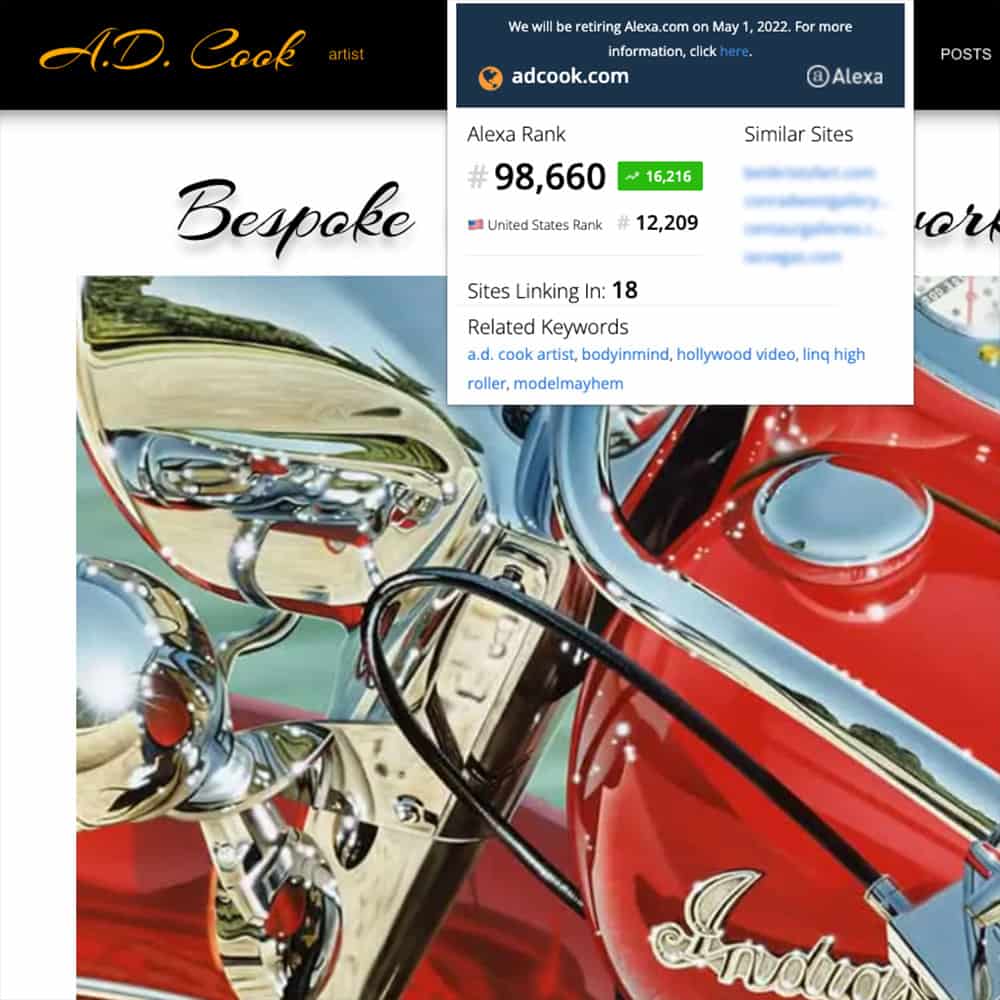 ADCook.com Website Hits Top 100k Global Rank
In today's Internet world, an artist has to be a creative entrepreneur, a web designer, and a marketer, along with a lot of other skills to succeed on any level, both online and on the Internet. It can be a lot to keep up with and still make time to create art.
That's why web designers rely on tools to track their site's growth and development. But, while there are a ton of online tools to track a website's performance and analytics, Alexa was different.
What I love (and will miss most) about Alexa is its tracking and ranking of the world's top websites. Each website on the Internet is ranked from number one (Google) to the top thirty million or so, along with the website's ranking for its particular country of origin.
Alexa Internet was founded in April 1996 (about six months before version one of ADCook.com launched) as a go-to resource for content research, competitive analysis, keyword research, and so much more. Sadly, after more than two decades of helping website owners and designs find, reach, and convert their digital audience, Alexa.com will be retired on May 1, 2022. Learn more at Wikipedia.
For years, I relied on Alexa.com stats to keep me informed of my website's status and have continuously increased my global and US rankings, inspired by my daily site's rank. As of this writing (January 7, 2022), the ADCook.com website ranks in the top 100,00 at 98,660 and 12,209 for the United States. Click the ALEXA RANKING UPDATE button below for more current stats.
Alexa replaced their toolbar with browser extensions. As of 2020, these extensions were available for Google Chrome and Firefox browsers, making it easier to track almost any website with a click. The Alexa browser extension displays the Alexa Traffic Rank for websites, shows related websites, provides search analytics, and quickly allows users to view the Internet Archive through the Wayback Machine. (NOTE: The Wayback Machine is a separate service, not related to Alexa, and has recently been disconnected from the Alexa extension.)
Ultimately, Alexa tracks websites based on their popularity as determined by a long list of algorithms, including web traffic. Without you, my visitors to ADCook.com, there would be nothing to rank. Thank you for your continued visits and support.

Alexa's Global and Country Website Rankings Change Daily
I started taking notice of Alexa.com since first discovering their site years ago, not long after their initial launch. In my ongoing efforts to keep this website relevant, I've referred to Alexa not only for numbers but for other valuable information, like other similar websites and which keywords were most used to discover this website.
To this day, I use the Alexa Chrome Extension to validate websites as I visit them and as I continue developing this website. As rankings go, the lower the number the better.
Since the writing of this post, I've tracked the ADCook.com global and U.S. Alexa rankings, primarily for fun, and to measure recent efforts in growing this website and its value it readers.
Daily Rankings for ADCook.com from Jan 7, 2022 to Current