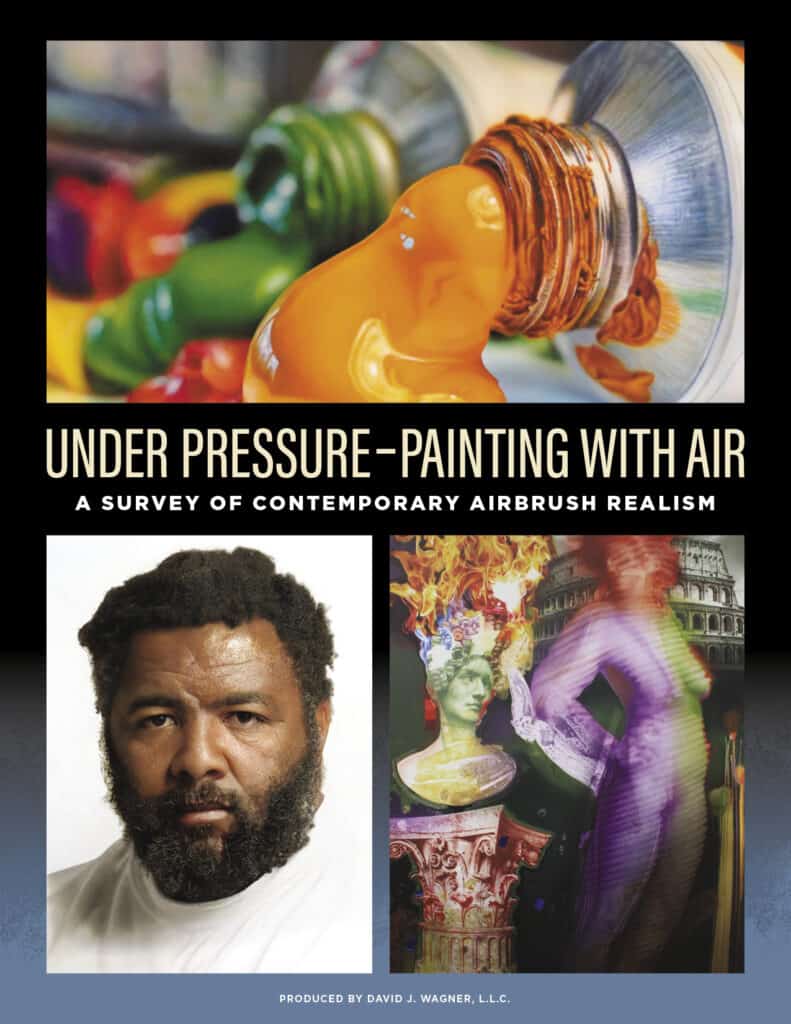 UNDER PRESSURE - PAINTING WITH AIR
A Survey of Contemporary Airbrush Realism
Check out these great pics forwarded from David Wagner
During Spring Break of 2018, museum curator Dr. David Wagner and his wife and son, who were spending their vacation together in Vegas, came by for a visit.  Dave and I were well acquainted since he had included three of my motorcycle paintings in the blockbuster traveling museum exhibition, 
LUSTER – Realism, and Hyperrealism in Contemporary Automobile and Motorcycle Painting Exhibit
.  At that time, LUSTER was about to wrap up at Daytona's Museum of Arts and Science, and ship out to the next venue, which would be the first of what would become nearly twenty venues nationwide,  a phenomenal success in anyone's book.
While we were chatting about that exhibit and my artwork, Dave mentioned that he was on the lookout for other good exhibit ideas to build on LUSTER's success.  Of course, my natural reaction was to suggest an airbrush exhibition since I am passionate about that medium, and genuinely believe that it is under-represented in the fine art world.  To his credit, Dave jumped on it!
Armed with my idea, he began searching for artists of national and international importance when he returned home and continued to do so over that summer.  Among the artists whose work appealed to Dave, was Cesar Santander.  To enlist his participation, Dave and his family visited Cesar at his home and studio during their holiday stay in New York City over Thanksgiving weekend and enlisted his participation. Other important artists followed, and the exhibit subsequently unfolded into reality.
In short order, Dave reached out to and got commitments from airbrush artists; Silvia Belviso (Italy; now Charleston, SC); Dru Blair (Charleston, SC); Don Eddy (New York, NY); David Evanoff (Cleveland, GA); Bruce Evans (Philadelphia, PA); George Green (1943-2020, Portland, OR); Kirk Lybecker (Portland, OR); Jerry Ott (Duluth, MN); Alan Pastrana, (Plainville, CT); Cesar Santander (New York, NY); Hisaya Taira (Tokyo, Japan); and Joshua A. Zarambo (Richmond, VA).
While I could not directly participate in UNDER PRESSURE, I celebrate these artists' fantastic work, all coming together in the sharing of world-class airbrush art.
Catch the UNDER PRESSURE Exhibit at
Stockton, CA
November 16, 2023 – January 14, 2024
Photos below by Alan Pastrana
Photos © copyright by their respective owners. Images used by permission.
Behind the Scenes: Setting Up Under Pressure: Painting with Air
Video Oct 26, 2021 — Follow along as the Huntsville Museum of Art installs the exhibition, "Under Pressure: Painting with Air – A Survey of Contemporary Airbrush Realism." This exhibition, premiering at HMA, showcases 45 artworks in a wide range of themes by 15 exceptional airbrush artists.
MORE INFO ON UNDER PRESSURE