Thank You for Decades of Insight
On January 7, 2022, I wrote a post thanking Alexa for many years of extraordinary service of providing valuable stats to web designers for decades. Unfortunately, in that same post, I shared that Alexa.com would discontinue its service on May 1.
When I penned that post back in January, I thought it might be fun to track my daily Alexa global and US rankings. If you're not familiar with Alexa.com, it was a website ranking system that ranked each website from number 1 (Google.com), number 2 (YouTube.com), number 9 (Facebook.com), and so on, to the top several million in global rankings.
I discovered Alexa.com long ago and began utilizing its valuable feedback in building the ADCook.com website and others. My line of thinking was if Alexa.com is seeing the website, then the rest of the Internet is seeing it too, from an SEO perspective at the very least. Not to get all geeky, but websites are geeky, even the art ones.
But I loved and used Alexa.com as a form of goal setting. First, I'd want my website to rank in the top ten million, then top million, then top 750,000, top half-million, and so on. So I used Alexa to inspire and track a website's progress. Along the way, I created a handful of sites that ranked in the top 100,000 global.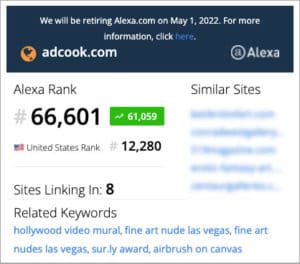 Often, when I began developing or working heavily on a website, I'd visit Alexa.com and check the site's rankings. Naturally, for a new site, there would be no ranking. But even for a new site, if you did things right, you could show up on Alexa's radar in a couple of days.
A few years ago, Alexa released a browser extension for Chrome that allowed the checking of any website instantly. As a one-click solution, I used it most-every time I visited any website to view their stats. Unfortunately, that feature was disabled on May 1, along with their service.
So, as an experiment, as I began some design edits and upgrades to the ADCook.com website for a couple of months, I began tracking starting on January 1, and ending on March 9, 2022, as I did miles of design edits and upgrades.
According to Alexa.com, on 01/07/22, my global ranking was 98,660, and my US ranking was 12,209. Two months later, with almost daily updates, my global rank was 70,980, although my US rank dropped to 22,263. My best two-day rankings were February 22, 2022, for a worldwide ranking of 66,601, and January 29, for a US ranking of 9,441. See the daily stat list at ADCook.com/Thank-You-Alexa/
3 Things I Learned From Alexa.com
I learned some valuable lessons from Alexa.com; things like…
A little effort goes a long way. Search engines like to see that a website is being "touched." I sometimes think of it as the Internet beast that must be fed. But, no matter how you or I see it, Alexa.com saw it as an activity and ranked your site better for the effort.
Details matter. There are many ways to improve a website, so there are always plenty of things to do. Whether adding artworks, creating content, optimizing images, writing a post, search engine optimization, or a million other things, each helps add to the depth and development of a website.


Alexa isn't everything.

While Alexa.com was awesome, sadly, it's gone. Beyond Alexa stats, there are other ways to measure a website's stats and performance. Maybe in the end, where one ranks isn't as important as what one shares with those who matter.
Still, Alexa.com was great. RIP 2002 – 2022
Alexa Internet, Inc. is an American web traffic analysis company based in San Francisco. It is a wholly-owned subsidiary of Amazon.
On Wednesday, December 8, 2021, Amazon announced the cessation of its website ranking and competitive analysis service, which has been available to the public for more than 25 years. Alexa service will discontinue as of May 1, 2022.
Today, May 1st, marks that day. What they call "discontinued" I see as the passing of an old friend. Au Revoir, Alexa.