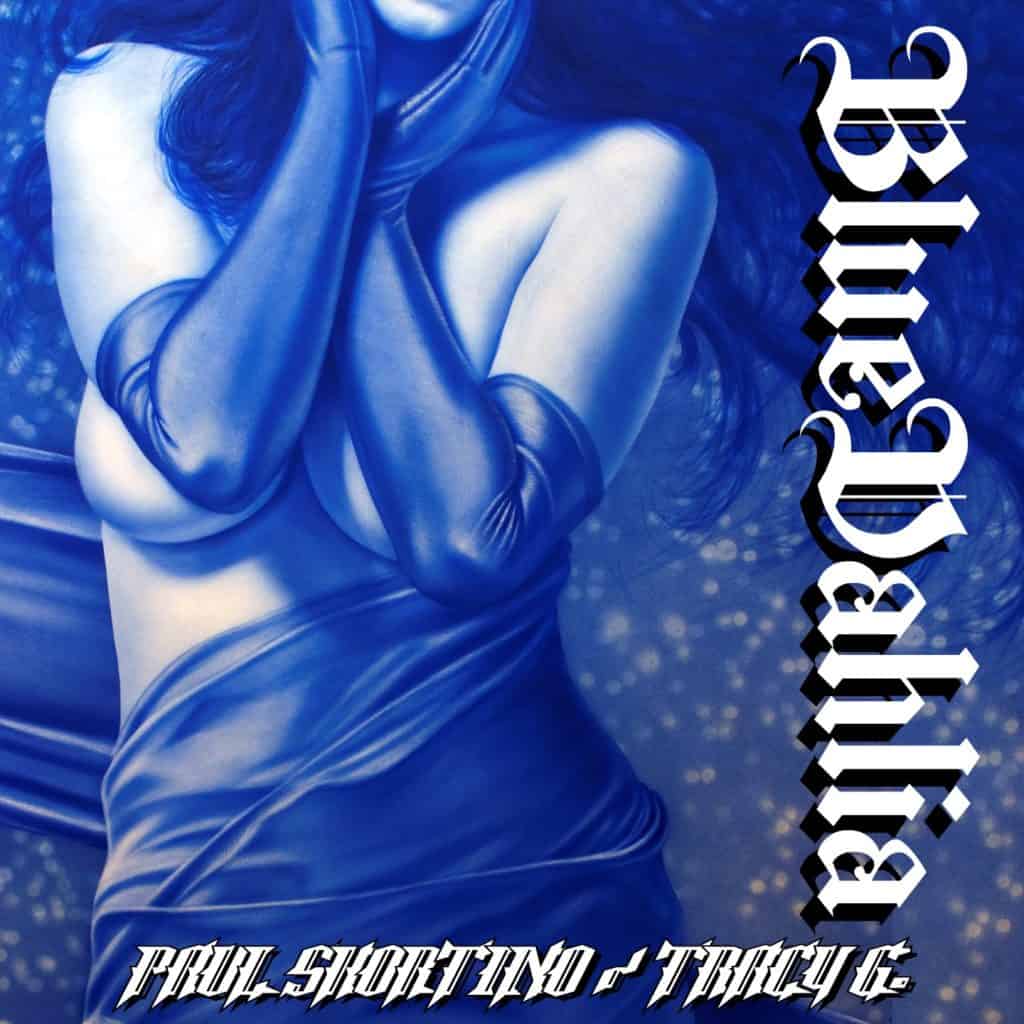 Ever had one of those dreams as a kid to one day have your art featured on an album cover? I did. It was one of those things that I thought might be cool one day.
While never pursued it, per se, over the years, I came close to checking it off my bucket list a few times. Years ago, I worked with few bands, primarily rockers and one country band, designing their logos and custom painting drum heads, stage backdrops, and designing show flyers.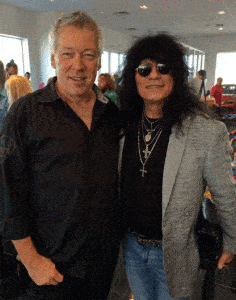 Growing up, I hung out with kids who rocked out in their dad's garage. Most were pretty bad, some were decent, and a few, a very few, rocked! For most, playing music was a dream left behind long ago for a career, family, and safer world. For few others, like rocker Paul Shortino, music has been a life-long passion, as art has been for me. Paul has been a singer and performer most all his life, and that is reflected in the quality of his vocals and his command of the stage.
That's where my bucket list item, to 'Rock my art on an album cover,' comes in. I've known Paul for several years now, and we were chatting a couple of months back when he shared that he was working on some new tracks for an upcoming album. Soon after, he sent me a couple of new songs by his new band, BlueDahlia, from their debut album.
BLUEDAHLIA by Paul Shortino and Tracy G.
BlueDahlia features ten heavy tunes that are rocking my playlist.
We Will Rise
When Darkness Falls
Wash The Pain Away
You Don't Have To Say You Love Me
Never Trouble Trouble
Sunset Blue
Alpine Valley
Change Your Attitude
Fallen From Grace
Count On You
• • • • •
Fresh off the dominant return of Rough Cutt and their new album 'III', Paul Shortino has teamed up with former Dio guitarist extraordinaire Tracy G to deliver a powerhouse album that brings the legendary voice and the sweet six-string attack into the front with their brand new band and album BLUEDAHLIA.
Nearly 2 years in the making, the guys deliver a sonic assault that will leave many fans of the genre soaked in Blues and Hard Rock.
The opening track "We Will Rise" certainly will get your blood flowing as Shortino and Tracy G are in fine form delivering solid hooks throughout the whole album. Dig into "Never Trouble Trouble", "When Darkness Falls (featuring Vinny Appice on drums), "Alpine Valley", "Change Your Attitude" and the soulfully sweet "Sunset Blue". There is a little bit of everything on this album and for fans of Paul Shortino and Tracy G, this will surely highlight your collection. 
This CD comes packaged in an 8-page booklet with a full set of lyrics, is silver pressed, and is officially licensed from the band. 
Get your copy today exclusively through the DDR Music Group. 
This album is available as a full album download through Bandcamp.
FEATURED ARTWORKS
When Paul mentioned that the album's title was to be BLUEDAHLIA, a small selection of paintings from my past works immediately came to mind. I love painting in blues, so I had a few artworks for Paul to consider. After bouncing a few images and ideas back and forth, Paul decided on one canvas piece and one metal piece for the front and back covers of his new album.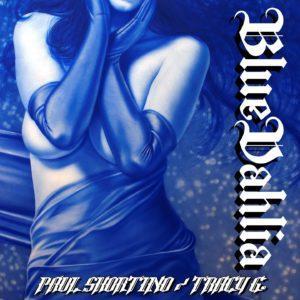 Encore! Encore! BlueDahlia's front cover showcases ENCORE (cropped) from my Pearl Series on canvas, 2011. The original painting is six feet tall by four feet across and features Playboy model Jessica Robinson as my muse, painted nearly twice lifesize in pearl metallic paints on a white pearl canvas. Like music, she changes colors to reflect the experience.
A little back history, Paul and I met at an event where I had the original painting displayed, along with several other art nudes on canvas.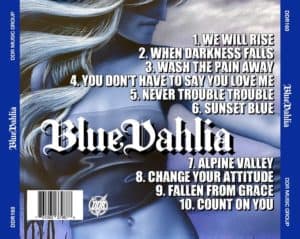 The album's back cover features ARIEL 11 (also cropped), a metal artwork from 2007, featuring muse, Ariel, airbrushed approximately life-size in metallic pearl pigments on an 18″ x 36″ metal panel.
ARIEL 11 is one of a very limited series. Other original artworks from this series were painted in reds, silvers, and a rainbow of Vegas-inspired colors. Bold, mysterious, and courageous, ARIEL 11 is a perfect complement to BlueDahlia.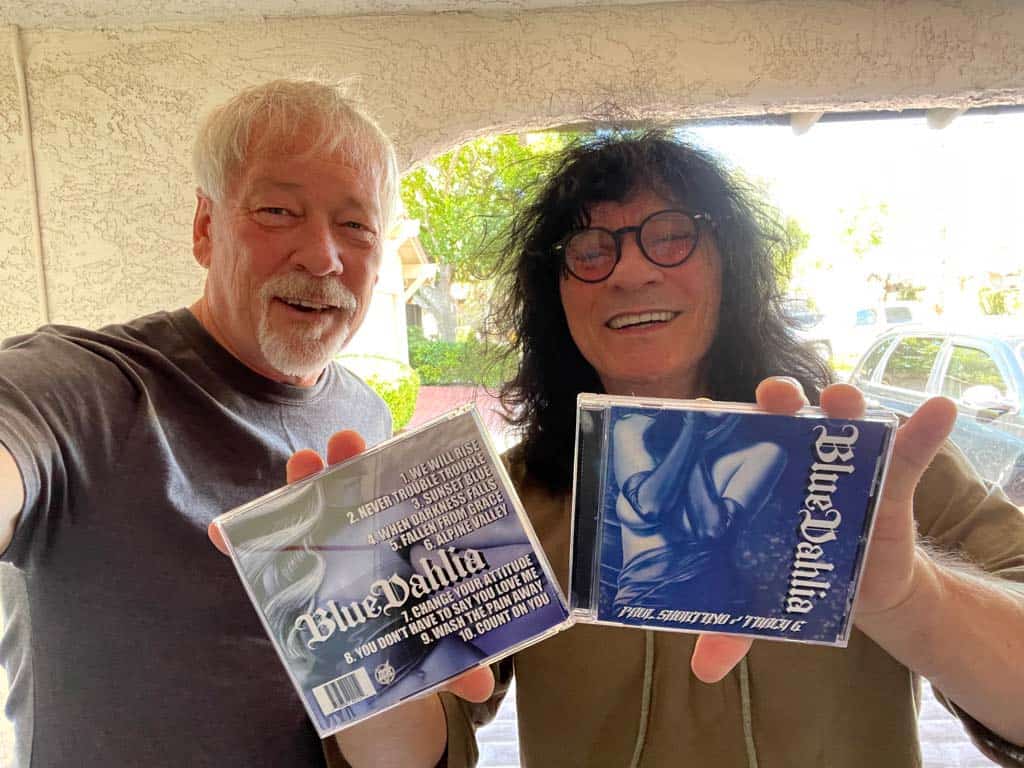 View more metal art nudes on this site at ADCook.com/art-nudes.
Also, stay tuned for an upcoming new metal artwork inspired by a cut from this album.