Happy Birthday, Elvis.
In celebration of the King of Rock n' Roll…
During my time as Hollywood Video's creative director and resident artist, from 1989 to 1994, I created over a hundred hand-painted wall murals – most measuring upwards of ten feet tall and eight, ten, and sometimes 20 feet across. The pace was fast and furious, and it was a hugely creative time for me. We were opening a new store every month, and all the murals were hand-painted, so I worked day and night, painting often until the early morning hours. Then, after only a short break, I would return to the studio and start all over again. It was a prolific experience that helped make me the artist that I am today.
And during that time, one of my favorite subjects to paint was Elvis. I painted several large Elvis murals in the Hollywood Video stores, mostly in the Northwest – Portland and Seattle. Few still exist.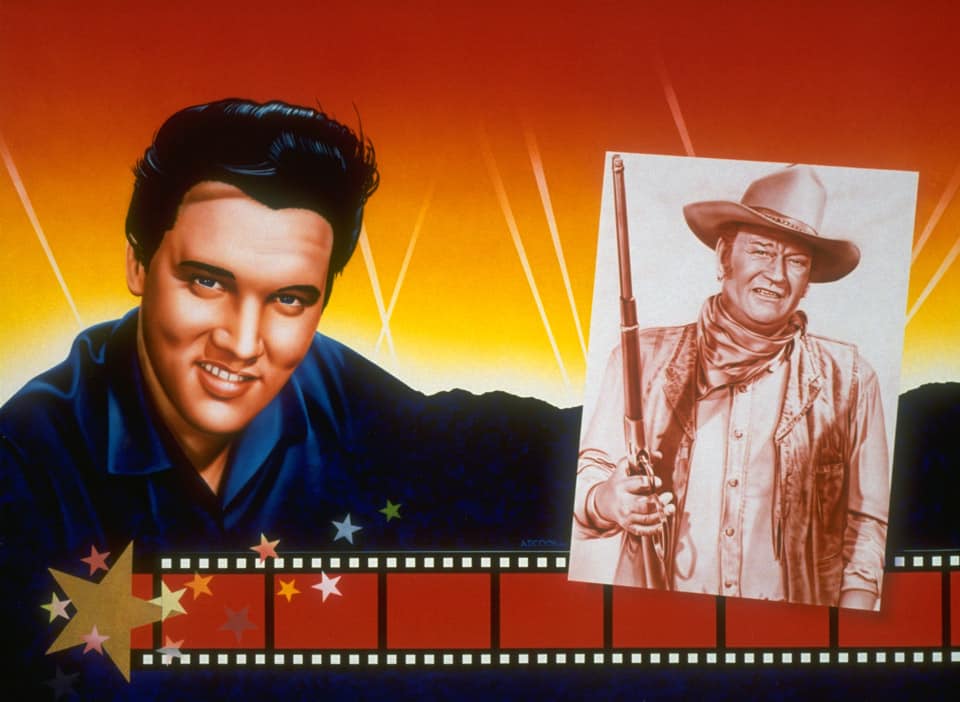 "Elvis & John Wayne" on canvas – 114-3/4″ tall x 153″ wide, 1993.
The Elvis and John Wayne mural (above) was just one of the many Elvis murals I painted during my five-year tenure as creative director and resident muralist at Hollywood Video.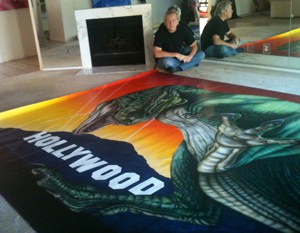 The recovered Elvis and John Wayne mural on canvas, 2011.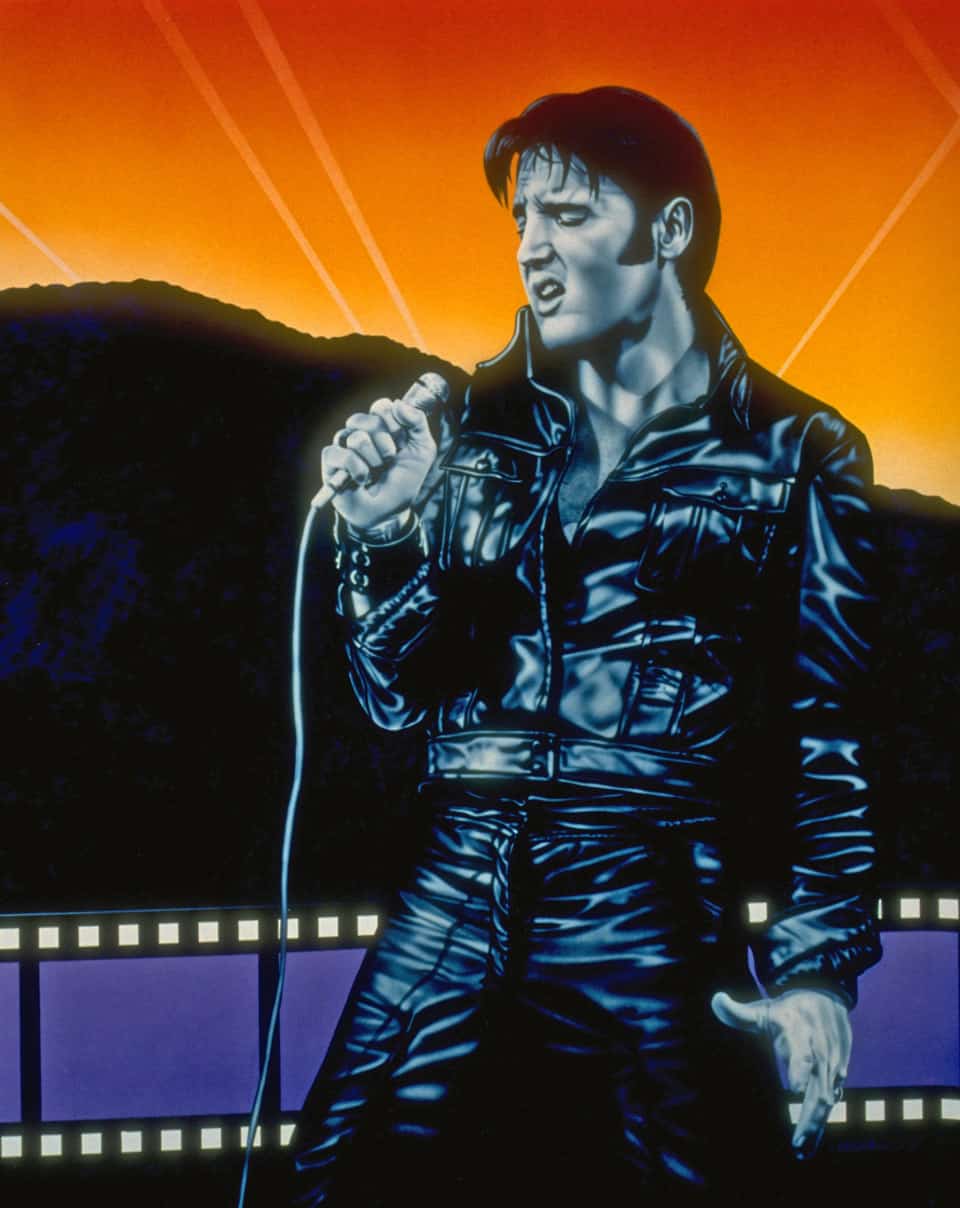 Elvis from his '68 Comeback Tour.
My Elvis '68 Comeback Tour was a blast to paint, too. I think I did this one around 1990 or '91. One of the things that made this one so much fun was the scale of the painting. Elvis (if completed) would stand about nine feet tall.
I wish I had more pics to share with you. Those were different days. We painted and rarely took enough pictures. It's kind of the opposite today, where it seems we have a hundred pics of everything (guilty).
As a side note, if anyone has a pic, I painted a great Elvis mural for the Lynnwood, Washington, store.
Anyway, back on point, What today was all about was celebrating Elvis Presley and his accomplishments.
Elvis Aaron Presley (January 8, 1935 – August 16, 1977) was an American singer and actor. Regarded as one of the most significant cultural icons of the 20th century, he is often referred to as "the King of Rock and Roll" or simply "the King"*.
Presley is one of the most celebrated and influential musicians of the 20th century. Commercially successful in many genres, including pop, blues and gospel, he is the best-selling solo artist in the history of recorded music, with estimated record sales of around 600 million units worldwide. He won three Grammys, also receiving the Grammy Lifetime Achievement Award at age 36, and has been inducted into multiple music halls of fame.
*source: https://en.wikipedia.org/wiki/Elvis_Presley
• • • • •