2015 was quite a year. Quite a year, indeed.
It was an eventful year, for sure. And a good year, too. All-in-all, though, I'm especially excited for the forthcoming year. 2016 is going to be amazing. But, before I get ahead of myself, I need to wrap up my semi-annual quasi-year-end summary blog. So, back to 2015…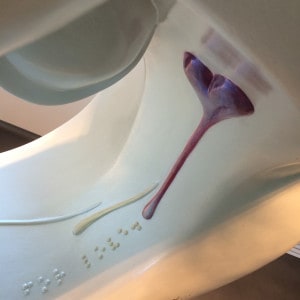 "The Things We Do For Love" by A.D. Cook, 2015
As a recap, I'm going to share a few highlights from my year — an artist's perspective, or at least the artsy stuff, anyway.
My year started out with art – a carryover from a project I started in late 2014… my St. Jude sculpture, which I created for the Las Vegas chapter of St. Jude Children's Research Hospital. I titled her "The Things We Do For Love". It seemed like such an obvious choice for me, mostly because LOVE is what St. Jude does and is all about.
St. Jude does so much to help children of less fortunate families that it would be hard to share their whole story here. Essentially, they are all about finding cures and saving children. What I find to be beautiful about St. Jude is that they help those in need for free and freely share their research with the world. They are givers.
Throughout 2015, my St. Jude sculpture was proudly displayed at a few locations around Las Vegas, including Lamborghini Las Vegas, Audi of Henderson, and Underground Revolution, and is currently on display at Siena Italian Authentic Trattoria. Thank you all for your generosity is hosting my sculpture.
At the end of August, my lady artist, Beti Kristof, and I flew to Memphis, Tennessee, along with other Las Vegas artists who also created the 2015 statues. We toured the St. Jude Children's Research Hospital, chatted with doctors and the research team, and generally got to see their work up close. Beti's statue from a few years ago is actually on display at the hospital in Memphis – a huge honor.
You don't have to look far to see artist Beti Kristof in a lot of my posts. We've both created and traveled this year as a couple, and I have to tell ya, she is a huge "highlight" of my year, and I hope for many years to come. So, for much of this year, I celebrated with her. We wrote a screenplay, created art, did events and charities together, and danced. But I digress. Some of the fun events we did this year were the LA ART SHOW, the SEXXY SHOW,
Read my post on Beti's art here > adcfa.com/artist-beti-kristof/
Back to the screenplay… our first of several, I hope. KITSCH is a romantic comedy. One day, we hope to share it with you on the big screen.
Beti is also the reason that I participated in the St. Jude project. She has done several over the past few years, and she has her own story to tell of love and healing and why she's done all those sculptures. More on that later.
So, let's see… we body-painted a couple of ladies doing battle with cancer and winning! Earlier this year, we painted Melanie Lesh and celebrated her zest for life while in Arizona, and most recently, we painted Gail here in Las Vegas.
I launched ADCookArt.com, my online store for prints, gifts, and collectibles.
All in all, I met the most amazing people this past year.
2016 should prove to be a fun year. Cheers to you all.
• • • • •