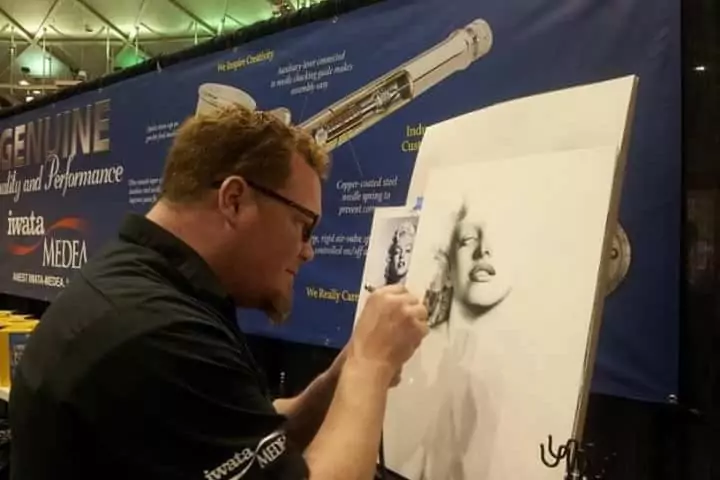 As many in the airbrush community may now know, this week, we lost one of the industry's more noted artists.
Airbrush legend Steve Driscoll passed away unexpectedly on June 23rd, 2018.
I had the privilege and honor of calling Steve a friend, and as Steve would say, "brother." Steve was that kind of guy. If you were his friend, you were his brother. To him, it seemed, they were one-in-the-same.
Looking back, it seems that I met Steve at Airstorm '95 (yikes, that's 23 years ago, already). It seems like yesterday in many ways. Back then, the community was new and fresh and fast and furious. Fresh talent was discovered, and new techniques were learned and shared as fast as we could find it. And Steve was at the forefront of that wave. He was among the first to create airbrush training videos (remember VHS?) and write how-to articles for some of the magazines of the day, like Airbrush Action, where he taught fellow artists the techniques of creating great flesh tones for more dynamic portrait works. And his portraits were great! Check out the John Belushi painting above. Steve had painted that image a few times, each more masterful than the previous. As he learned and increased his skills, he shared his knowledge and techniques with his students, all the while reminding us how fun this life of art and creating can be.
Steve, you are and will always be missed.
over the past few days, many from within the airbrush community have shared fantastic stories and great memories of their time with Steve. No one has expressed it more concisely than Gary from Iwata-Medea Airbrush. With his permission, we are sharing it here…
In Memory of our Friend Steve Driscoll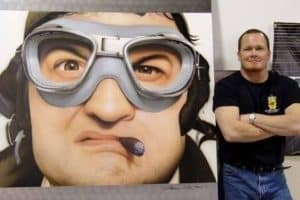 The passing of Steve Driscoll has devastated us who knew him, and this loss will be felt for many years to come and by many people. However, being around Steve in person and interacting with him set him apart from many other uber-talented individuals. It is certainly Steve's individuality, passion, and character that we will miss the most.
At Iwata-Medea, we've had the pleasure of working alongside Steve since the late 1990s when he participated in the Coast Show and taught airbrush techniques at Airbrush Action Magazine's Airbrush Getaway. Later, Steve would teach workshops at many other venues, including the Coast Airbrush Rendezvous, the ASET Air Affair, and regional jobber seminars. He also did videos and wrote many how-to articles helping promote the use of the airbrush in art. He regularly helped us at Iwata-Medea by demonstrating at tradeshows. He could also be spotted at various in-store art and airbrush-related lectures and clinics in and around the Greater Minneapolis – St. Paul area. He helped us with the testing and development of our products too. Steve was everywhere and would be available for nearly anyone who asked for his help.
It is obvious to everyone that Steve Driscoll was an incredibly talented artist, and he has left behind an incredibly artistic and creative legacy. Certainly, Steve was known to be a raucous partier and a rowdy rabble-rouser since he was absolutely a blast to hang out with and an incredibly hilarious guy. Yet, beyond his gregarious and prankster persona and his mischievous "Cheshire-Cat grin," he also had a genuine caring and gentle side; he always handled himself with dignity, grace, and thoughtfulness.
Steve was authentic in every way, and he truly wore his "heart on his sleeve."  Even though he was blessed as a talented and gifted artist, he remained one of the humblest individuals one could know. One always knew where one stood with him; he didn't pull punches, and he was forthright and "matter of fact" in his demeanor. He was honest about his feelings and didn't shy away from difficult conversations. He would regularly stop what he was working on to chat with anyone – and usually about any topic; he'd always find the time for anyone, and no conversation ever seemed too insignificant.  Also, he was always humble to the praise and accolades he received and was constantly looking to pass the credit on to others.  Simply put, Steve was polite; there was always a "please" and a "thank you" included, and those simple gestures went a long way with many people. He always talked about other people as a source of inspiration for him, and I wonder if he truly knew how much he inspired the rest of us? Based on the outpouring of love for him, it's clear that he did.
While his art will endure forever, the face-to-face time with Steve is the legacy that we will ultimately treasure. God Speed, Steve Driscoll, and our heartfelt thanks for being a special part of our lives.
Gary Glass
On behalf of Iwata-Medea, Inc.
It is with a heavy heart that we ask for your help. Steve Driscoll, father, friend, influential artist, and mentor, passed away unexpectedly on June 23rd, 2018. He leaves behind two adult children, Maria and Anthony, whom he loved more than anything. He also leaves an amazing legacy in his field of airbrush painting and many lives he touched along the way. Words cannot express the sorrow and devastation that all are feeling who knew and loved Steve.
We are looking for funds to go towards memorial services and extra financial support for his family during this difficult time. Any and all donations are appreciated. No amount is too small. Please keep his family and close friends in your thoughts and prayers. Thank you for your support.
We love you and will never forget you, dear friend. You will be missed more than words could say. R.I.P. Steve.
Click here to help > https://www.gofundme.com/steve-driscoll-memorial-fund