It was a great weekend for Show Cars and Art as we celebrated the grand opening of RailRoad Pass Show Cars at RailRoad Pass Hotel and Casino at the south edge of Henderson, NV.
Special thanks to everyone who stopped by to check out the cars and art, and help us inaugurate the new showroom and gallery. Friends, Las Vegas locals, truckers and travelers alike came out for the festivities that made for a steady crowd for two full days. 24 hours of memories, and we're just getting started.
The RailRoad Pass Casino showcases classic cars and custom motorcycles, and motorcycle and automotive artworks, fine art prints, and art collectibles. Featured artists include A.D. Cook, Beti Kristof, Jordan Shiraki, Raphael Schnepf, and Kenny Youngblood. Collection curated by A.D. Cook.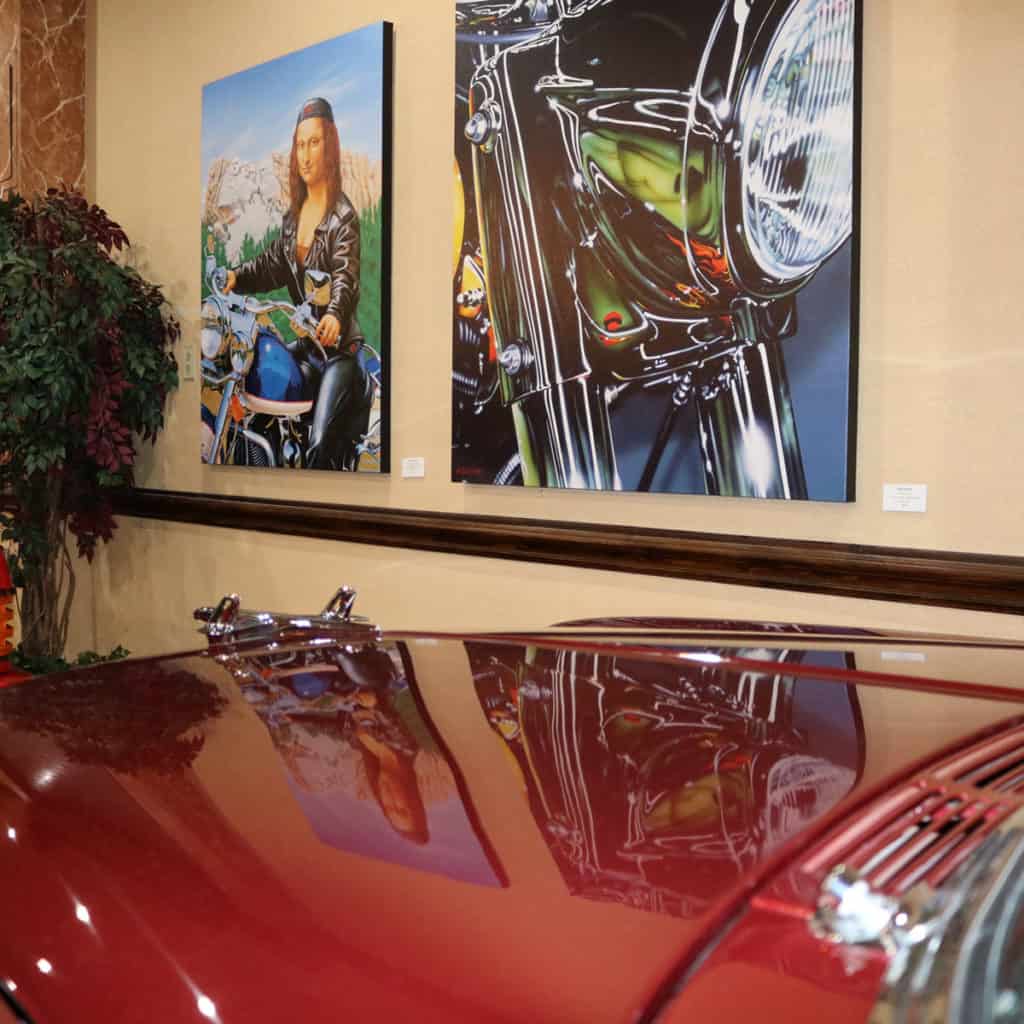 above: MOTOR MONA by Raphael Schnepf and FOR SHOW by A.D. Cook
Mona is in the hood. How often do we get to say that? Raphael Schnepf's MOTOR MONA has her riding a classic Harley-Davidson motorcycle. I think she looks pretty cool reflected in the hood of this '55 Chevy – one of my all-time favorites, BTW. To Mona's right hangs a FOR SHOW limited-edition art print on canvas by A.D. Cook.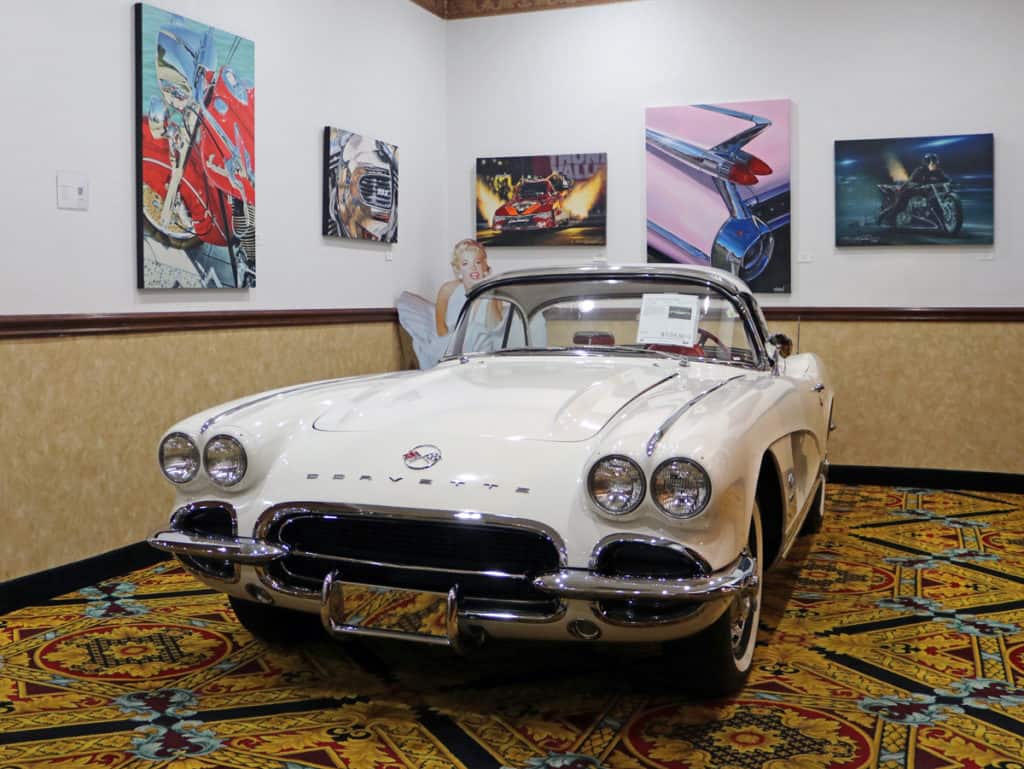 Keeping good company. This 1962 Corvette is pretty sweet.
The front gallery features an INDIAN SUMMER canvas art print at full size, so this beautiful reproduction of A.D. Cook's original painting. Next is DREAM 103, the original painting, created for the SKIN & BONES Motorcycle and Art Exhibit in Sturgis, SD. Then, and we have a couple Kenny Youngblood limited-edition art prints. His art art NHRA is powerful! At front and center is artist Beti Kristof's latest original painting, PINK CADILLAC.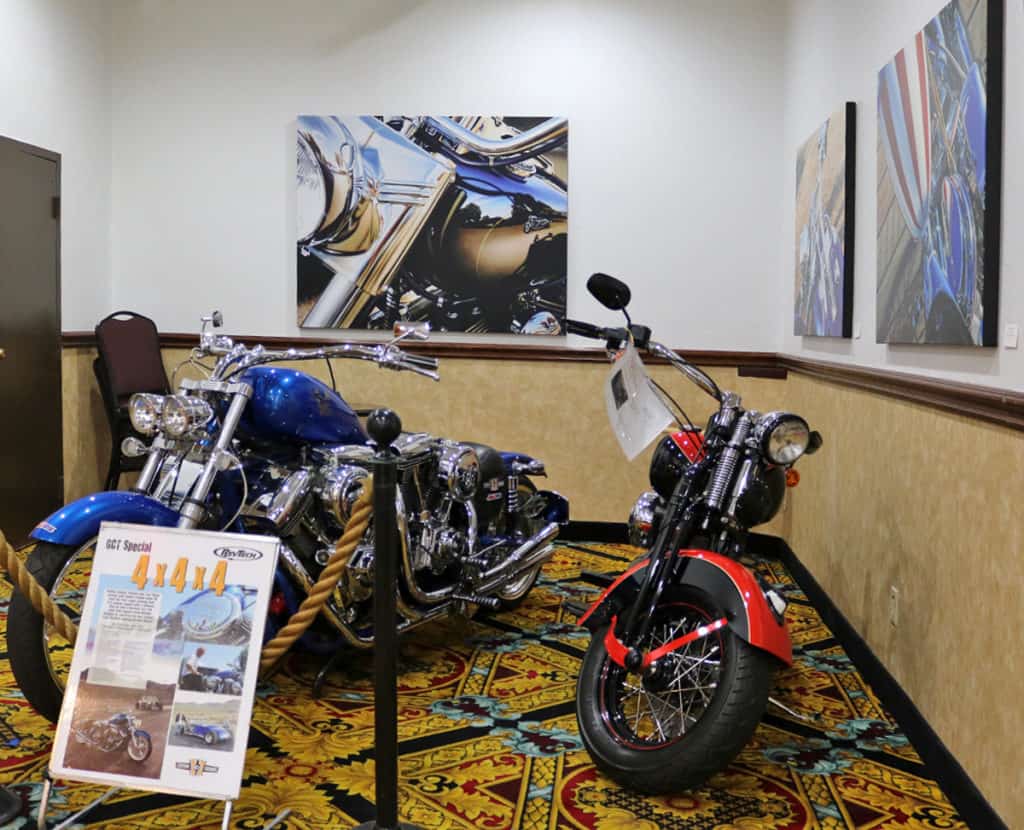 I love motorcycles – especially American motorcycles, and the more American, the better, The 4x4x4 is more. Three engines more for a total of four. That's definitely more. This thing is a beast. The Derico bikes are pretty cool, too, especially is you like Springers (and I do). Among these motorcycles resides four large pieces from the A.D. Cook motorcycle art collection. To the far left is (not shown) is a super-sized limited-edition DREAM 103 canvas art print. Straight ahead is a full-size limited-edition canvas art print of AUTUMN RIDERS, at a whopping 48″ x 60″. To the right is a PASSING TIME limited-edition canvas art print at full size, and finally, an AMERICA limited-edition canvas art print at 3/4 scale.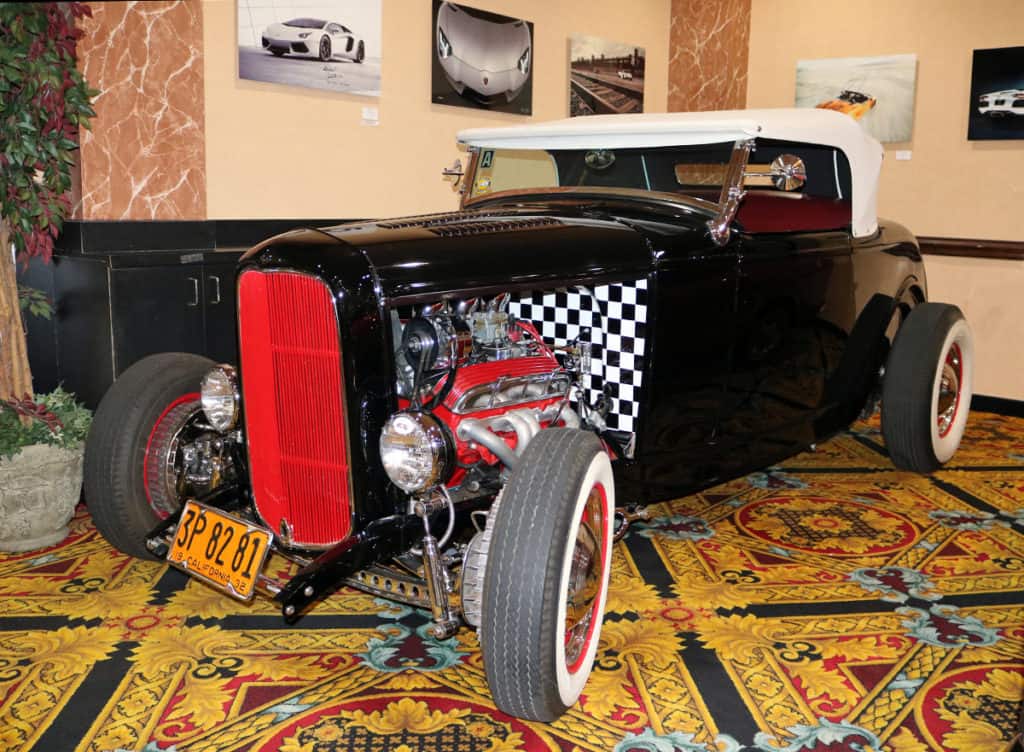 Gotta love this all-steel '32. And Jordan Shiraki's exotic car photography compliments it nicely.
Classic cars and hot rods. There is a nice collect here of about a dozen cars, half a dozen bikes and three dozen artworks ~ a lot to see. And here, anything is possible and everything is for sale. Like a car, buy it. These are pretty cool and a few sold over the RailRoad Pass Show Cars grand opening weekend. See a piece of art you like, start collecting. Everything on the walls is limited.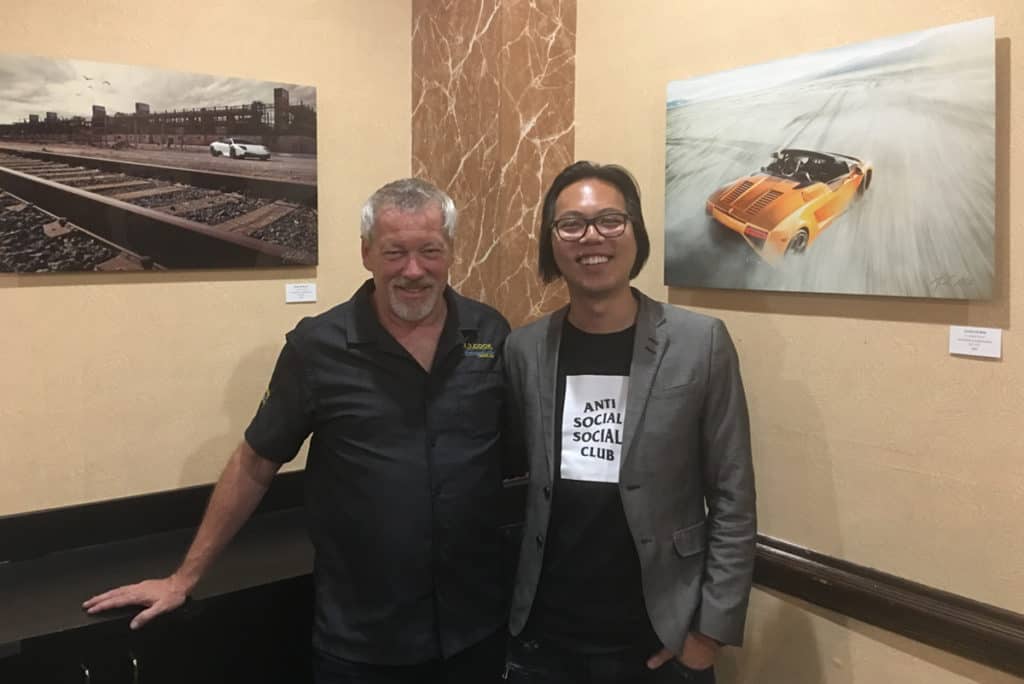 We're honored to share photographer Jordan Shiraki with you. This is his first exhibit with his Lamborghini inspired limited-edition metal art prints. He has six spectacular pieces on display with more available online.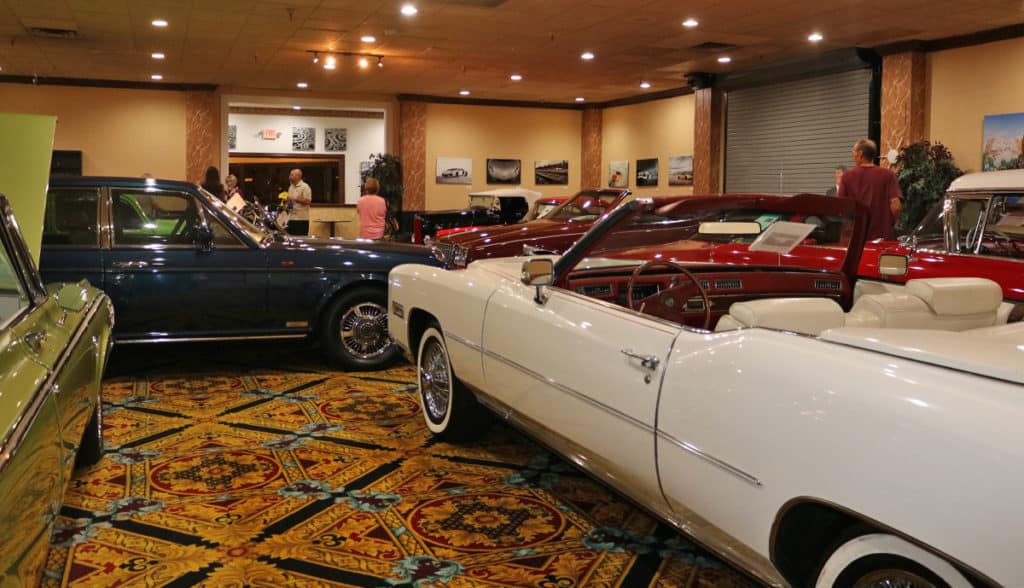 Cadillacs and more. There is an impressive collection on display and it changes as fast as the cars sell, which is pretty fast.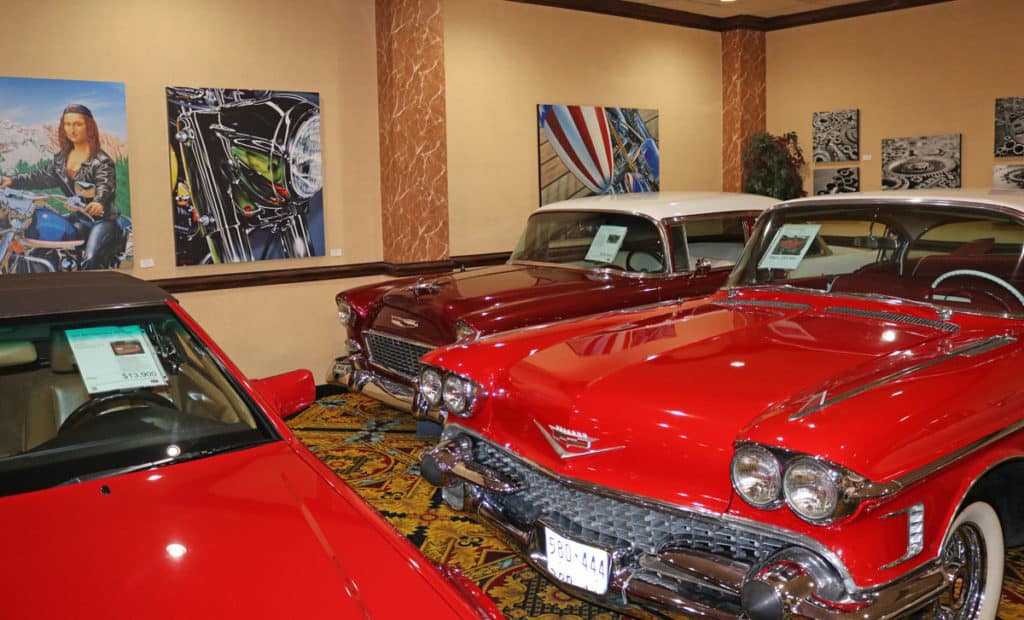 Beauty abounds at RailRoad Pass Show Cars.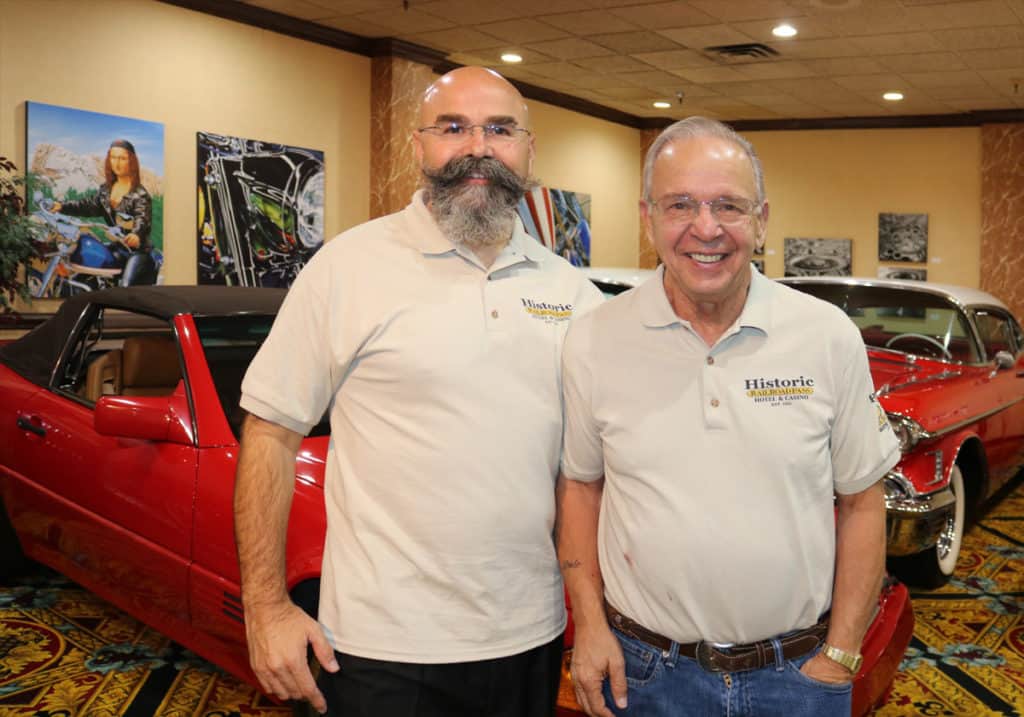 Bill Biler and Joe DeSimone, Sr.
Check out an impressive collection of powerful muscle cars, classic automobiles, and custom motorcycles, and enjoy our great collection of art – all in one stop. RailRoad Pass Casino. When you're ready to buy, cars or art, talk to Joe DeSimone, Sr. or Bill Biler. They guys love cars like I love we love art. Okay, we love cars too. Cheers!
at
2800 South Boulder Highway
Henderson, Nevada 89002
702.294.5000 or 800.654.0877
Nation's Longest Running Casino ~ Established 1931