Well, I finally got a chance to check it out, and I gotta say… The LINQ High Roller is pretty cool.
In truth, it's actually quite a bit more than just "cool." At 550 feet tall, the all-new LINQ on the Las Strip is EPIC! The world's tallest observation wheel takes the Strip to new heights in a big way.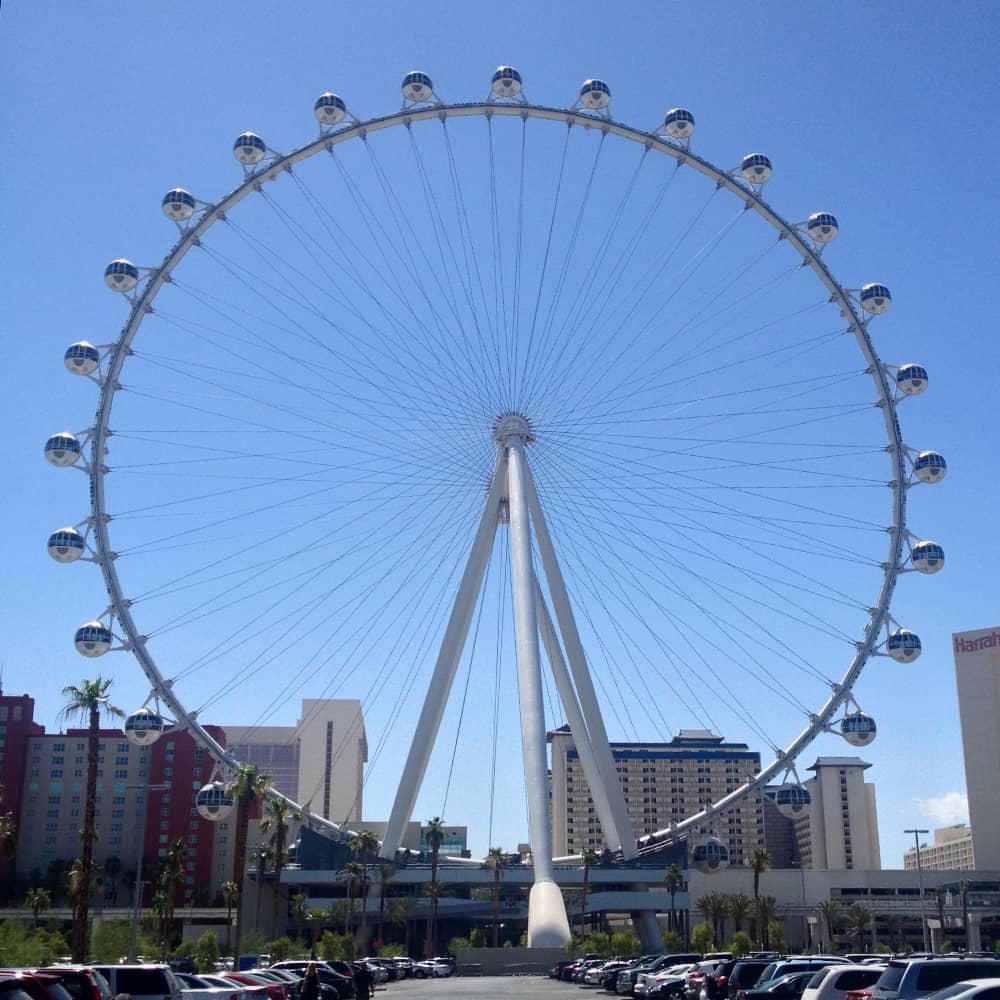 The LINQ High Roller – looking west towards the Strip.
I've been curious and watching the whole LINQ project from afar. It's really impressive. You can see the High Roller wheel from just anywhere in town. I had to see it. So, Sunday, my buddy James and I decided to play tourist and check it out.
This outdoor retail, dining, and entertainment plaza offers several different experiences at the heart of the Las Vegas Strip.
The focal point is the High Roller observation wheel, which boasts a 360-degree view of the Las Vegas Strip and valley.
There are also plenty of shops and restaurants to choose from. Restaurants and nightlife include O'Shea's Casino, Chayo Cocina, The Haute Doggery hot dog shop, Purple Zebra, Sprinkles Cupcakes, Starbucks, Ghiradelli, Yard House, Tilted Kilt,  F.A.M.E., and Flour & Barley. Shops include The Polaroid Museum,  Koto, Bella Scarpa, 12 A.M. Run, Chilli Beans, Goorin Bros., Kitson, and Ruby Blue.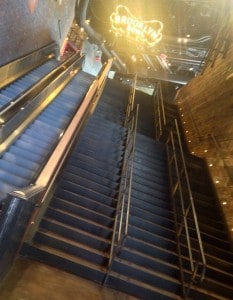 And then there's Brooklyn Bowl – an impressive theater, restaurant, bowling alley, and nightclub. I don't remember bowling allies being this cool or this big back home. This place rocks 80,000 square feet of fun.
I enjoyed some of their awesome food a while back at a BeerFest in downtown Las Vegas and have wanted to check Brooklyn Bowl ever since.
They give you a chance to earn it – you can take the stairs on the right or opt for the easy way (escalators). Either way, the sign big old-style sign points the way.
When you get to the top of that long stairway, you're greeted by a HUGE room. I wasn't sure what to expect, but I really liked this place. Its brick walls and open warehouse decor reminded me of Portland a bit.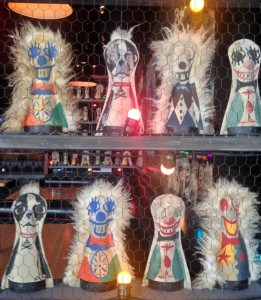 Brooklyn Bowl has redefined the destination entertainment experience. "One of the most incredible places on earth," according to Rolling Stone, Brooklyn Bowl integrates a premier performance venue, food by Blue Ribbon, bars that feature local craft-brewed beers, and 16 bowling lanes, which give guests a unique place to relax, eat, drink and watch a performance. Brooklyn Bowl is located in the former Hecla Iron Works (built 1882) and was the first L.E.E.D.-certified bowling alley in the world.
So what's to eat? The most comfortable of comfort foods, designed to hit the spot. "Really, what we've always tried to do is make the stuff mom used to make, just make it better…" — Read "An Exclusive First Taste of Las Vegas Weekly" by food editor from Las Vegas Weekly, Brock Rake, to learn more.
And if it's music you want, check out their stage. You know this place has got to rock.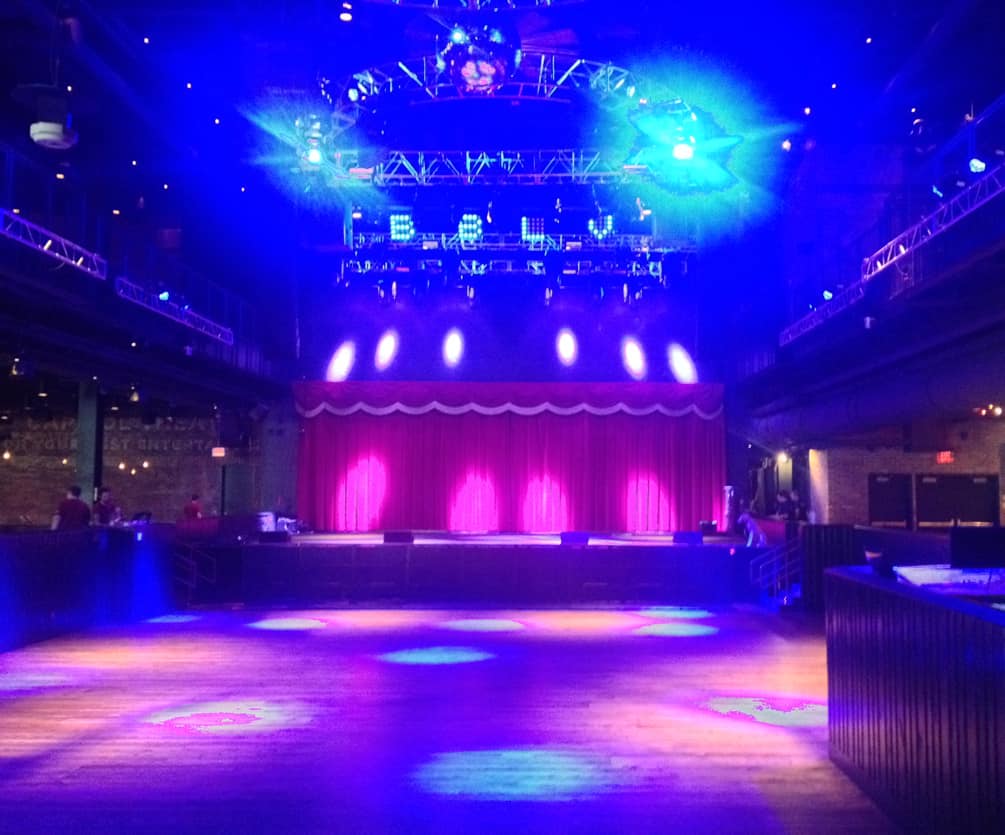 BBLV — Brooklyn Bowl Las Vegas.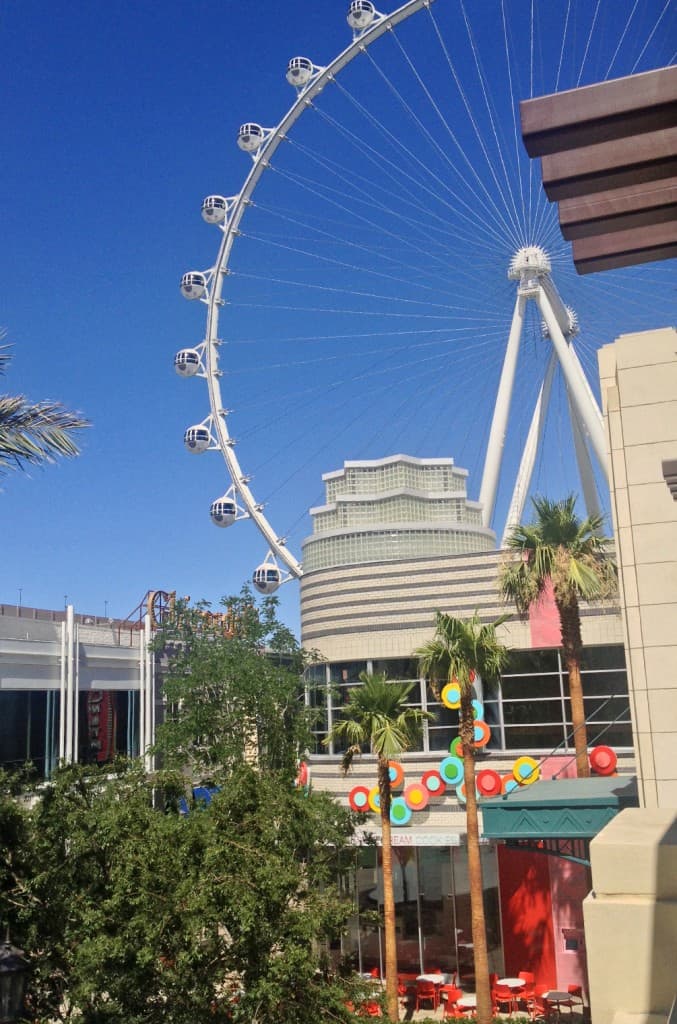 The LINQ High Roller from the Brooklyn Bowl balcony.
Strolling the courtyard, we found a couple of great hand-painted wall murals by local artists Anthony N. Ortega, Brett Rosepiler, and Gearboxxx.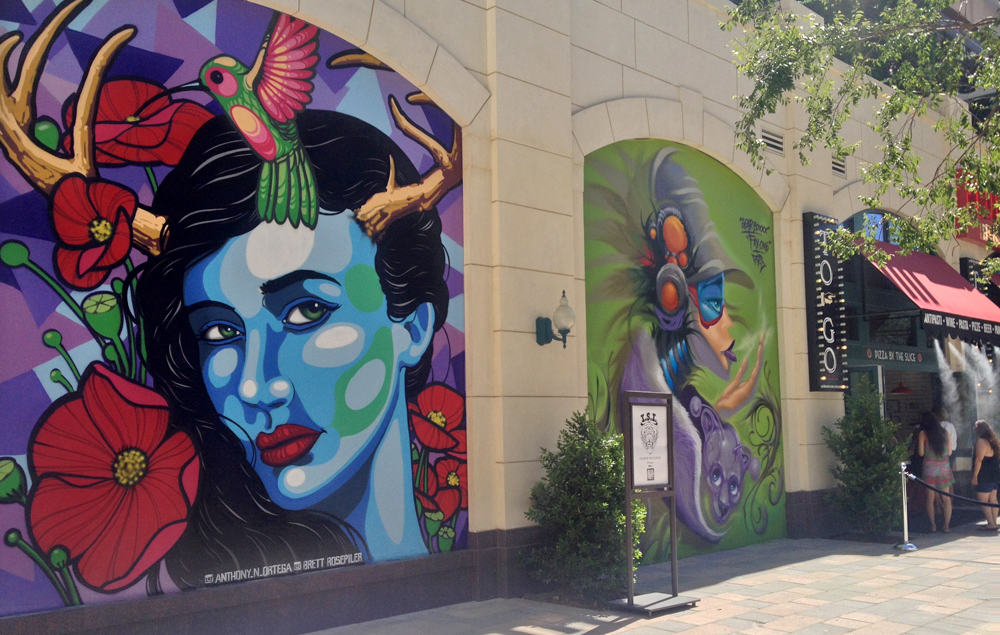 Murals by Anthony N. Ortega, Brett Rosepiler (left mural), and Gearboxxx (right mural).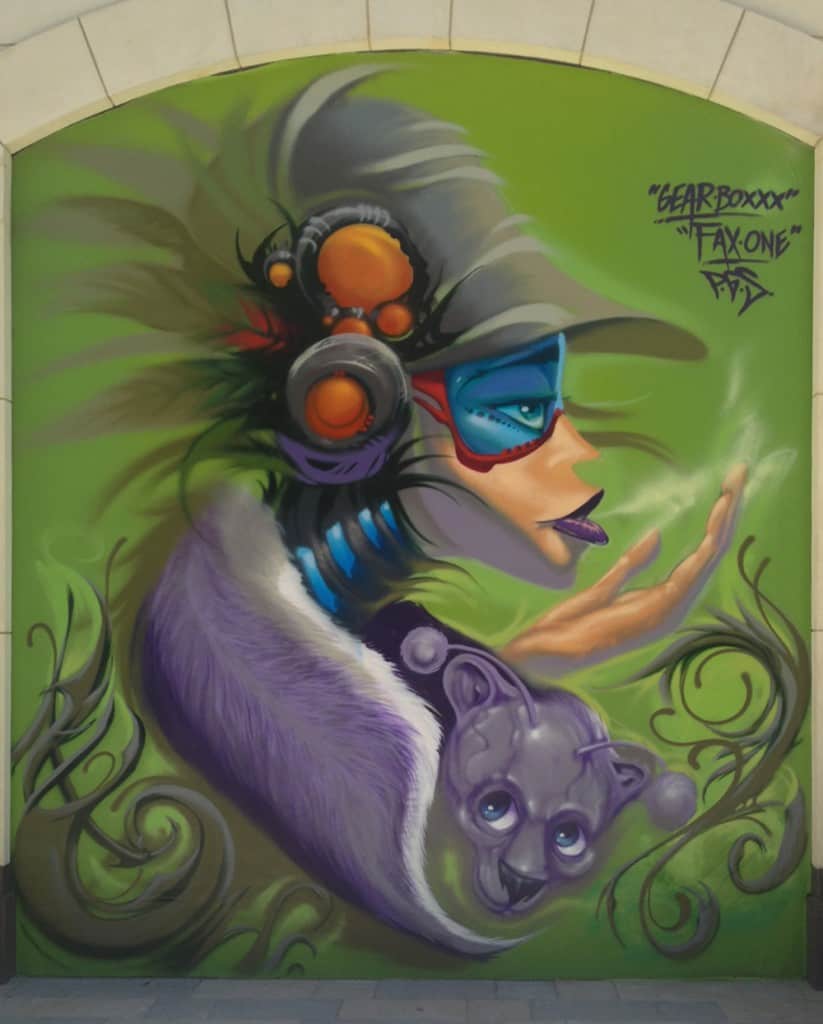 Mural by Gear Duran, Fax One, and P.O.S.
Live art by the ISI Group #isibloqparty
• • • • •
Back to our mission at hand… It's over 100 degrees out, so we're asking, "Where can you get a good beer here?" The answer to that is "just about anywhere and everywhere". The outdoor bars will sell you a drink if you want to stroll, and there are lots of great places to sit and enjoy a beer. We took advantage of soccer game time over a couple of leisurely beers at a couple of great spots.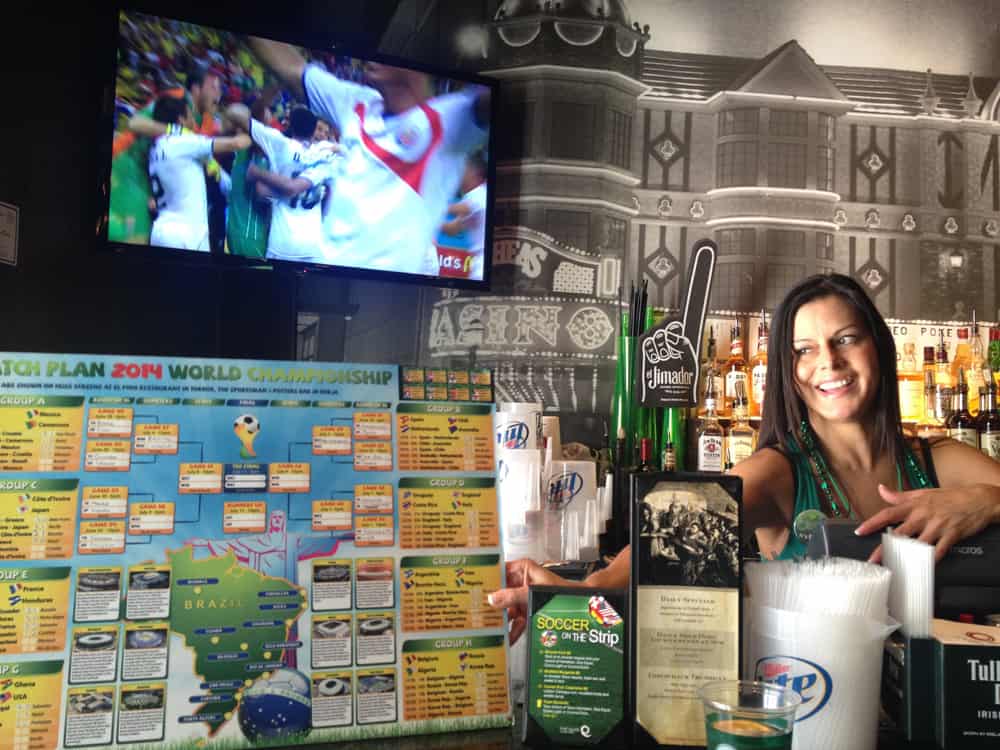 Kat keeps the place hopping at O'Sheas while teaching me the finer points of soccer schedules..
O'Shea's rocks. They have a great selection of cold beers for $3 each 24/7/365—hard to beat that on the Strip. Tell Kat we said, "hey."
Another great spot is TILTED KILT. They boast themselves as the "Best Looking Sports Pub You've Ever Seen." They could be right. I completely forgot there was a game on. They have great apps and a nice beer selection.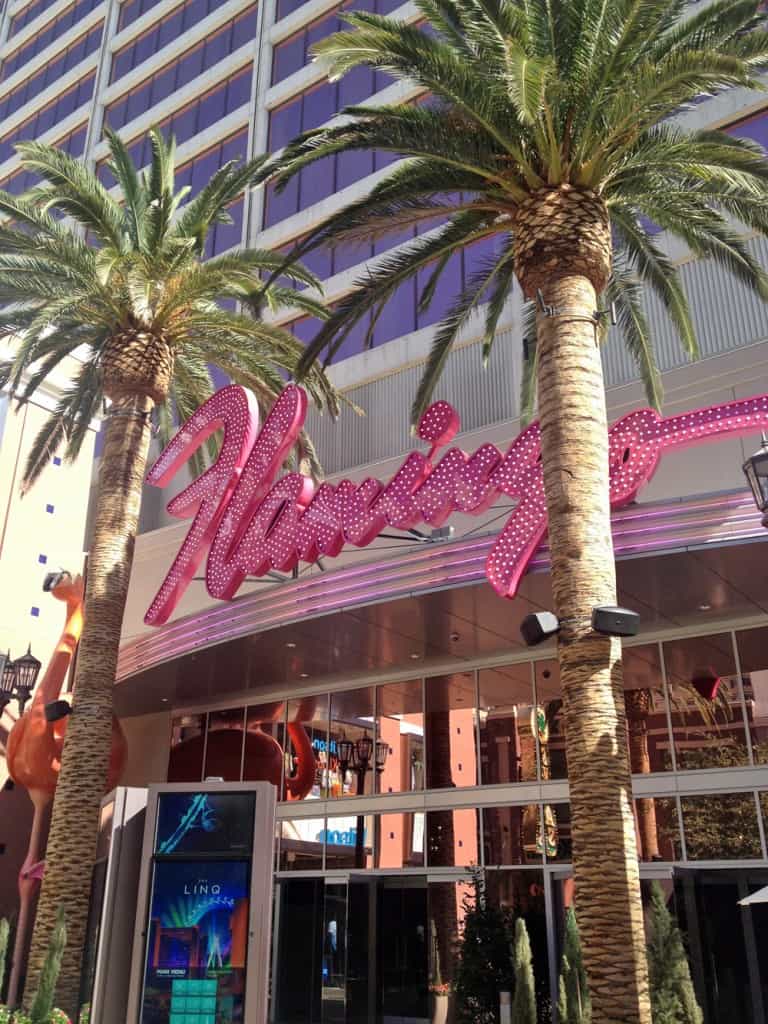 The beautiful FLAMINGO entrance from the LINQ courtyard.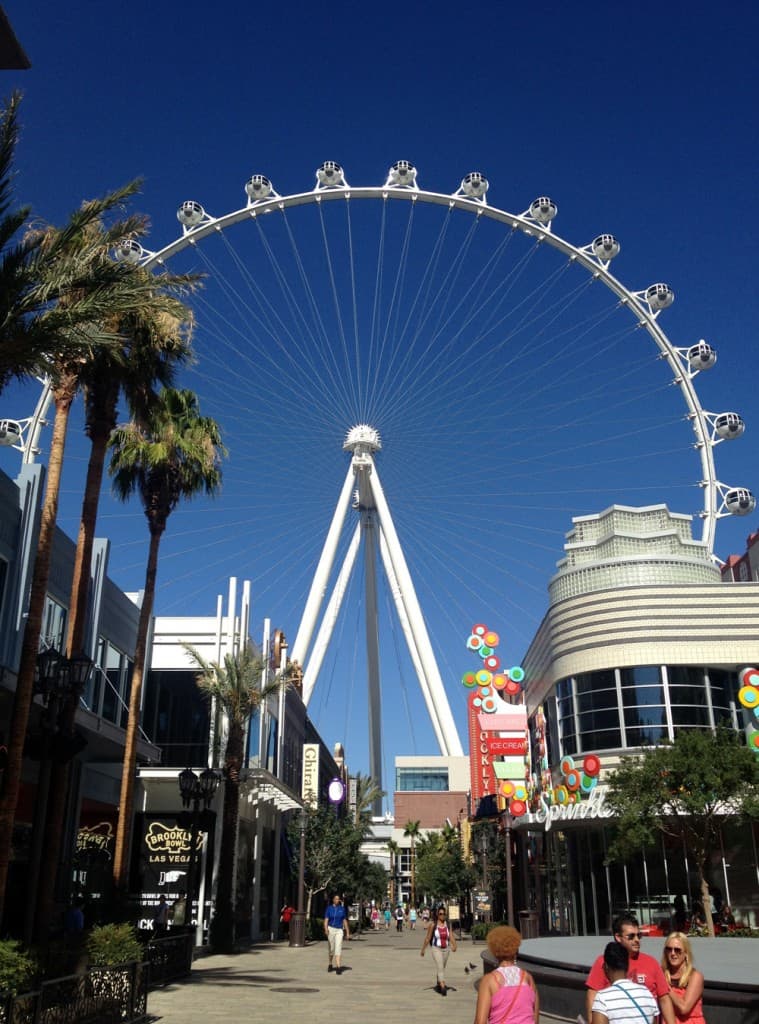 The LINQ High Roller.
Well, as it goes, all good things come to an end. I enjoyed my first visit to The LINQ High Roller and look forward to my next visit. I'm told that Tuesday is locals' night, so maybe we'll see you there on Tuesday. Whenever we get there, I know it'll be fun. Cheers!
• • • • •
A few factoids about the LINQ:
Situated right on the Las Vegas Strip, the 550-foot-tall LINQ High Roller is the world's largest observation wheel.
This stunning Las Vegas attraction provides tourists and locals alike the ride of a lifetime. The epic wheel is the crown jewel of The LINQ, the Strip's all-new outdoor shopping, dining, and entertainment district. The High Roller has 28 spherical, Italian-handcrafted glass-enclosed cabins, each weighing 44,000 pounds. Passengers can enjoy breathtaking Las Vegas views in a 30-minute ride, the time it takes for the entire wheel to rotate. Additionally, each air-conditioned cabin is equipped with two benches for seating.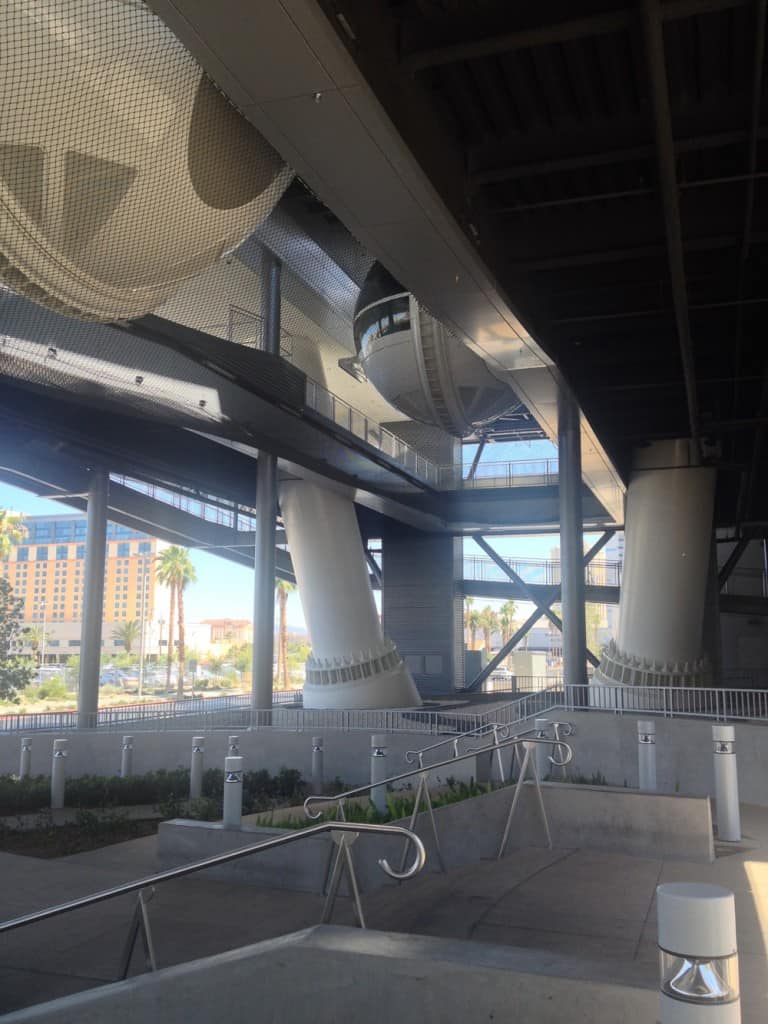 LINQ pods viewed from below.
Each stylish, modern-styled cabin holds up to 40 people, totaling 1,120 at full capacity. Whether flying solo or renting out a cabin for a wedding or private party, each 44,000-pound pod features dynamic music and video shows as riders take in the 360-degree sights. There's also an adjacent wheelhouse that guests can reserve for private parties and banquets. ( source: http://www.caesars.com/thelinq/high-roller.html#.U7ISD4Lj48o )
• • • • •
Wow, that's pretty impressive. As Vegas locals watched the epic wheel in its construction phase, I couldn't help but appreciate the engineering and design level that went into this project, which opened last December. If you are in Vegas, you gotta check it out. It's easy to find – on the Strip just between the Flamingo and The QUAD.
• • • • •
I'm looking forward to riding it soon — I'll do an updated post on my experience. Until then, here are a few tips from The LINQ website:
If you're all about sightseeing, book your ride right at sunset or nighttime – the Vegas lights are out of this world. Also, don't be afraid to ride during summer days – all cabins are fully air-conditioned.
The High Roller's wheelhouse sells drinks from its bar. Feel free to bring it with you on the wheel.
Save time – The LINQ's valet is right by the High Roller. If you're driving east on Flamingo (away from the Strip), turn left on LINQ Lane and drive straight. It will be right before The Quad's back entrance.
Stick around before or after your High Roller experience – The LINQ offers plenty to see and do, from musical acts at Brooklyn Bowl to amazing drink concoctions at Yard House and BLVD. Cocktail.
Memorialize your experience – The High Roller features a gift shop at the base of the wheel, including everything from T-shirts, key chains, and other fun souvenirs.
• • • • •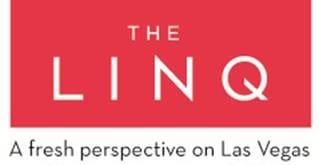 Click here for tons of great shots of The LINQ High Roller.
• • • • •
THE STRIP REVEALED     |     YOUR LIFESTYLE. YOUR ART     |     RAIDING THE ROCK VAULT