Las Vegas is all about the strip.
I'm not just talking about the 4.2 mile stretch of the famous Las Vegas Boulevard known as "The Strip", so much as the epic nudes that grace the Boulevard.
Las Vegas Boulevard is a major road in Las Vegas Valley of Nevada, best known for the Las Vegas Strip and its casinos. Many of the largest hotel, casino and resort properties in the world are located on those beautifully eclectic four-plus miles of real estate… several boasting epic figurative artworks within their collections and throughout their properties. I'm talking art nudes – figurative art – both classic and contemporary. Las Vegas is full of such art. So much so that I'm betting most walk right past by it every day and don't even realize just how much there really is here. So, I wanted to bring you a post to share some of that with you. Below is a small sampling of figurative art… The Strip Revealed.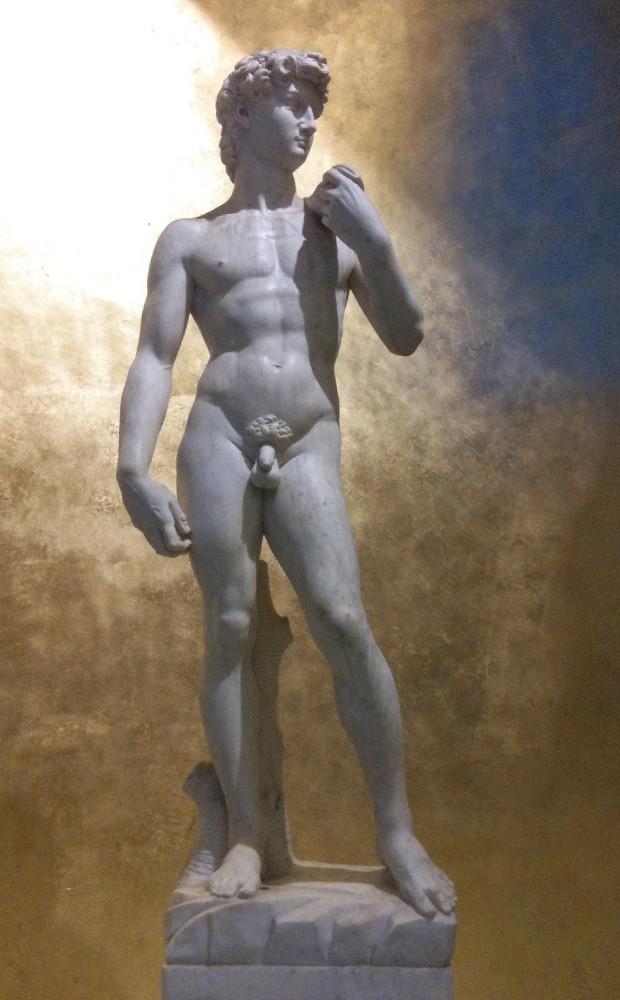 Michaelangelo's David at Caesar's Palace, Las Vegas, NV
Probably the largest collection of figurative art nudes can be viewed, both indoors and outside, at Caesars Palace in Las Vegas. Showcasing reproductions of Renaissance sculpture including Michelangelo's David and a plethora of other great masterworks.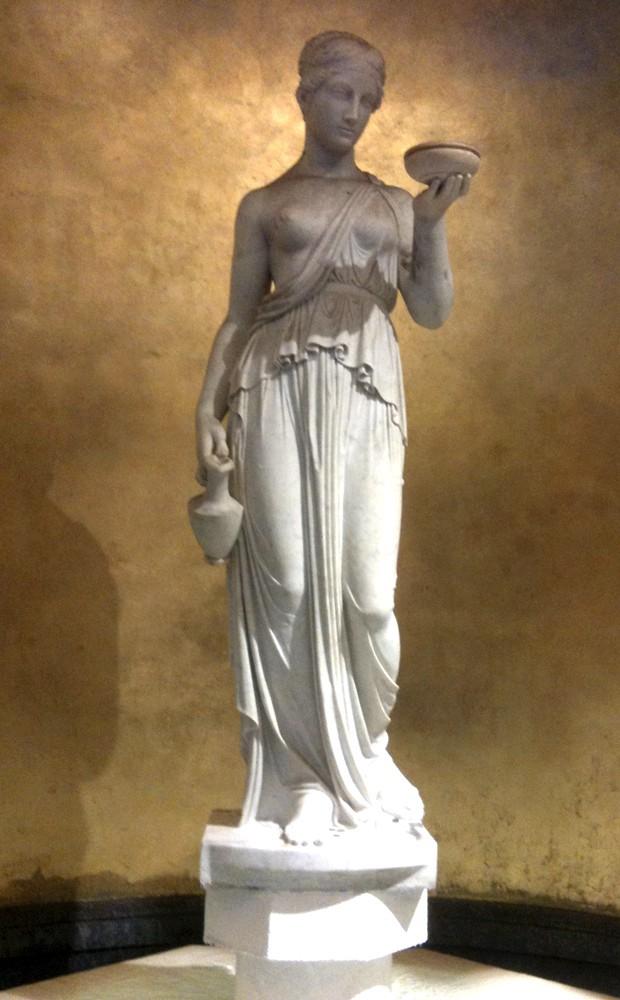 Beautiful sculpted female figures adorn the property throughout.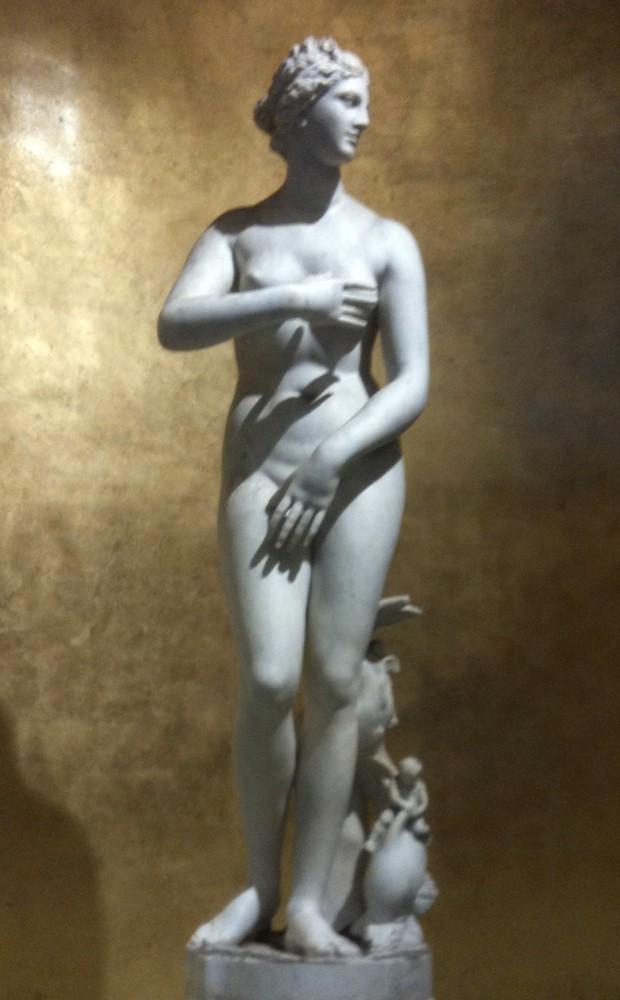 Inside, one of the many drinking establishments prominently boasting beautiful visual treats.
Check out the Caesar's Palace Forum Shops for these fantastic ladies standing proud at two-floors tall each. The Forum Shops at Caesars is Las Vegas' premier retail, dining and entertainment destination, featuring more than 160 boutiques and shops as well as 13 restaurants and specialty food shops, and a nice selection of art galleries.
Large Sphinxes line the sidewalks and oversee Caesar's Palace.
The beautiful Fountains of Bellagio Las Vegas were destined to romance your senses and draw you into the resort & casino which boasts an impressive collection of beautiful Richard MacDonald figurative sculptures at the Cirque Du Soleil O Theatre.
Inside Bellagio resides the Cirque du Soleil 'O' Theatre featuring the impressive body of work by renown sculptor Richard MacDonald at their fine art gallery. This is an impressive gallery and well worth the visit. Cirque du Soleil weaves an aquatic tapestry of artistry, surrealism and theatrical romance in the timeless production, "O™." The international cast of world-class acrobats, synchronized swimmers, divers and characters perform in, on, and above water to create a breathtaking experience in a magnificent theatre reminiscent of a European opera house. Of course, the show is art and MacDonald's sculptures completely compliment the show's energy.
Crystal's at CityCenter features FENDI, the legendary Roman leather goods house from Rome, Italy knows beauty when they see it and they have committed a large part of their inner sanctum to displaying beautiful art.
Their store features a huge sculpture featuring multiple larger-than-life figures and powerful winged horses.
On the southern end of The Strip is Mandalay Bay Hotel & Casino.
Once inside, stroll towards the Mandalay Bay Convention Resort and their huge wall of contemporary figurative sculptures can't be missed.
Mandalay Bay features a large wall with several great torso sculptures.
Across the street is the always beautiful MGM Grand Hotel & Casino.
They don't display a lot of figurative art (by Vegas standards anyway), but they do feature these beautiful deco style ladies along the stairways – and lots of them.
Ahhh, Paris in the Springtime…
Stroll through just about any entrance at Paris Hotel & Casino and you will pass by beautiful architectural features showcasing fantastic sculptures.
Bold and beautiful winged angels are everywhere.
Epic figurative sculptures can be found everywhere, but mostly outside at Paris.
Some of my personal favorite sculpture collections of beautiful ladies is at Treasure Island.
Powerful and bold, their nudes embrace your arrival into their casino…
…while the beautiful sirens entertain you during their free outside show.
Back inside, the Treasure Island Casino Island Chopper aka "The Sea Nymph" (she'd rather scream than sing – they say she sets off car alarms at fifty paces).
Stroll through the corridor connecting the Wynn to Wynn's Encore and find Botero, a 2011 AAA For Diamond Award Recipient combining fine art with the flavors of Chef Mark LoRusso.
Named after Columbian artist Fernando Botero, the restaurant offers a view of his most popular painted works and sculpture.
What report of beautiful figurative art in Las Vegas would be complete without sharing The Venetian's impressive collection with you? With easily the most abundant display of the human figure represented as art on the Strip, The Venetian, a five-diamond hotel, boasts fantastic murals, paintings, and sculptures than can be viewed with just a stroll. Okay, in reality, you probably walk off lunch and never leave the property. Whether you're a local or passing through, this is a must-see in Las Vegas.
Inside. Outside. Keep your eyes open for beautiful sculptures everywhere.
When approaching their entrance from the Strip, as though you are going to Madame Tussauds, sculptures line the walkway and steps.
Keep your eyes open – above or below, figurative sculptures can be found be anywhere.
These ladies adorn the building's exterior as you head towards the Grand Canal Shops entrance.
Once inside, murals of gods and warriors, along with a healthy supply of angels fill the ceilings with beauty and color.
These are huge ceiling murals. It's inspiring to see the effort The Venetian has made in sharing these artworks and imagery with us.
Ahhhhh… let others gamble if they must. I love Vegas for the visuals. There's always plenty to see here.
One of my favorite spots at the Venetian is the Guest Registration area. This huge sculpture in their front lobby features three armless figures in gold…
…and an impressive view above.
This is impressive. This is Las Vegas to me. An abundance of beauty.
These ladies are stunning. Acqua di Cristallo (this is number 1 of 10) by sculptor Samuel G. Bocchicchio. What's impressive about this sculpture is that the sculptor started with a large solid block of acrylic and very slowly and carefully carved the statues out from the block. The result is three stunning sculptures in frosted acrylic of women in various poses standing 12 feet tall (3.7 m).  The ladies were then mounted to a 14 ft tall acrylic column. All this combined to make beautiful art with a fantastic water feature.
So, if you're thinking "all this running around and looking at fantastic art has me seeking a delightful taste of adult beverage (something to compliment the art perhaps)… well, then this is the spot. Venetian, downstairs, just off the casino floor. Cheers to beauty.
But if you still have the energy and lean more towards great beer, then the "Triple 7 Restaurant and Microbrewery" downtown at Main Street Station is the answer, especially during their happy hour when you can enjoy the best $2 hand-crafted beer going.
But I digress… This is about art. So after you've enjoyed those tall cold ones you'll find yourself strolling to the nearest water closet.
I was delightfully surprised to find this old school saloon-style art nude painting adorning the hallway. Hmmm, where is it that she finds comfort in her rest? (perhaps more on that later).
Across the hall is another beautiful nude. Americana baby.
That's it for now but we'll continue to add to this post as we discover more great art along the streets of Las Vegas – both on and off The Strip. In the interim, enjoy my newest video featuring a collection of my figurative art nudes.
Cheers to beauty!
A.D. Cook ~ artist
• • • • •
Watch my videos of 21st-century art in the making
• • • • •
All photos in this post are © copyright A.D. Cook 2012
• • • • •