Presenting… LOTUS, my newest figurative artwork.
I'm excited to share my latest creation with you.
Art and life are all about birth, rebirth, and beauty. That's why this drawing is special (for me anyway). LOTUS represents a lot of change for both my muse and for me as an artist.
For both of us, LOTUS tells the story of transformation – turning life's hard times and challenges into a thing of beauty and overcoming obstacles that can sometimes detour or distract us from true happiness.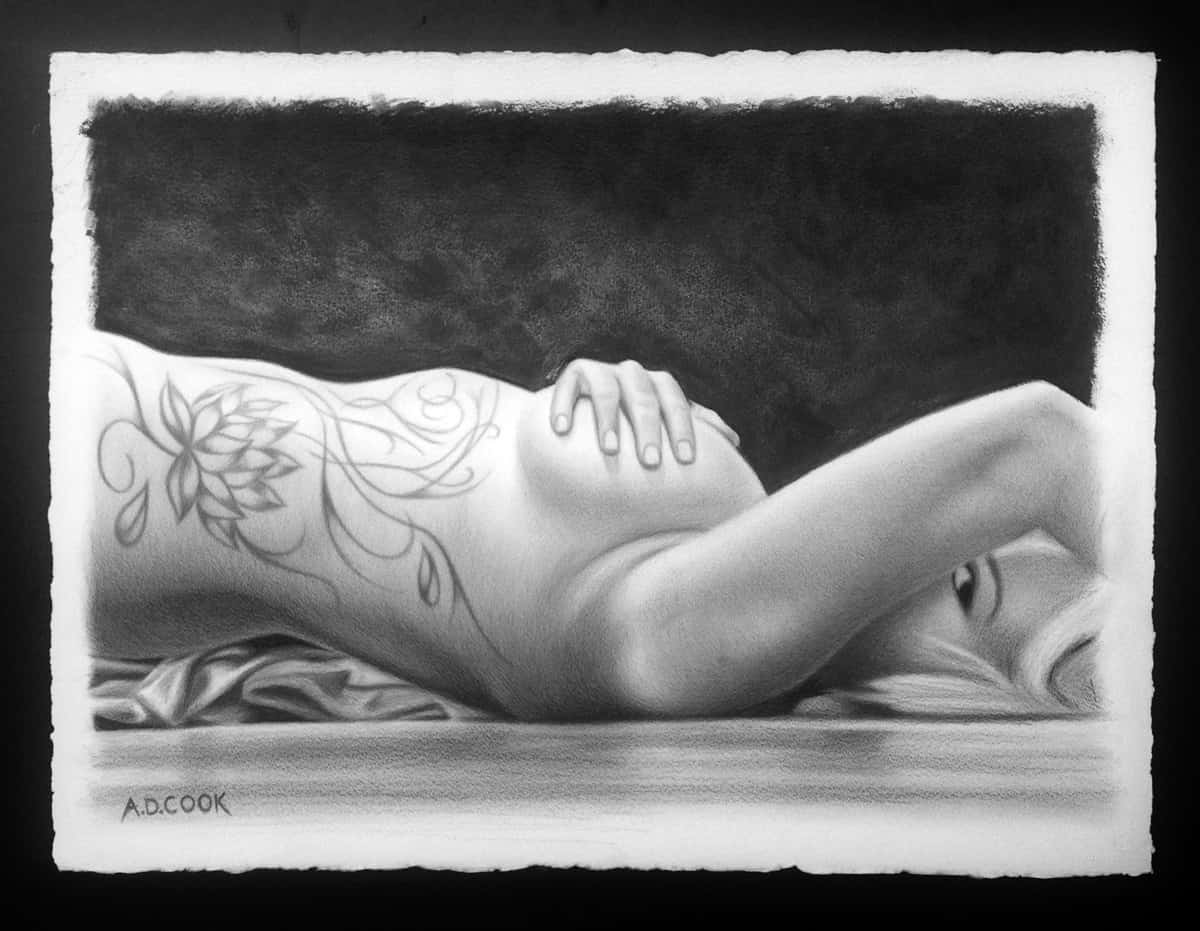 LOTUS, graphite on 300# watercolor paper, 22″ x 30″, 2014 © A.D. Cook

Naturally, for all of us, that's different – we all walk our own journey. My art is always in a state of rebirth, and it is definitely where I find true happiness. I know that because time means nothing when I'm at the easel. I get lost in my work for hours, especially when painting something I enjoy. And I enjoyed creating this piece for a lot of reasons.
Mostly, LOTUS has a story to tell. Most will only ever see LOTUS as a nude drawing – another pretty painted lady. But she's more than that. I love the image and story she tells of beauty and rebirth.
My muse, Robin, is inspiring. Our creative time together produced several beautiful images. LOTUS is the first from our creative energy exchange. Robin is also the first model that I've drawn with tattoos, and included them in the art. I've worked with tattooed models before, but I've rarely ever included them in my art.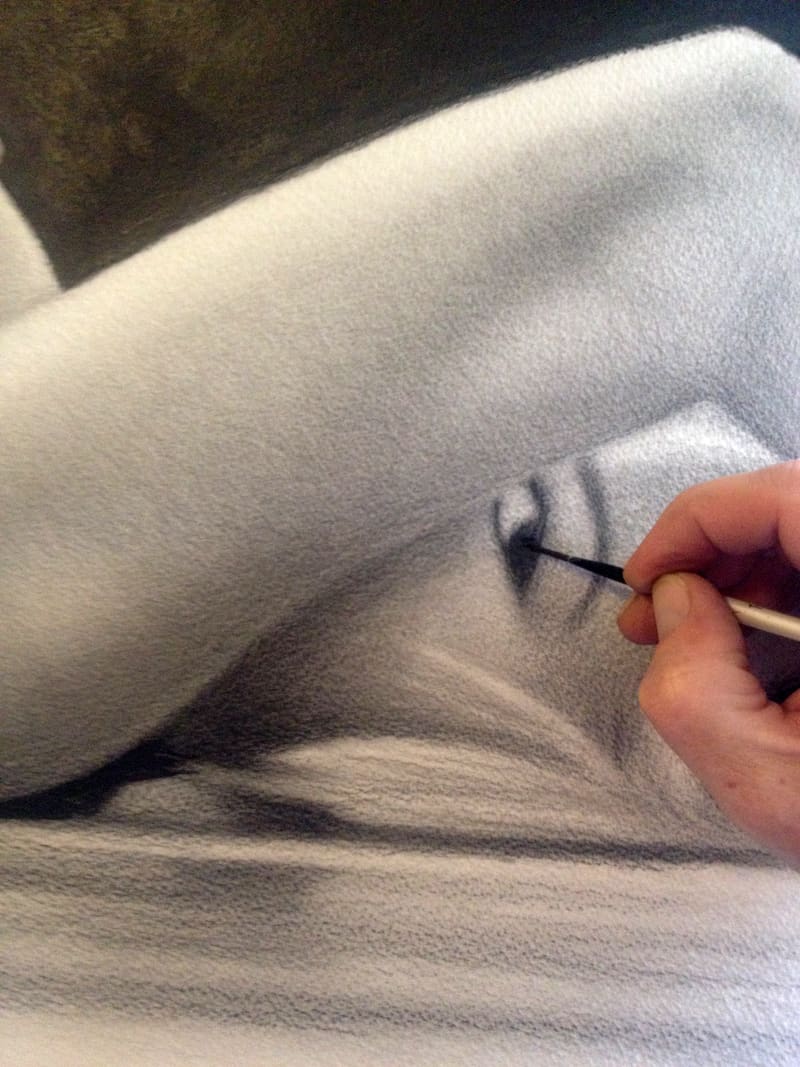 Painting LOTUS, April 2014.
Thirdly, as an artist, I'm forever searching for my next series. I've been exploring different media over the last few months, searching for a renewed creative direction – still figurative, but something new. And for a long time now, I've wanted to get more direct with my art. LOTUS is mostly a drawing created with graphite pencils, so I mostly scribble until something beautiful happens, then blend and scribble some more. It's a very direct media – very tactile. And I love that. Draw. Scribble. Blend. Draw… It's a very zen-like experience. Just add wine.
Drawing is a life-long passion for me, a thoroughly relaxing process for creating my new series of figurative works. Back to basics. Pencil. Paper. Music and a beautiful muse inspire me. I'm looking forward to creating more original artwork in this style and genre.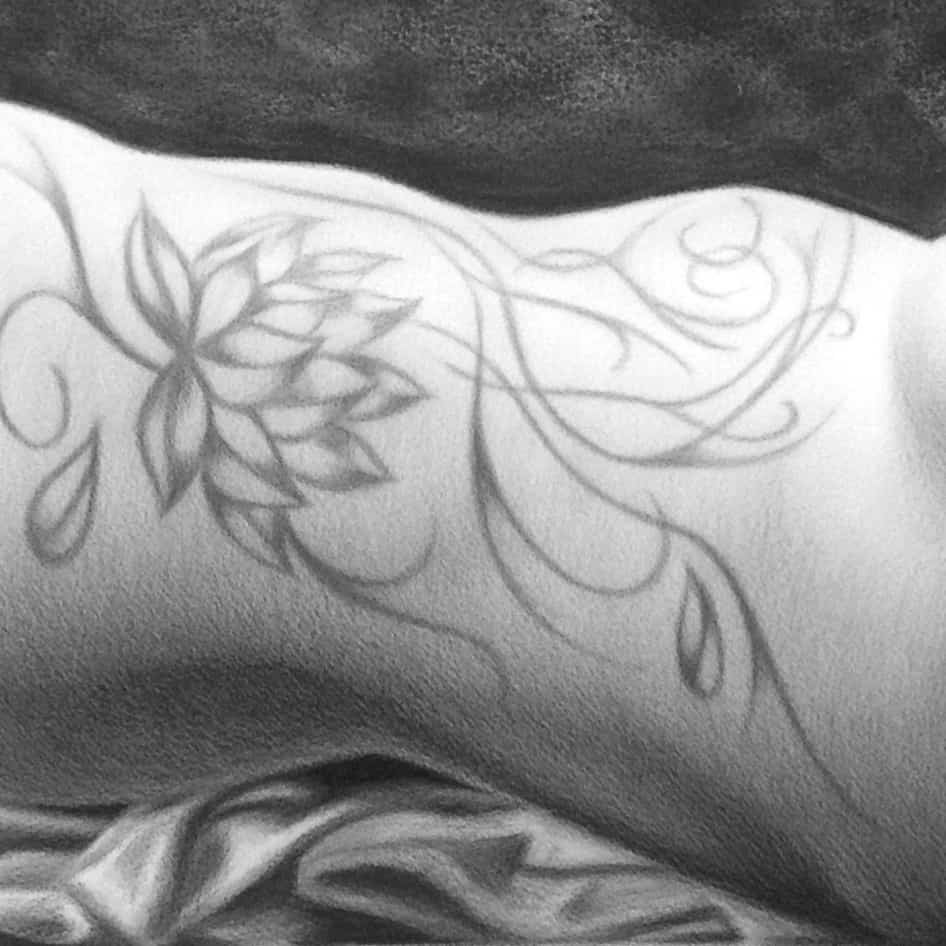 LOTUS – tattoo/torso detail.
This artwork is new to me in many ways. LOTUS is the first figurative piece that I've created where my model/muse has a tattoo (but not my last). LOTUS is also the first in a new media combination of graphite on a beautiful heavyweight archival watercolor paper, resulting in a beautiful skin texture. My art is going through a transformation. When you look at LOTUS, think of her as life-size. And while she's a drawing, LOTUS shares a commonality with her sister paintings in size and scale.
Special thanks to model/muse Robin
Stay tuned for more graphite creations in the works. If you'd like to be featured in artwork, consider commissioning me to create a special creation just for you.
 • • • • •
The lotus flower has a lot of symbolism in tattoo form.
The lotus flower is universally accepted as a symbol of estranged love and the associated empty yearning it entails. The lotus often represents birth and beauty. The goddess, Laxmi, was born from a lotus that sprang from Vishnu's forehead; many goddess figures are described to have lotus features.
For many, the Lotus marks the ending of a dark period in your life that you've finally risen above.
(source: http://wiki.answers.com)
• • • • •
SHADES OF GRAY     |     COMMISSION YOUR ARTWORK     |     BEAUTY INSPIRES ME