Last night's Karma Las Vegas Pre-Launch Social was a blast! What a fun crowd. Some new and some we knew.
First off, I love cars, so this works for me. Anytime I can share the stage with a room of exotic cars and beautiful ladies makes for a great art show. Set up in a rockin' bar with great tequila, a ton of Karma love, some new epic artworks, a couple of artists, and on you're got a fun party by anyone's standard. Cool, even by Vegas standards. This is Karma Las Vegas…

Featured art (left to right): INDIAN SUMMER, INFINITY, AMERICA, FOR SHOW, and PASSING TIME.
Chicago Motor Cars at 3055 Palms Center Dr., Las Vegas NV 89103 was the place. And a pretty cool place too. This was my first time to check out their selection of exotic cars, which is actually pretty impressive.
Karma Las Vegas Pre-Party at Chicago Motor Cars 2016 from Karma International.
As it turns out the stage was set before I got there, with one of my all-time favorites from Lamborghini – the Lamborghini Huracan LP 610-4. And Bianco Icarus Metallic with black wheels – forget about it. Pure awesomeness. Speaking of pure awesomeness, last night was also the first public showing of my latest painting, AMERICA.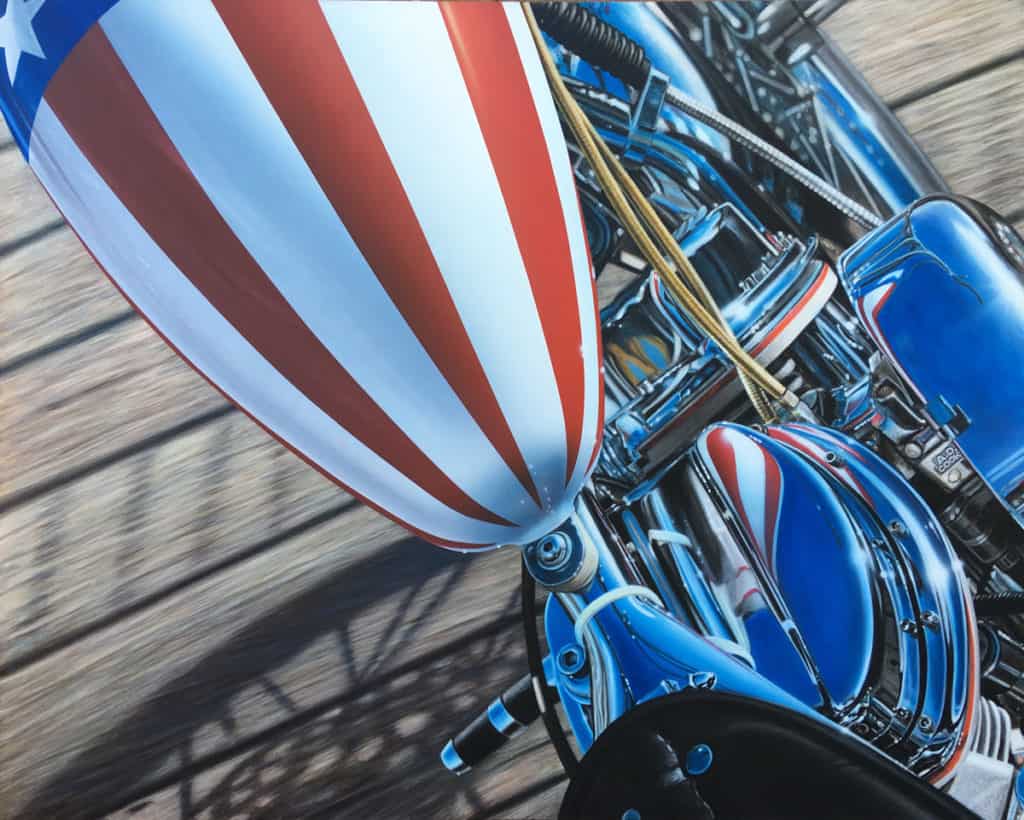 AMERICA by A.D. Cook, acrylic on canvas, 2016
What an amazing evening to share my motorcycle art in a beautiful setting. AMERICA was right at home in an exciting environment of celebration and exotic cars and amazing people. It was the first time, for me as well, to see my newest creation from a distance and approach it to see all the details in my latest piece. Painting them is always different for me than viewing them. I see them differently after they've been signed. This painting excites me. It's timely, bold, and powerful – like the nation she represents, all adorned in her red, white, and blue.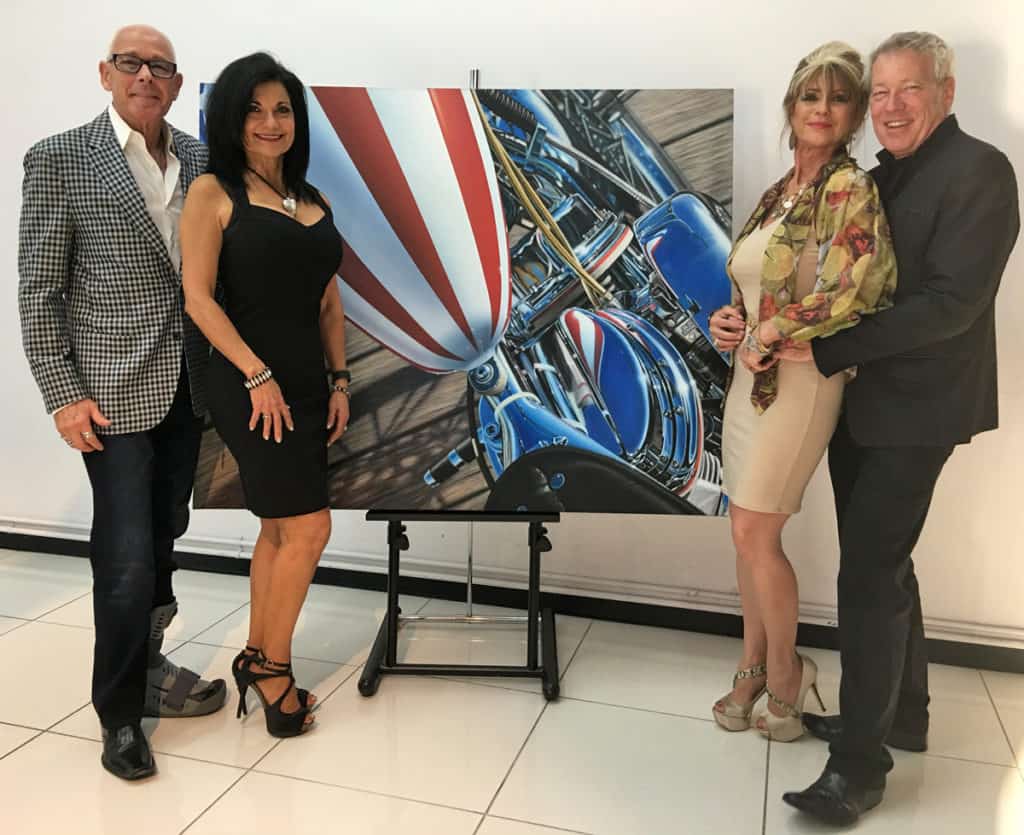 Above: Bob Golden, BettyAnn Golden, artists Beti Kristof and A.D. Cook

KARMA INTERNATIONAL is all about connecting exceptional & inspirational individuals both socially & professionally. Their members are leaders, entrepreneurs, professionals, and adventurers who share and expand our spheres of influence. So, having shared that, I want to take a moment to thank Bob Golden and his son, Robert Golden, VP of Membership for Karma International, for inviting me and artist Beti Kristof to share our art with Karma members. We're already looking forward to their next social.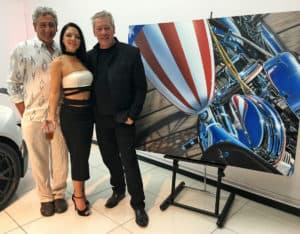 But the night was more than beautiful women, exotic cars, art, amazing people and awesome spirits. A great list of guests joined in the Karma Las Vegas pre-launch celebration. Chris aka "Zowie Bowie", football legend Victor Cohen, music man "Banzai", singer/songwriter Madelyn Feller, models, supermodels, performers, and artists. It was definitely a Las Vegas kind of party. A very eclectic crowd of high-energy movers and shakers – possibility people.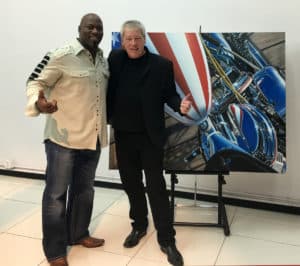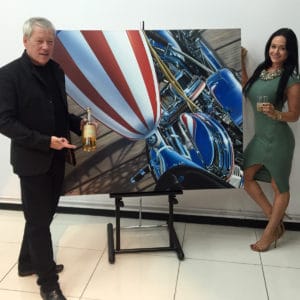 Celebrating Casamigos delicious tequila with ambassador Amy Watts.
Okay, the tequila was awesome. I'm not saying that in the hope they send me a case – lol (I'll forward my address). I love a tasty chilled tequila and Casamigos Tequila fits the moment perfectly.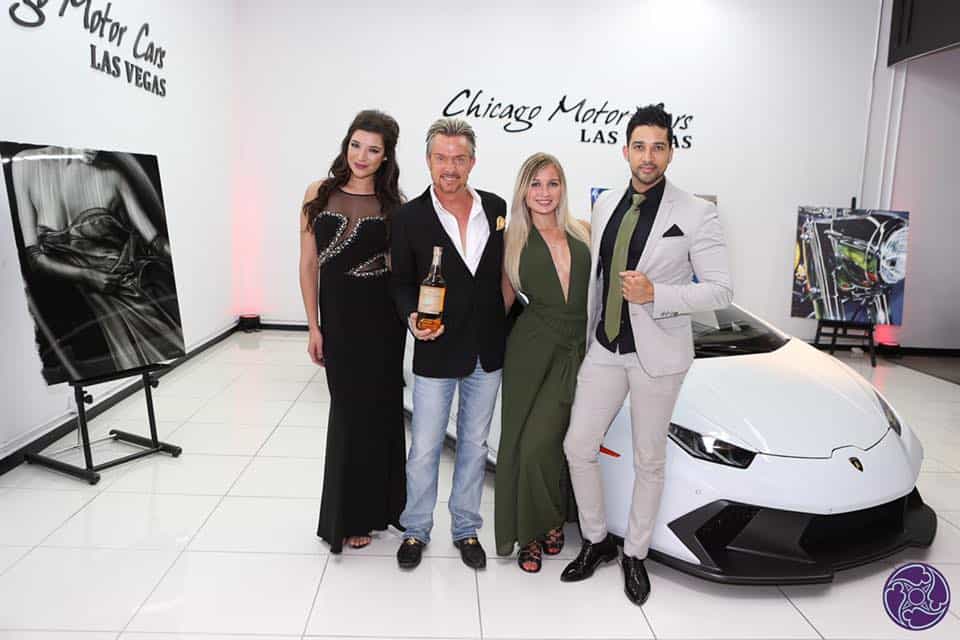 Chris aka Zowie Bowie and friends. Photo © Karma International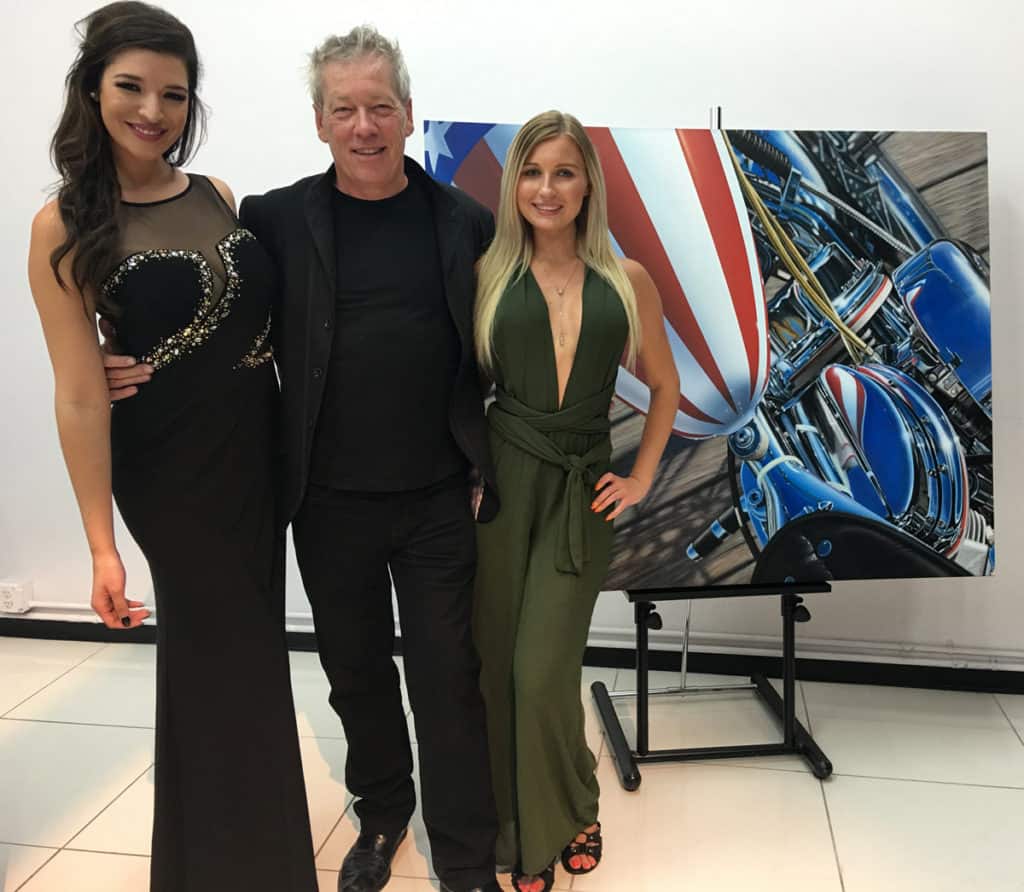 This is how I frame my art – with stunning ladies and beautiful smiles.
While America was my featured painting (and most photographed), I actually had a nice selection of four paintings from my motorcycle art series.
More of my motorcycle artworks on display included a beautiful INDIAN SUMMER canvas art print at full size – 48″ x 36″, an ultra-cool nacelle painting I did a while back titled FOR SHOW and a powerful full-size art canvas print of PASSING TIME (36″ x 48″), featuring a cool blue bike sitting ready for a ride. Meanwhile, its rider is inside, enjoying a cold beer and a handful of peanuts… passing time. It sounds like a great evening for me.
My super-sized painting FOR SHOW is always a hit. It's big, bold, and powerful, with just a touch of fire for seasoning. I always enjoy sharing the full-size versions so you can see them as close to the original as possible.
Metaling with beauty and tossing a little something special into the mix, I put my metal original INFINTY center stage. Infinity is second metal masterwork to feature Playboy Special Editions model Jess Robinson who is also featured in Anthem and later, Encore. INFINITY is a 100% one-of-a-kind original painting on specially prepared metal. Her appearance changes throughout the day as available natural light moves from morning to dusk. And when the sun goes down and the lights go on she comes alive with prism and holographic effects integrated into her color.
• • • • •
Artist Beti Kristof presented a beautiful selection of her new KOI series of original oil paintings. I'm a huge fan of her latest, a 6 ft. painting featuring a plethora of beautiful Koi. Her painting, ZEN POND, is truly epic. Sometimes, I just sit and watch it, like a movie, always finding something beautiful to hold my interest.
Beti also shared her triptych set created from three 24″ x 24″ canvases, inspired by the Koi fish she discovered at the Getty Villa. Lastly, her diptych feature two individual Koi swimming in a circular fashion.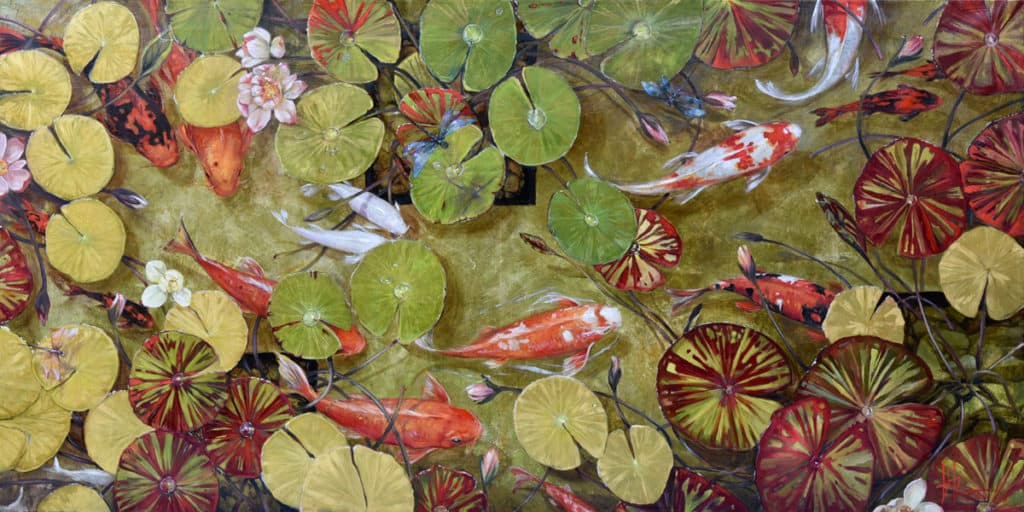 Zen Pond by Beti Kristof.
• • • • •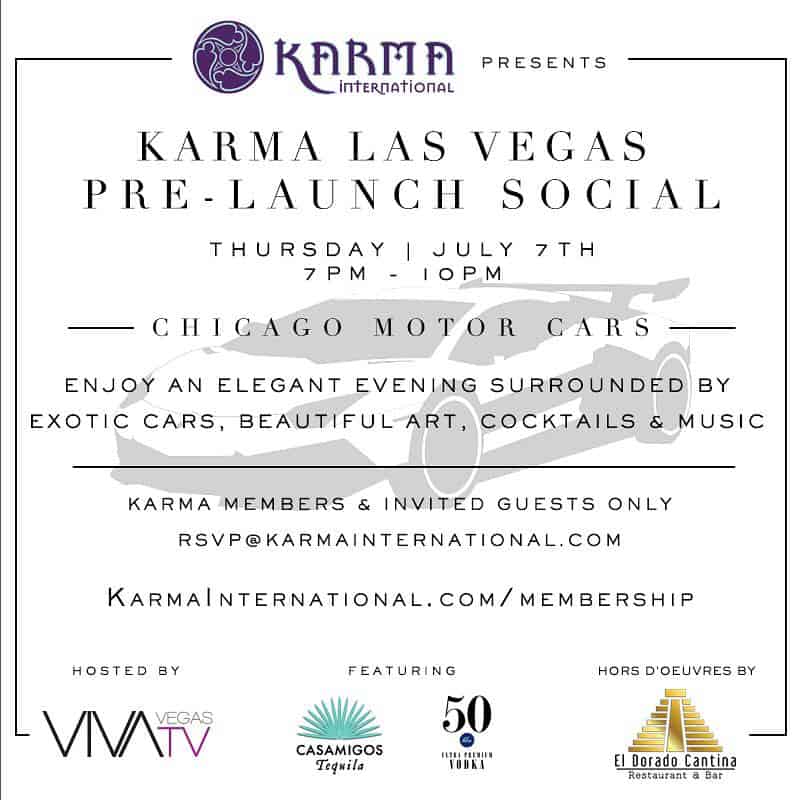 Karma Las Vegas Pre-Launch Social
for Karma Members and Invited Guests Only
THURSDAY  |  JULY 7th
3055 Palms Center Dr.
Las Vegas NV 89103

Featured art (left to right): INDIAN SUMMER, INFINITY, AMERICA, FOR SHOW and PASSING TIME.
• • • • •
Karma International is an exclusive, private membership organization dedicated to connecting exceptional & inspirational individuals both socially & professionally. They're a collective of leaders, entrepreneurs, professionals and adventurers who share and expand our spheres of influence.
Through a variety of experiential events, sensational parties & elite social gatherings, they empower their members to forge lasting bonds and friendships, thereby enriching each others lives, sharing business ideas and enhancing philanthropic causes.
As the Las Vegas chapter grows, they're actively seeking to discover individuals who resonate with their culture and add value to Karma. If that's you, Karma cordially invites you to APPLY NOW.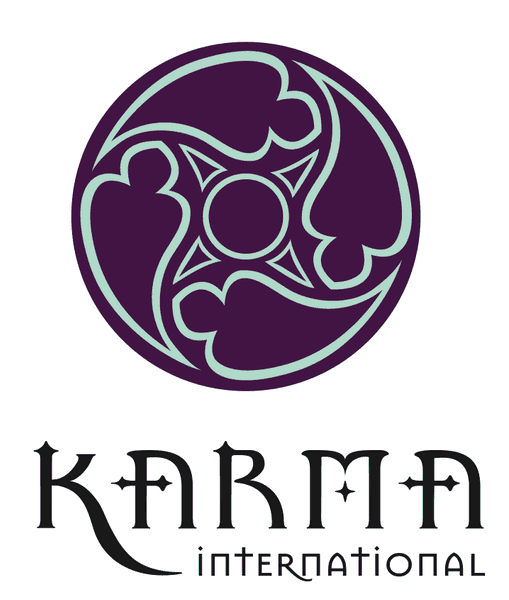 Check out KARMA at KarmaInternational.com
• • • • •