FOR IMMEDIATE RELEASE
Museum Fiasco Launches Inaugural Exhibit, Cluster, Now Open at AREA15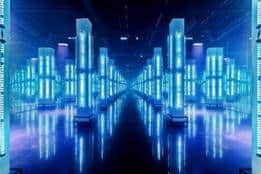 LAS VEGAS – Nov. 17, 2020 – Museum Fiasco located inside AREA15 at 3215 S. Rancho Dr., Las Vegas' first Kunsthalle-style museum, is now open, with tickets available to experience 'Cluster,' an award-winning installation by Playmodes Studio.
A reimagined museum designed to cultivate an immersive sound and light experience, Museum Fiasco is located on the mezzanine of AREA15, the world's first purpose-built experiential art and entertainment complex. Conceptualized and designed by Corner Bar Management founder, Ryan Doherty, the 5,000-square-foot gallery will showcase futuristic exhibits, audiovisual experiences, art, and hospitality in a space that will foster a sense of connectivity for visitors.
Led by museum director, Doherty, Museum Fiasco is a museum experience based on the German Kunsthalle model, which is a non-collection-based museum hosting rotating exhibits. There are currently 14 known Kunsthalle-style museums in the United States, and Museum Fiasco will be the first in Nevada. 
The museum's first exhibit, 'Cluster,' pushes boundaries in light, technology, and creativity in a large-scale audiovisual experience, presenting a dynamic, interactive show that engages the senses. The virtuosic play tells a story through a collection of lights that strobe in harmony with the extraordinary soundscape. The 360-degree experience explores the chaotic feeling of being inside the kernel of a glitchy computer processor. 
"It's great to fill this space exactly to the spec of how we envisioned," said Christy Corda of Playmodes North America. "We are extremely grateful for the hard work and dedication both teams put into this project."
Museum Fiasco is open from 5 to 10 PM Monday through Thursday, 5 PM to midnight on Friday, 3 PM to midnight on Saturday, and 3 PM to 10 PM on Sunday. Cluster is anticipated to sell-out throughout the coming months, and reservations are highly encouraged in advance. Tickets are available on the AREA15 website for $25 for adults, $15 for children ages 12 and under, and $20 for Las Vegas locals, military, and seniors. More information is available at Facebook, Instagram, and Twitter at @MuseumFiascoA15. 
Located in the heart of Las Vegas and minutes from the Strip, AREA15 offers immersive activations, monumental art installations, socially distanced events, extraordinary design elements, unique retail, groundbreaking technology, bars, eateries, and much more. The complex also offers nearly 40,000 square feet of indoor and outdoor event space with more than 800 free parking spaces.
AREA15 follows the latest recommendations of leading health experts and government authorities, including the World Health Organization and Centers for Disease Control and Prevention. And true to the insatiable hunger for all things inventive and groundbreaking, AREA15 is using cutting-edge, state-of-the-art technology to help implement these recommendations, including an AI-driven thermal scanning platform that screens temperature accurately and non-invasively, detects the absence of a mask, and alerts staff when social distancing thresholds are not being met.  
About Museum Fiasco:
Museum Fiasco is a museum for the modern era. Located at AREA15, where the exhibits saturate you, Museum Fiasco is an assault on the senses, offering art you can feel, curated to within an inch of its life. Within 5,000 square feet of space, Museum Fiasco provides a large-scale, core shaking audiovisual experience with its inaugural installation, 'Cluster.' Cluster is an immersive audiovisual installation that explores relationships between space, time, and perception. The geometric schematization of architecture using light instruments transforms the space into a container for the abstract language of light and sound. More information is available on Facebook, Instagram, and Twitter at @MuseumFiascoA15.
About Corner Bar Management:
Corner Bar Management was founded in December 2012 by Ryan Doherty with a vision to marry exceptional nightlife, bespoke bars, art, and entertainment. The company's imaginative bars have shaped nightlife in Downtown Las Vegas with Commonwealth, a neighborhood bar with iconic rooftop views and spacious dance floor; The Laundry Room, an internationally-acclaimed cocktail haven hidden inside Commonwealth; Park on Fremont, a restaurant and bar with spacious patios accentuated by lush foliage and objects d'art; and Joy of Hot Dog, a kitschy, neon-lit trailer serving unconventional hot dogs. Corner Bar has recently revealed two new downtown destinations: Lucky Day, an intimate tequila and mezcal bar set under a canopy of lights; and DISCOPUSSY, an after-hours dance haven with an immersive sound system that caters to audiophiles craving mainline house and techno. Corner Bar's Oddwood, an enchanting cocktail bar set under the awning of a 25-foot-tall digital maple tree, and Museum Fiasco, a museum for the modern era, are part of AREA15, the world's first purpose-built art and experiential entertainment complex. In addition, the company will introduce two new concepts at Fremont East: We All Scream, a collision of candy-colored clubland that will blend music, art, and ice cream, and Cheapshot, an intimate 99-seat theatre with unconventional stage entertainment. More information is available at www.CornerBarMgmt.com, on Facebook @Corner Bar Management, and Instagram at @CornerBarMgmt.
About AREA15:
AREA15, located minutes from the Las Vegas Strip, is the world's first purpose-built experiential entertainment complex offering live events, immersive activations, monumental art installations, unique design elements, unique retail, groundbreaking technology, bars, and eateries, and much more. With a growing collection of dynamic destinations including Dueling Axes, Emporium, Lost Spirits Distillery, Oddwood Bar, Wink World, Museum Fiasco, Rocket Fizz, Five Iron Golf, The Beast, a culinary experience by Todd English, and anchor experience, Meow Wolf's Omega Mart, AREA15 is an ever-changing art, retail and entertainment attracting locals and tourists of all ages.
###
MEDIA CONTACTS:
Sidney Stewart/Lauren Baumann, [email protected], 541.905.4613
---