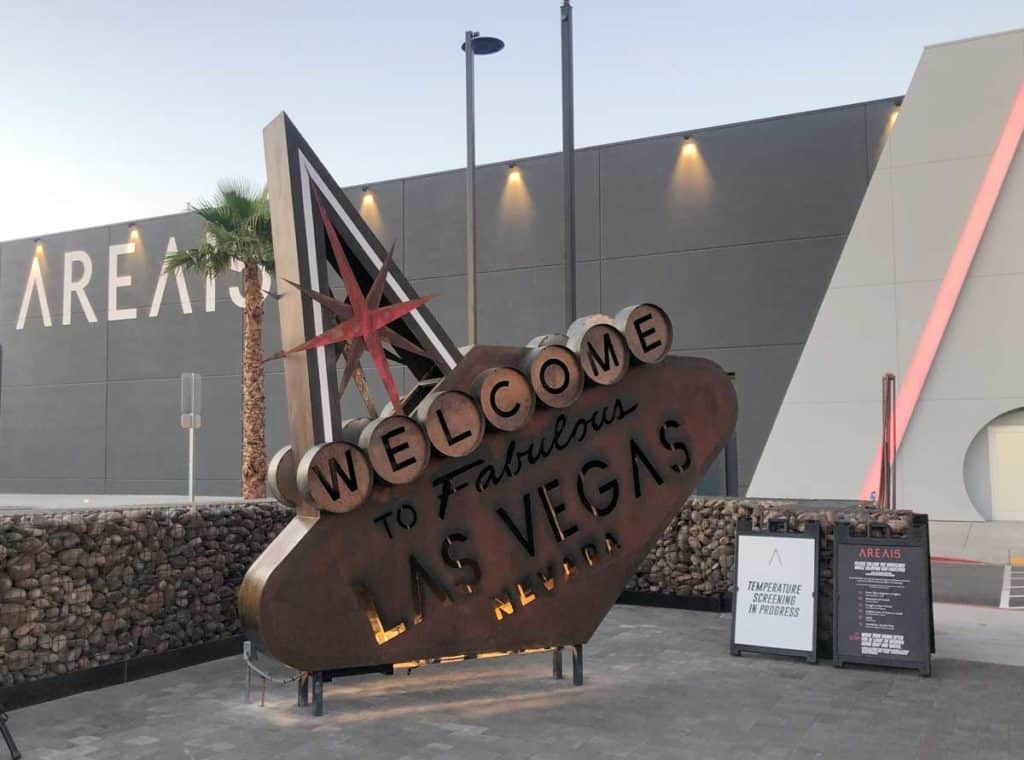 Immersive Entertainment and Events
I recently had the pleasure of experiencing the all-new AREA15 | Immersive Entertainment & Events Complex in Las Vegas, located at 36° 07′ 55″ N, 115° 10′ 50″ W (3215 South Rancho Dr, Las Vegas, NV).
Vegas locals have been waiting and watching for the opening of AREA15 as a fresh venue for live events, experiential entertainment, immersive art installations, unique retail, bars, and eateries, and more.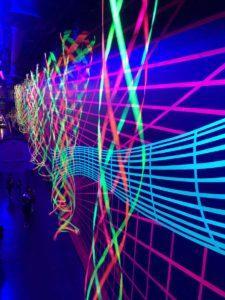 It was no different for me. I've been curious for months, but with the whole Covid shutdown, their opening, like everything else in Las Vegas, was delayed. They officially opened their doors in late September, so when local writer Bob Barnes (The Las Vegas Food & Beverage Professional) asked if I wanted to join him for an evening of art (and a beer), I didn't pause for a second.
We were scheduled for the 5 PM media guest list for MUSEUM FIASCO and I got there early so I could sneak in a few outdoor pics before it got too dark. I'm glad, too, because I had no idea how much great sculpture art there is to see from the parking lot to the front door. As AREA15 points out on their website, it's "Art you can get into. Literally."
From fire-breathing dragons to projection-mapped head-trips, AREA15 does art at a level that only Vegas can handle. Here, the art is anything but pictures on a wall: it's multi-dimensional, interactive, and ever-changing. We invite you to come wander, wonder, gawk, and gasp, no matter who you are and what makes you tick.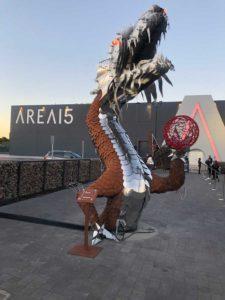 There is really quite a lot to take in before ever going in. "El Scorcho," a 13-foot tall fire-breathing dragon, "Omah" a wise owl poised to soar above the crowds, and a huge fallen robot left to rust away, are just a few epic sculptures to explore.
As a figurative artist, one of my favorite pieces is "IN EVERY LIFETIME I WILL FIND YOU" by Belgian sculptor Michael Benisty ( https://area15.com/art/in-every-lifetime-i-will-find-you/ ). This super-sized mirrored polished steel artwork is both elegant and powerful!
Something I didn't know until exploring the AREA15 website is that many, or maybe all, of the exterior artworks are for sale. Hmmm… has me thinking a giant rusted robot would be pretty awesome in my front yard.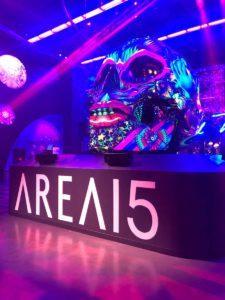 Punctual as always, Bob arrived and we made our way into AREA15, and BAM!, we were immediately greeted with powerful visuals and sound. The first thing to grab my eye was the giant skull with a projected light show. Beyond that, the space is huge, so huge that people are flying overhead as you stroll the perimeter.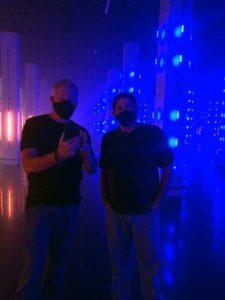 But first things first, we were there to experience "CLUSTER", an immersive sound and light spectacle at MUSEUM FIASCO.
Cluster is an immersive audiovisual installation that explores relationships between space, time and perception. Through a carefully crafted synchronization between sound and light, and a will for exploring the limits of human perception, a very special experience is created which transports you into a psychic journey of abstract geometry. The audiovisual discourse is formed by a set of sequential abstract scenes which explore different concepts, for an overall show of around 12 minutes.
The CLUSTER light show is powerful, so much so that it comes with a warning that this exhibit may be too intense for some people. Extreme lighting and sound are heavily used in this feature. If you have suffered from or are susceptible to epileptic seizures, heart conditions, anxiety, or if you are pregnant, you should not enter this exhibit.
Having none of those concerns, I and Bob decided to boldly enter and check out the show. And I'm glad we did. It's everything they promise, blazing lights and sound so intense you feel it in your chest. After, Museum Manager Brian Paco Álvarez filled in some details on the show.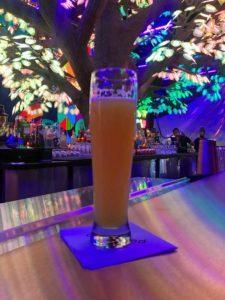 After taking in CLUSTER it was time to check out the ODDWOOD for a beer under their digital forest. It's a great place to relax and take in the art and crowd at eye level. Thrillist writer Rob Kachelriess was on the same page and taking in the whole experience (read his article > 9 Actually Cool Things To Do in Vegas This Weekend).
Lastly, it was time to explore the GALLERIE 360 immersive audio and visual exploration. I'm a huge fan of this mega-size super-comfortable experience, where you can sit back and take in the projected light show while enjoying a beer.
What we saw was still just a taste of what AREA15 has to explore. There is still there quite a bit that we didn't get to check out so another visit will be in order.
Meanwhile, check it out for yourself. Follow them at instagram.com/area15official