SEMA 2013 — I always enjoy The SEMA Show. That's the Specialty Equipment Marketers Association car event of the year. I've been to SEMA so many times that I've lost count, and it really doesn't matter. What matters is that it is always a blast!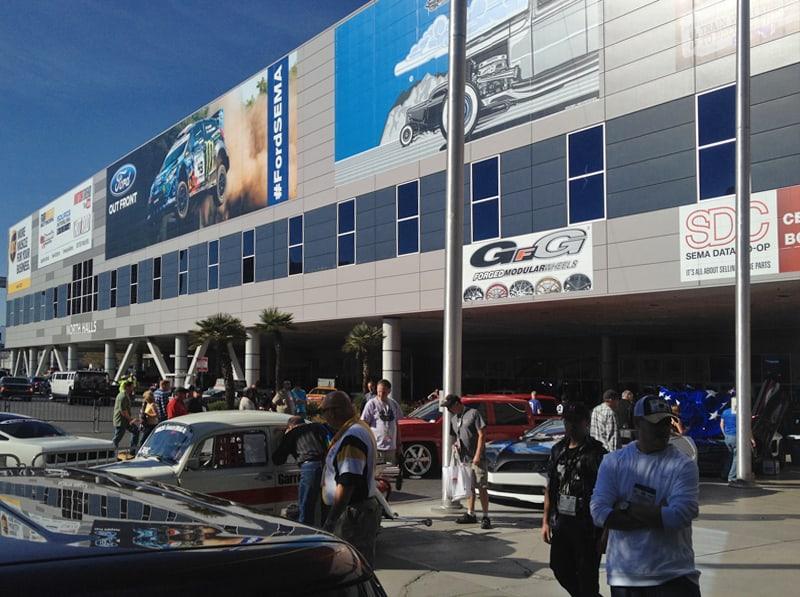 The SEMA Show is the world's premier automotive specialty products trade event, held annually in Las Vegas, Nevada, at the Las Vegas Convention Center. This year's dates were November 5th-8th, including more than 2,400 world-class companies, including 500 brand-new exhibitors.
One day simply isn't enough to see even a small sampling of the amazing cars and awesome displays of anything and everything that is automotive. The SEMA Show fills the Convention Center and spills into the parking lot and beyond. And that's no small statement in a town where almost everything is over-the-top. So, having said that, I'm going to share with you here a small sampling of my awesome day at SEMA, posted in chronological order.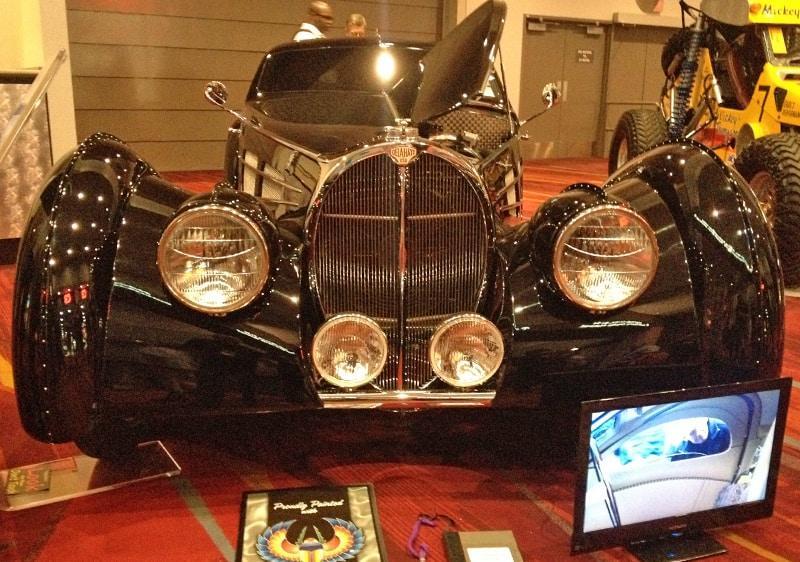 The Pacific — a modern tribute to Jean Bugatti's 1937 57S Bugatti Atlantic featuring a carbon and composite body by Delehaye USA. Built by Brown's Metal Mods, The Pacific features a fuel-injected 304 cubic inch BMW SOHC V-12 and amazing styling. [ more ]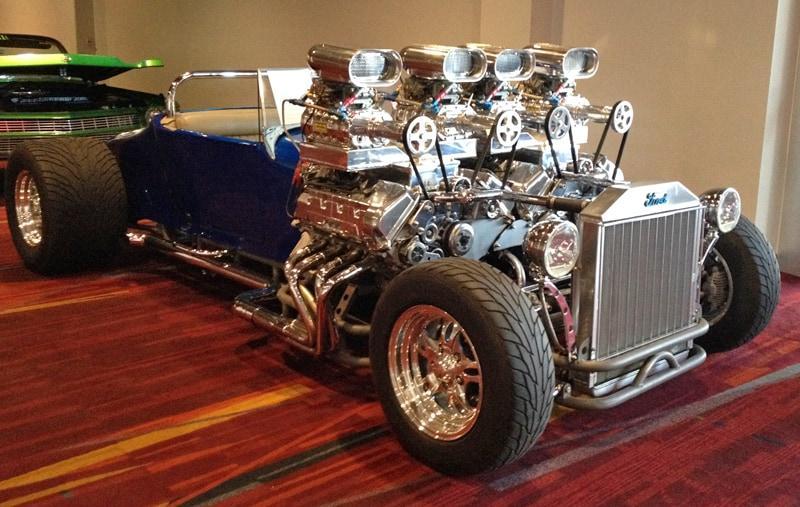 This twin-engine t-bucket hot rod is amazing — two engines, four blowers, and one mean streak… A local favorite, I've actually seen this car before and heard it fired up. It's a beast in every sense of the word.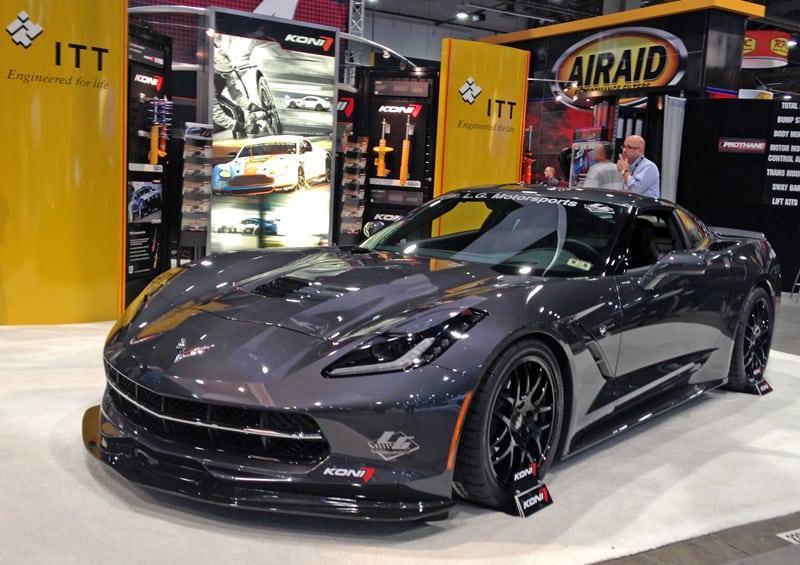 I know I've said it before in previous blog posts, but I'm a sucker for the new 2014 Corvette Stingray. It's a beautiful machine. Ya, it's on my list for Christmas. Pass a note to Santa for me when you see him.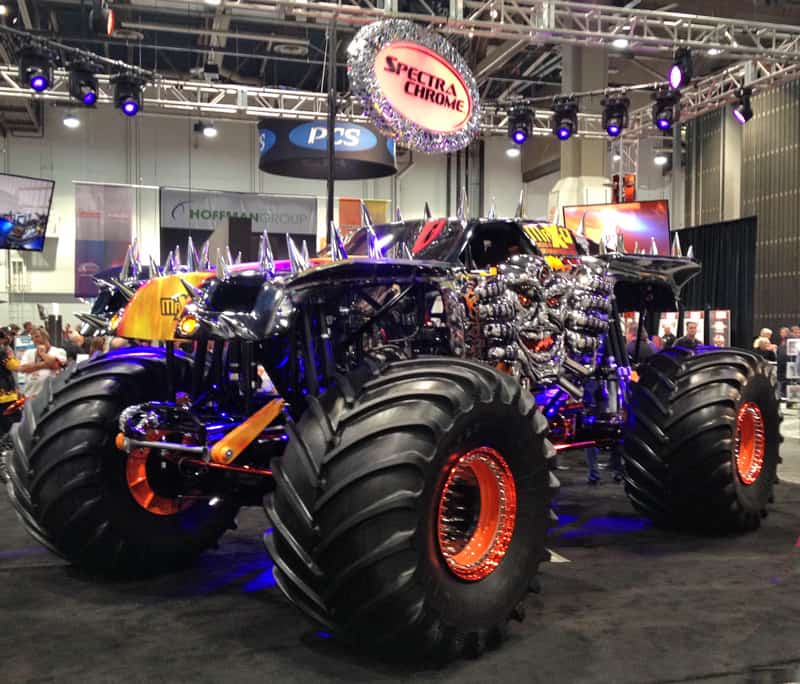 The Spectra Chrome MAX-D Monster Truck. All shiny and just plain sick, Spectra Chrome's advanced "spray-on" chrome paint technology allows you to apply a brilliant, durable, mirror-like flexible chrome finish over virtually any surface.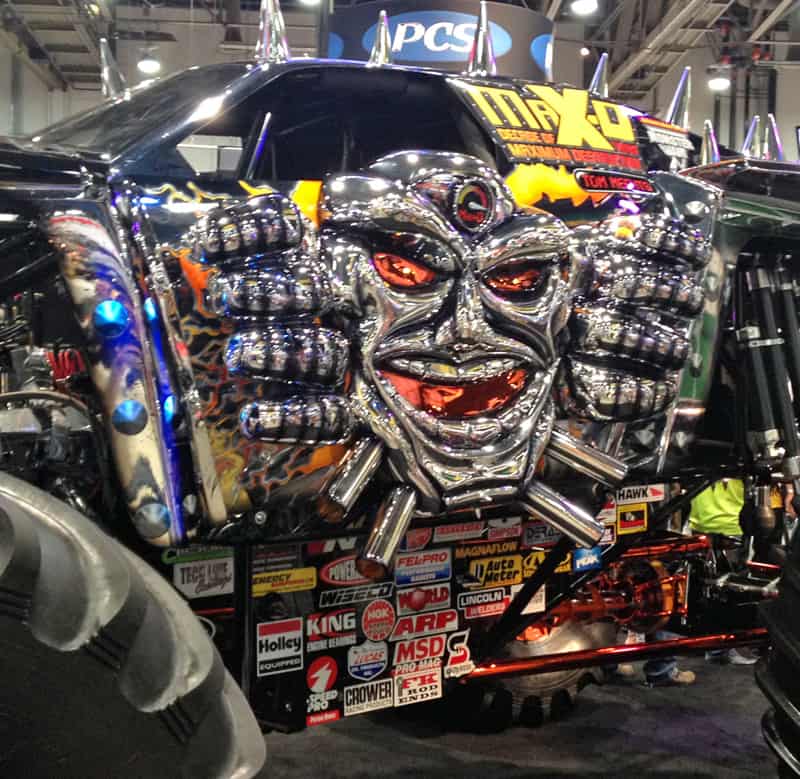 They truly went all-out with this beast — if you like monster trucks, watch their video here > http://youtu.be/LQfvQhPmov0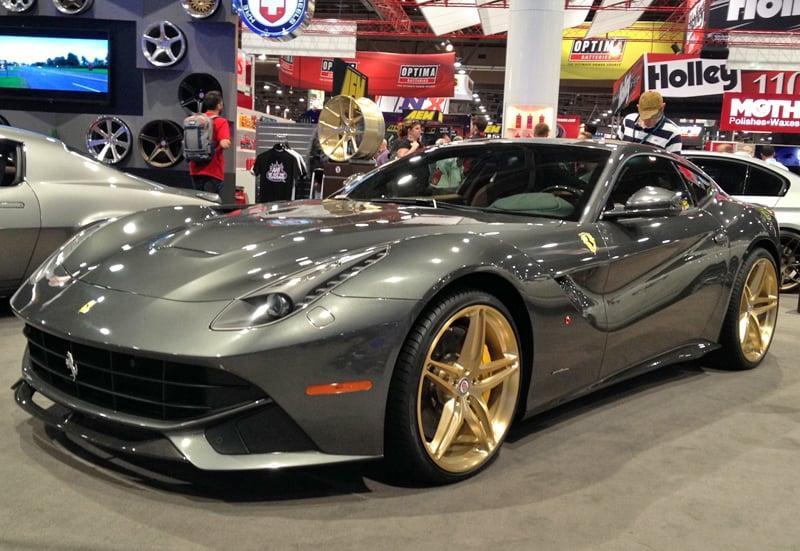 Switching gears… there's a good chance I'm drooling. The new 740-horsepower Ferrari F12berlinetta is amazingly beautiful. With a top speed of 211 mph, a very quick look will tell you that these beautiful machines are definitely inspired by the beautiful lines of a woman's figure. Fast and furious. I think I'm in love.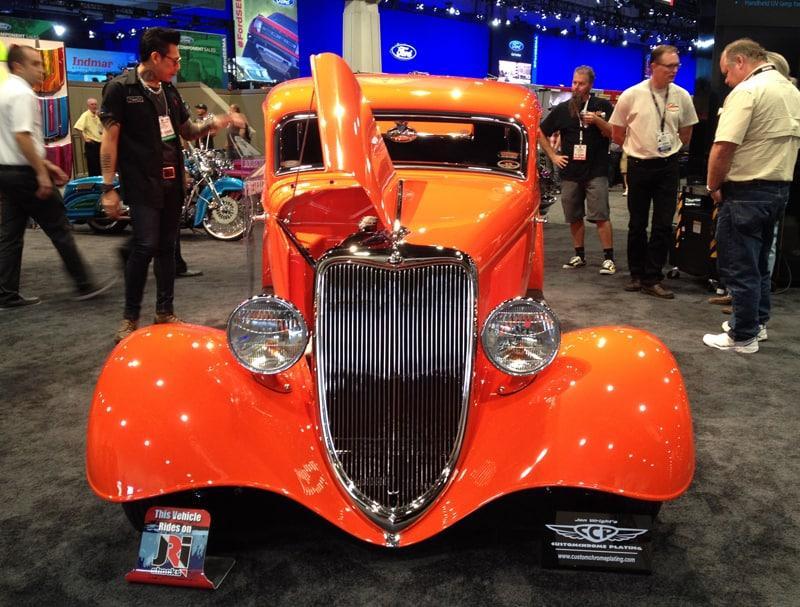 If there is one thing I've learned in all my visits to SEMA, it's that there is something for everyone when it comes to cars. This orange Ford coupe is sweet.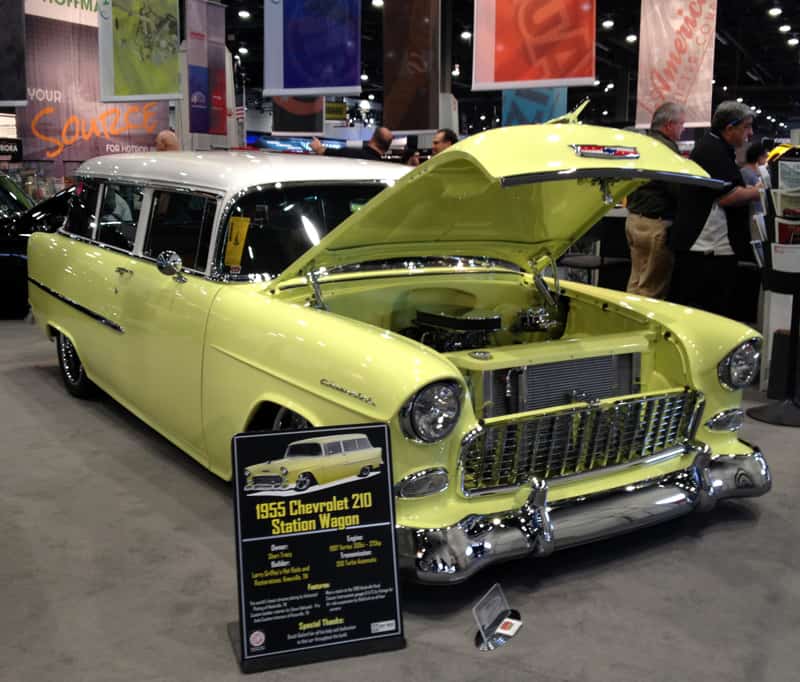 Although no Nomad, this 1955 Chevrolet 210 station wagon is pretty sweet.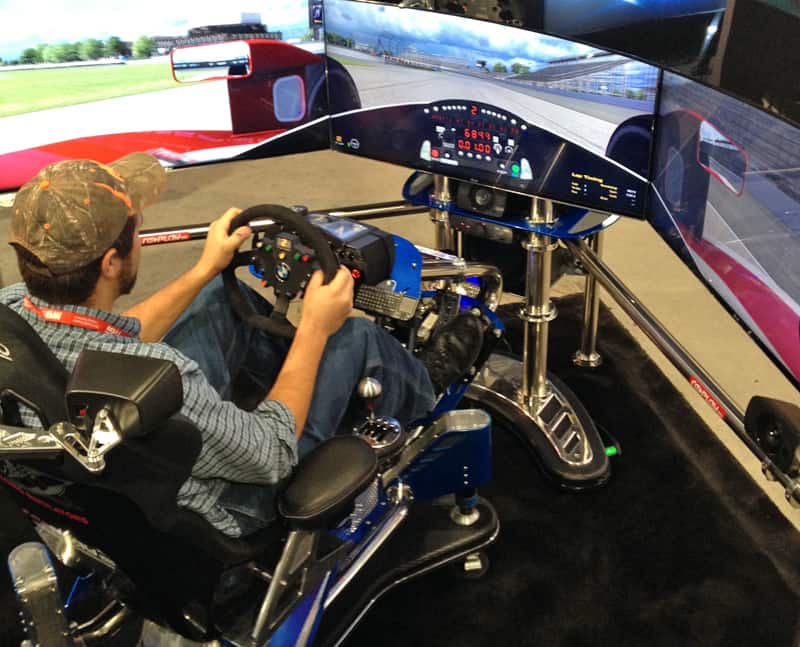 While somewhere walking the show, others were driving – virtually any way. I'm not a gamer, but I could get into one of these, although I'm pretty sure I'd never get anything done.
This McLaren screams, "look at me," so I did. Simple and elegant, this is a beauty for sure. I know a couple of guys who have one of these and swear by them. Stunning in orange.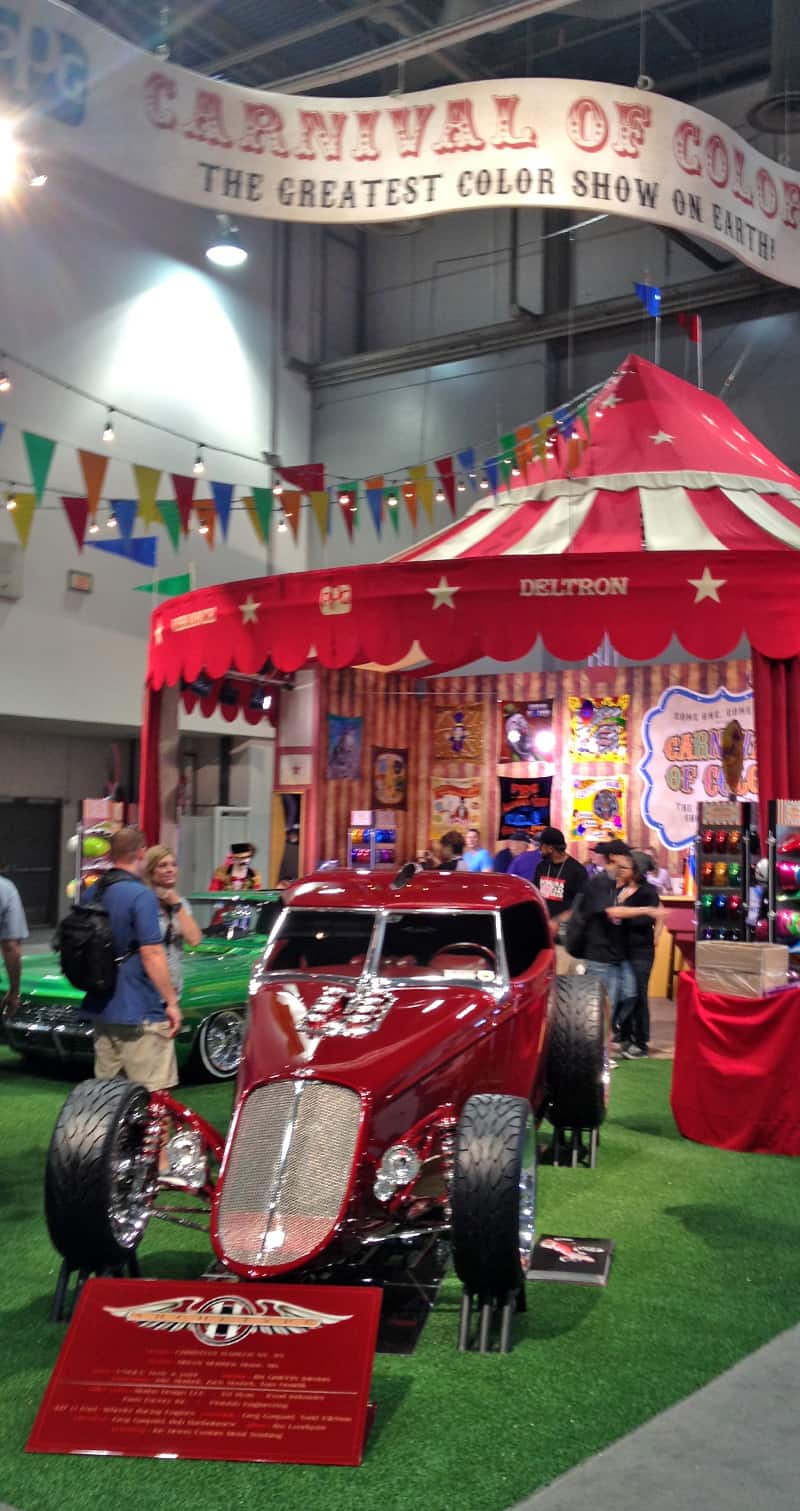 My next stop was at the PPG Industries "Carnival of Color" display, where I always run into old friends and see amazing examples of beautifully painted cars and collectibles…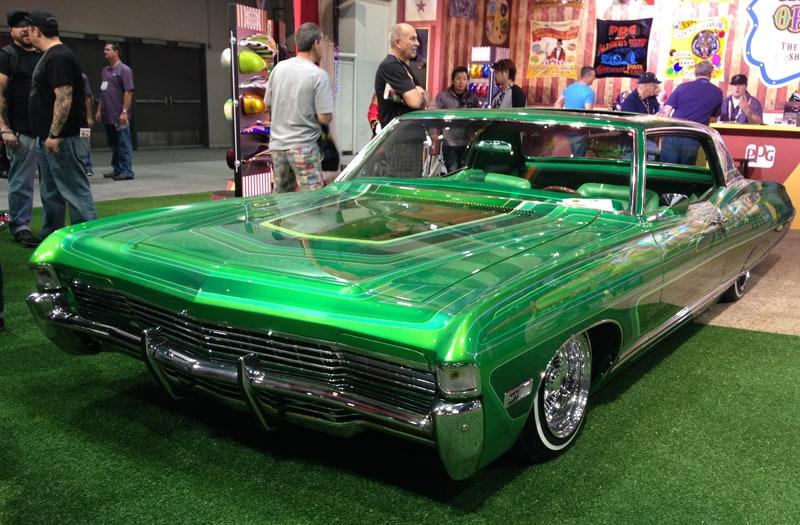 …including this custom green Chevy…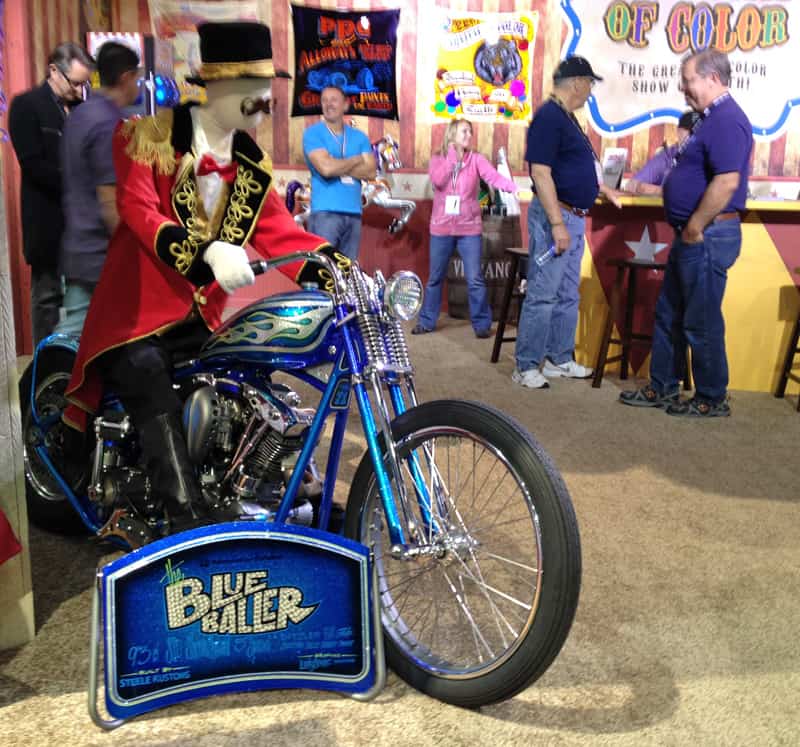 and this old-school "Blue Baller" chopper.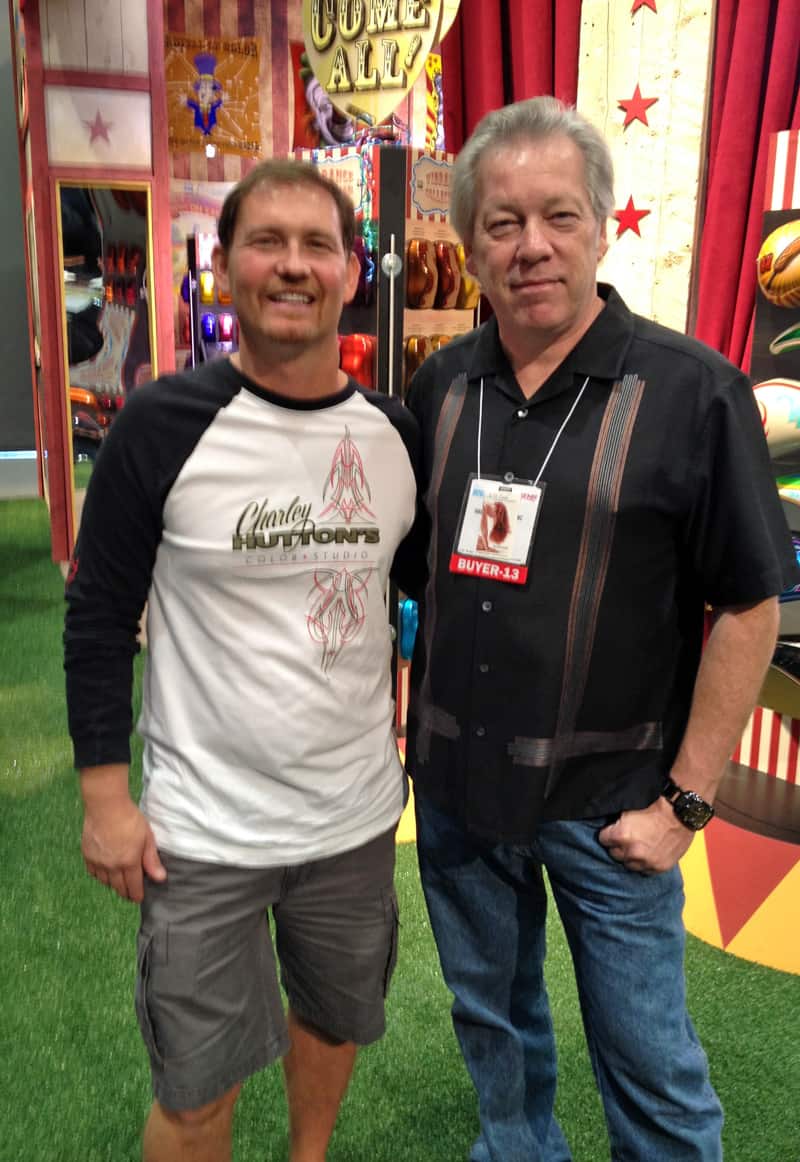 I always enjoy catching up with custom painter Charlie Hutton.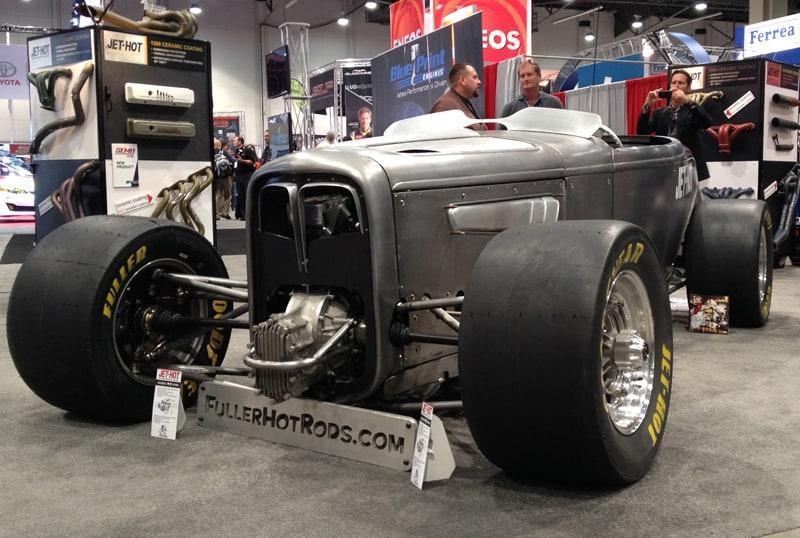 Fuller Hot Rod rocks! Check out the differential extending out the front. This beast is all-wheel drive.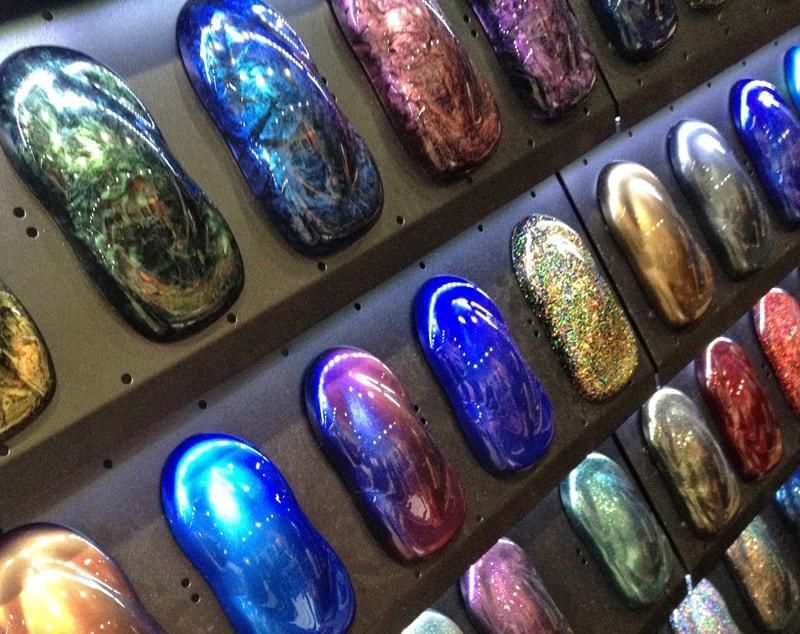 House of Kolor paint samples is always a great source of inspiration.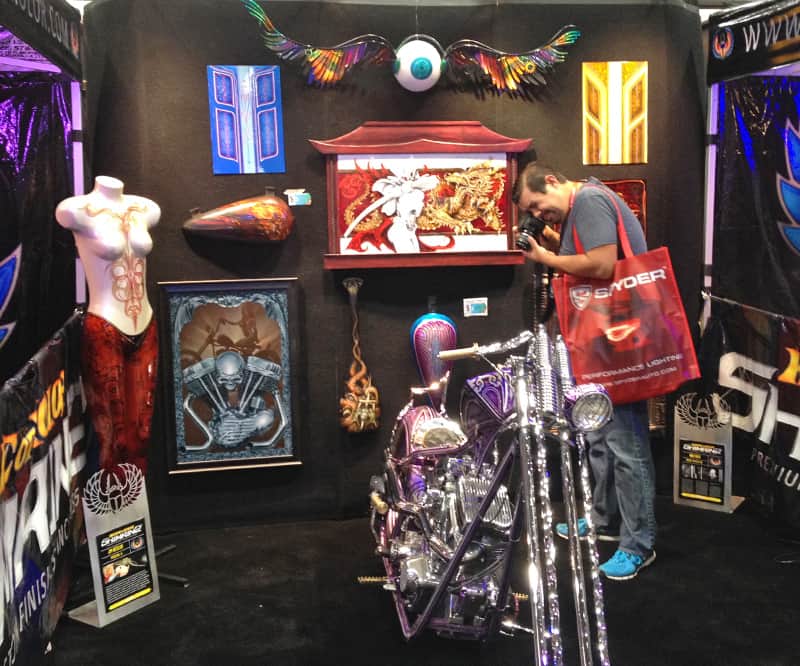 More goodies in the House of Kolor display.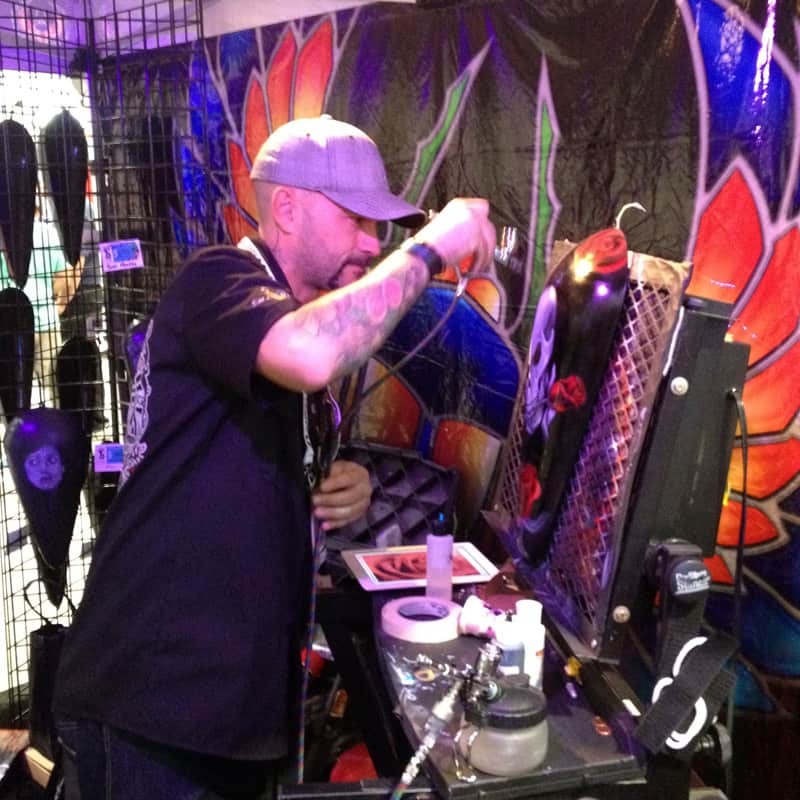 Paulo applies his skills with the airbrush in the HOK booth.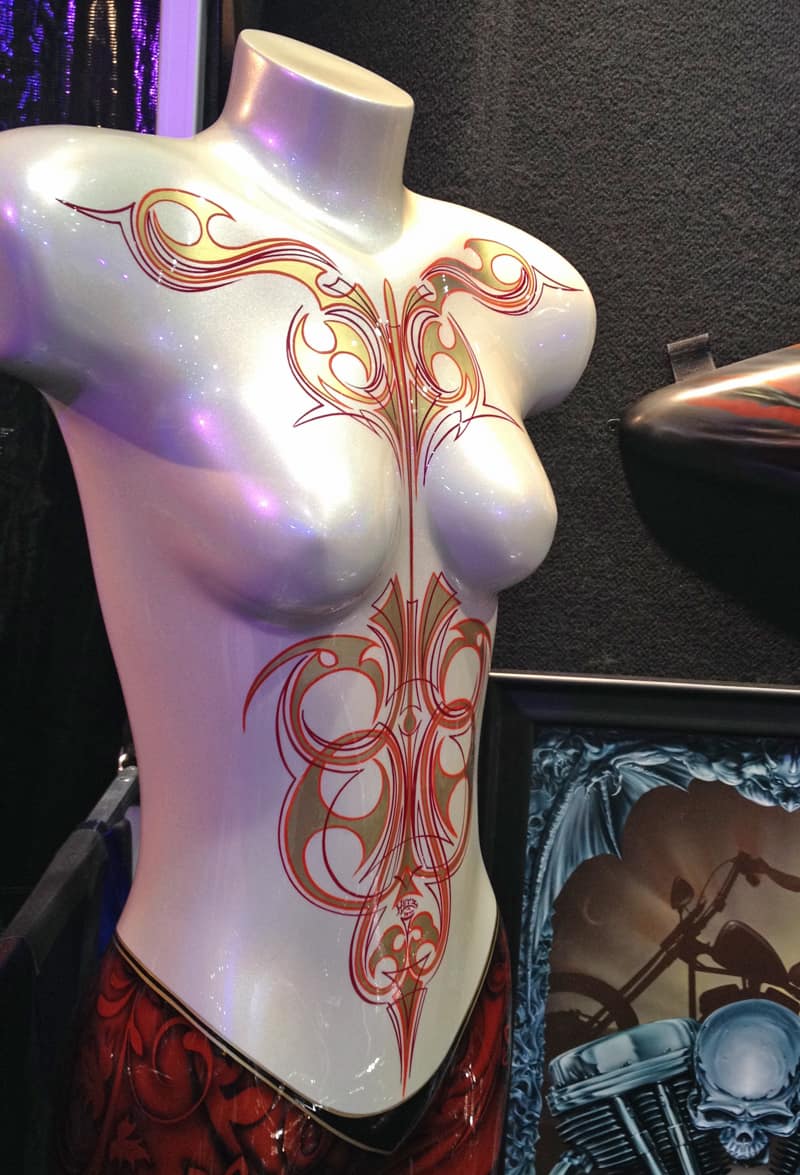 Busted and pinstriped. Beautiful work.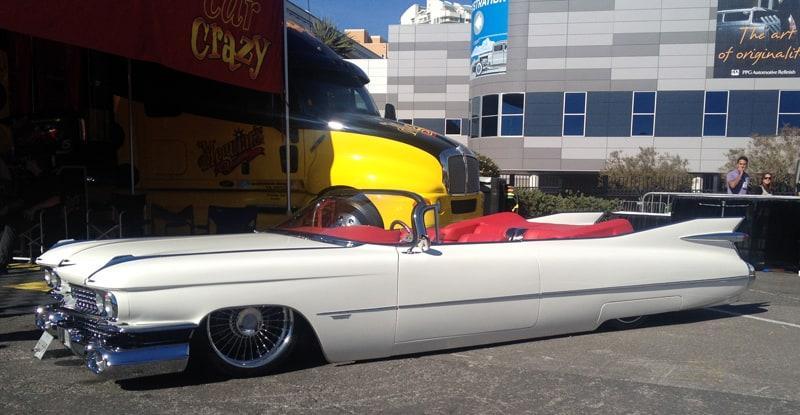 I love this outrageously kewl Caddy.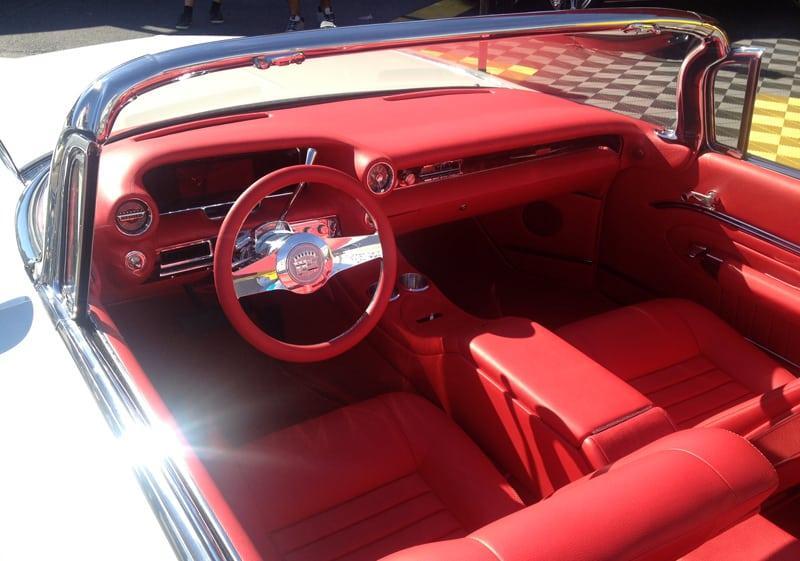 A full-time topless beauty, this would be a great Vegas ride.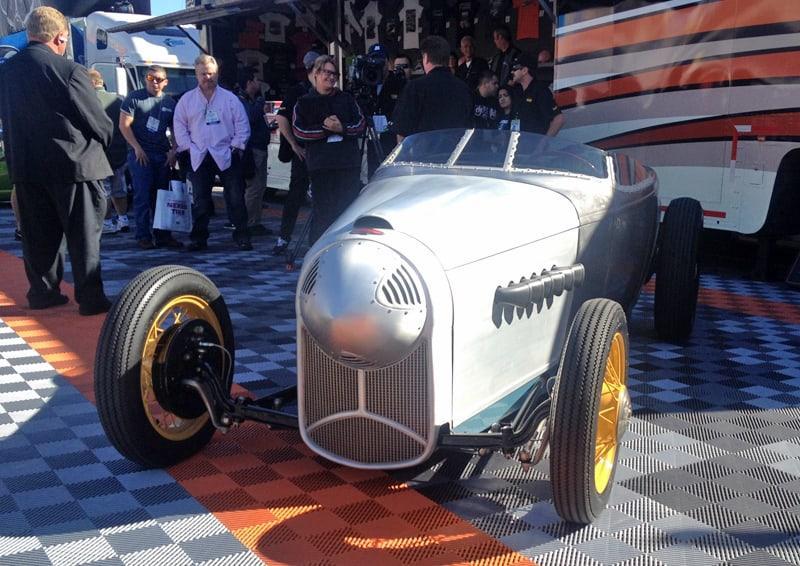 Chip Foose brought his P-32 aircraft-inspired hot rod.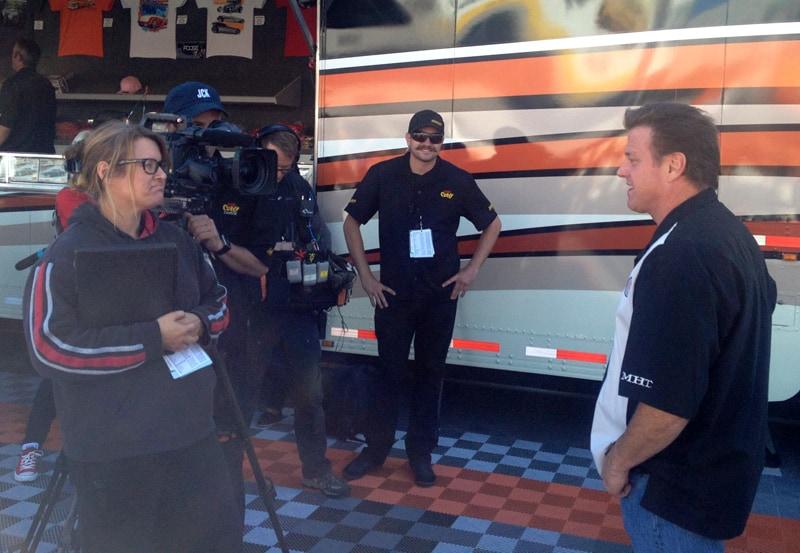 And the master himself, Chip Foose, does a live interview.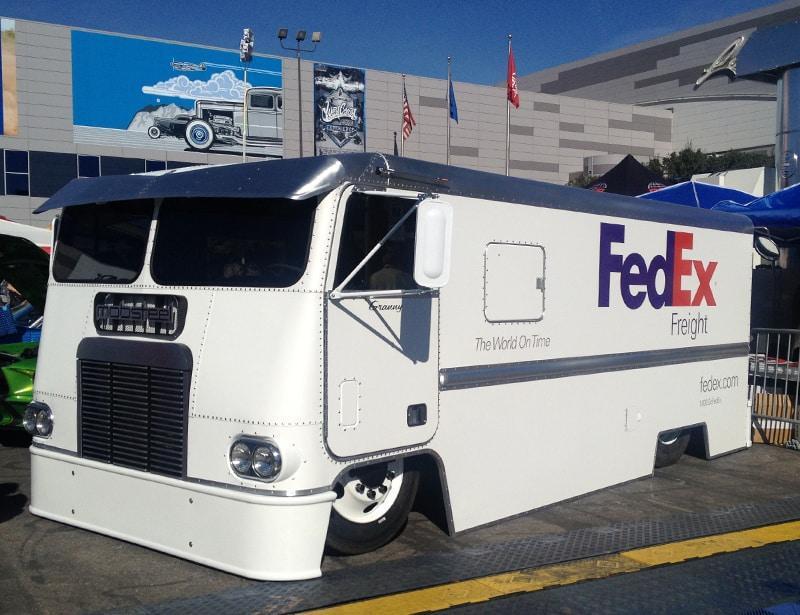 When it absolutely positively has to be there overnight… This FedEx Mobsteel show truck is waaaaay cool.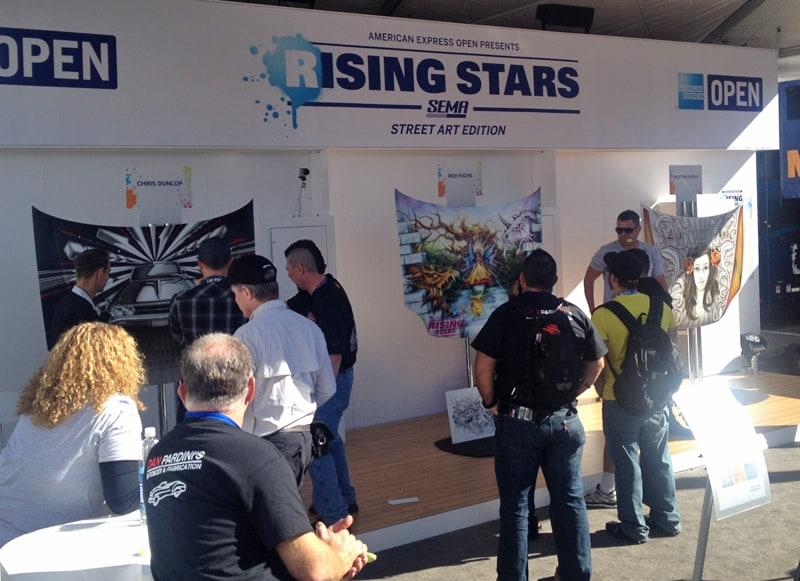 Three artists, four days, from blank hoods to works of art… The American Express OPEN display showcases rising stars in the airbrush world, featuring the talents of Chris Dunlop, Rod Fuchs, and Kristian Baena.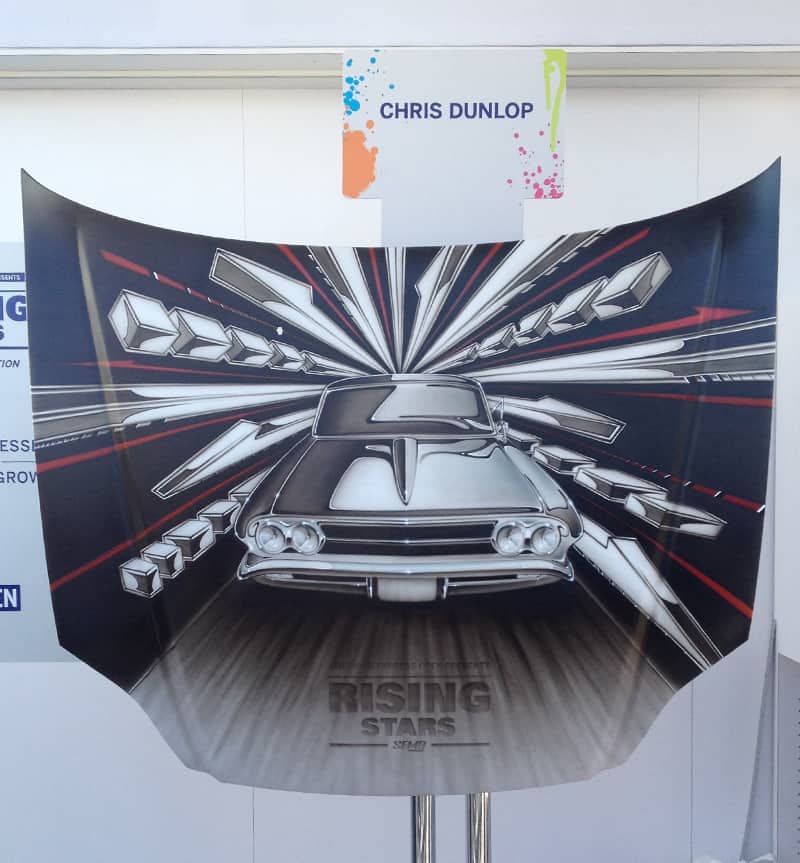 A closer look at Chris Dunlop's beautiful art.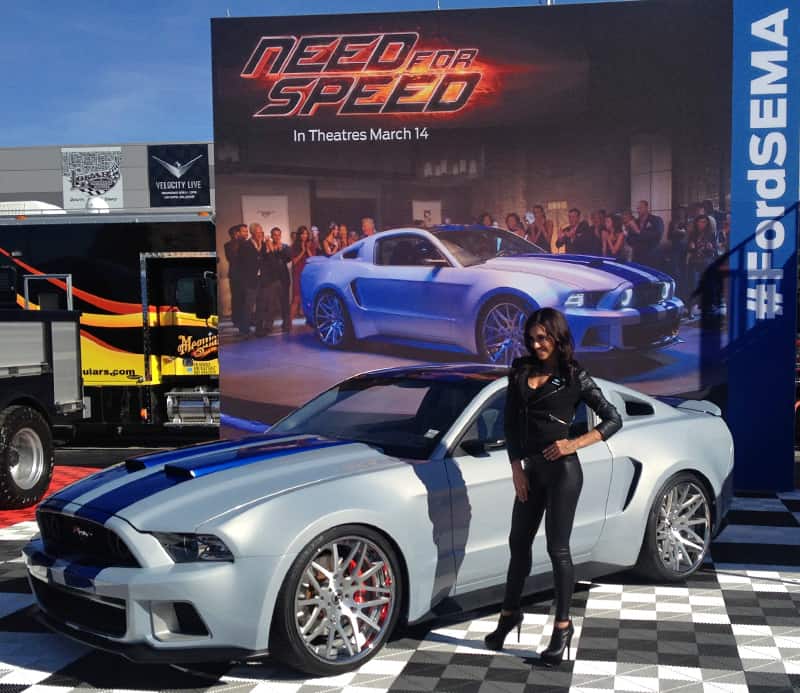 Promoting Need For Speed featuring the Ford Mustang and this beautiful lady.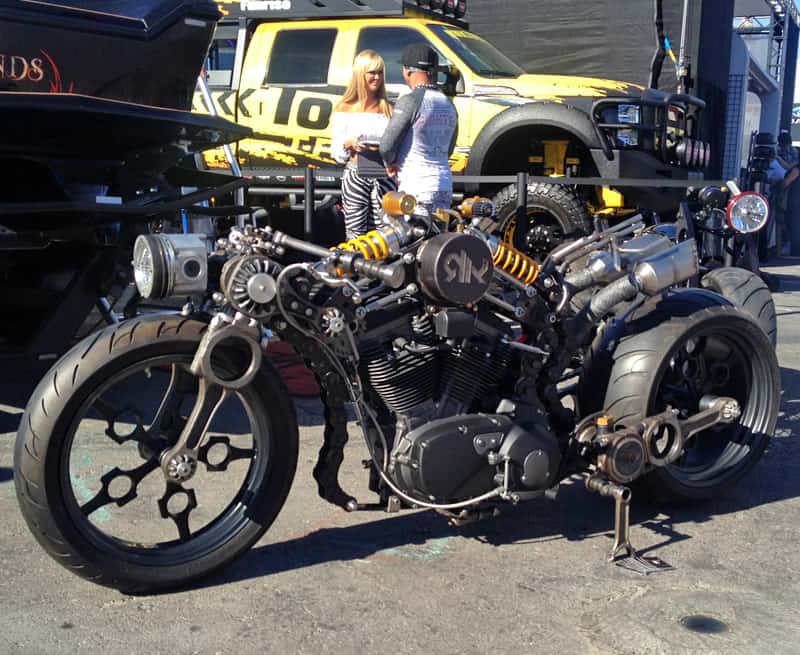 Bodacious and outrageous! This is one of the craziest custom bikes I've ever seen. And while it may be a V-Twin, it has more pistons than any bike on the road.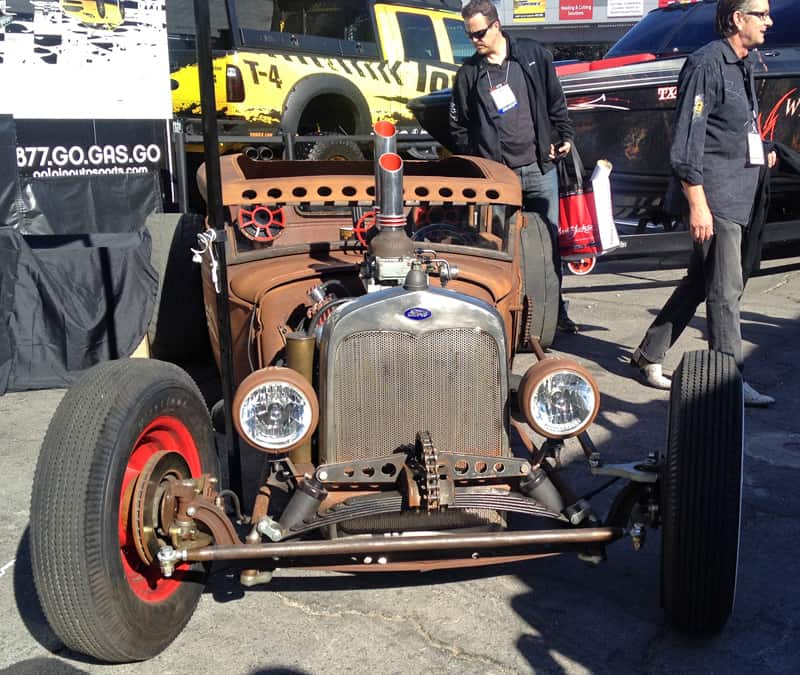 I enjoy old rusty rat rods, especially when so much creativity goes into their creation. This is a superb example of "kewl."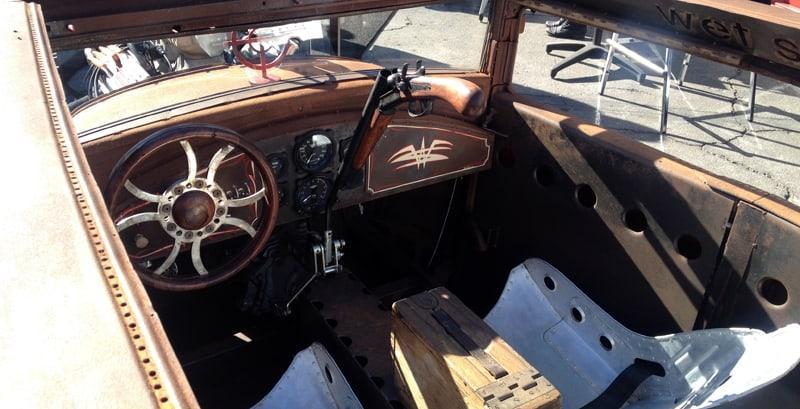 Every inch is about detail, inside and out.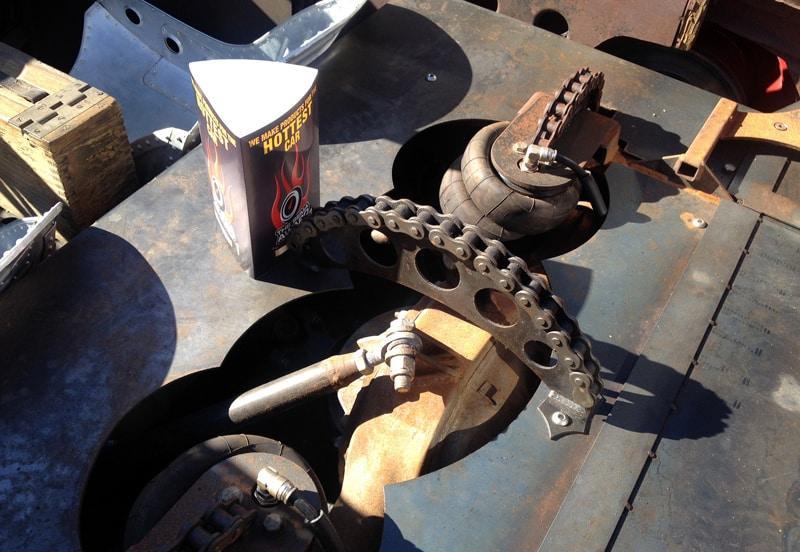 Gears galore. There are so many cool things about this ride it would be hard to show them all in a blog post.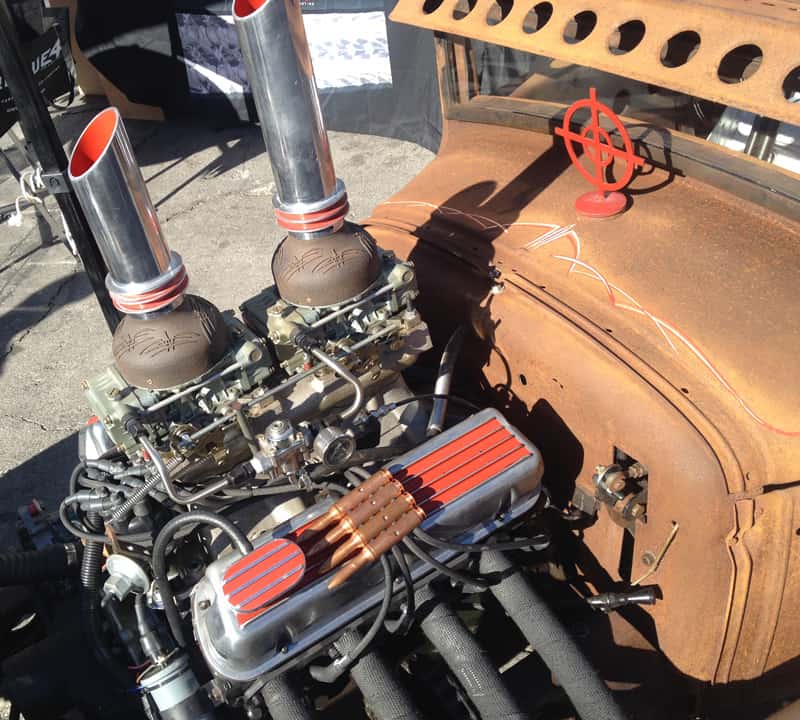 Old school style and power.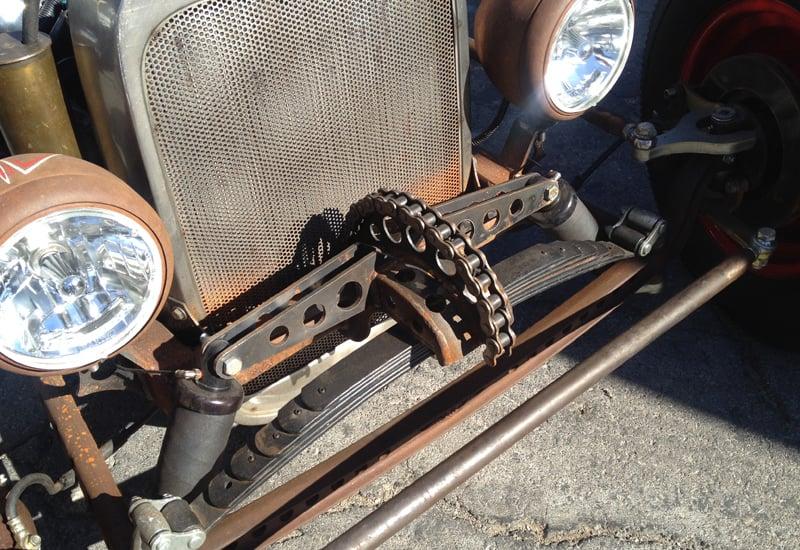 More cool for you.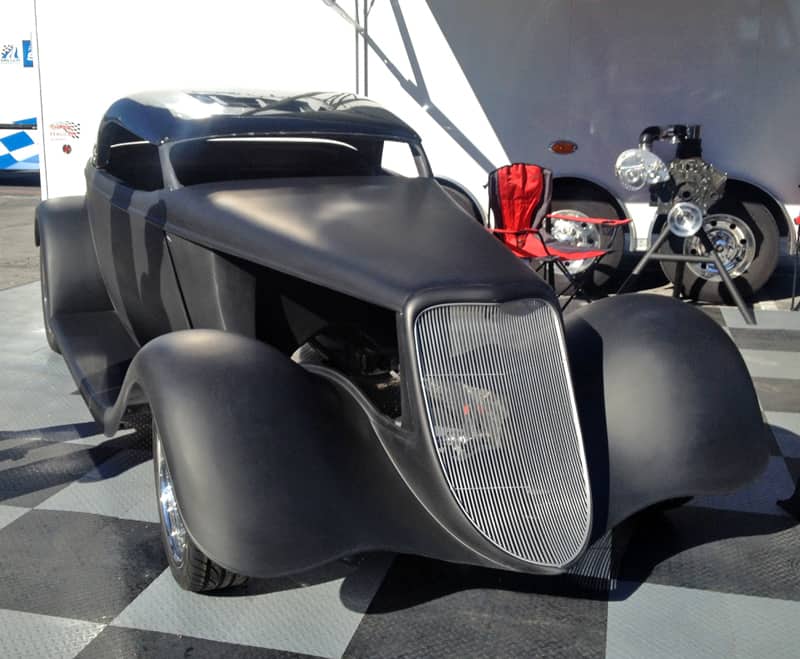 Smooth… quite the contrast from the previous rod, these rides can be built in your garage.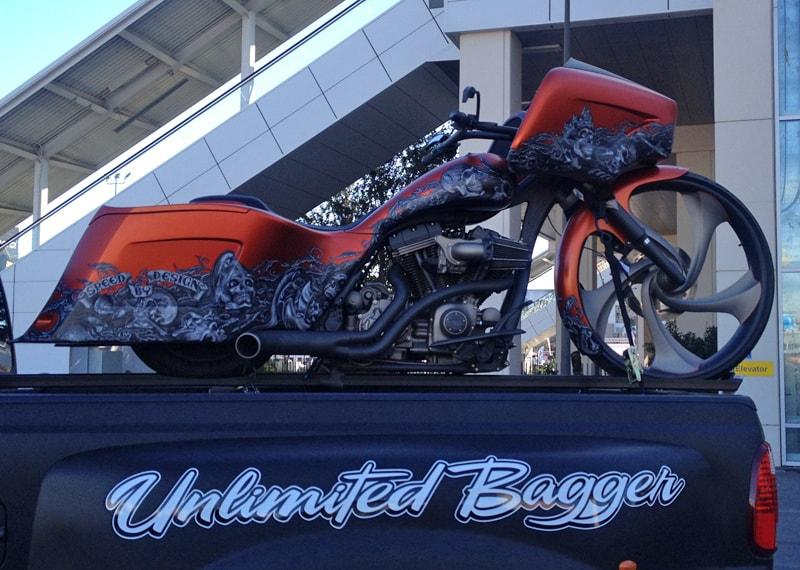 Unlimited Bagger I've seen this bike before and never tire of taking a second look.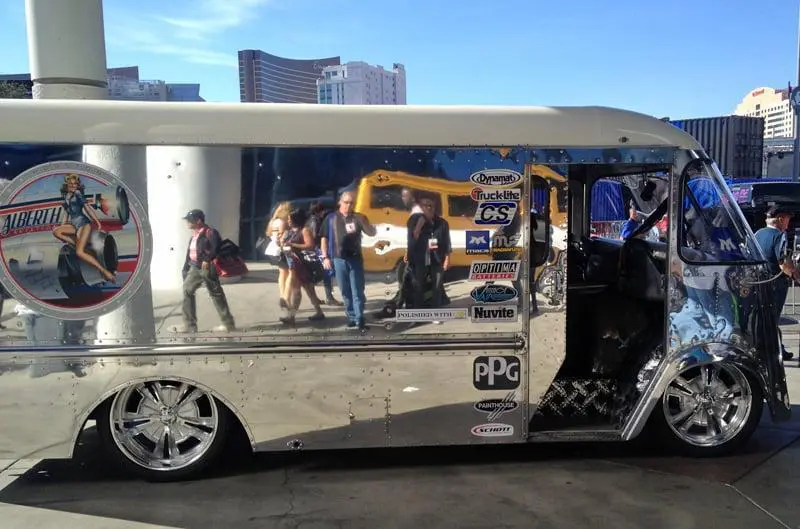 There were a few tricked-out delivery trucks there this year. I like this one a lot – shiny.
Another peak from a different perspective.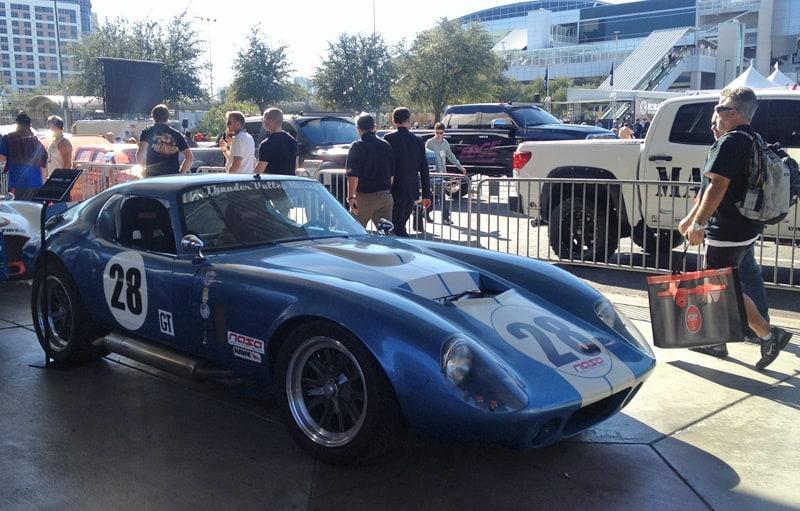 Blast from the past. This Shelby GT is stunning.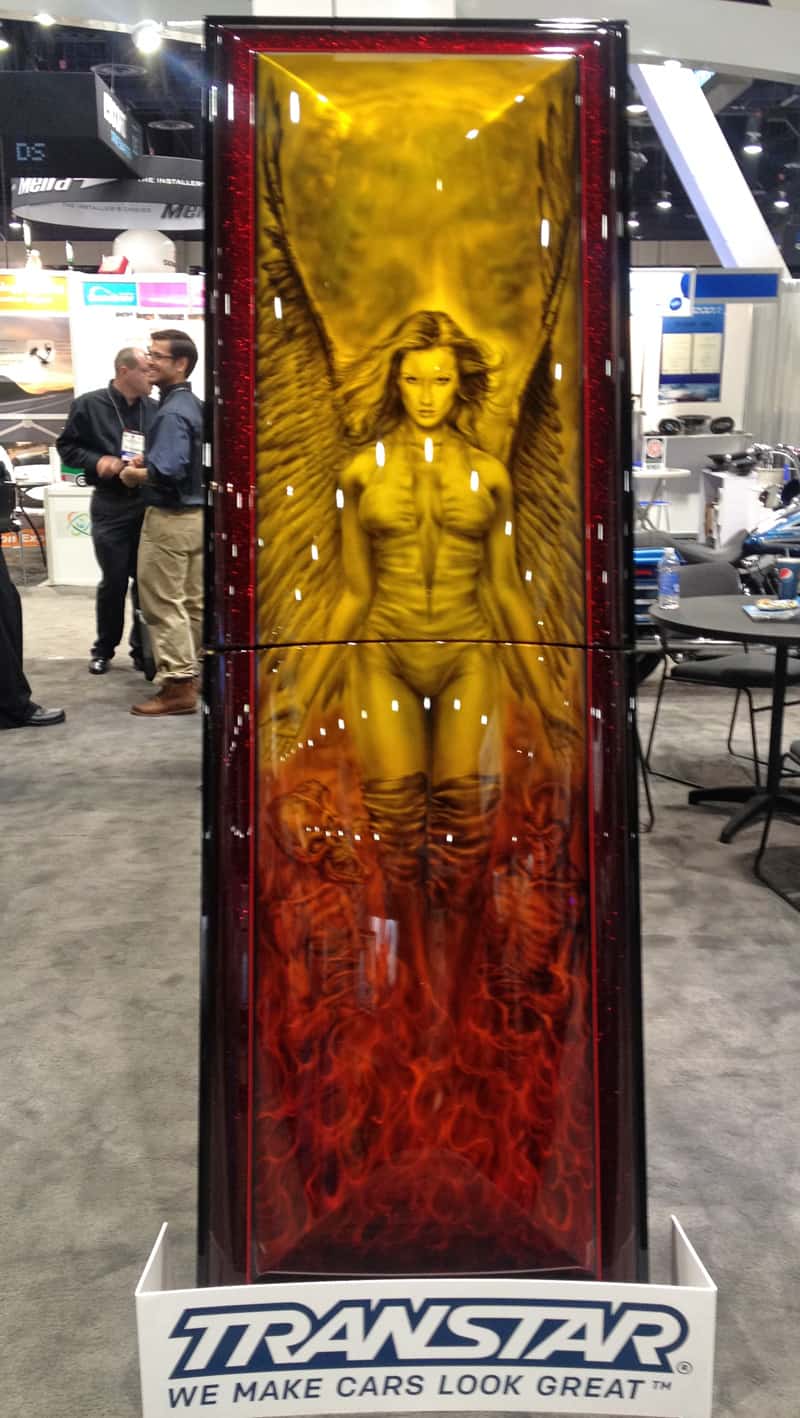 I know you're dying to get one. This custom airbrushed coffin is pretty cool.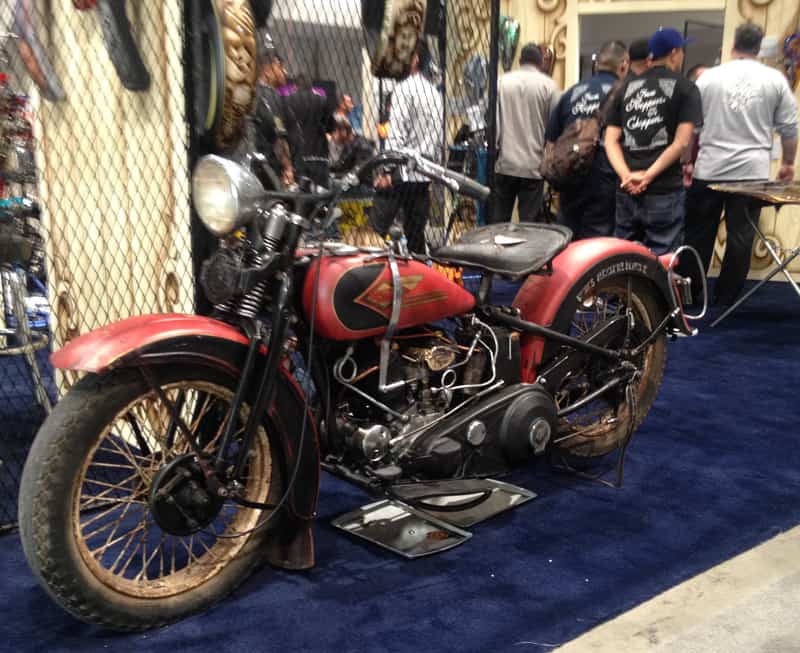 Old is new again. This Vandemon project bike in the Iwata display caught my eye. Kudos Steve.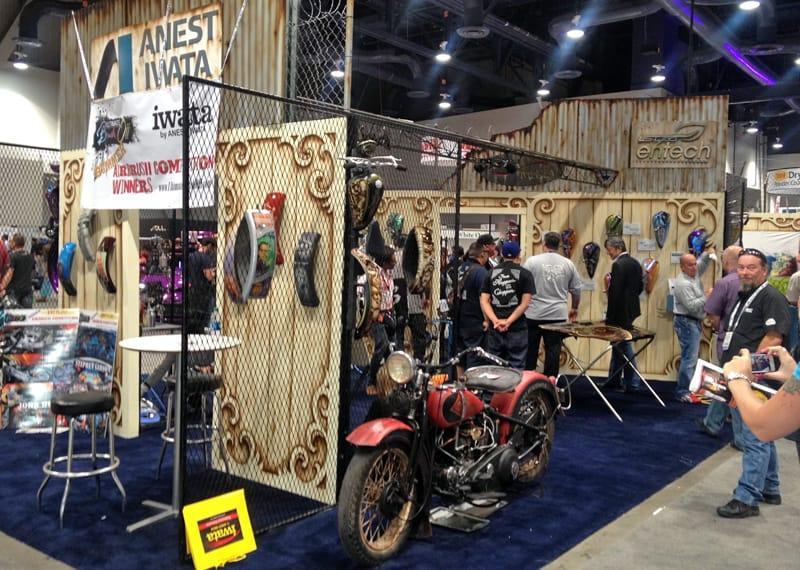 The Anest Iwata / Iwata-Medea / Artool Products display was cool as always, with plenty of beautiful airbrush art and tools to check out.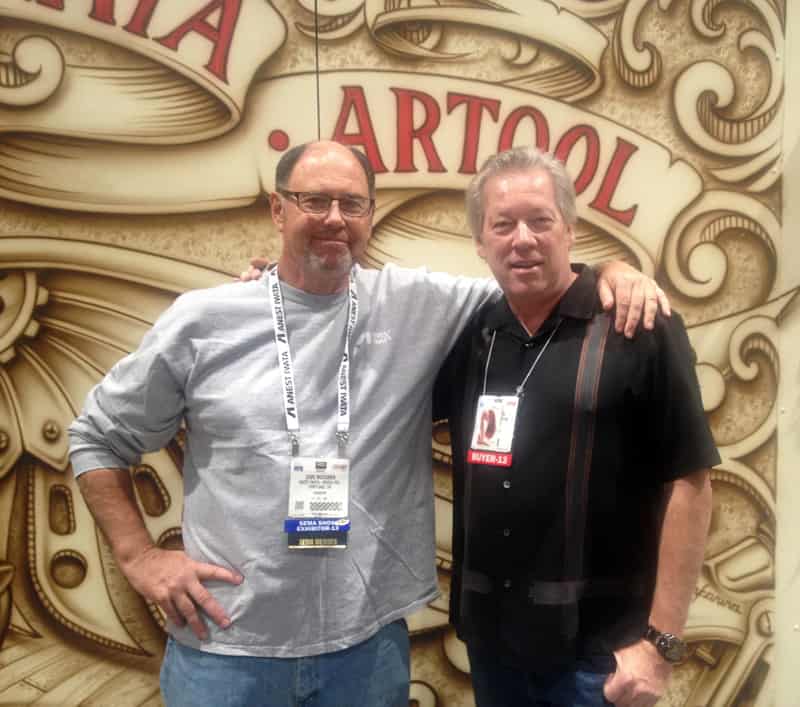 Catching up with Gabe McCubbin of Artool Products.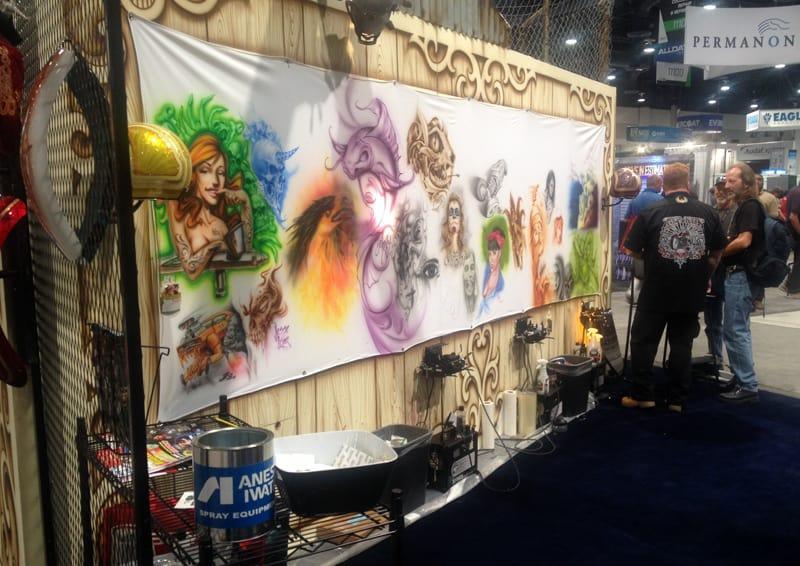 The wall of art at the Iwata booth features a plethora of talented artists' work.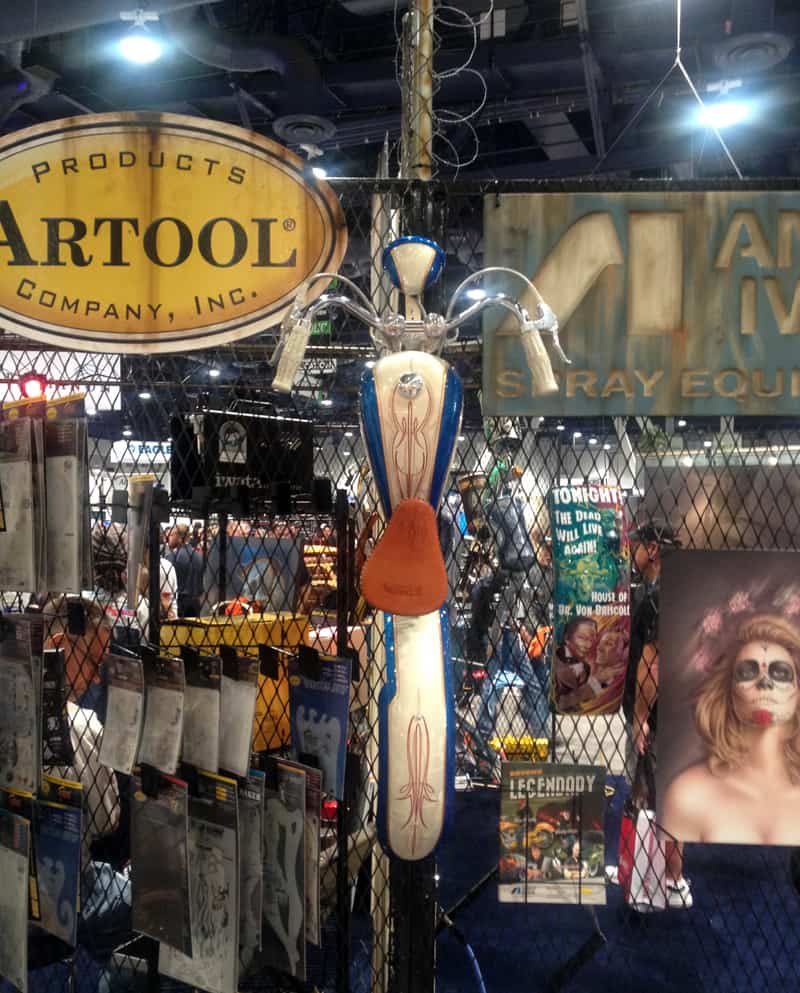 Just hangin'. I like the motorcycle as art.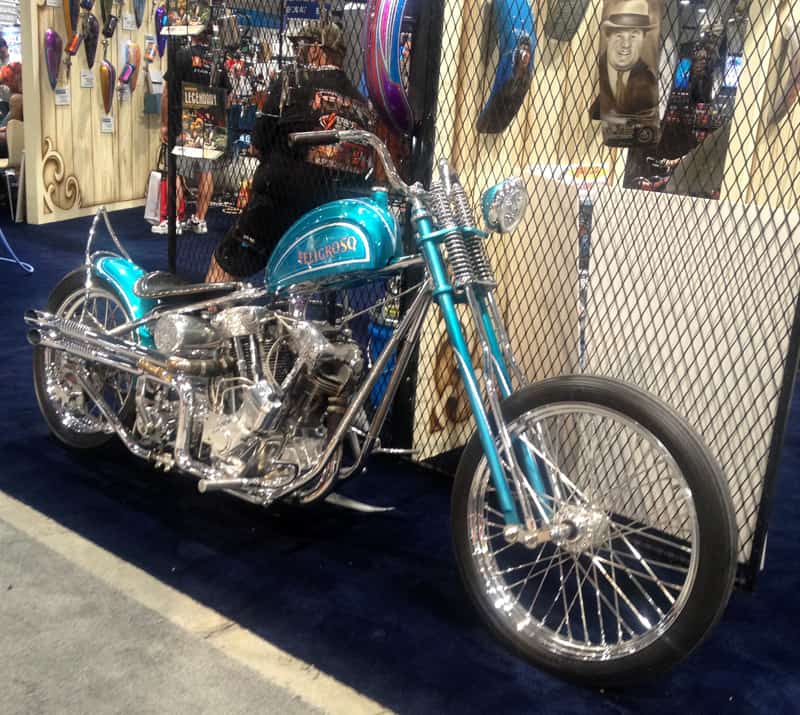 This old-school Peligroso chopper takes us back. I remember bikes like this from when I was a kid and painting similar-style choppers when I first started painting 30+ years ago.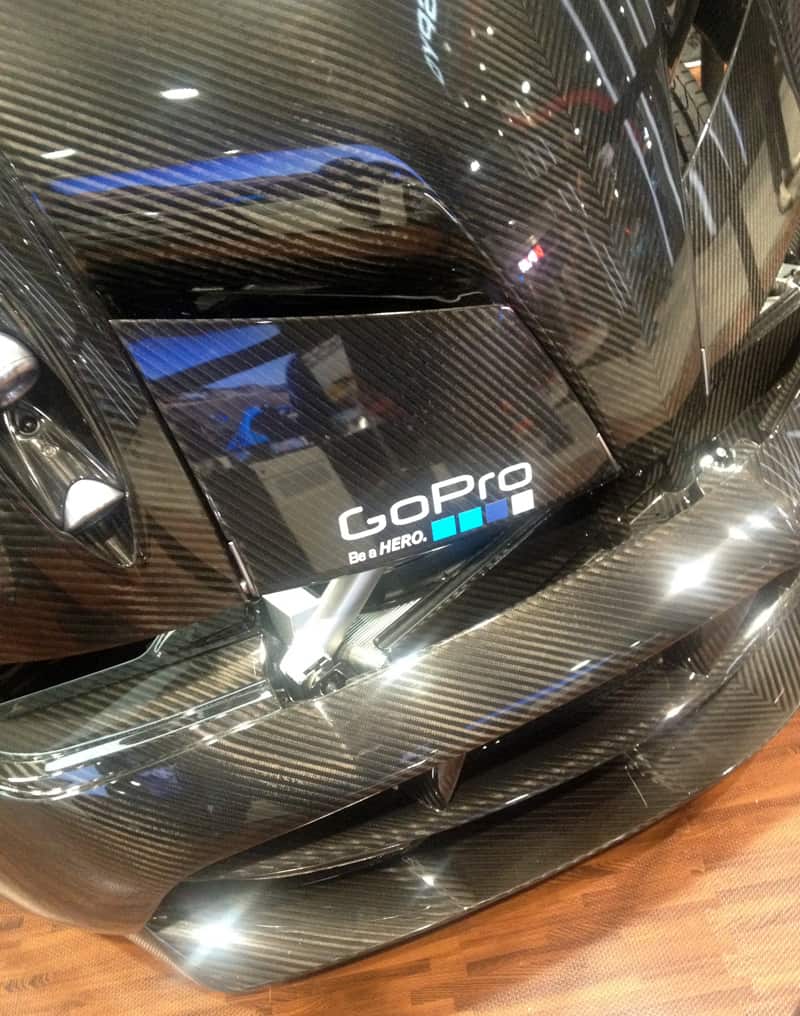 A different twist. Gabe suggested I check out the carbon fiber Pagani Automobili exotic at the GoPro display.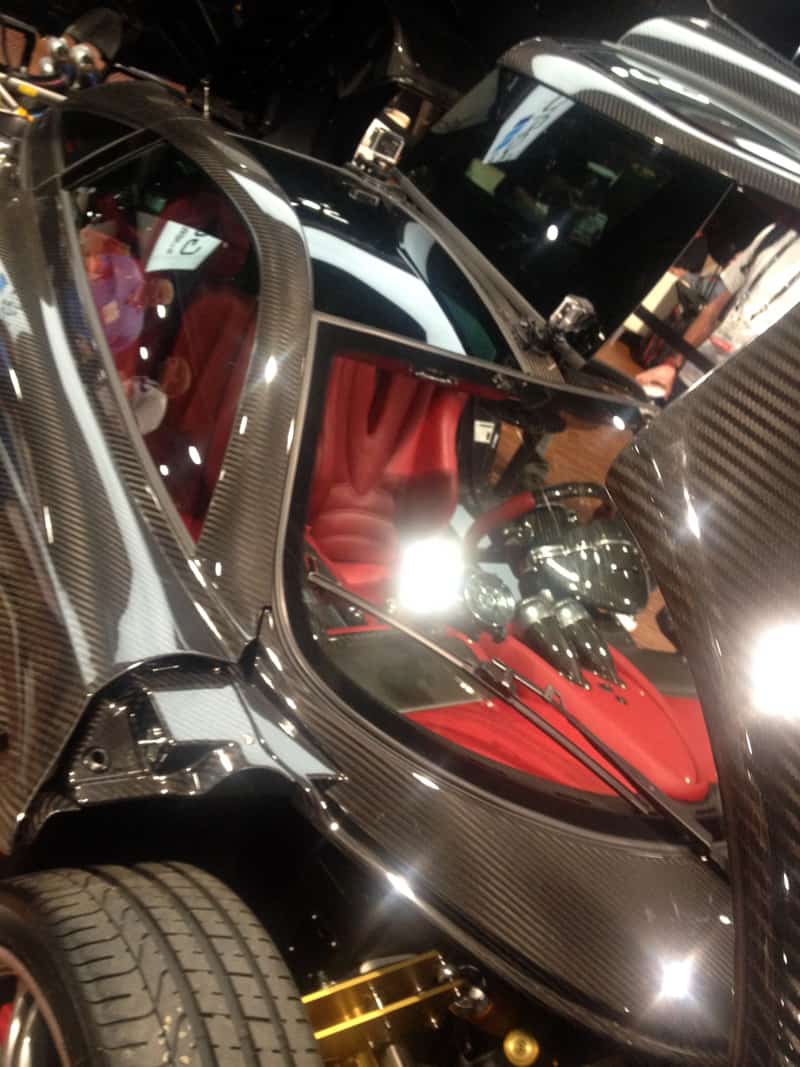 The quality and design of this supercar simply blew me away.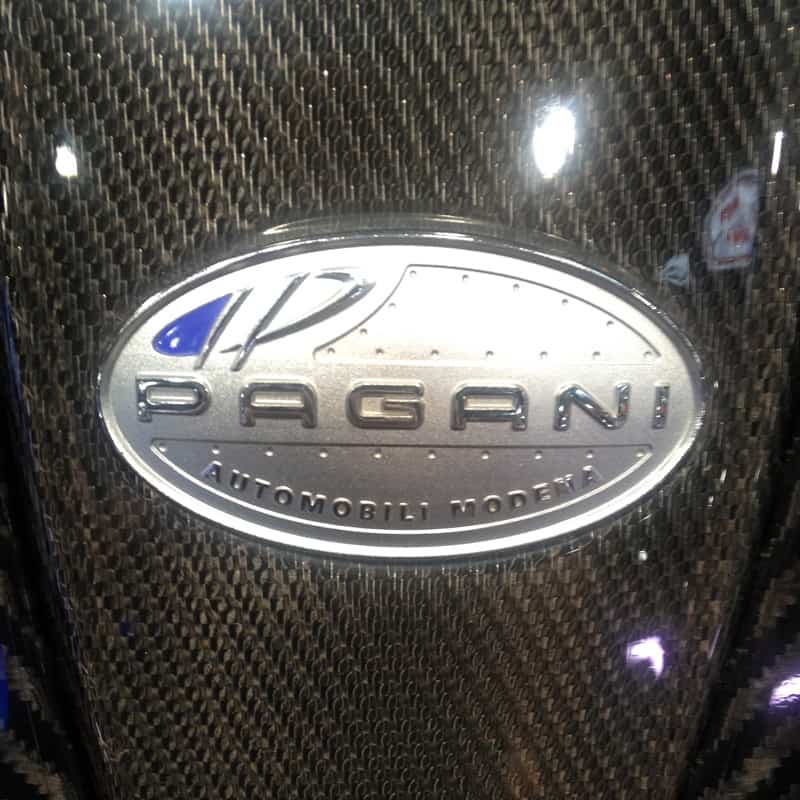 Carbon fiber galore! Stunning.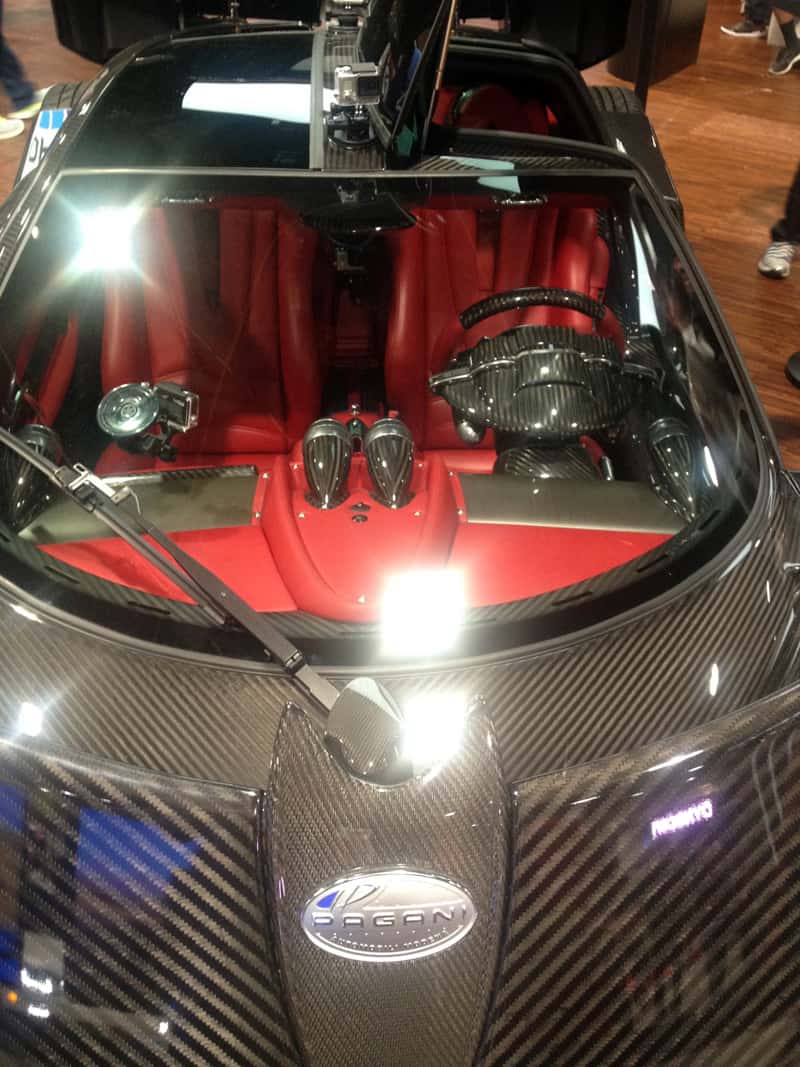 Craftsmanship at its finest… I just can't say enough about how cool this sexy beast is – The Italian Premium Pagani Huayra is entirely made of perfectly aligned carbon fiber.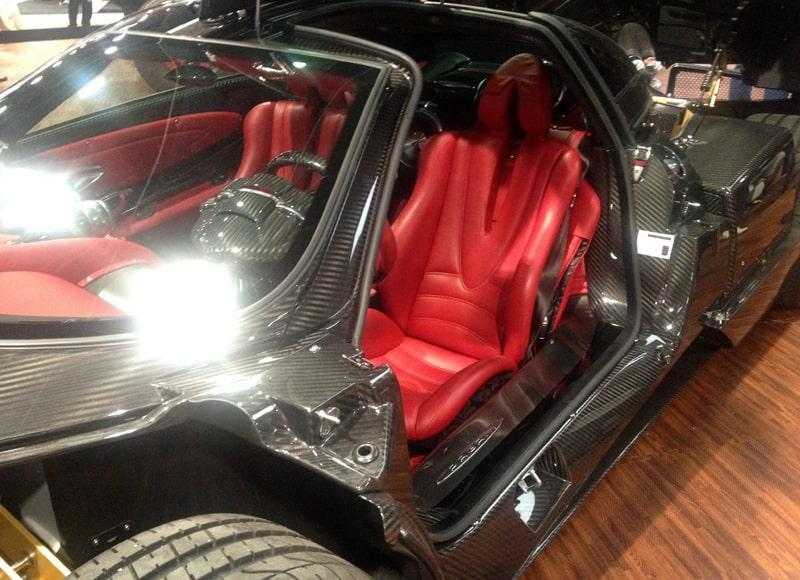 I love its stunning red interior.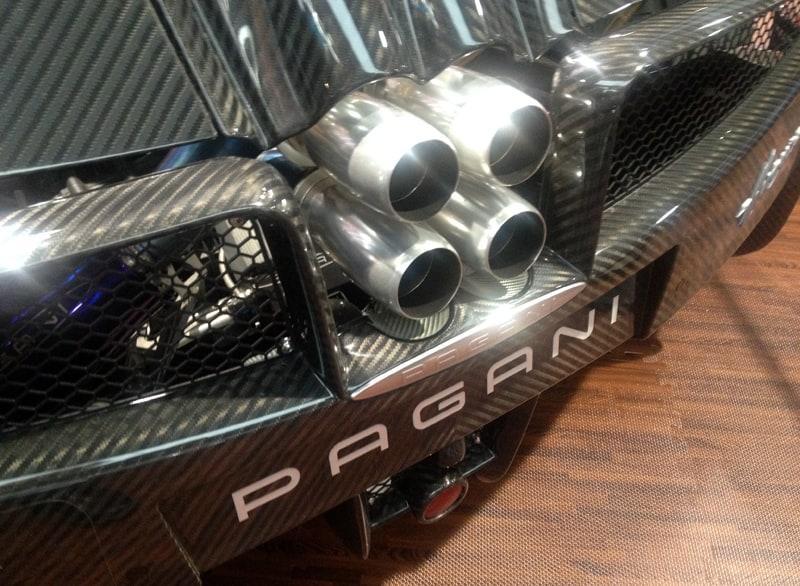 And its exhaust screams, "back off."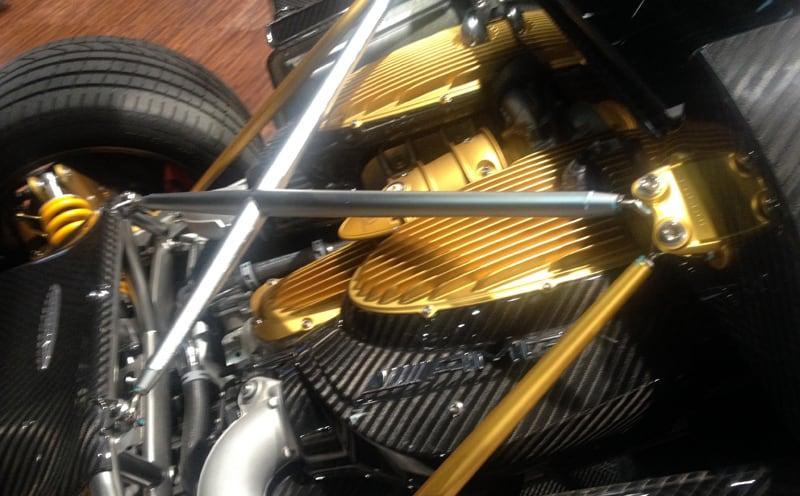 Every inch of this machine is about details. Powered by a beautiful Mercedes-AMG M158 V12 twin-Turbo, this beast produces 730 horses and features gold anodized components to complement its carbon fiber features. The Pagani Huayra (pronounced: wai-rah) is an Italian mid-engined sports car named after Huayra-tata, which means "God of the winds." The Huayra was named "The Hypercar of the Year 2012" by Top Gear magazine. Yours for around $1,300,000.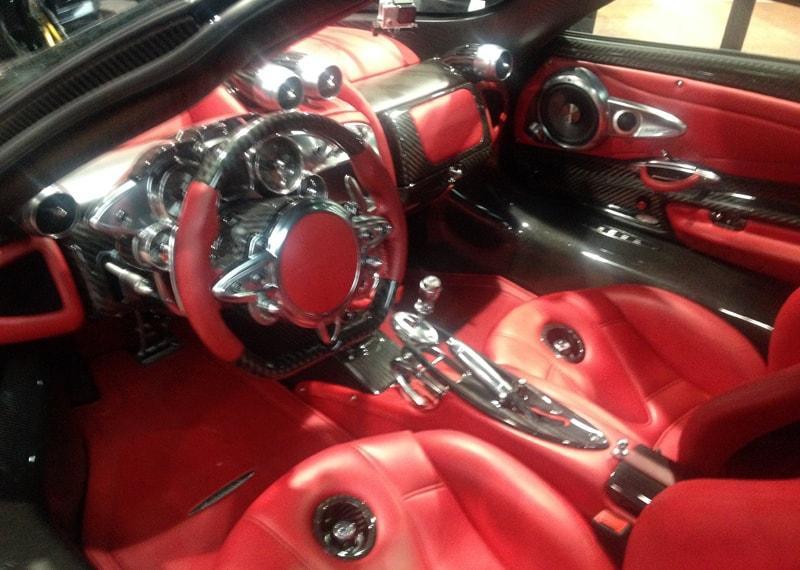 Inspired. I'd love to take one of these out for an afternoon.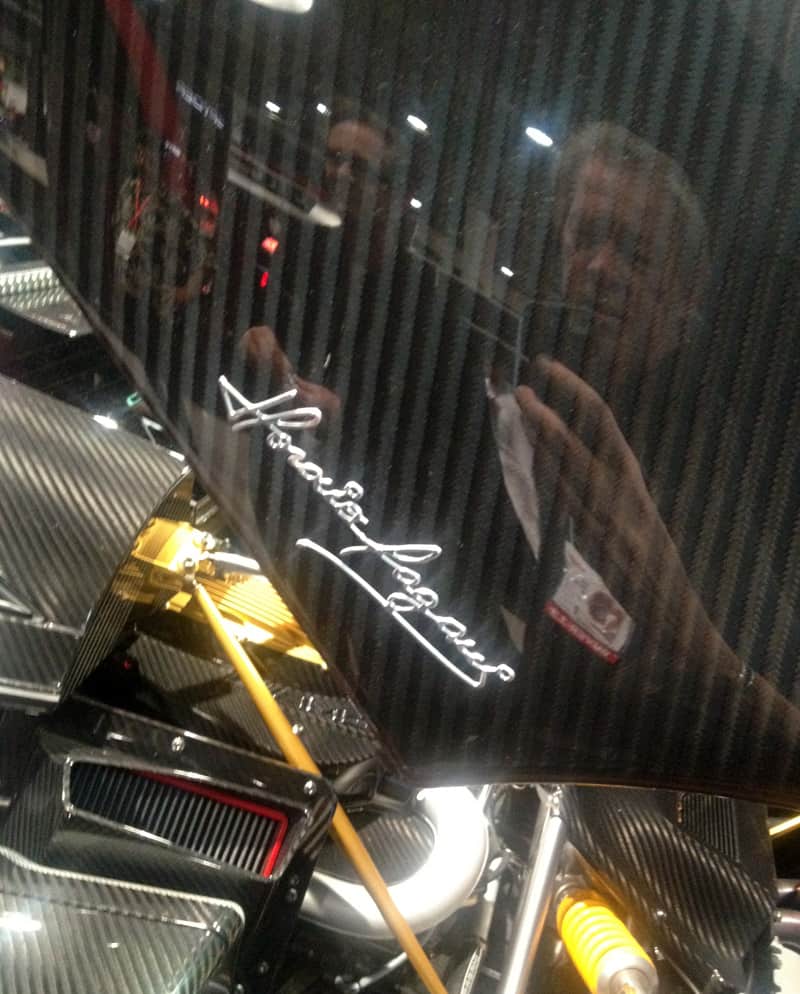 Ya, I can definitely see myself in one of these.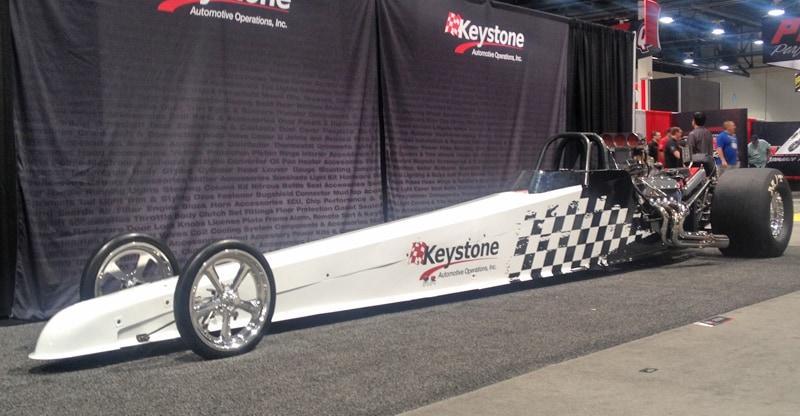 The Keystone top fuel drag is hot! This amazing tower of power is capable of reaching speeds of 330 miles per hour (530 km/h) and finishing 1,000-foot (300 m) runs in 3.7 seconds or the full quarter-mile (402 m) in 4.4 seconds.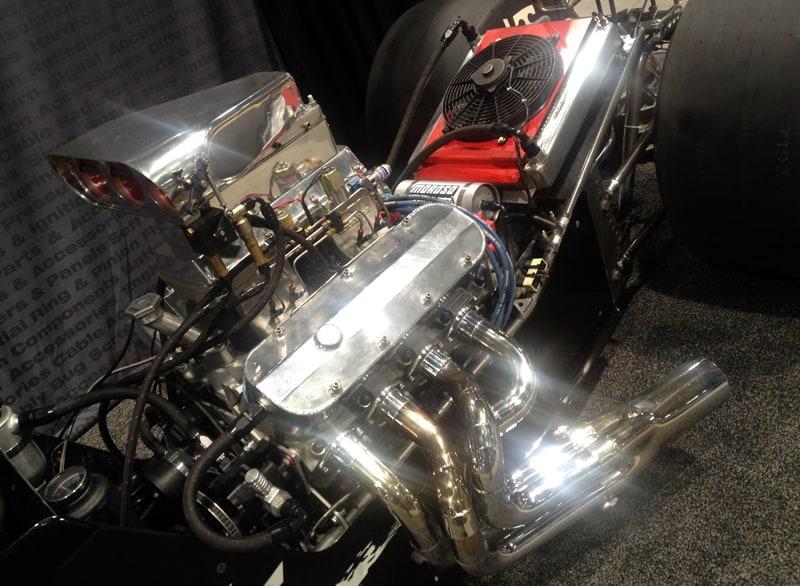 Pure unadulterated power!!! This is what 10,000 horsepower looks like.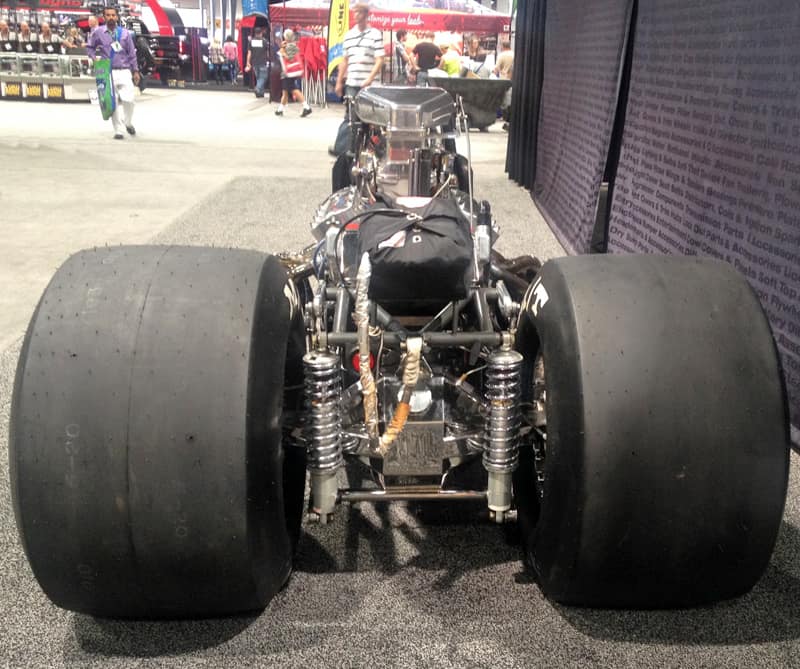 So this is where the rubber meets the road. Imagine the power it takes to fire these up.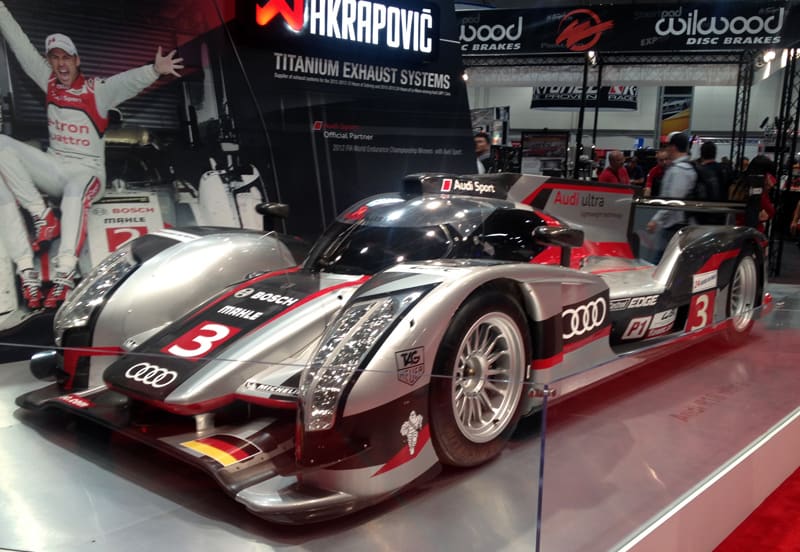 Speaking of power, the Audi #3 Audi e-tron Quattro from the 24-hour Le Mans.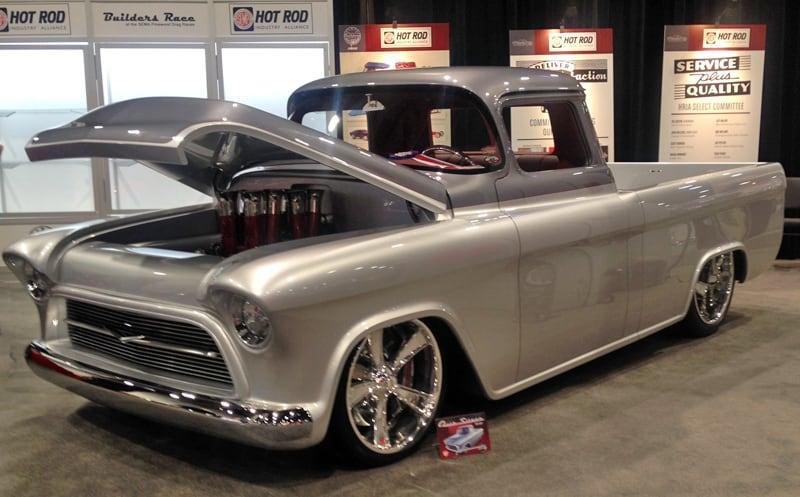 I love old classic trucks with a new twist. This beautiful pickup rocks.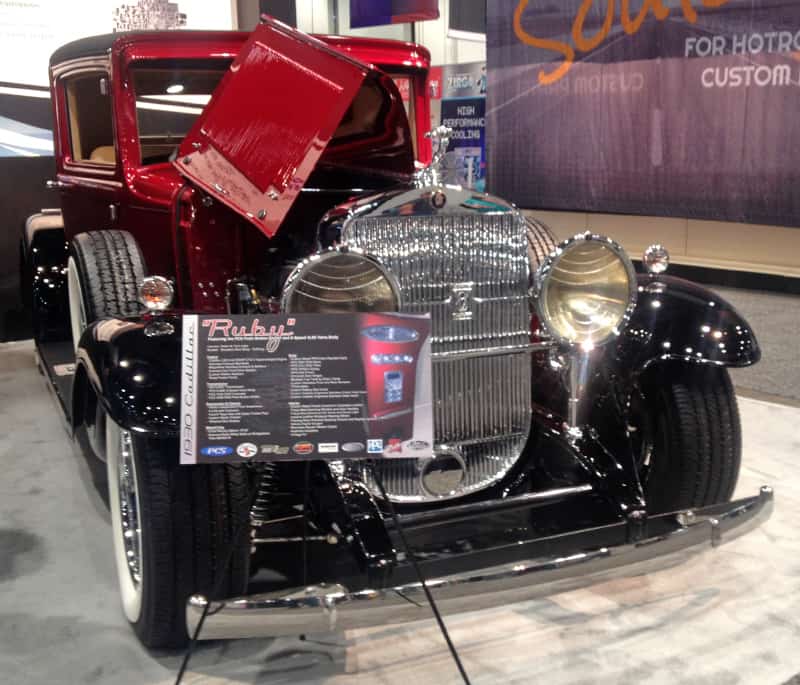 Ending my post with something classy… Ruby. A stunning example of a 1930 Cadillac.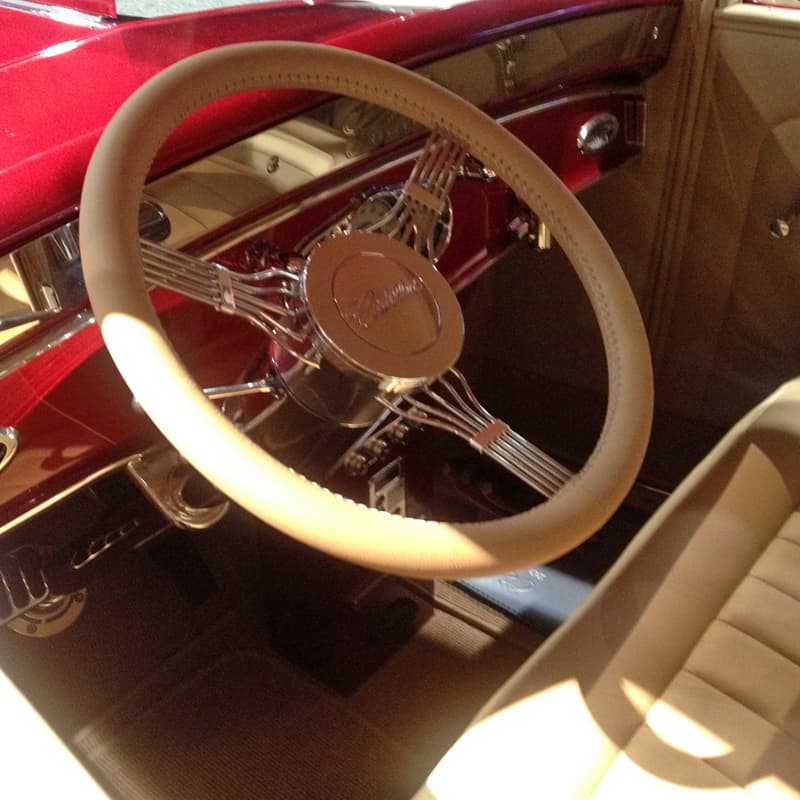 Ruby from the inside.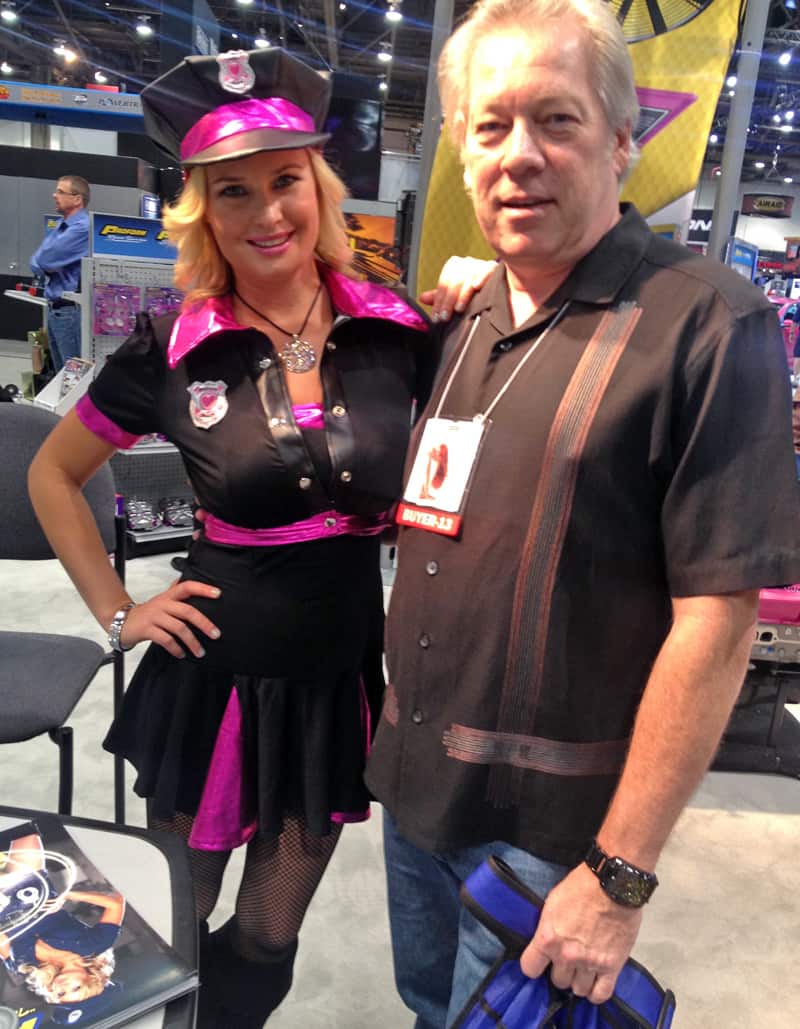 She has such a beautiful smile I couldn't resist stopping for a picture – thanks, Amber.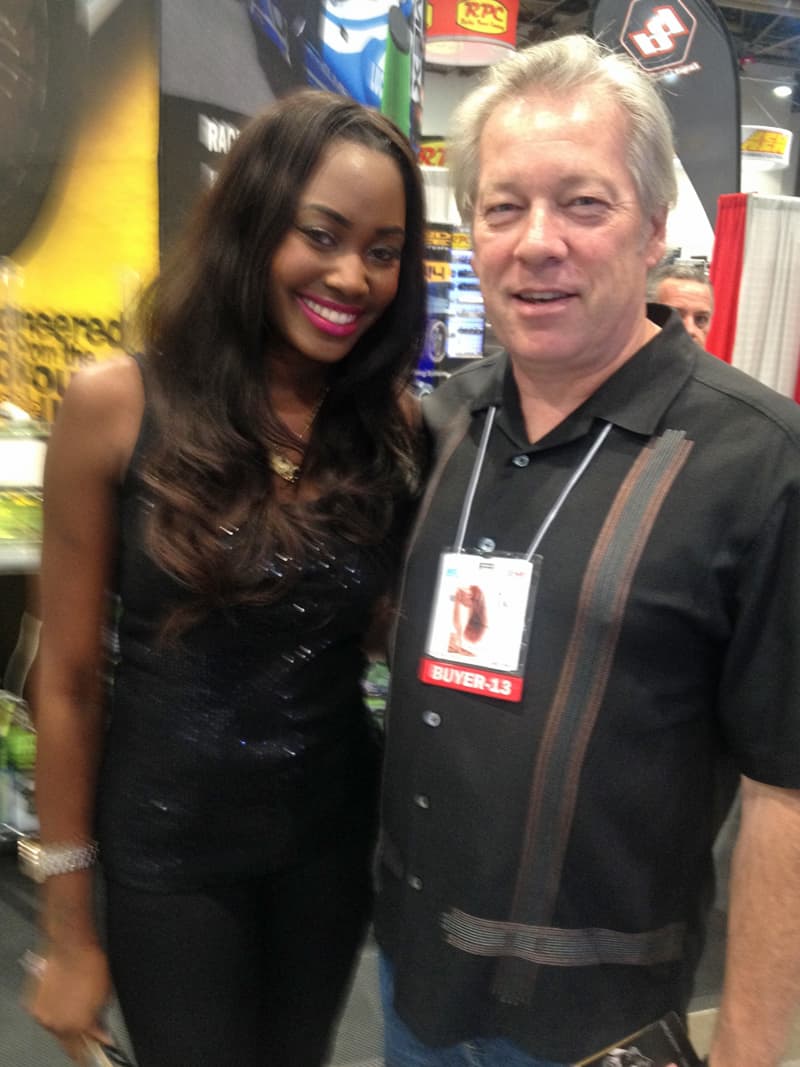 Another beautiful smile – the charming and stunning Dahliarose.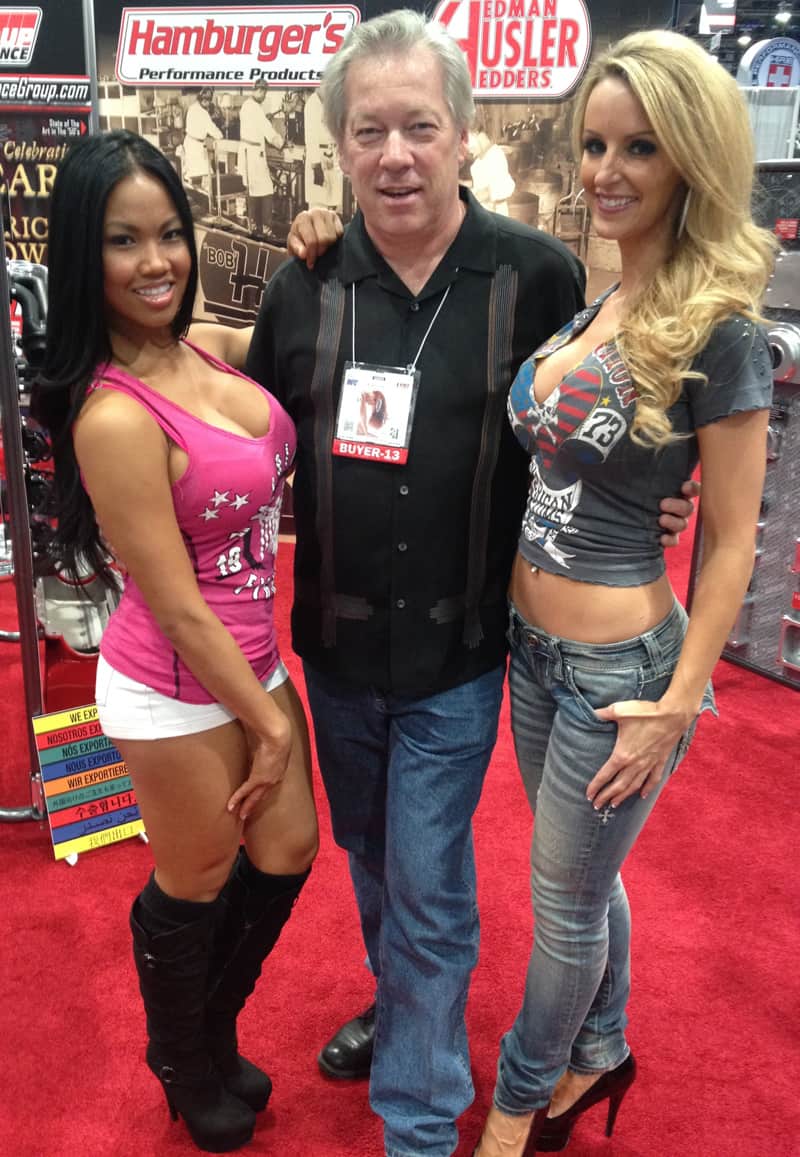 And my last shot of the day… Cheers to the beautiful ladies of SEMA.
• • • • •
Along with amazing cars and beautiful ladies, SEMA offers a lot of celebrity appearances – Check them out here > http://www.semashow.com/sites/default/files/pdfs/celebrities.pdf
• • • • •
The SEMA Show is the world's premier automotive specialty products trade event. It draws the industry's brightest minds and hottest products to one place, the Las Vegas Convention Center. In addition, the SEMA Show provides attendees with educational seminars, product demonstrations, special events, networking opportunities, and more.
SEMA Show 2012 drew more than 60,000 domestic and international buyers. The displays are segmented into 12 sections, and a New Products Showcase featured nearly 2,000 newly introduced parts, tools, and components.
SEMA 2013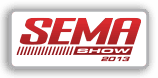 • • • • •
BARRETT-JACKSON 2013     |     FAST FORWARD     |     4th ANNUAL ITALIAN SPORTS CAR DAY