10/13/13 – This year's 4th Annual Italian Sports Car Day was a blast! Lamborghini, Ferrari, Maserati, and a collection of around 75 (+-) fantastic rides made for an impressive presentation. Pair that with great Italian food, and you've got an amazing day of relaxing and catching up with the Las Vegas exotic car crowd.
This gathering of beautiful exotics keeps getting better and better! This year, I counted around seventy-five cars, mostly stunning Italian sports cars, along with a few other amazing four-wheeled beauties adorning the Siena Italian Restaurant's parking lot, filling it to near capacity.
I have to confess as if you didn't already know, I'm a car guy. I have always enjoyed cars for their design and performance, and my appreciation for these beautiful beasts grows more over the years. I view them as a form of art and testimony to man's accomplishments in engineering and design. And while I appreciate a lot of different kinds of cars, I especially love exotic high-performance Italian supercars, with their lines inspired by beautiful women and their hearts driven by bulls and stallions of the past.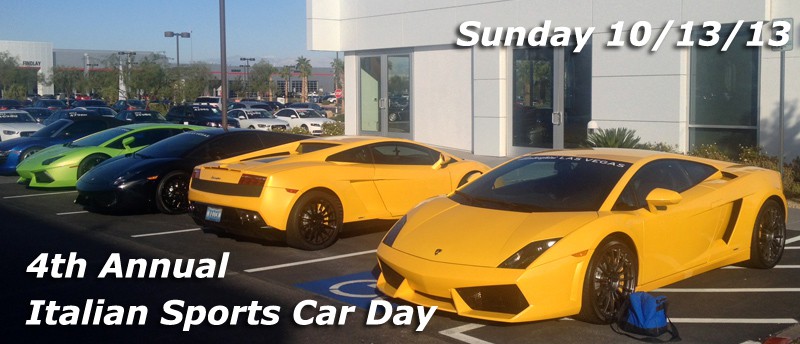 The day started early as I joined the crew at Lamborghini Las Vegas in preparation for driving these beasts across town for the day's event. Our line-up today… four Lambos: one Aventador, three Gallardo. My day's drive – the black Lamborghini Gallardo 550-2. Those and a few more bulls will make for a colorful collection.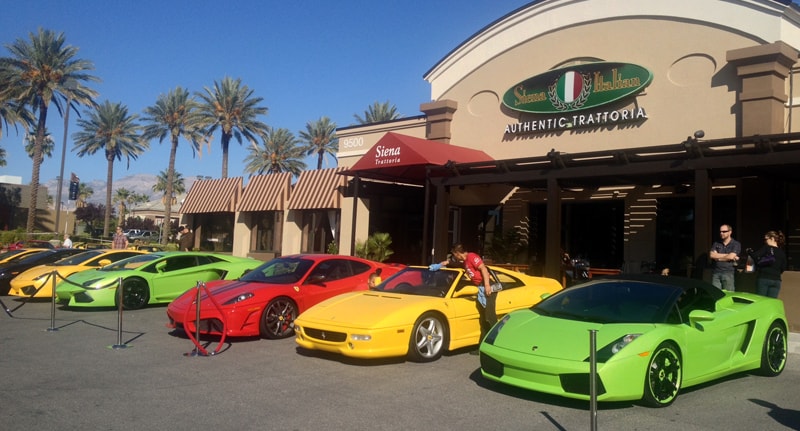 By 9:00 a.m. or so, we're all set up at Siena Italia with more cars rolling in. This day was more than just showcasing some of the city's most luxurious sports cars FREE of charge; but Siena Italian also invited the community to experience what the "NEW" Siena is all about. Their freshly remodeled restaurant revealed some great changes to their bar, lounge, and main dining room. And, as a way to give back, they donated a portion of the restaurant's proceeds from the day to THREE SQUARE Food Bank.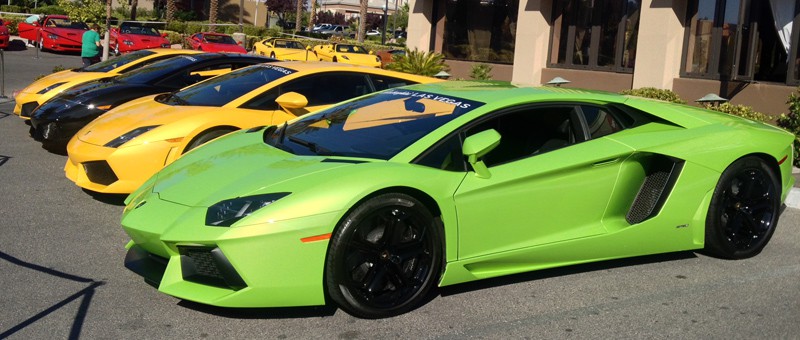 Good thing I brought sunglasses. These cars are stunning. Lamborghini colors like Verde Ithaca and Giallo Evros scream with excitement!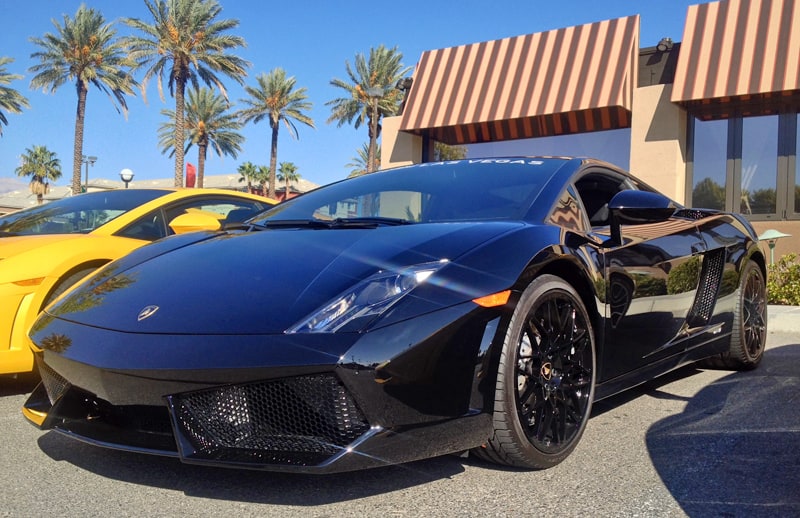 Named after a famous breed of fighting bull, the V-10 Gallardo in black is more my style – old school bold in new school design.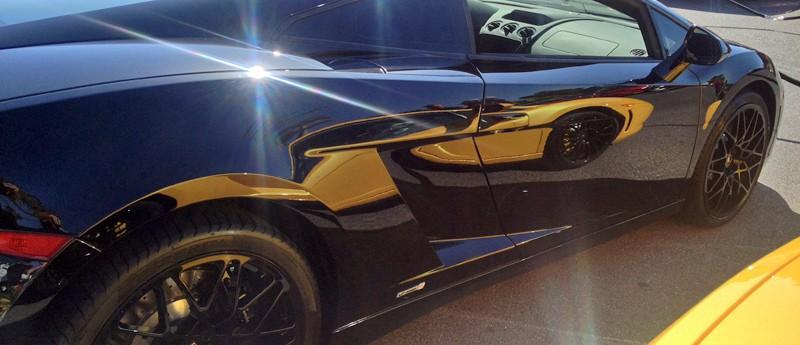 A view from the other side… reflecting on beauty.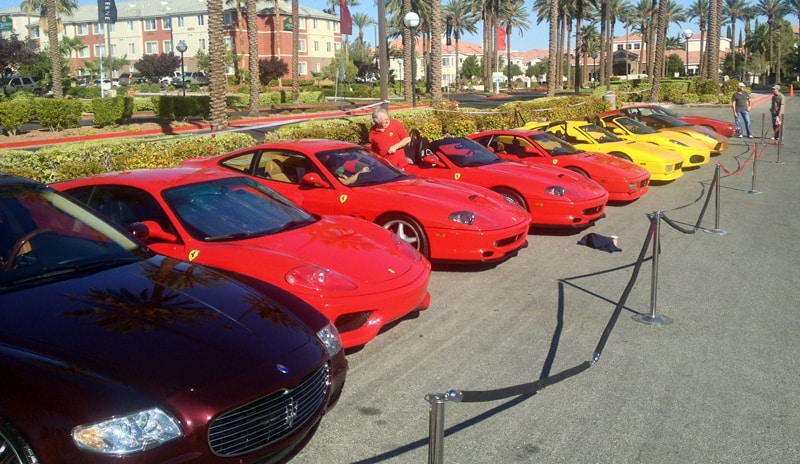 Positioned straight across from the Lambos was a fantastic selection of Ferrari exotics. It's still early, so this lot fills up fast.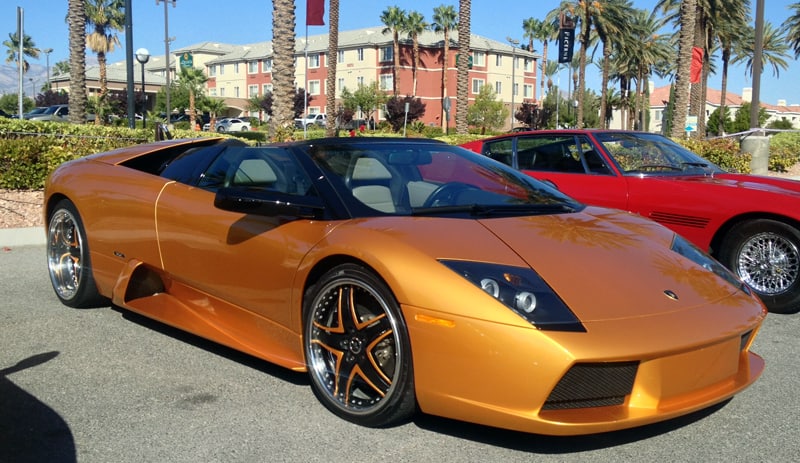 This tricked Lamborghini Murcielago is a beautiful example of luxury, beauty, and style.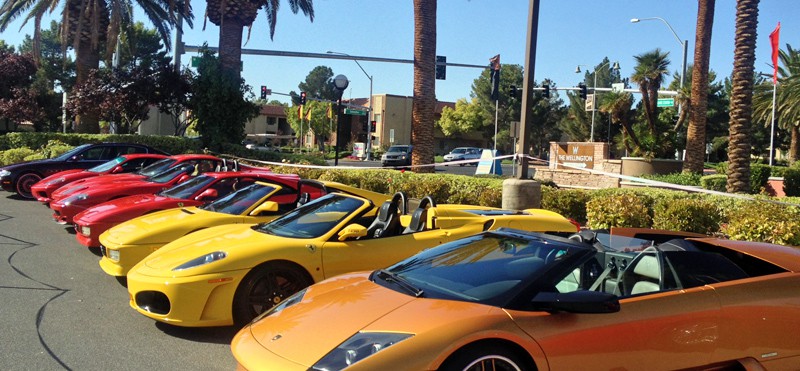 Beside her was a selection of Ferrari in yellow and red.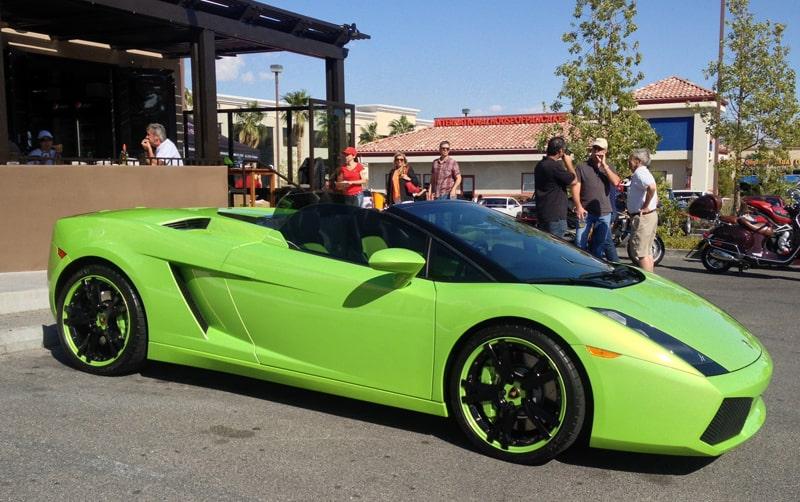 Buckle up and grab your sunglasses. This screamin' green Lamborghini Gallardo rocks!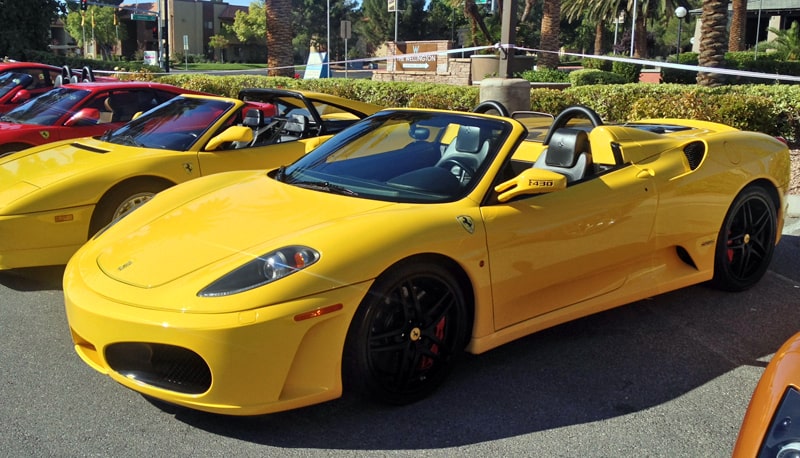 I like the Ferrari F-430 Scuderia in yellow.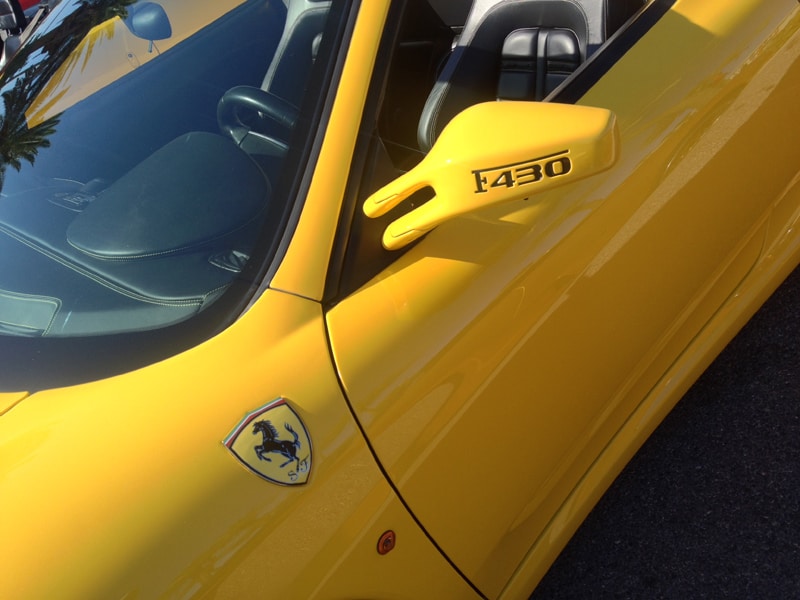 As in previous years, there were more Ferrari sports cars than anything else. Old, new, custom, and cool – the selection was impressive.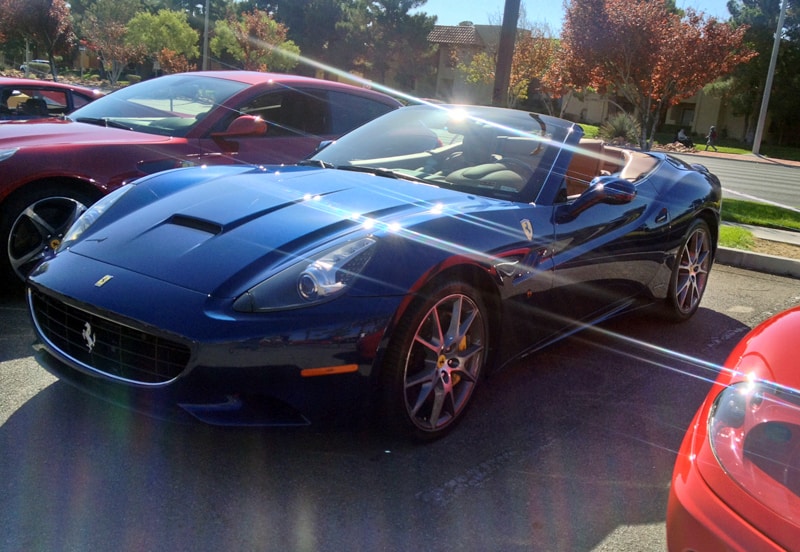 This topless Ferrari in blue is beautiful.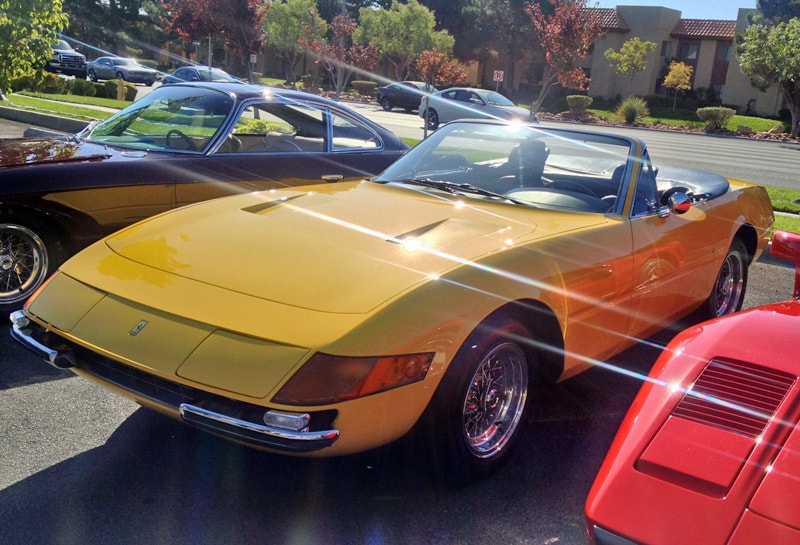 The yellow Ferrari Daytona has long been one of my favorites.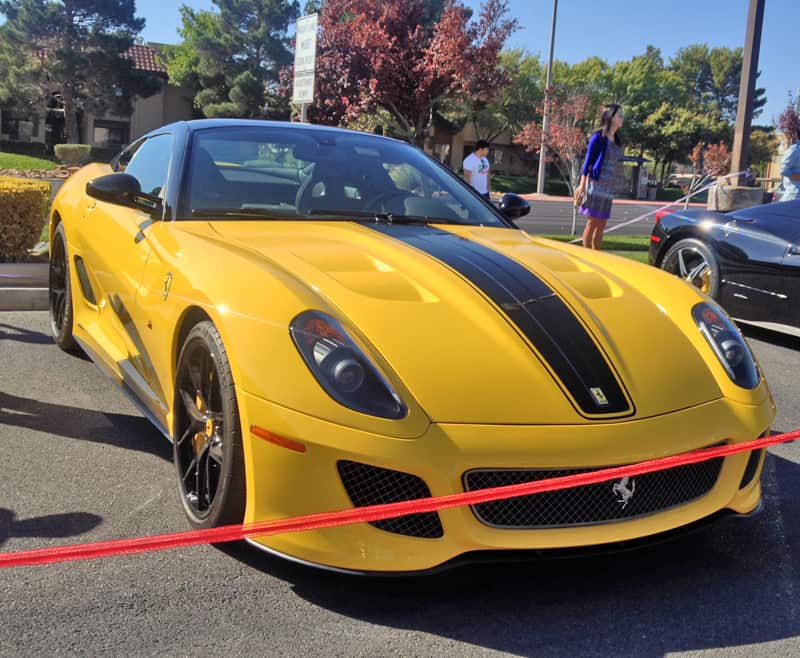 …and of course, this yellow 599 is an amazing car.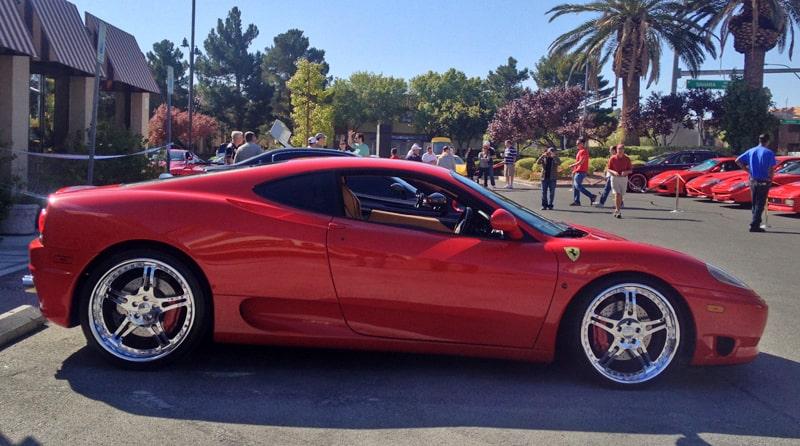 Yeah, I like this red Ferrara with chrome wheels. Bling. Bling. Gone.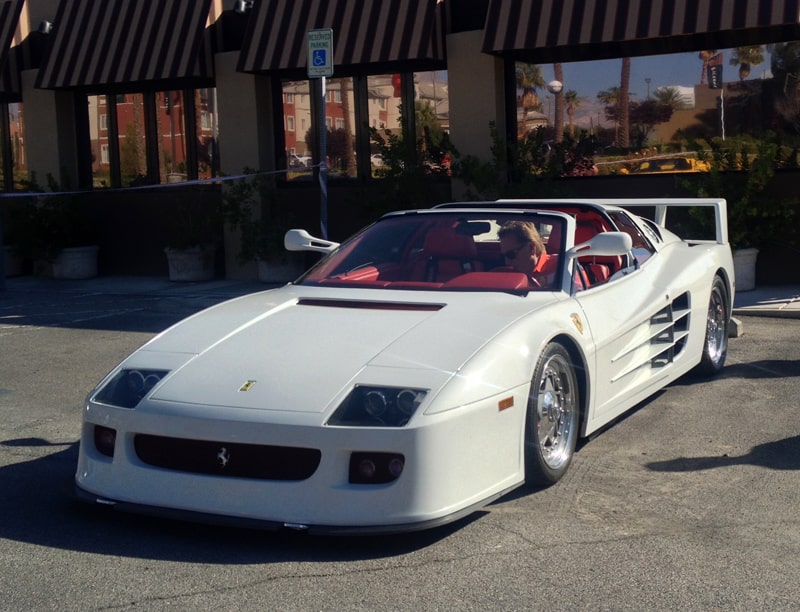 This hugely modified white Ferrari Testarossa was a big hit…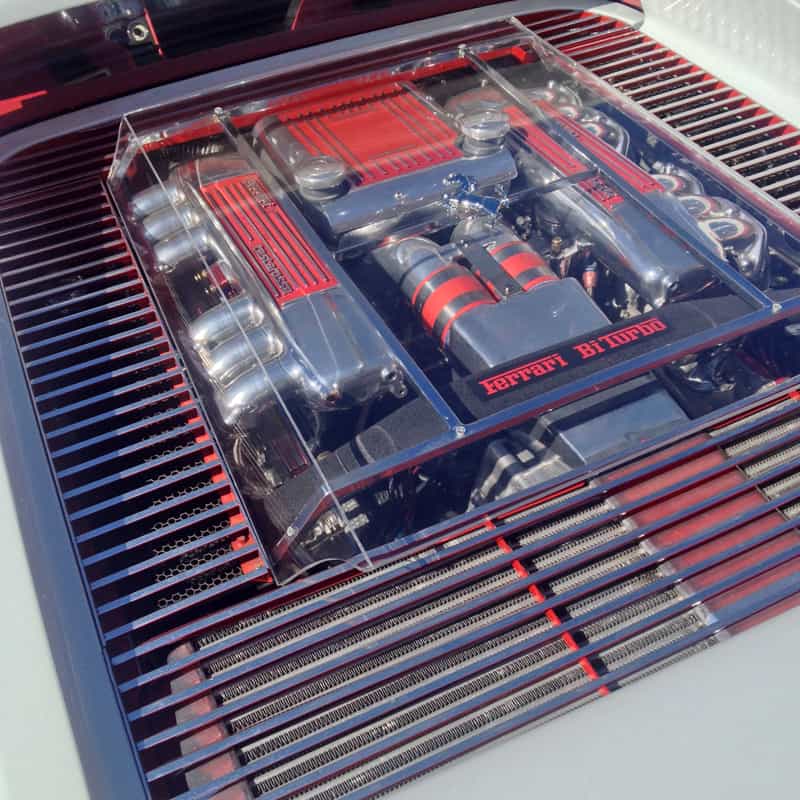 And under the hood of that white horse lies a Ferrari Bi-Turbo with 1,000+ horsepower. She sounds sweet, too.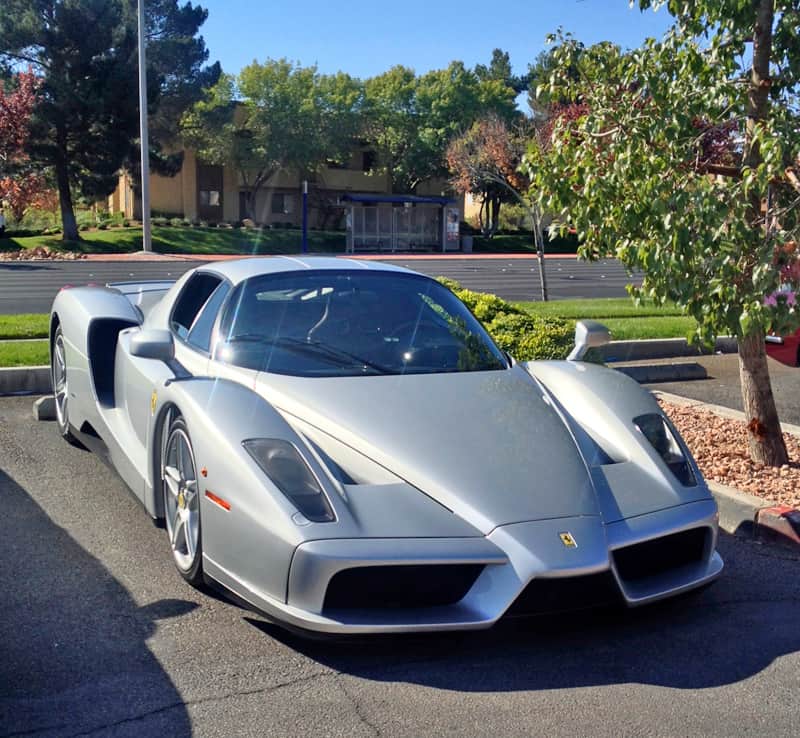 Any time you bring a Ferrari Enzo to the party, it's gonna be a hit! Sexy in any color – I really like it silver.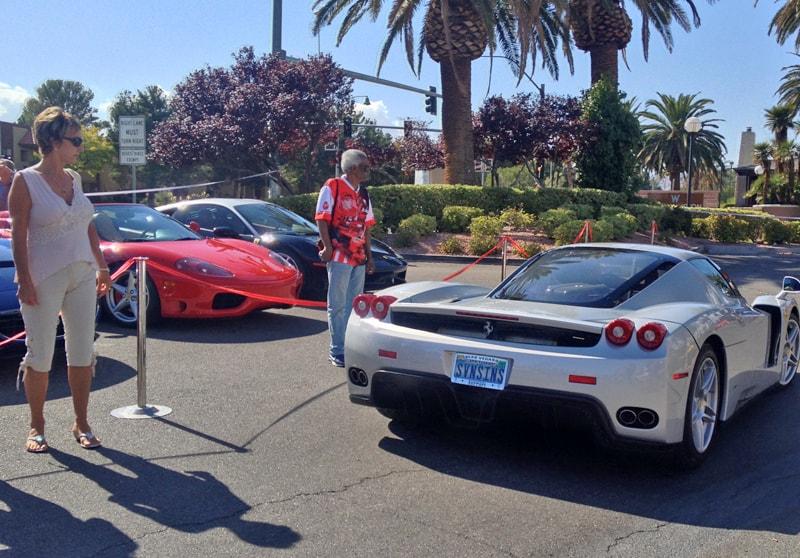 Gone. Gone. Gone. In true Vegas style, the "SVNSINS" Ferrari Enzo heads out for the day.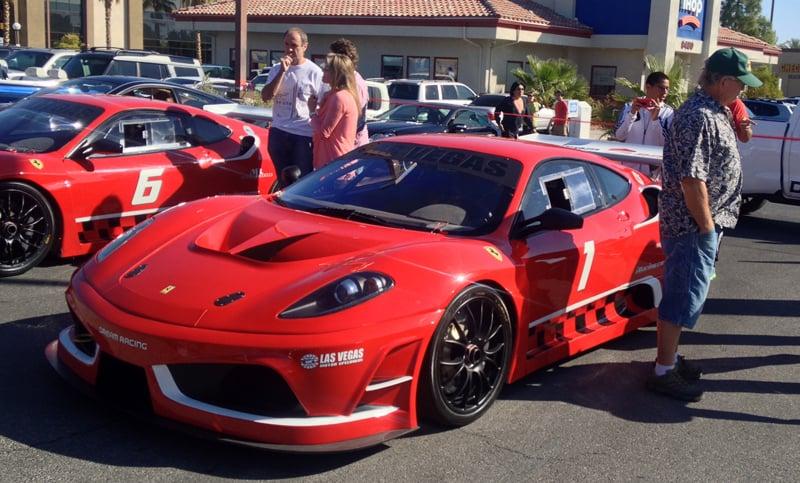 Dream Racing brought out a couple of race-ready Ferrari beasts in red.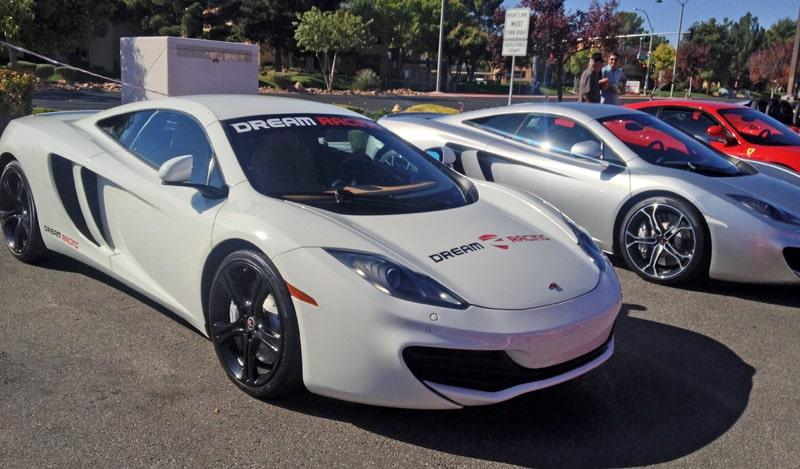 This beautiful McLaren was designed using Formula 1 technology and beautiful design lines.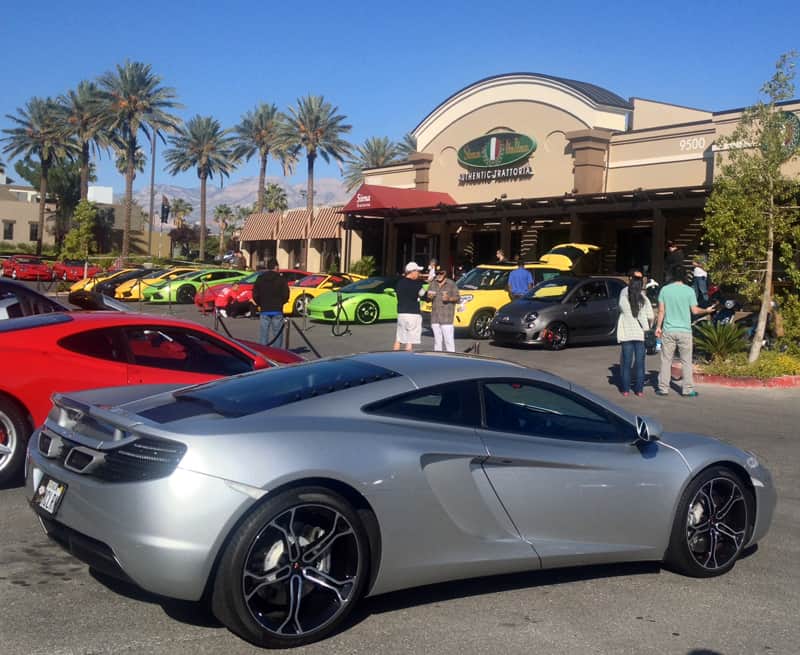 This McLaren in silver/gray is stunning.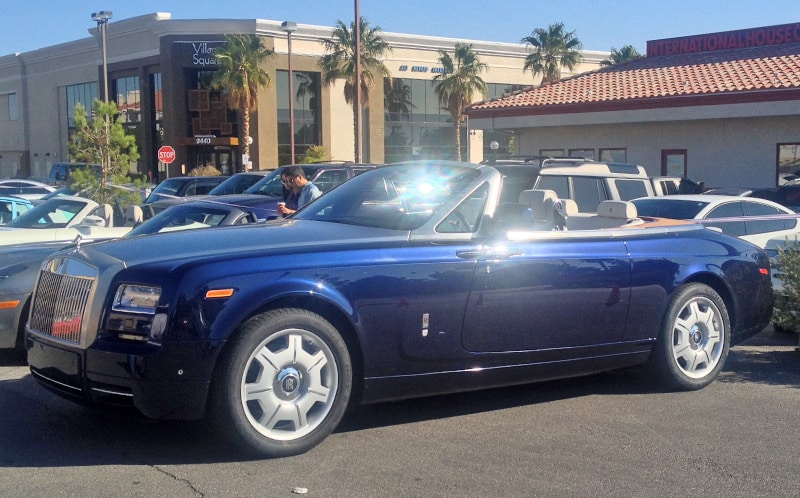 A true gentleman's car, this Rolls-Royce Phantom Drophead Coupé is amazing.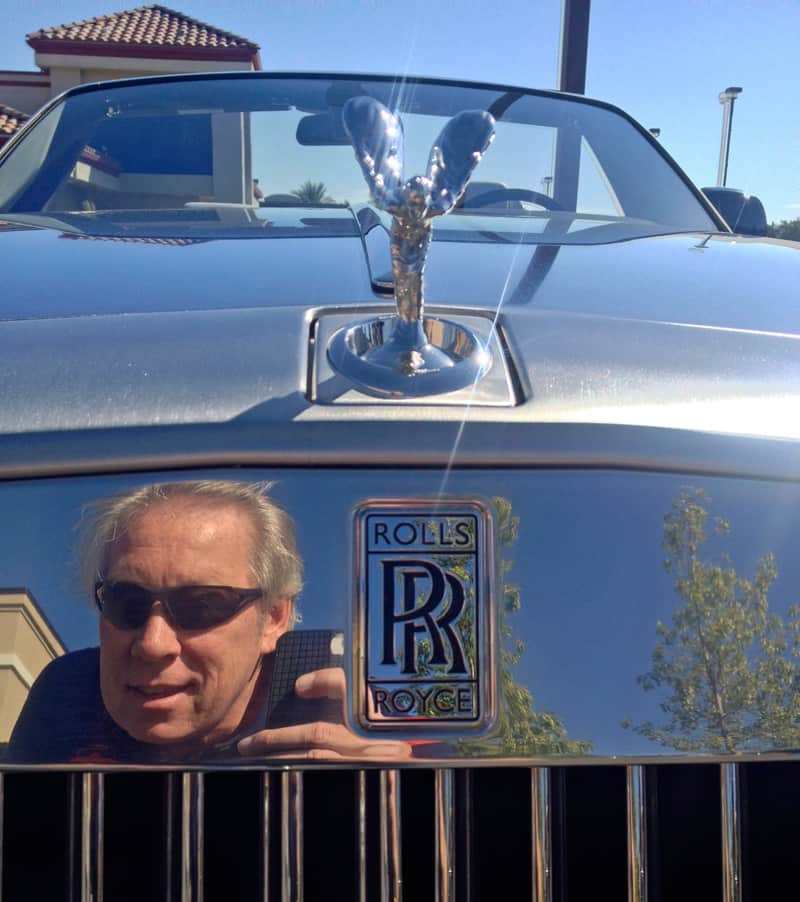 Yeah, it's me, alright.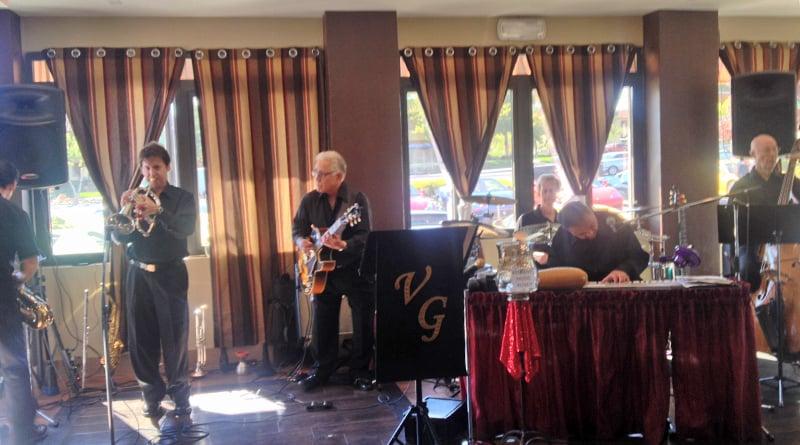 Inside, The Vegas Good Fellas performed their great nostalgic jazz, swing, pop, and danceable music.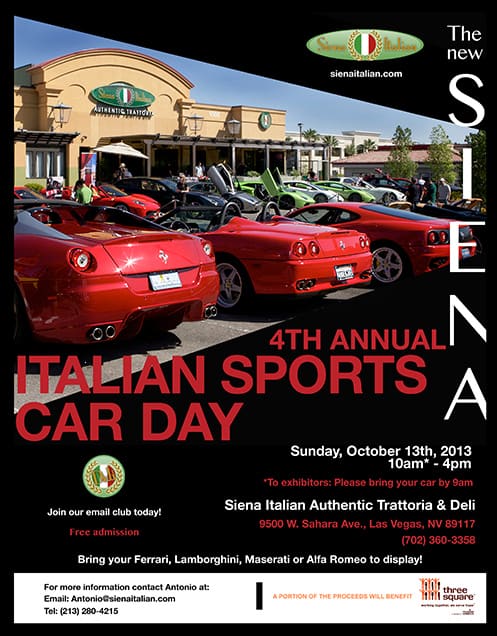 Always a great time. I'm already looking forward to next year's Fifth Annual Italian Sports Car Day. Until then… Cheers!

Thanks to our host, Antonio, at Siena Italian Authentic Trattoria.
• • • • •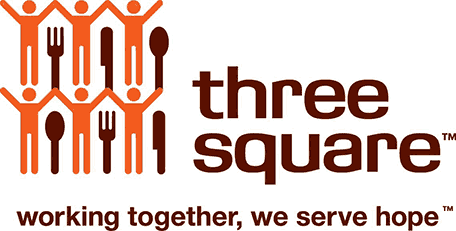 In support of Three Square Food Bank – http://www.threesquare.org
Your food, funds, and time contributions directly support the many hunger relief programs offered by Three Square Food Bank. These programs benefit over 600 Program Partners in Southern Nevada, including food pantries, soup kitchens, shelters, after-school programs, senior citizens, and more. Our Program Partners receive food from Three Square and distribute it to Southern Nevadans in need through their pantry and on-site meal programs.
• • • • •
Special thanks to Tom Brazill at Lamborghini Las Vegas — Follow Tom at Twitter|SinCityLambo

• • • • •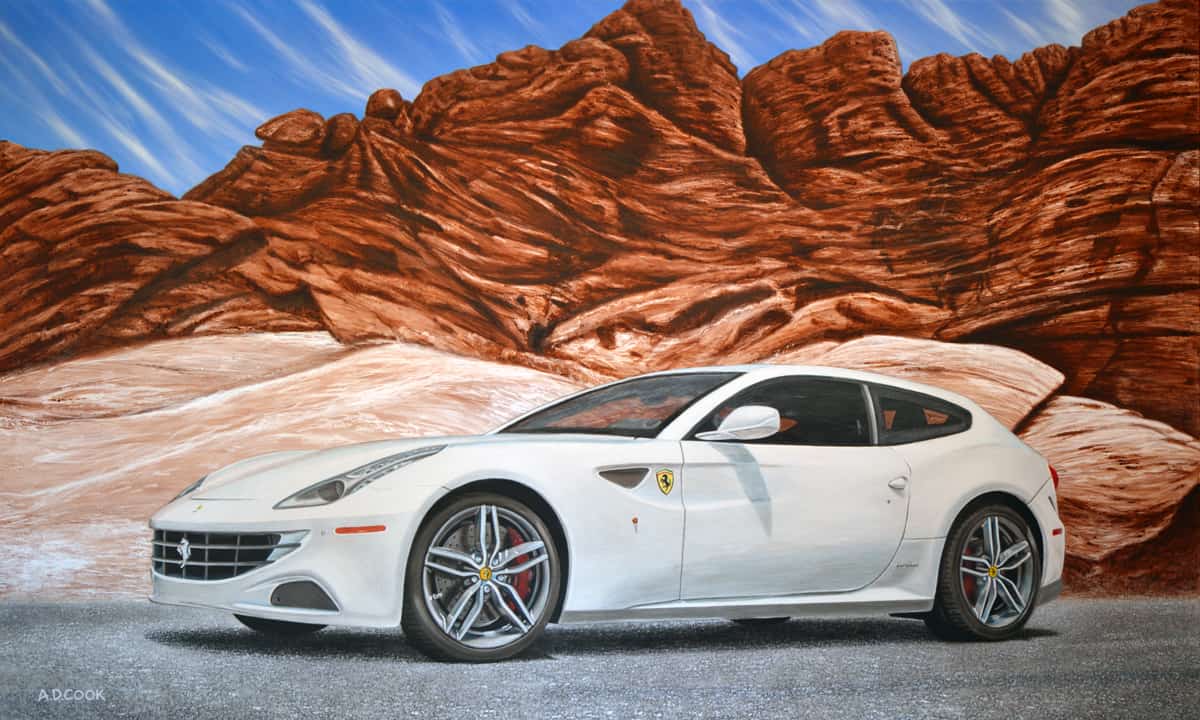 Check out my latest painting, FAST FORWARD, featuring the Ferrari FF with the Red Rock mountains.
• • • • •
2nd ANNUAL ITALIAN CAR DAY     |     3rd ANNUAL ITALIAN CAR DAY     |     FAST FORWARD – START TO FINISH