Sinatra's 100th Celebrated by Vegas News Bureau.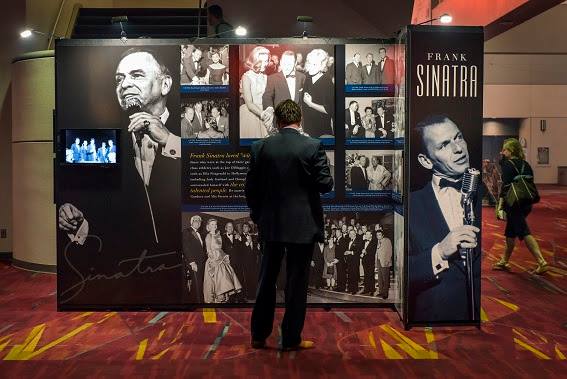 CELEBRATE SINATRA'S 100th with LV NEWS BUREAU
LAS VEGAS – In recognition of what would have been Frank Sinatra's 100th birthday on December 12, 2015, the Las Vegas News Bureau is celebrating his legendary career in Las Vegas through exhibitions featuring iconic and rarely seen images from its archives.
"The Sinatra's Centennial" exhibit highlights Sinatra's impact on Southern Nevada – from his generosity in the community to his undeniable imprint on the Las Vegas entertainment scene. A narrative, written by Deirdre Clemente, associate director of public history at The University of Nevada, Las Vegas, chronicles his contributions.
The exhibition is located at three sites in the Las Vegas Valley, the Las Vegas Convention Center exhibit also features newly discovered performance video, an exclusive interview with Frank Sinatra Jr., as well as artifacts on loan from The Nevada State Museum, Las Vegas.
"The News Bureau is pleased to collaborate with Deirdre Clemente with UNLV and Tom Dyer with The Nevada State Museum, Las Vegas to create a unique exhibition to share with the community," said Lisa Jacob, director of the Las Vegas News Bureau, which is operated by the Las Vegas Convention and Visitors Authority.
Sinatra played in Las Vegas for 43 years, with his first performance in September 1951 at the Desert Inn, and his last performance at the MGM Grand in May 1994. He often shared the stage with his Rat Pack cohorts, including Dean Martin, Sammy Davis Jr., Joey Bishop and Peter Lawford.
The exhibits are free to the public and can be seen at the following locations:
Las Vegas Convention Center
Grand Lobby, Central Hall Corridor / Visitor Information Center
3150 Paradise Rd., Las Vegas, NV 89109
Through May 31, 2016
Also in collaboration with:
Clark County Library Gallery
1401 E. Flamingo Rd., Las Vegas, NV 89119
Through January 5, 2016
Lloyd George Courthouse
333 S. Las Vegas Blvd., Las Vegas, NV 89101
Through December 14, 2015
The primary function of the Las Vegas News Bureau, operated by the Las Vegas Convention and Visitors Authority, is to work with the news media; its vast collection of archival images is shared with the public through community exhibitions.
For more information about the Las Vegas News Bureau, its mission, and exhibits, please visit http://www.lvcva.com/what-we-do/news-bureau/.
• • • • •