To say the Sturgis Motorcycle Rally 2016 is a blast would be a vast understatement.
I wasn't planning on going to Sturgis this year. I've been to the Sturgis Motorcycle Rally several times, and it's always fun. Each experience is different.
A few weeks ago, I chatted with renowned photographer Michael Lichter about this year's Art of the Motorcycle Show at the Buffalo Chip. He offered to share one of my motorcycle paintings if I had something tattoo-inspired to show. I didn't.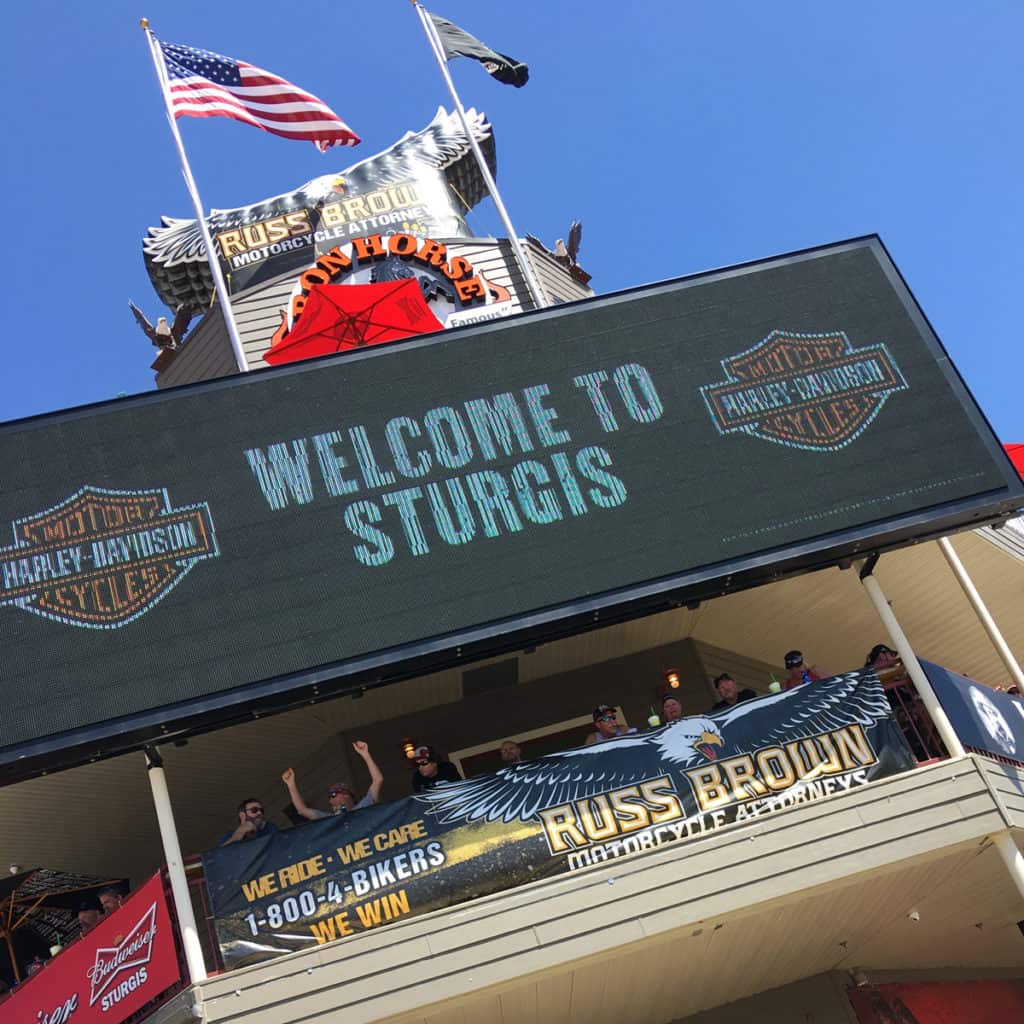 That essentially sets everything in motion. I greatly respect Michael's photography and his legendary art shows celebrating motorcycles and the biker lifestyle, so I wanted to be part of this year's show. That's how my newest painting, DREAM 103, came to be and became part of the SKIN AND BONES Tattoo-inspired Motorcycle and Art Show. So, I created DREAM 103 for Michael's show. The whole story is on my site at adcfa.com/dream-103.
This world is but a canvas to our imagination.
— Henry David Thoreau

It was really in the course of creating my newest motorcycle artwork that I decided to make the trip. And I'm glad I did. Like I said earlier, it was a blast!
Motorcycle Artists A.D. Cook and Beti Kristof at the Sturgis Motorcycle Rally 2016.
Special thanks to Charlie Brechtel for the Horses of Iron and Steel tune.
It would have been a beautiful ride on a bike, but I had a few artworks with me, so I road-tripped it in the truck. Still, it was a fantastic drive. I loaded up my phone with all my favorite southern rock and biker tunes – all the classics: Neil Young, Lynyrd Skynyrd, Eagles, Beatles, Kid Rock, The Fryed Brother Band, and, naturally, The Charlie Brechtel Band. I say naturally because I've known Charlie for a few years, and I am a massive fan of his raspy southern bluesy tunes and stories of the biker lifestyle. He has been a regular venue of the Buffalo Chip for years. Check out the video above to hear his music, "Horses of Iron and Steel."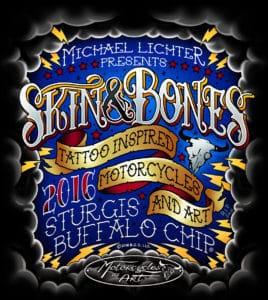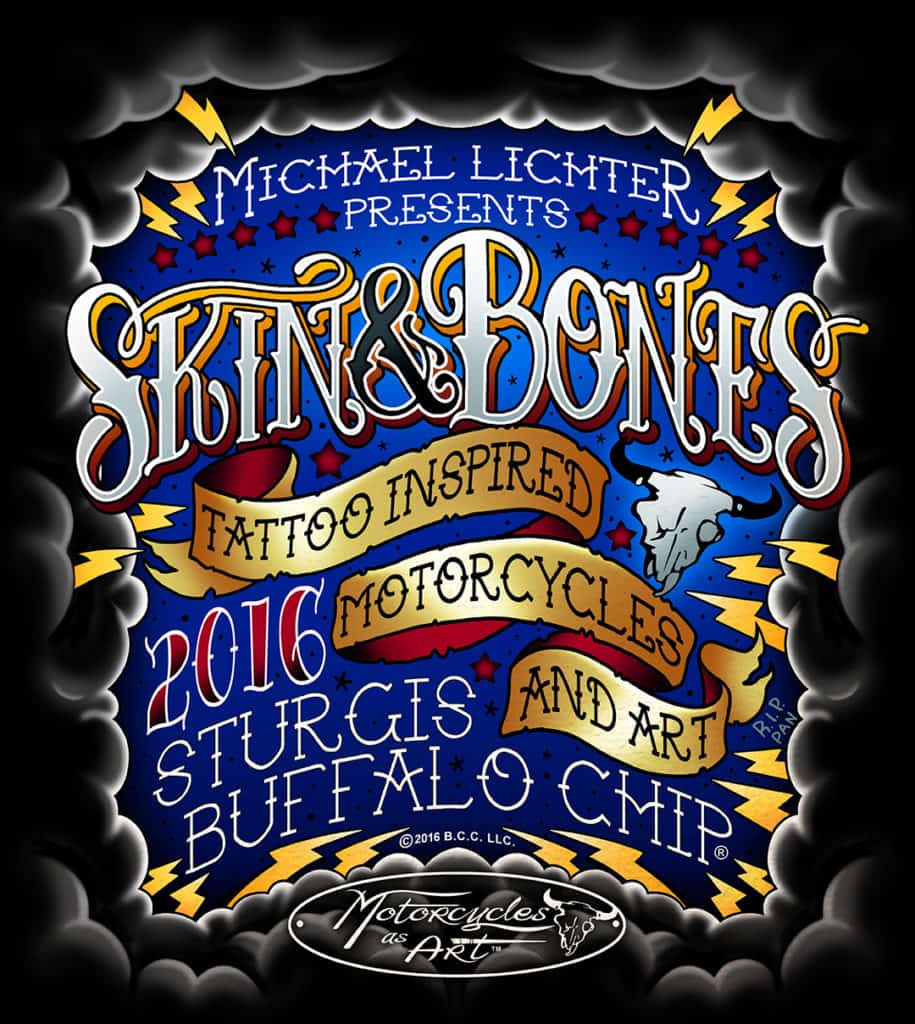 Mostly, I was there for the art. Two of my artworks, LOTUS and DREAM 103, were part of the SKIN & BONES Tattoo Inspired Motorcycles and Art Show at Sturgis Buffalo Chip's Russ Brown Events Center, which ran daily Sunday, Aug. 7 through Friday, Aug. 12, from 2 p.m. – 10 p.m.

SKIN & BONES ~ Opening Night Reception, Russ Brown Events Center.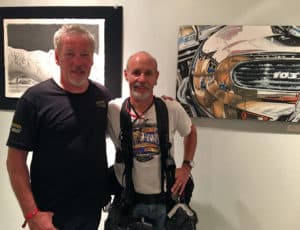 Renowned photographer Michael Lichter organizes and hosts his "Motorcycles as Art" show and industry party every year, where custom motorcycle builders and artists prove beauty isn't just skin deep. Michael does a fantastic job of curating these fabulous shows, all while keeping busy photographing the world's most beautiful motorcycles and capturing the biker lifestyle for magazines, builders, and exhibits.
"Creating a custom motorcycle masterpiece worthy of being chosen for this exhibit requires a deep understanding of mechanical engineering and aerodynamics, as well as an innate appreciation for style and design. The "skin" of each bike in this exhibit must work flawlessly with its inner "bones." To that end, builders will expose their personalities to you by lending an added layer of tattoo design to the outside of what already were remarkable machines."
— Michael Lichter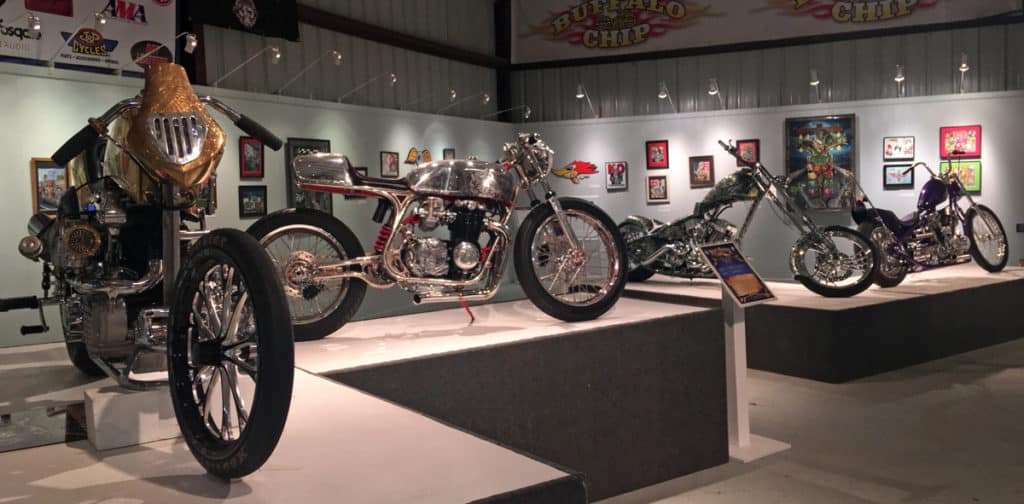 Skin & Bones featured 30 custom motorcycles and 100 artworks.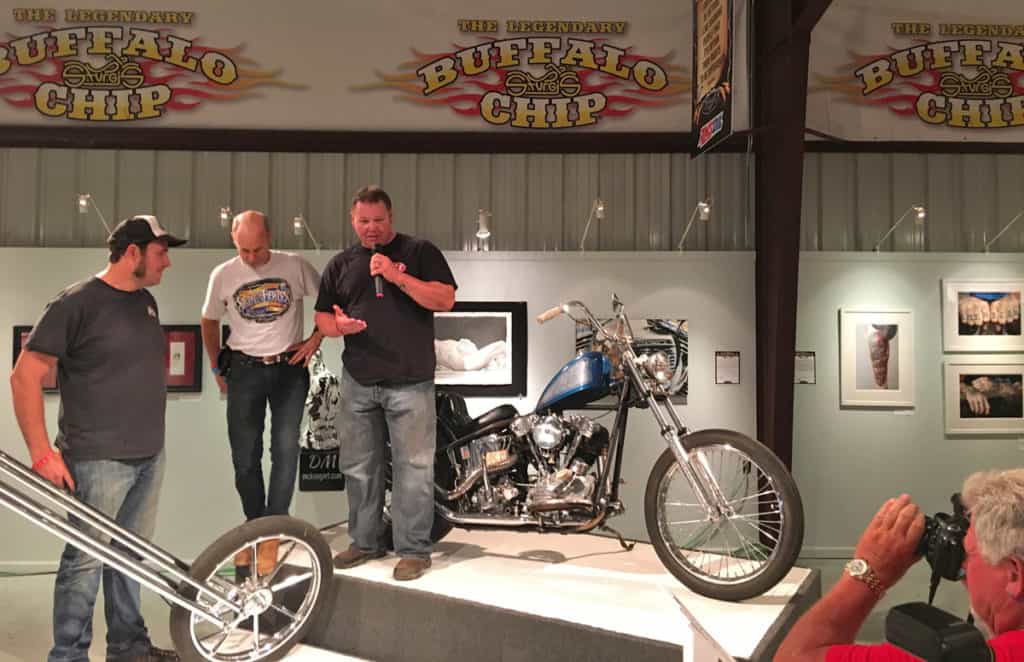 Over 30 masters of the trade earned the invitation to display one of their custom motorcycles in the 2016 Skin and Bones exhibit. This show allows viewers to examine their works as they sit atop elevated pedestals that offer an unencumbered view from every angle. As a result, everyone gets to experience the creativity, spirit, and personal expression of motorcycle history and culture up close and personal.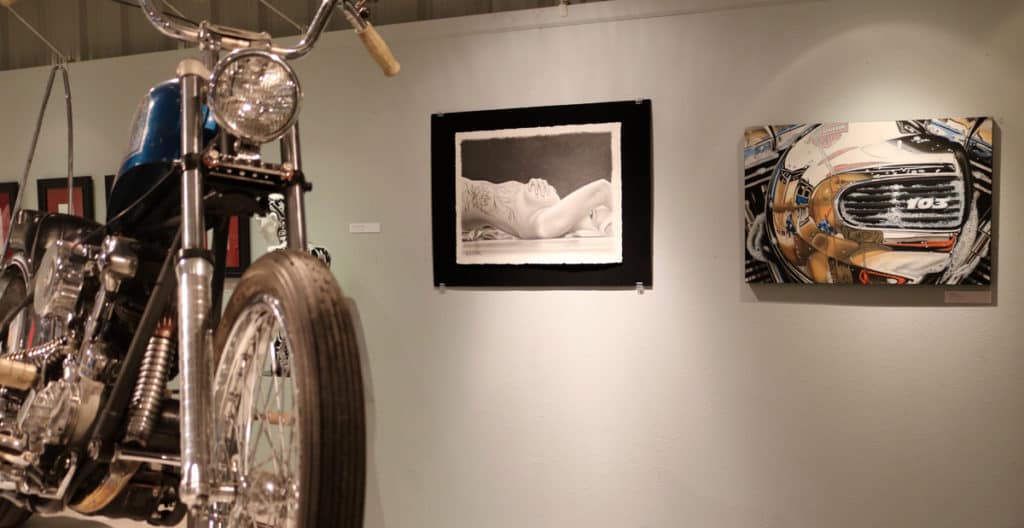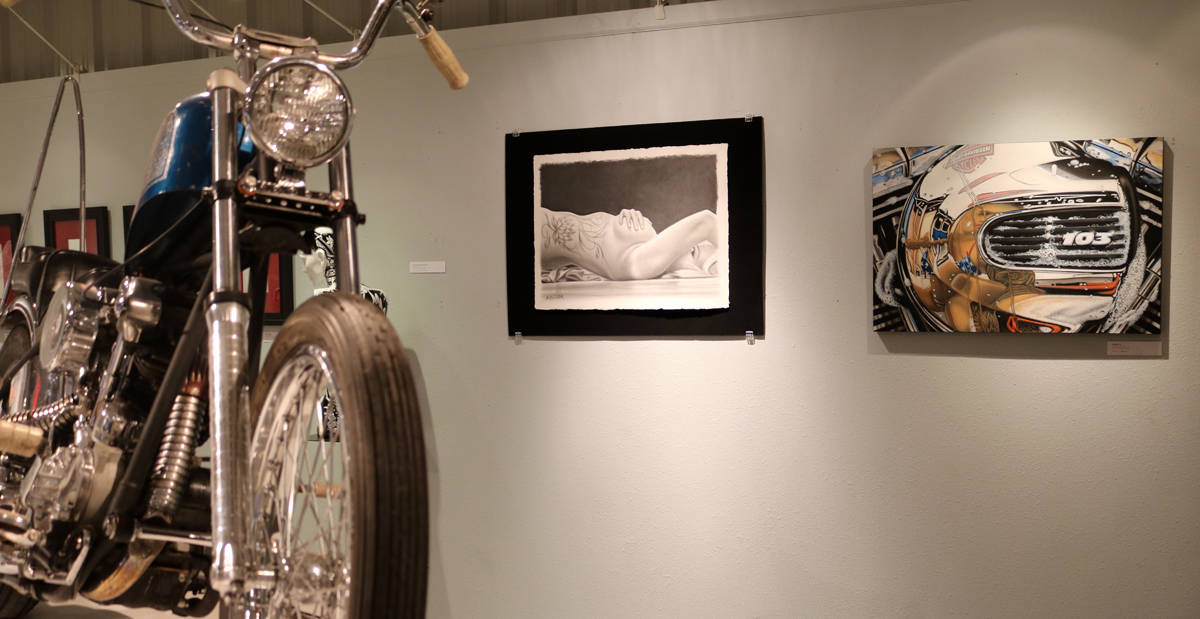 A.D. Cook art at SKIN & BONE Art of the Motorcycle Show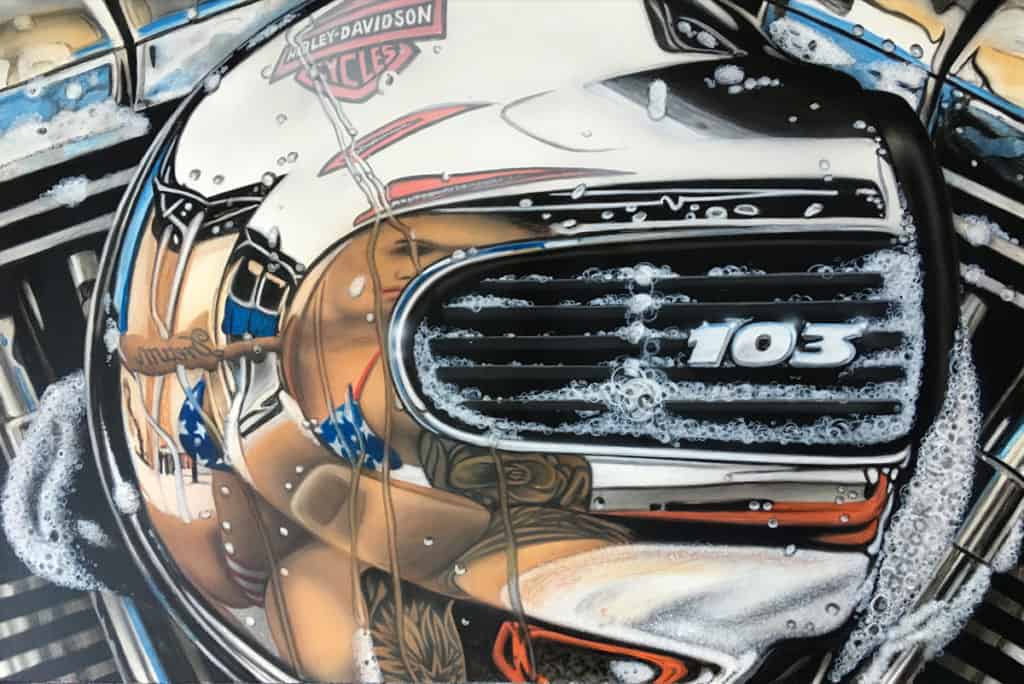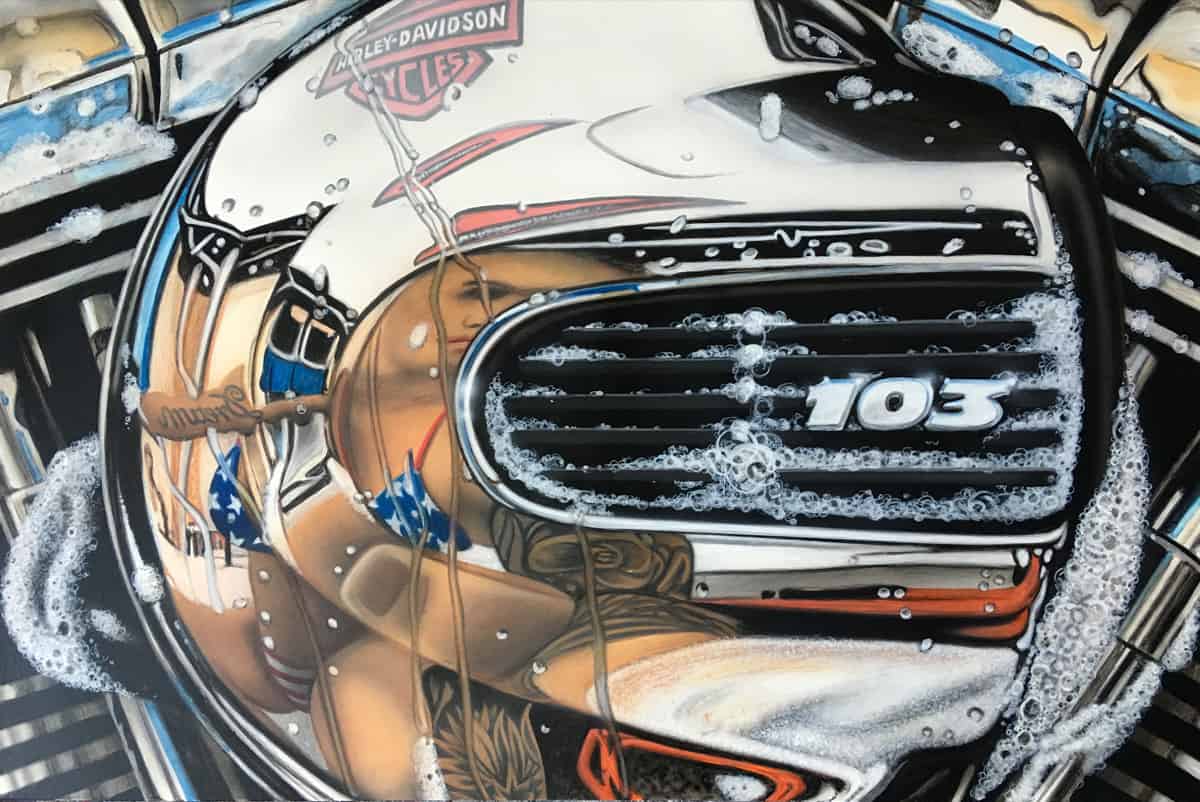 DREAM 103 by A.D. Cook, 2016, acrylic on canvas, 24″ x 36″

Motorcycles As Art curator, Michael Lichter strives to include new talent and builders in the annual exhibition to keep the show relevant. In 2016, more than half of the builders exhibiting their work showed up for the first time. And while it was my first time showing at one of Micheal's shows, I'm already looking forward to my next motorcycle art show.
It ain't no sin, to take off your skin and dance around in your bones.
— Tom Waits
The Skin and Bones exhibit was a fantastic show of talent and craftsmanship. All the bikes on display were excellent, but some were just plain sick. The work that goes into these one-of-a-kind masterpieces is nothing short of phenomenal. I enjoyed getting close to seeing the engraving and scrollwork on some of these custom bikes and the one-off custom-made pieces. The details often get overlooked when a cycle sits at ground level or roped off are all right for viewing. So naturally, I took many pics – some for inspiration, some for the video, but mostly to share with you all.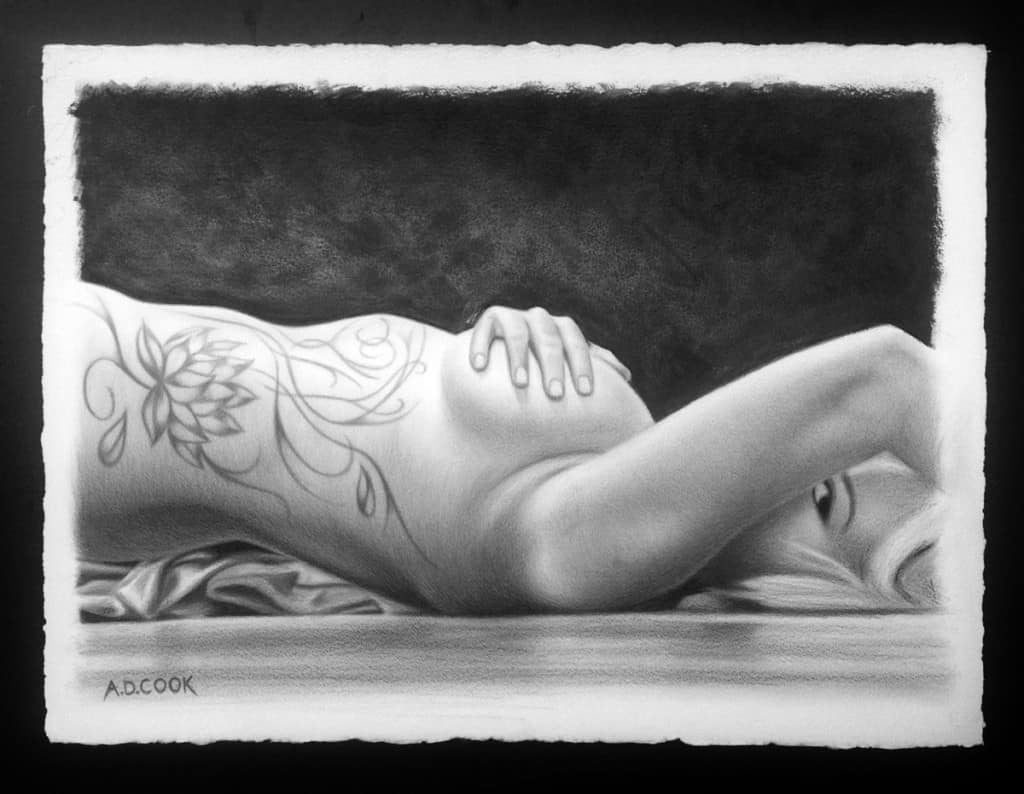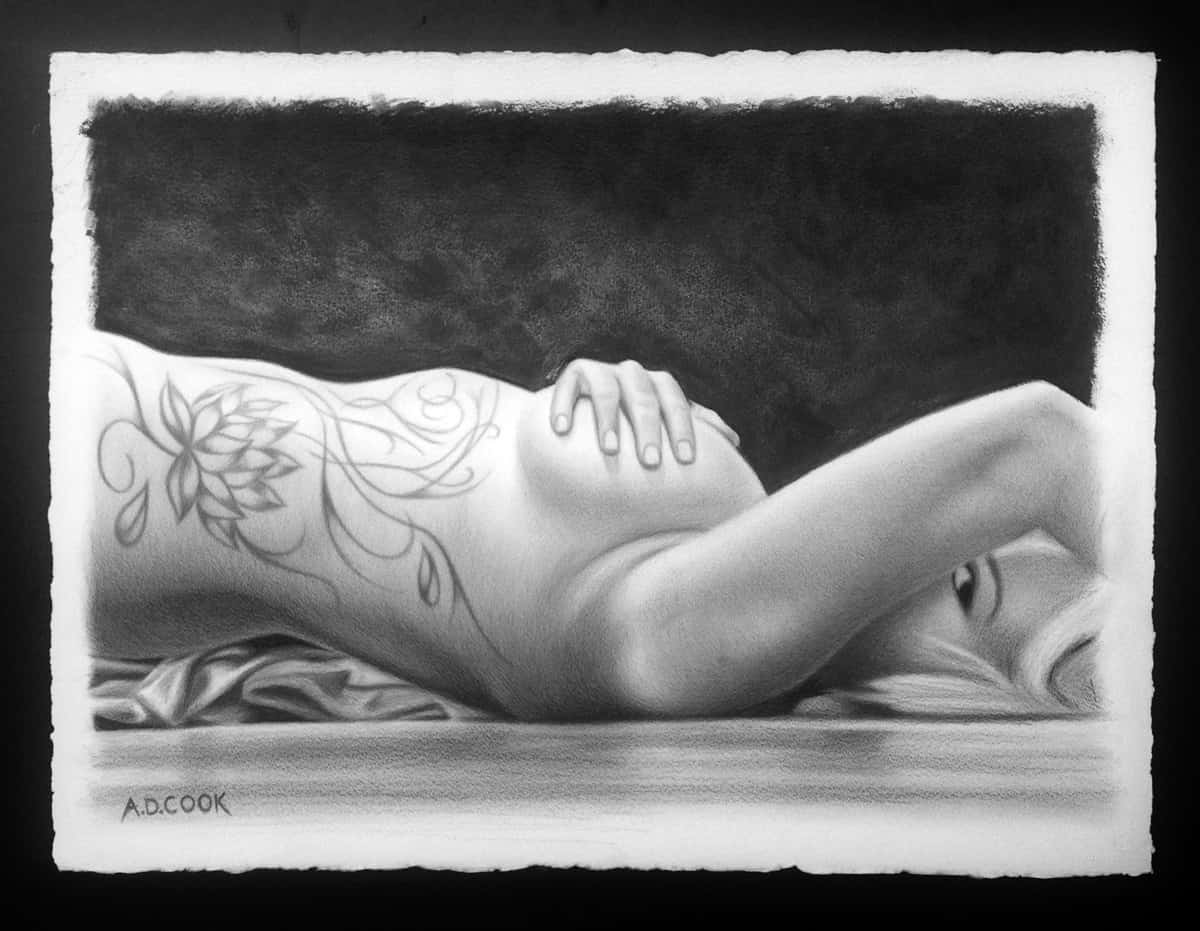 LOTUS by A.D. Cook, charcoal drawing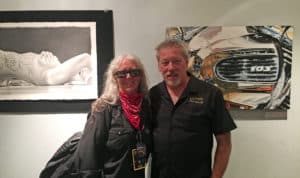 This one-time collection of tattoo-inspired motorcycles and art was an experience for the soul. For me, Skin & Bones was more than a motorcycle show, an art show, and a party. It's a gathering of like-minded people who love motorcycles for their beauty and what they represent. Real people. Real riders. And that's where the best stories come from. That's where art is borne.
Speaking of art and artists… Richie Pan was the featured artist. More than 50 pieces of his art were displayed in his memory. Richie was a creative soul who passed on in 2015.

The Art of the Motorcycle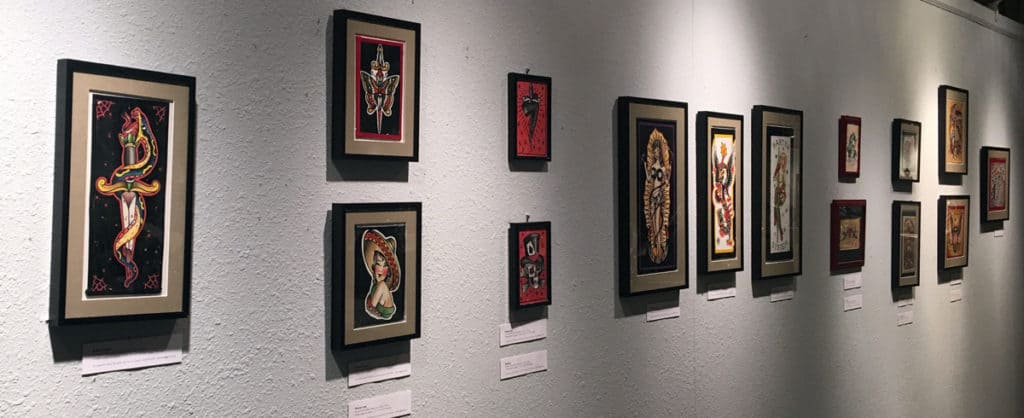 Richie Pan art at Skin & Bones
Along with myself, other artists included Darren McKeag, George the Painter, Latricia "Trish" Horstman, Mario Burkhardt, Michael Lichter, Nik Pew, Tay Herrera, and Timothy White. There was also a display of Biltwell "Gringo" helmets painted by tattoo artists around the country.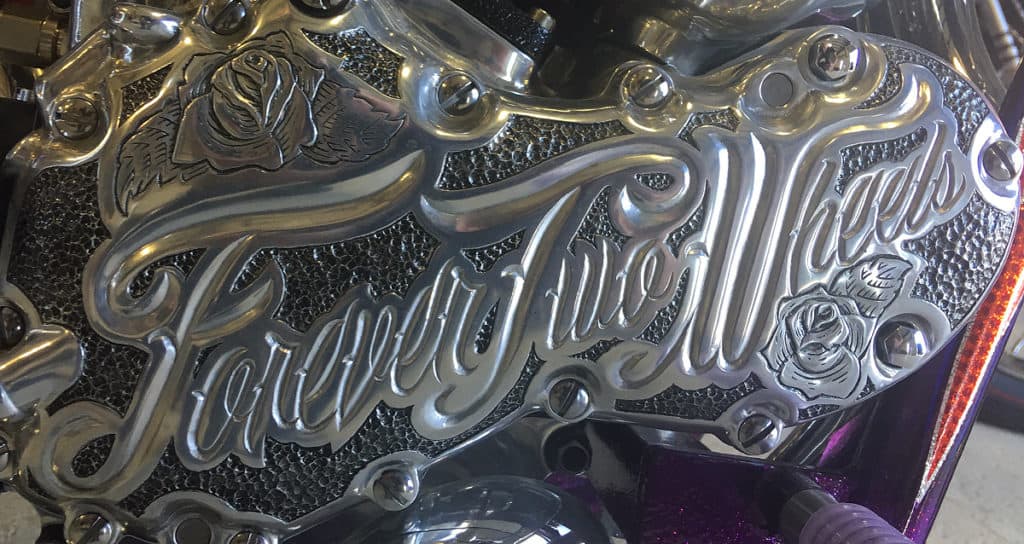 Everything has beauty, but not everyone sees it.
— Confucius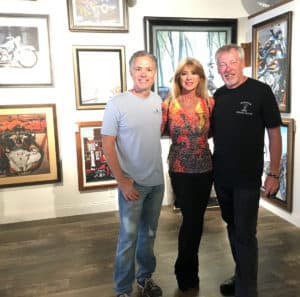 When I travel, I always try to consider art. I love strolling galleries and seeing art shows.
We stopped by to visit with artist Scott Jacobs and see his new art gallery in Deadwood. It's a beautiful drive from Sturgis to Deadwood, by the way. I'm sure it's even more impressive on a motorcycle. Anyway, Scott's gallery is stunning. He gave us a tour of his newly designed gallery, studio, and living spaces – some still in the finishing stages of construction. If upstairs is anything like downstairs, it will rock—best to your success, Scott.
It's always great running into Master Artisan Steve Soffa. I was with him two years ago when he was set up at One-Eyed Jack's and the Easyriders (now Iron Horse) location at Sturgis. This year, he was at those locations and set up at the Scott Jacobs Gallery with his beautiful jewelry and timepieces.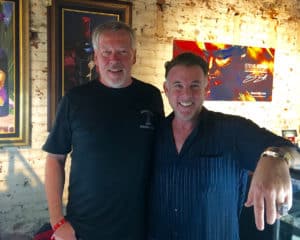 I love Deadwood. I loved this cool little town from the first time I saw it. It's legendary with all its iconic history. It's what Western movies are made of. If you were anybody back then, you either traveled through, ate, played poker, or died there – DEADWOOD.
The whole area is a great motorcycle country. I lived in Oregon for years, and the terrain was very similar. We used to say it rained a lot in Oregon, but I think it rains more in South Dakota. The weather changes fast here, and the rain comes in buckets. It can be beautiful and blue skies now and pouring rain with lightning bolts five minutes from now. It seems to change every ten minutes here. It's worth it, though. Like when I lived in Oregon, we rode regardless. Sometimes, being on a wet bike is better than sitting in front of a warm TV.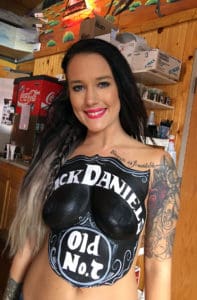 Even if it's wet outside, there's always something to do. Everyone gathers inside for beer, music, and fun if it's raining. The bars are more like mega-bars. Many are easily as big as the nightclubs of Las Vegas (but with better parking) and just as fun. Live bands play the stages everywhere. Legionary bands and local musicians play sets at every bar, indoors and out, big and small.
Our bodies were printed as blank pages to be filled with the ink of our hearts.
— Michael Biondi

I'm also a fan of body painting, and there is no shortage of fantastic body art – mainly in Sturgis and the Buffalo Chip. Some body art promotes brands, like Jack Daniels, and some are just colorful and fun. However, some of the best and most outrageous body paintings I've seen anywhere are at Sturgis. While I didn't shoot as much this year as in previous years, there was no shortage of beautiful bodies covered in pasties and paint. Anyway, as they say… "shudda, woulda, coulda." There is much to see: wild custom motorcycles, biker babes, tattoos, outrageous fashion statements, and fantastic art. That doesn't even consider the majestic mountains, powerful lightning storms, colorful sunsets, and painted skies. Sturgis is all eye candy for me.
Miles of motorcycles line the streets of Deadwood, SD.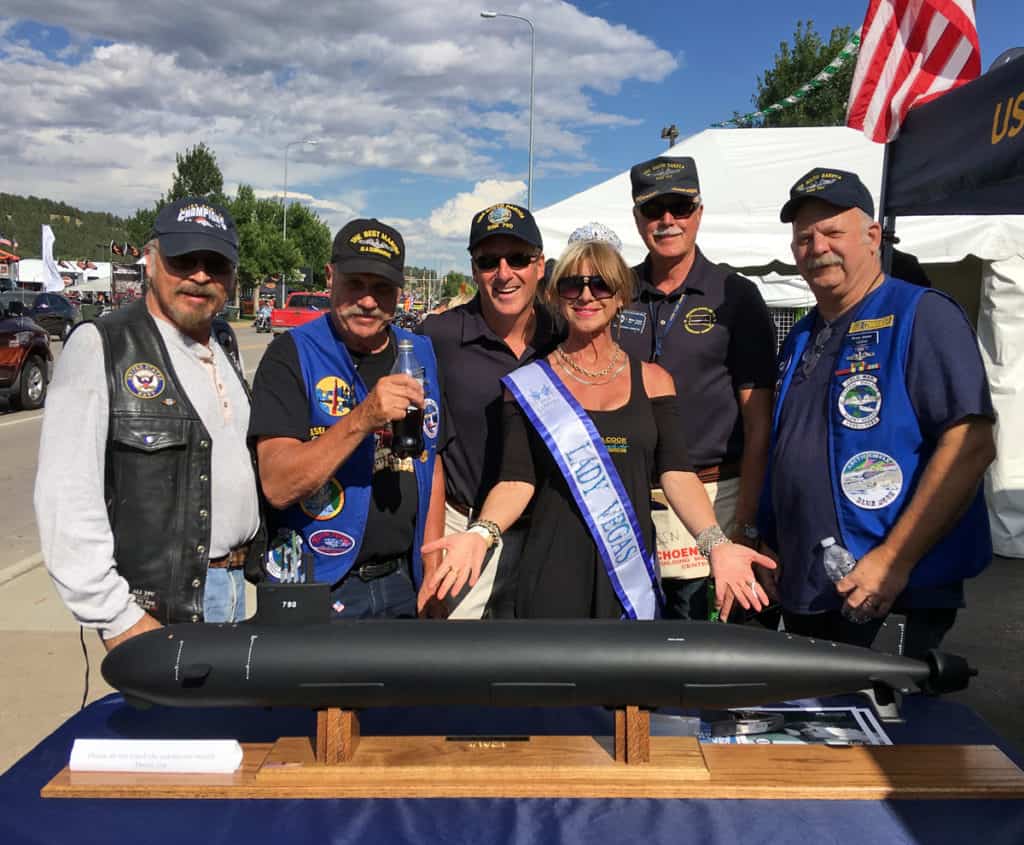 One of my favorite artists, Beti Kristof, joined me at the Sturgis Rally, where she shared Lady Vegas smiles with leather-clad bikers and Navy Veterans alike. We made a special stop to learn about the USS SOUTH DAKOTA (SSN 790). This Virginia Class submarine is equipped with the Navy's best and newest technology to serve and protect effectively. It is both longer and lighter than the previous Seawolf class of submarines.
I had the distinct pleasure of meeting former Senator Dave Zien. David represented Wisconsin's 23rd Senate district as a Republican member of the Wisconsin State Senate. He's well known in Wisconsin for driving through the state on a motorcycle with full-size American and Wisconsin flags. He was inducted into the Motorcycle Hall of Fame in 2000.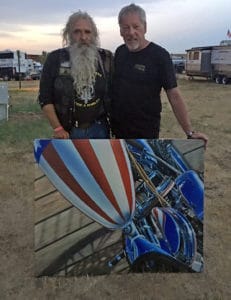 On March 13, 2011, Zien was seriously injured while traveling in Florida on his motorcycle after logging more than two million miles riding motorcycles before being critically injured in a violent highway crash in Florida. Even though the 61-year-old former state representative and senator lost part of his left leg – and almost his life – in the March crash, he has continued to ride, this time on a three-wheeled Harley-Davidson. (source: https://en.wikipedia.org/wiki/David_Zien)
Much of the Sturgis Rally experience is about supporting our veterans and soldiers, as it should be. None of our freedoms would even exist without them, so I want to share their story here with respect.
Indian Motorcycle is a proud founding sponsor of the Veterans Charity Ride to Sturgis. Hand-selected wounded and amputee veterans are chosen each year to experience the ride and heal with motorcycle therapy. Motorcycle therapy is getting the veterans outdoors, riding the open road with the wind in their faces, getting much-needed space that clears their heads, and talking about their experiences while serving in the military. Deserving Veterans leave Los Angeles and spend nine days riding America's most beautiful roads, getting to know each other and helping each other heal from the traumas experienced during the war. The veterans also see how much their service means to America by stopping in small towns along the way to meet the grateful people of our nation whom they helped protect. The ride culminates by spending the week at the Sturgis Motorcycle Rally in South Dakota.
Field of Flags Pays Tribute to Those Who Have Served and Sacrificed.
Take in the moving experience of honoring soldiers past and present by walking or riding through the Buffalo Chip's free public access majestic Field of Flags. This awe-inspiring display of nearly 1,000 proudly waving American flags is a tribute to all servicemen and women who have sacrificed to protect our freedom. One stately flag stands every ten feet, nearly as far as the eye can see. All are welcome to visit this free exhibit and watch the flags fluttering in the wind as a reminder that no force is strong enough to knock down the American spirit.

The Buffalo Chip first established the Field of Flags to honor the brave men and women who had fallen while fighting in the Iraq war. One flag represented one American lost, with a soldier's name sewn on each flag. Eventually, the count became so high that there was no room to expand. So today, the breathtaking display is a tribute to all soldiers, including active, retired, and those who paid the ultimate sacrifice.
Each year, a large group of patriotic volunteers from the Sturgis, SD area respectfully raises the flags on the northwest corner of the Buffalo Chip grounds so visitors and passersby may see them in time for Independence Day. The flags then stand resolute through the end of the Sturgis Motorcycle Rally, allowing visitors like you the opportunity to come to pay tribute.
The magnificent display surrounds a solid granite memorial stone honoring all service branches and POWs. The benches circling the stone offer a peaceful place to rest and reflect. In addition, the American Veterans Traveling Tribute Memorial Wall provides the field's solemn backdrop during the Sturgis Motorcycle Rally.
We all owe brave soldiers a debt of gratitude for their sacrifices. Don't pass up this opportunity to show your appreciation. Be sure to visit the Sturgis Buffalo Chip's Field of Flags and participate in the many other activities and exhibits that comprise the Chip's annual Freedom Celebration!
Visit BuffaloChip.com/Events/Military-Tributes/Field-of-Flags-Battlefield-Cross for more.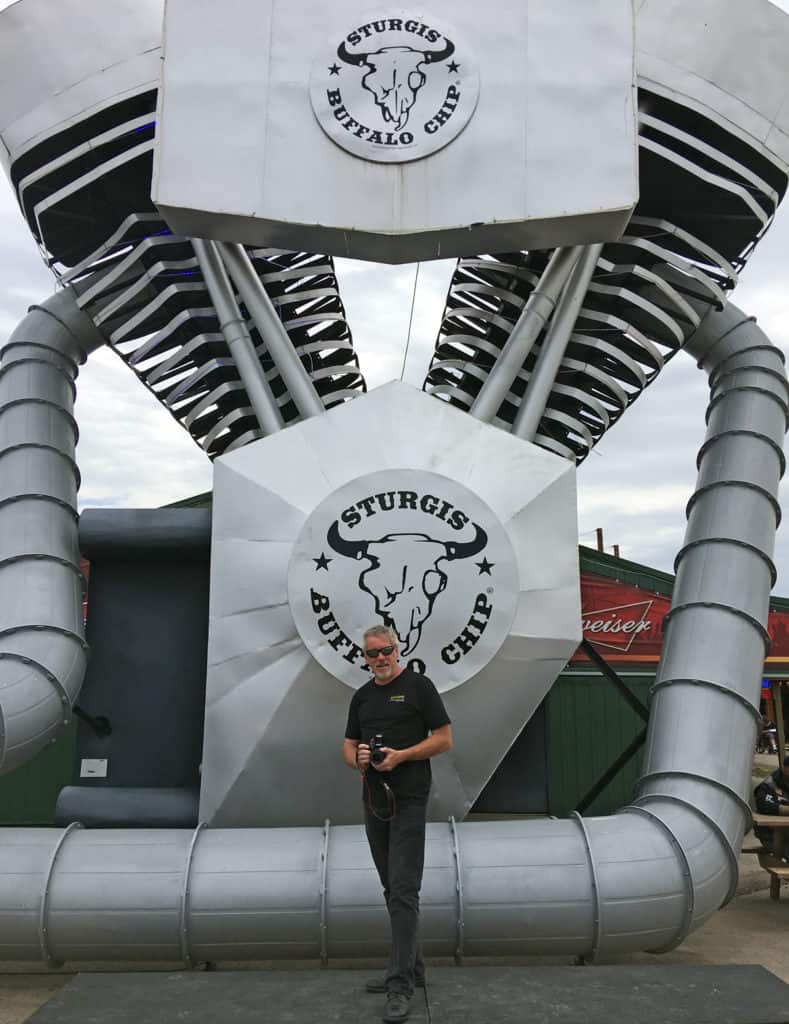 Think big. It seems to be the prevailing theme at the Buffalo Chip. Big ideas. Big toys. Big budgets. The Sturgis Motorcycle Rally 2016 is truly an epic experience. Although, most everyone agrees that it's not as big as last year. I missed the 7th Rally, but I was here in 2014.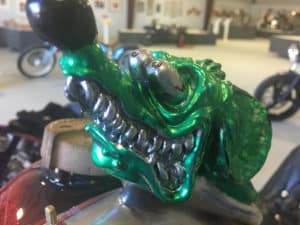 • • • • •
I love motorcycles — all kinds of bikes for different reasons. Some are great to ride. Others are just cool to look at. But, no matter your two-wheel preference, it was there: choppers, baggers, bobbers, cruisers, bruisers, old, new, wild, and mild. Motorcycles of every variety and brand. Three-wheelers, too.
It all comes down to personal likes—different strokes for different folks. I love baggers. I like choppers too, but mostly to look at – as art. They are a younger man's bike, so it's unlikely that you'll ever see me riding one, although I enjoy creating paintings of them. Baggers, though… those are riding bikes. Road Kings, Road Glides, Street Glides, and variations on those are my ticket to ride. And I like to ride long days when I can. Many in my pics here are radical as daily rides, but their true spirit comes through. Toss a jacket in the bag and ride all day. Get lost just to get lost and enjoy the ride.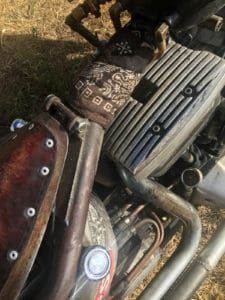 Unique motorcycles of all types inspire me. While I know that the definition of art is, by definition, "something that can serve no other purpose," I take exception to motorcycles (and cars and women). There is too much beauty for them not to be considered part of a higher purpose. The design and craftsmanship to create these rolling beasts are epic. Many builders drop hundreds of thousands of dollars and countless hours into creating these fantastic iron horses. An impressive level of creativity and engineering goes into every machine. The kind of machine I want to park in my living room next to the Picasso. With their oversized wheels, huge power plants, and wicked paint jobs, building one of these can be expensive, especially if you want yours to stand out in the crowd. Collecting Picasso's may be cheaper.
Each year, it seems they get just a touch more radical. Bigger wheels. Bigger frames. More powerful. In the custom motorcycle world, more is better.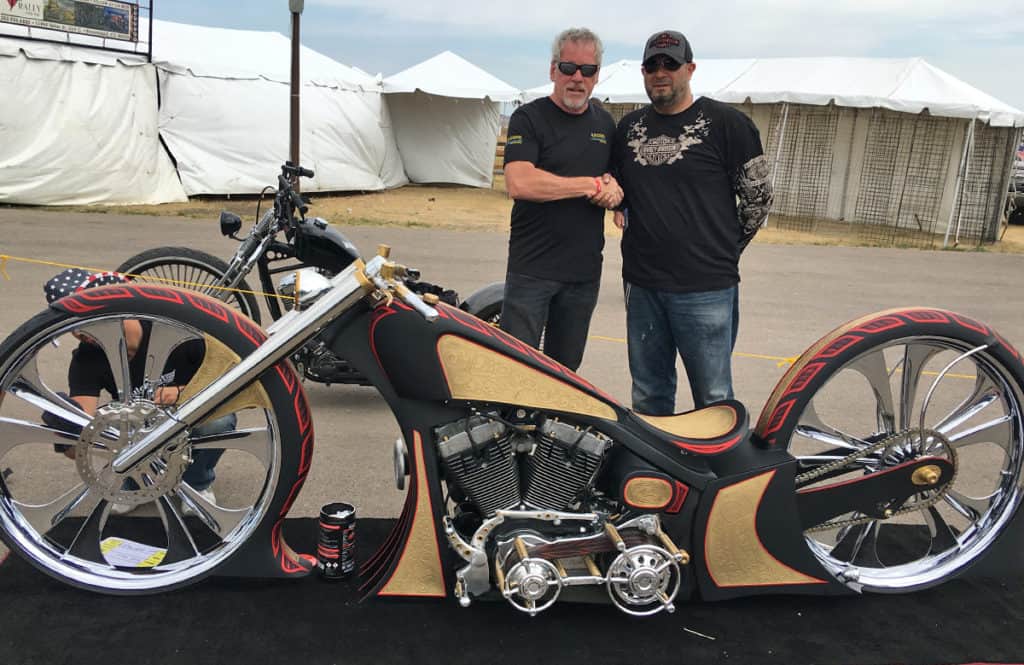 Among a plethora of unique bikes, this one stands out for me. Beautiful lines and smooth color choices make this a unique build.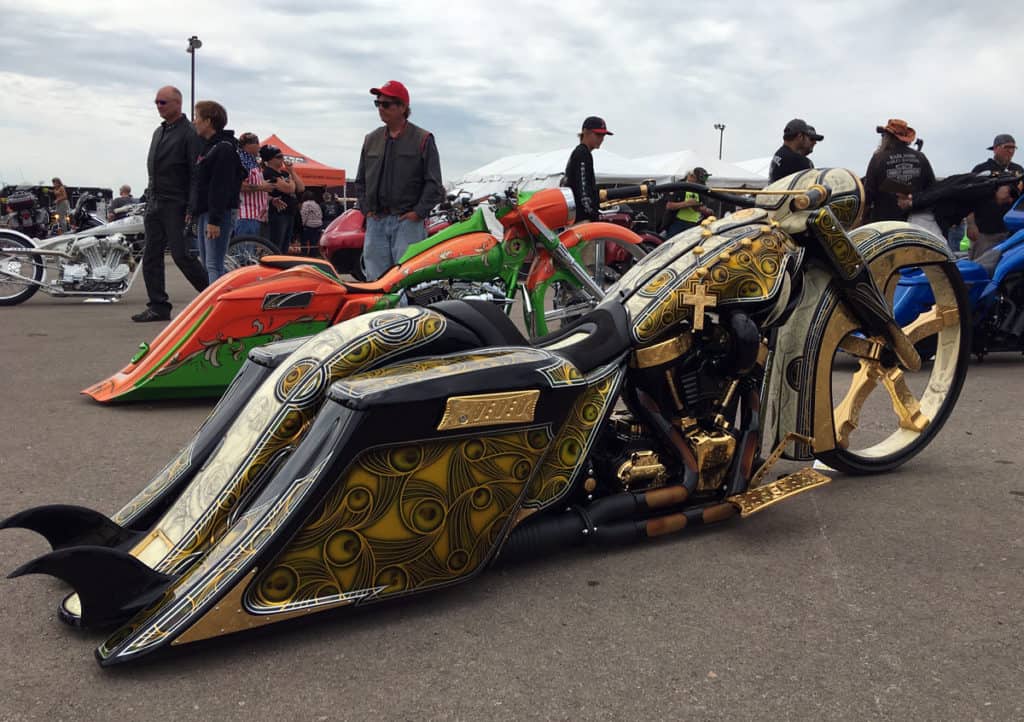 It's more bling than you can imagine.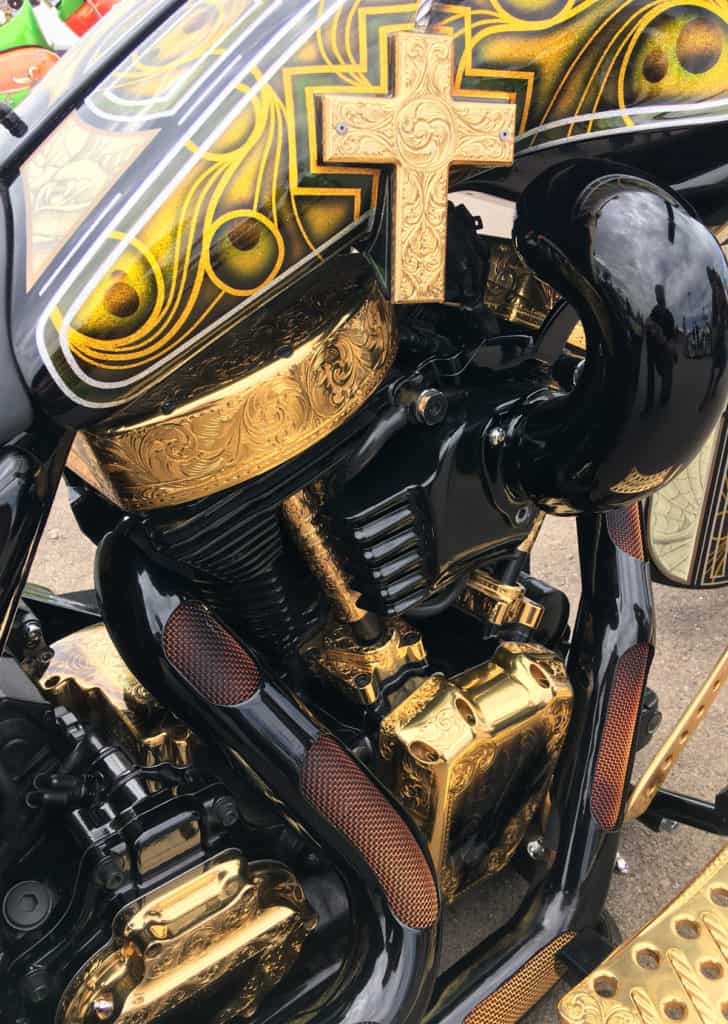 Stunning craftsmanship and design.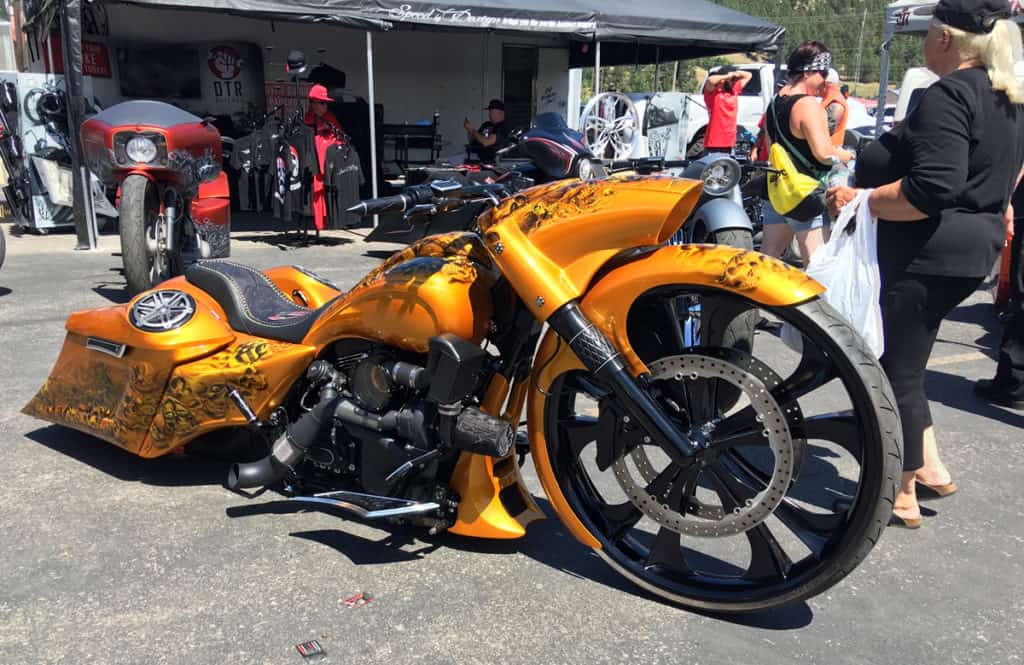 Amazing baggers abound at Sturgis.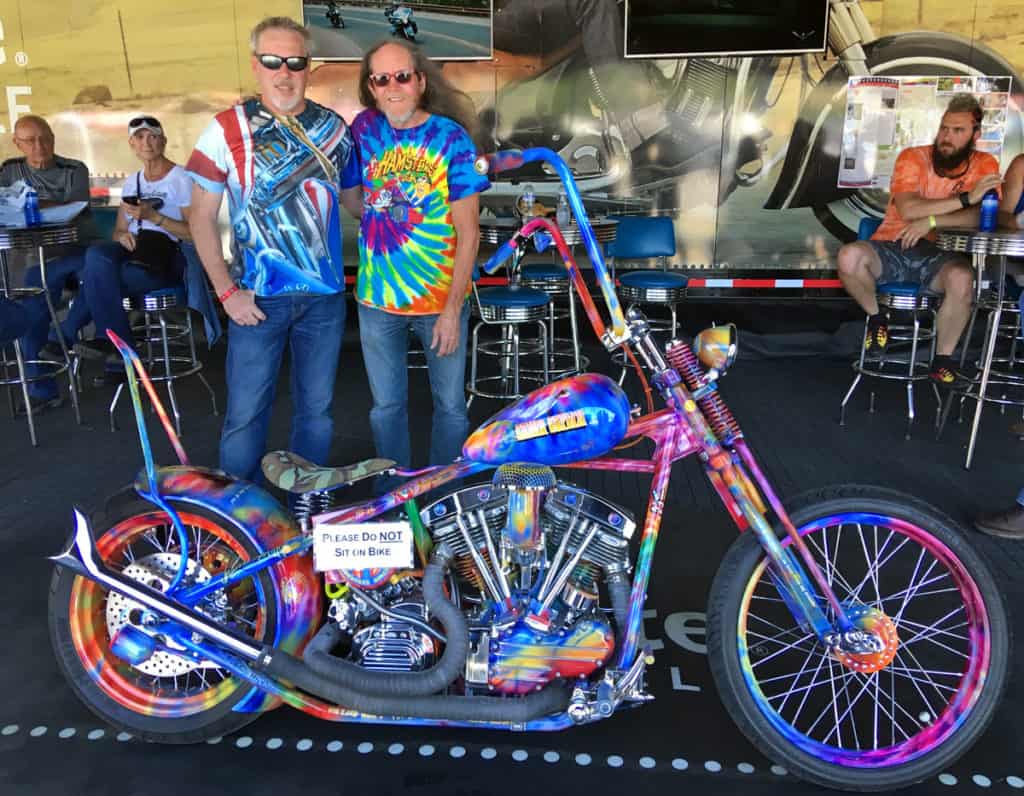 Motorcycle Artist A.D. Cook with Master Motorcycle Builder Rick Fairless of Strokers Dallas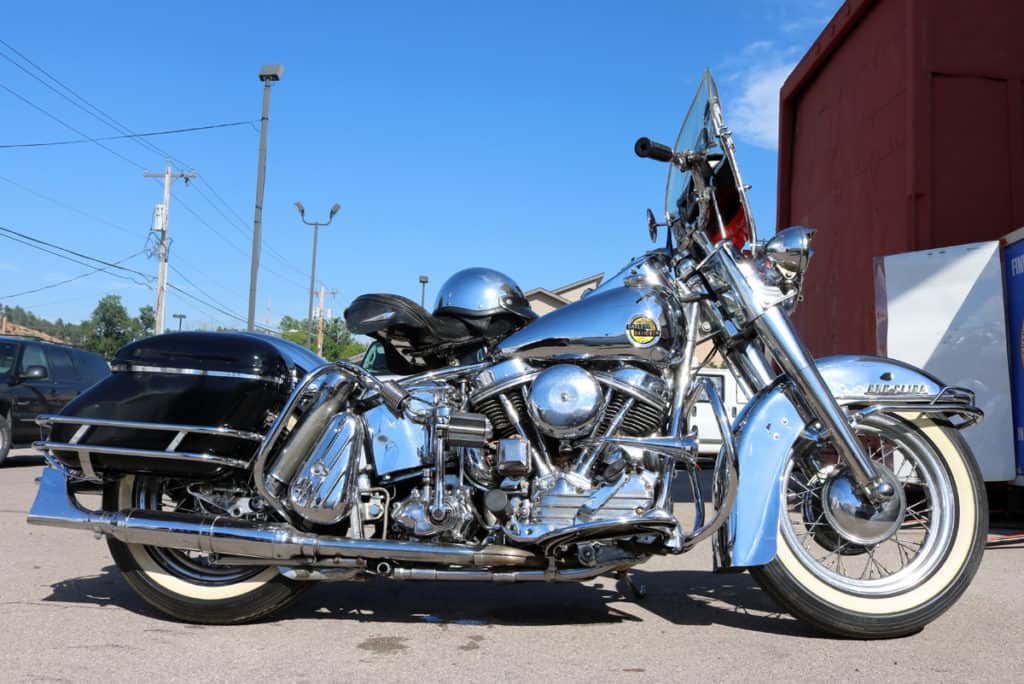 This super rare all-chrome Harley-Davidson is stunning.
Early in my visit, I saw a super cool classic Harley-Davidson motorcycle dressed in chrome from fender to fender. It immediately caught my eye. I think it would be awesome to make a painting of this bike – especially since it's so rare. It's a proper one-of-a-kind bike in that Harley-Davidson only ever made one all-chrome motorcycle way back in 1958, and for one reason or another, they never made another. Ever.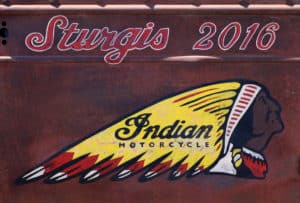 Indian Motorcycle made a massive presence at the Sturgis Motorcycle Rally. I saw more Indian Motorcycles than I have ever seen in one place. Whether stock or modified, they look great. Many custom builders are creating fantastic bikes built on the Indian Motorcycle platform.
I'd have to say the same is true for Victory Motorcycles. There were so many beautiful Indians and Victory bikes that the landscape changed from an all-Harley event just a few years ago to a mixed bag of bikes, bikers, trikes, and strikers. But like I said earlier, I love them all, so long as they are American iron.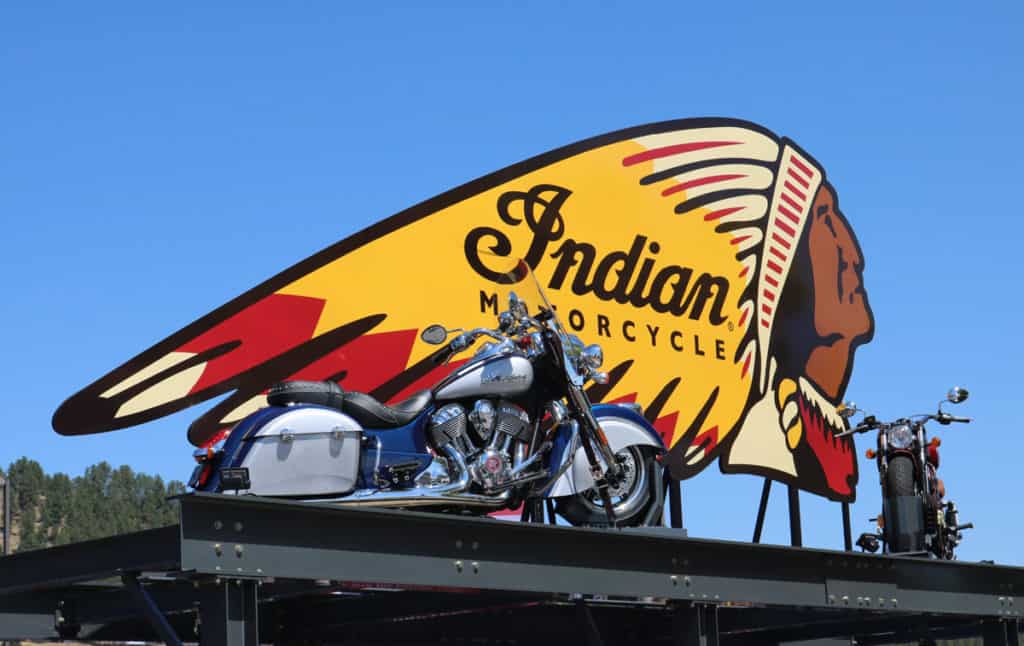 I am somewhat joking when I suggest that the bikes are all "American iron." I met several designers and builders worldwide while reconnecting with others I've met. Japanese builders had stunning bikes with Harley-Davidson motors. Builders from everywhere brought their twist on American-inspired designs, taking wholly different directions. The diversity of design is inspiring.
People travel worldwide to attend the Sturgis Cycle Rally with a similar passion for motorcycles and the freedom they represent. We met the friendliest Canadians and Australians, fun Italians and Russians alike. You never really know who you will meet at Sturgis.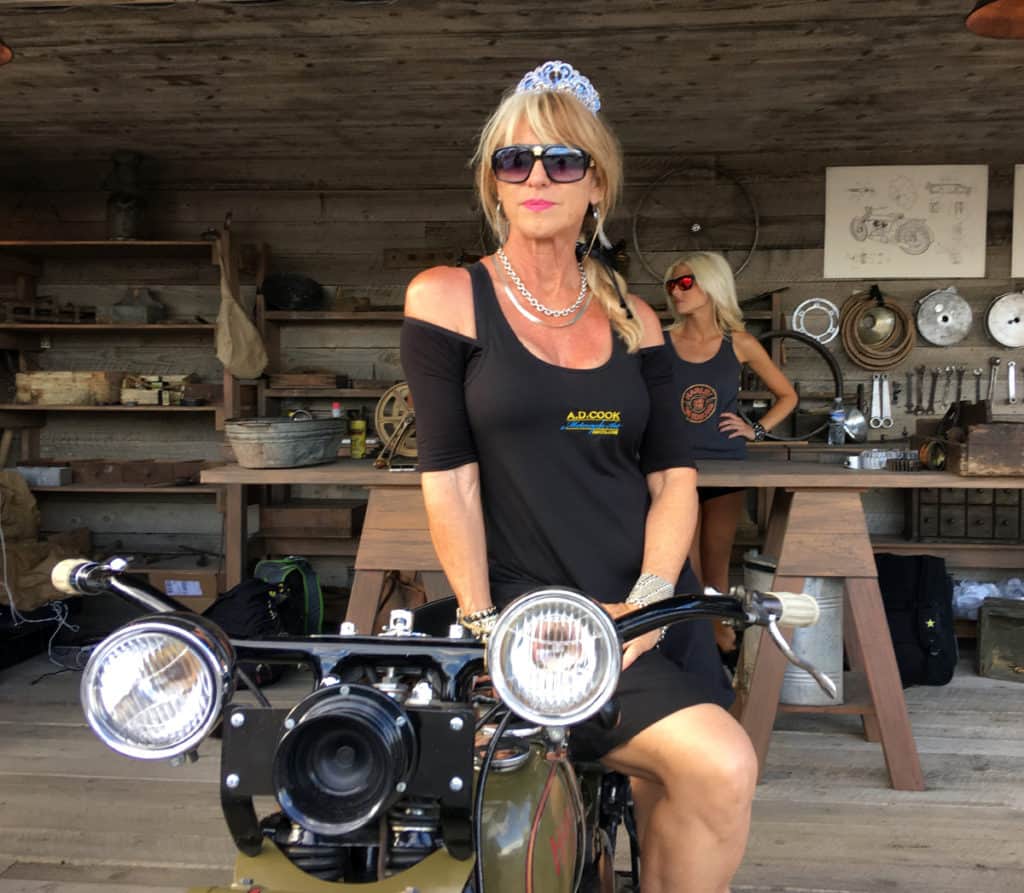 A fitting throne. Artist Beti Kristof, "Lady Vegas," finds beauty in a Classic Harley-Davidson.
By day, we spread our time out and saw a lot of Sturgis proper and the surrounding area. There is just so much to see and do. I took over 1,500 photos in the few days we were there, ~ 1,400 of Beti). I'll post Lady Vegas sightings at Sturgis later. We had fun.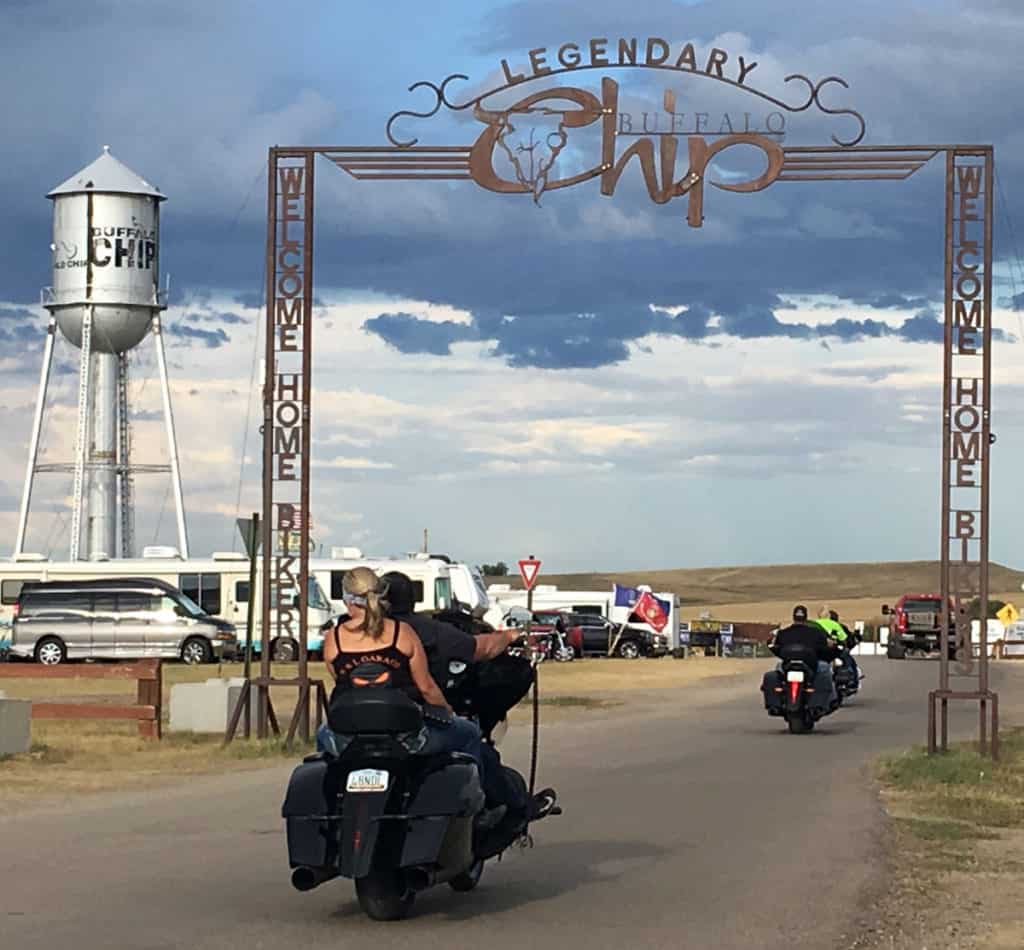 By night, we were at the Buffalo Chip, in camping mode, and to enjoy some time at the SKIN AND BONES show.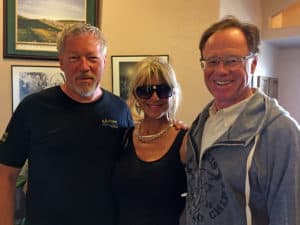 The Legendary Buffalo Chip is easy to find and just a few miles outside Sturgis. And a lot is happening at "The Chip" – almost always. As you can imagine, anything can happen when you get tens of thousands of bikers and campers from all over the country and worldwide, all in the space of a few hundred acres.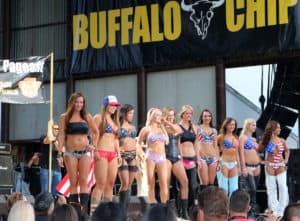 And that's what it's all about… people and making things happen.
All-in-all, the whole Buffalo Chip experience was a good one. Lots of people and everyone was fantastic. We were all there for the same reason – to relax and unwind – to have a great time with fellow motorcycle people.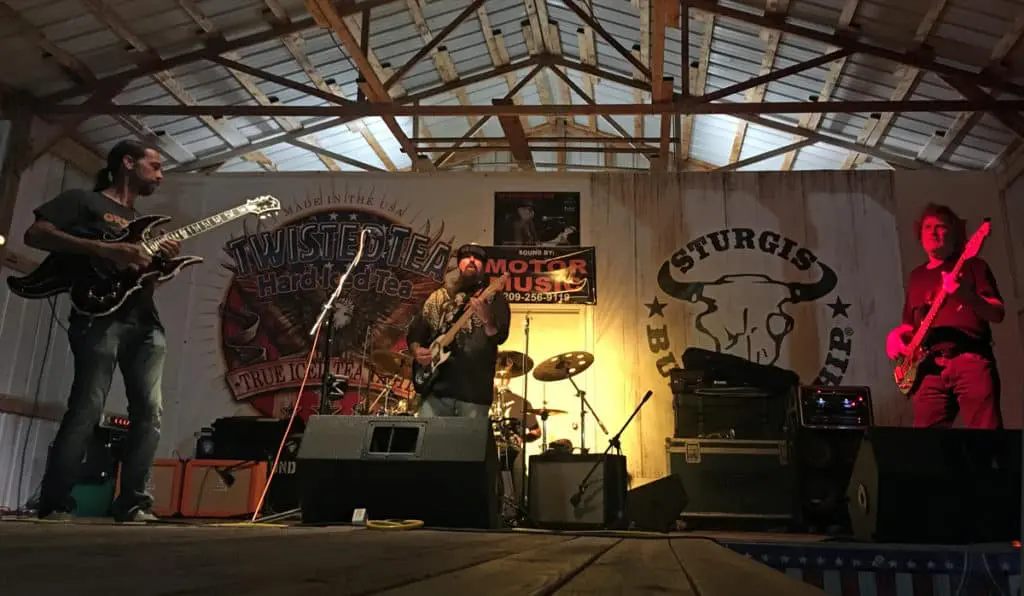 The Sturgis Motorcycle Rally featured many great music choices, and the Buffalo Chip was no exception. This year, they hosted performers Kid Rock, Lynyrd Skynyrd, "Weird Al" Yankovic, The Texas Hippie Coalition, and Cheap Trick, among others. One of my favorite bands at the Chip is the Charlie Brechtel Band. I listened to them in the car on my drive there and enjoyed hearing them perform for a few of their shows – both the 6:30 PM accessible listening version and their midnight shows, which are a bit more lively. Charlie is also putting a movie together. He and his crew have worked diligently on their film "REBEL ON THE HIGHWAY." Catch his interview here > Behind the Handlebars – Rebel on the Highway Movie Interview.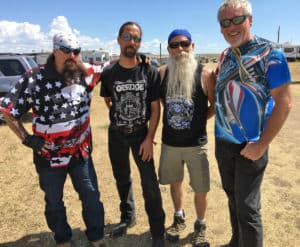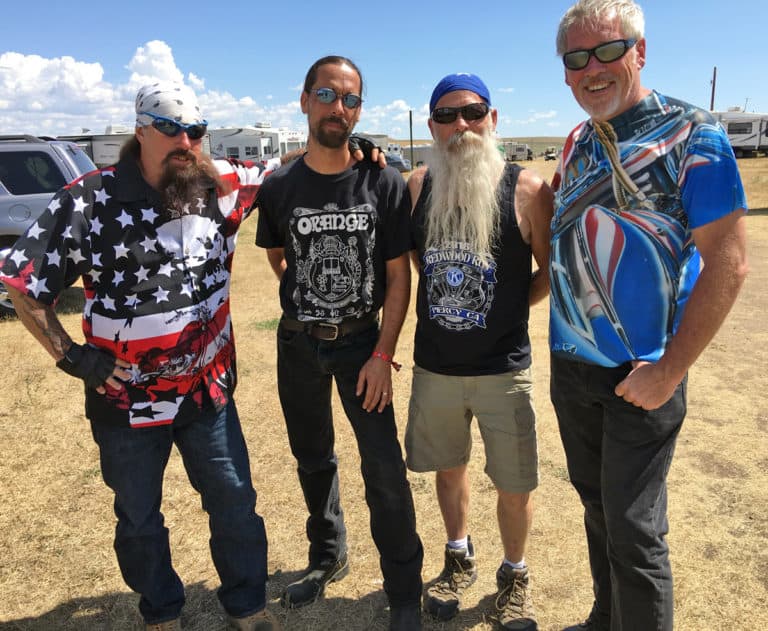 Special thanks to The Charlie Brechtel Band for their hospitality and talent. I know I've said it already, but these guys rock.
There is a history, a legacy and a brotherhood that comprise the soul of the American biker. Those are also the elements that separate the music of The Charlie Brechtel Band from any other musician or band who aim their talents at the motorcycling community.
Charlie doesn't just play the kind of rockin' blues that is the perfect soundtrack to the biker way of life; he takes his listeners into a world that began in America's post-WWII years, screamed through the 50s and 60s, and has evolved into one of the most powerful and envied sub-cultures that this country has ever produced.
His legendary music pays homage to the biker lifestyle as no other musician has ever. Charlie weaves the personalities who pioneered this way of life into the hearts of all his songs. Men like Sonny Barger, Wino Willie Forkner, the Bravo Brothers… vintage bikes like the Indian… biker meccas like Sturgis, Daytona Beach, and the Buffalo Chip… all supply the ever-sharp edge to the music of Charlie Brechtel.
• • • • •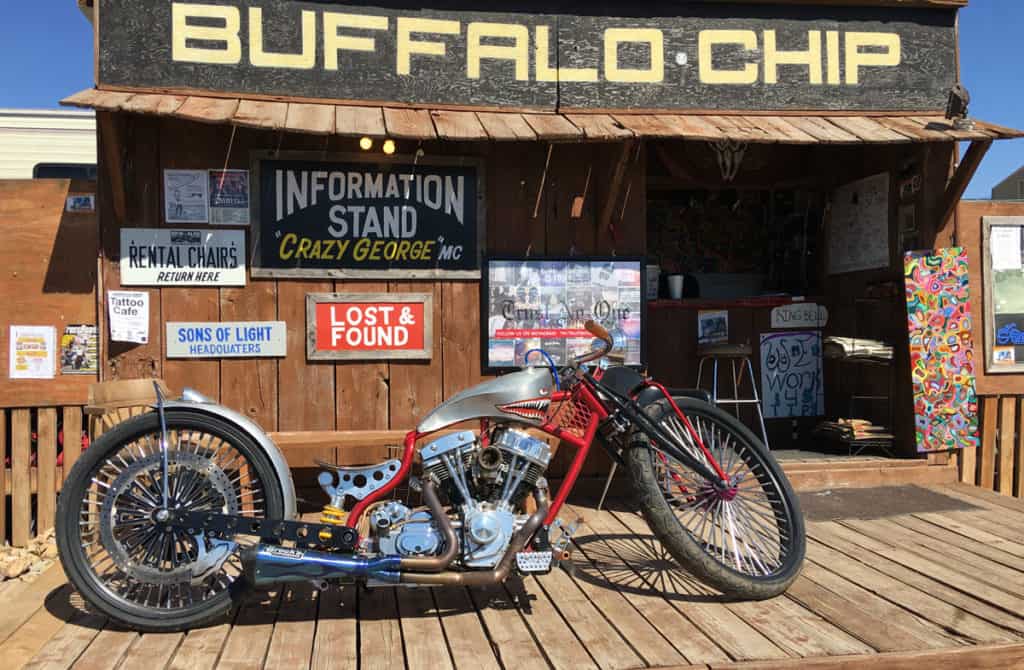 The Legendary Buffalo Chip
Sturgis, SD
• • • • •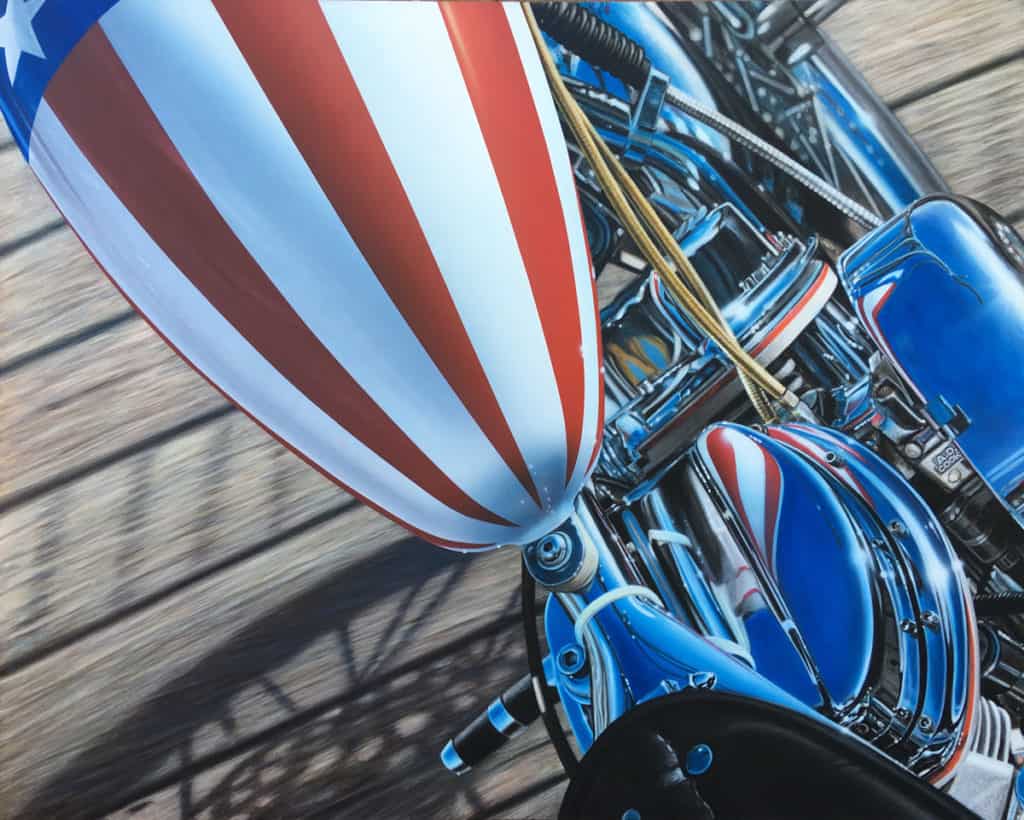 AMERICA by A.D. Cook, 2016 – acrylic on canvas, 48″ x 60″
Well, that's it. I hope you enjoyed my little peek at the Sturgis Motorcycle Rally 2016. Be sure to watch the video for tons more great pics.
Until next time…
• • • • •