Tenacity; the quality or property of being tenacious.
Tenacity is another word for determination. It means starting something and finishing it.
And then there's talent, defined as "a natural endowment or ability of superior quality," most commonly referred to or mentioned in the competition. A golfer's skill can be driving the ball further than the rest. Beyond sports, a singer's talent is in their voice, a musician's talent is in mastering their instrument, and an artist's talent might include drawing and painting. All of us have some talent. I believe that every person is born with talent. For each of us, it's different. Some have talent in sports, some dance, some cook excellent meals, some grow roses, and others fly airplanes. We all have talent. And how boring would it be if we all had the same skill? On the upside, I would have mastered the violin years ago or maybe have gone on to sing. But alas, my talent is in art. And for that, I am eternally grateful.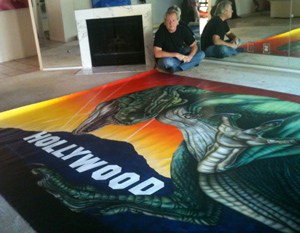 T-REX — Hollywood Video mural – 110.5″ tall x 167.75″ wide, painted in 1993 (photo 2011)

"Your talent is God's gift to you. What you do with it is your gift back to God."

~ Leo Buscaglia
I've always believed that the formula for "talent" is defined as 10% inspiration and 90% perspiration. That "perspiration" is tenacity. Talent without determination is wasted. I've known lots of "talented" people in my life. Those who say "I could of…" or "I should of…" – those who were perfectly capable of doing a thing, yet for one reason or another didn't. In many cases, I believe they had the talent but maybe lacked vision or dedication, or tenacity.
"The most difficult thing is the decision to act, the rest is merely tenacity. The fears are paper tigers. You can do anything you decide to do. You can act to change and control your life; and the procedure , the process is its own reward."

~ Amelia Earhart
When I was a kid, my dad often said, "can't never tried." However, I admired his "can do" attitude. It seemed that he could do anything he set his mind to. Throughout my childhood, I watched him build houses from the ground up and construct steel and wood trailers with only welding and hand tools. If he set out to do something, he did it. His constant repeating of "can't never tried" stuck well with me, and it became part of who I am today. I was engrained with the essence of tenacity from an early age.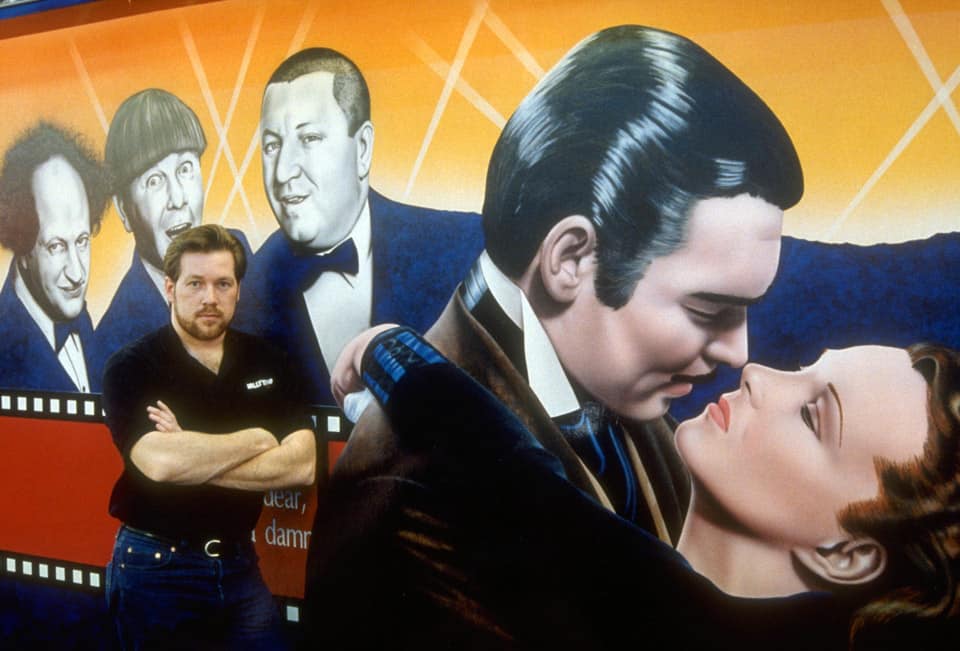 Three Stooges and Rhett & Scarlett — A.D. with Hollywood Video mural at the Lake Oswego, Oregon store, 1991
When I painted murals for the Hollywood Video stores (1989-1994), I would often go into the studio for 30-40 hours at a time [ and sometimes longer ] and do that two or three times a week. My passion was to create and paint, so I did. It was not uncommon for me to work on a mural for 12, 16, or 20 hours at a time or have two murals in process at any given time. Of course, I was 20 years younger, so I had the energy to spare. But even today, when I hit the easel, I'm usually there for a long time because when you're doing what you love, time flies.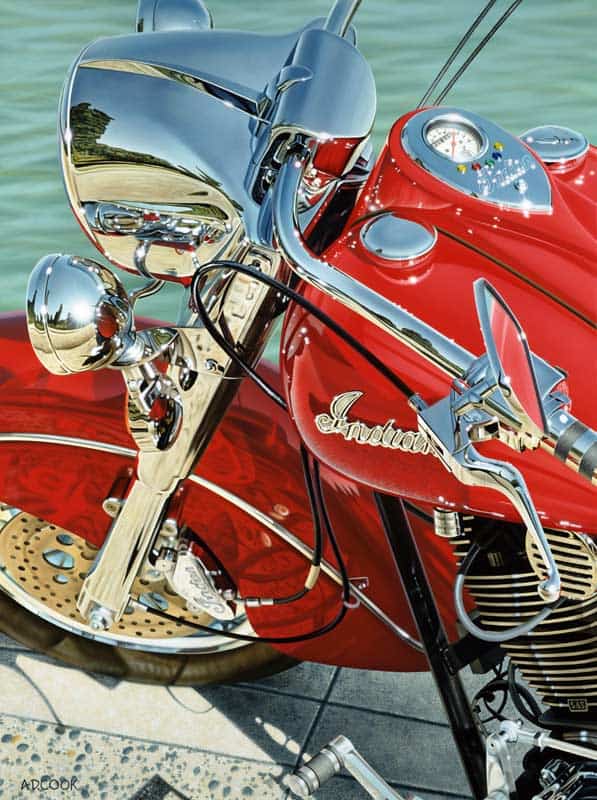 INDIAN SUMMER – 48″ x 36″, acrylic on canvas, 2000
Later, when I produced my motorcycle series (1999-2004), I would spend endless hours creating each painting. I kept track of my time for Indian Summer (above) only because I wanted to reference it in an article I wrote for Airbrush Action magazine (see "A Study in Chrome and Reflected Surfaces"). I invested about 140 hours into creating that painting, but again, time didn't matter because I loved what I was doing, and that's what it took. If the painting had required another 140 hours, I would gladly paint onward.
"Take the first step, no more, no less, and the next will be revealed."

~ Ken Roberts
Starting is always the most challenging part. But once started, staying focused was easier because I saw progress. That drives me. What keeps me going is seeing a vision in my mind of the finished art. So I paint until the finished painting is before me, always creating with the end in mind.
Over the last decade, I have directed my creative energies toward painting the figure. My art nude series on canvas and metal represent over 70 original paintings to date – most of them are epic in size and commitment. I wouldn't have it any other way. Part of my process as an artist is about one-upping myself – always striving to do better. After all, I'm not in competition with anyone else. Instead, I want to top myself by putting what I've learned into each new artwork.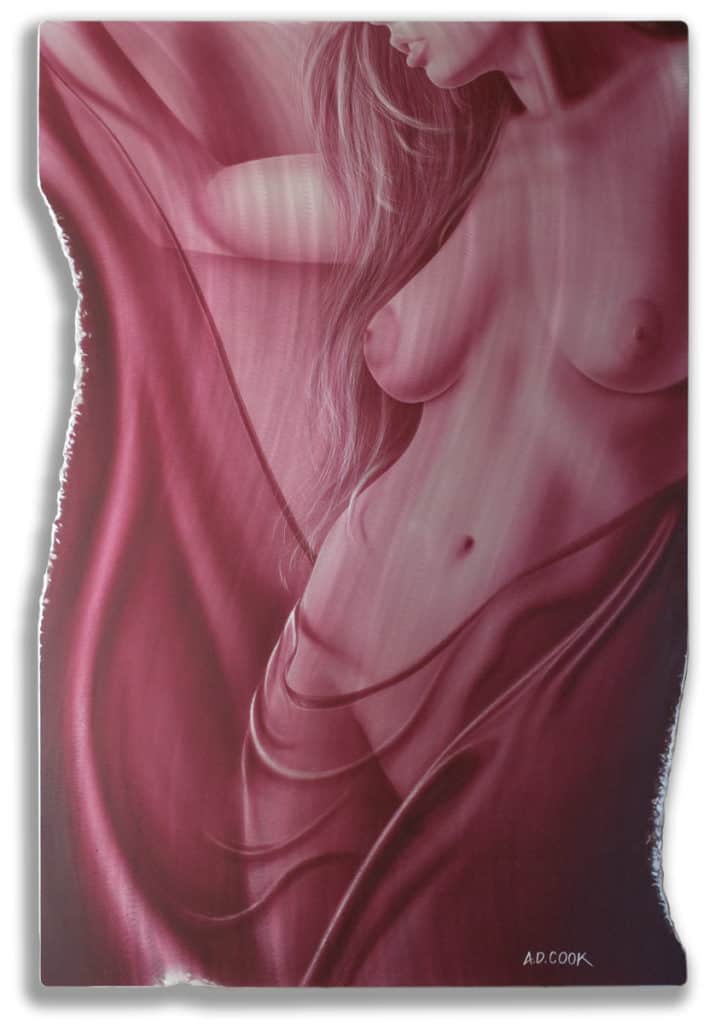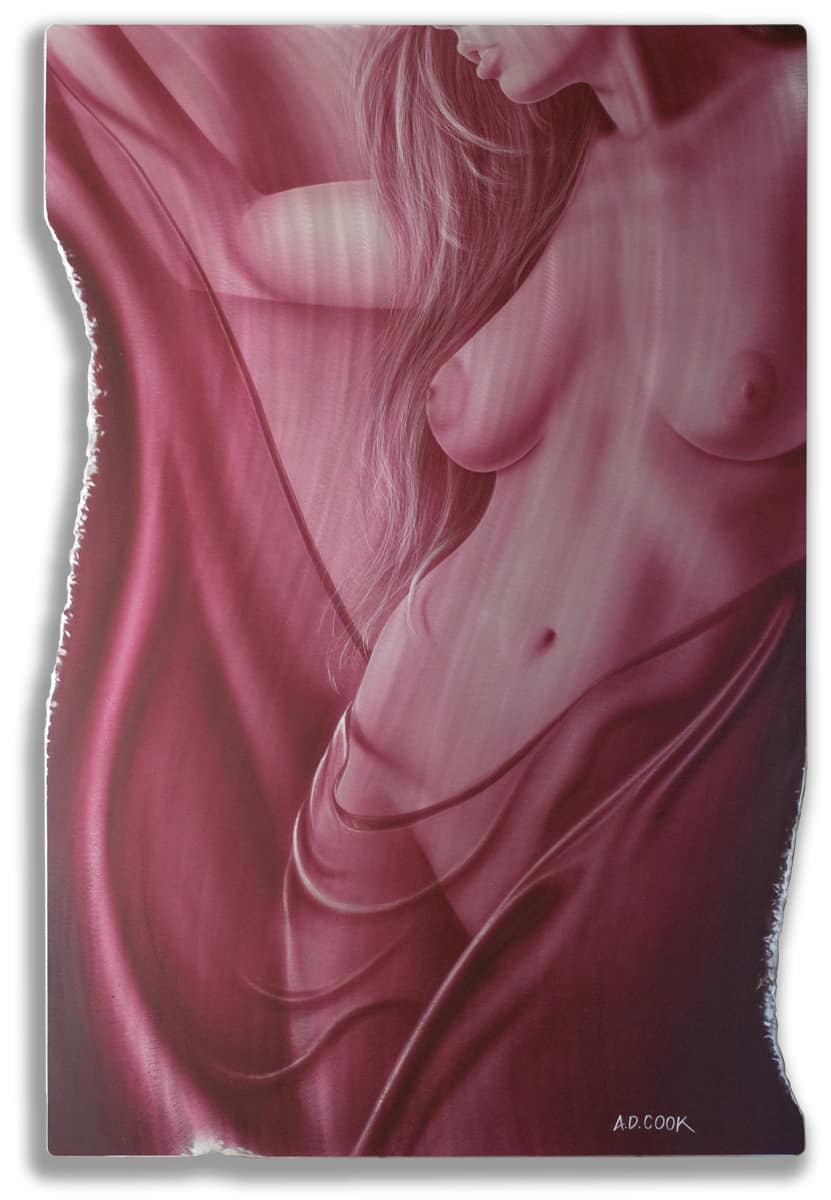 Beaujolais – 53.5″ x 35.5″, original painting on metal © 2011
"Talent is God given. Be humble.
Fame is man-given. Be grateful.
Conceit is self-given. Be careful."

~ John Wooden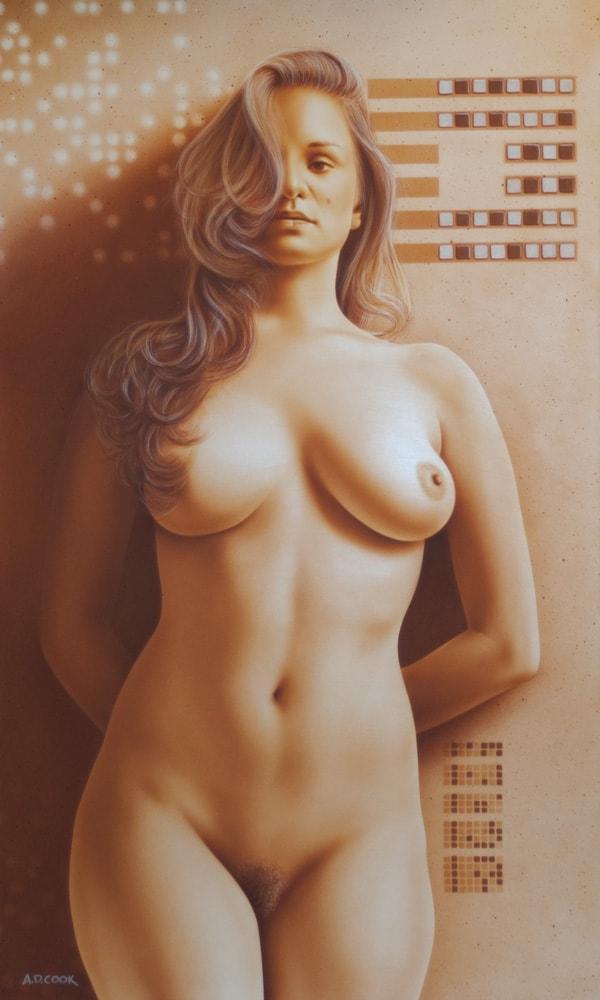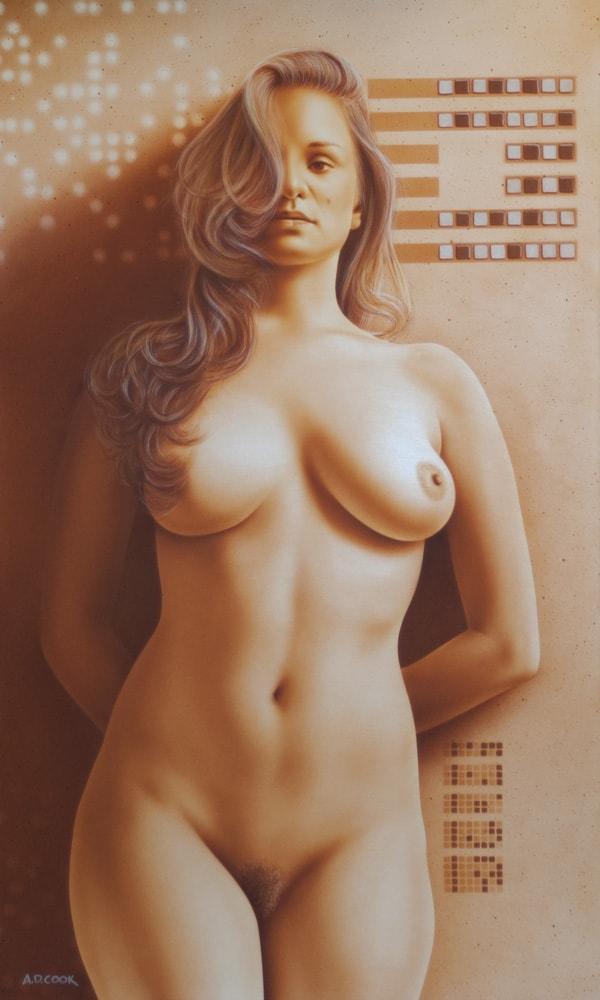 TRUTH – 60″ x 36″, acrylic on canvas, 2012
Today, my desire to create is stronger than ever. While my subject matter has changed over the years, from Hollywood murals to paintings of motorcycles and finally to figurative art nudes over the last decade, my passion for creating illusions of beauty has never changed. For me, time at the easel is always cherished. Talent is a gift from God, and each creation is a blessing.
Special thanks… "Whisper for the Masses" music for the "TRUTH" video by the talented and tenacious Loophole from their album "Loophole 432" © 2012. They are used with permission.
And you know what's exciting for me? My whole next adventure lies before me. My thoughts are constantly about my next painting, or better yet, my next series of paintings — taking what I have learned from previous creations and experiences and producing something new and exciting. Stay tuned…
• • • • •