The SHOW, Hosted by Willy's Garage USA and Parts Authority, Showcases the Best in Airbrush and Hot Rods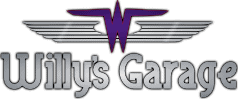 08/28/21 — Salt Lake City, Utah, was the place to be for Willy's Garage annual VIP party, car show, and airbrush art exhibit.
Saturday, hot rod enthusiasts, custom painters, airbrush artists, pinheads, and car fans of every variety came together to celebrate the art and love of the automobile. The entire street was shut down for vehicles, spectators, and food trucks, creating a safe and open space to flash some chrome and take some pics. It was a beautiful day as well, with fair skies and perfect t-shirt weather. It doesn't get any better than this.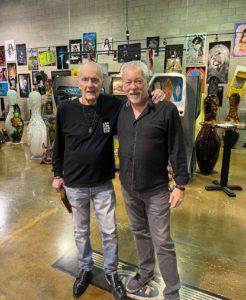 Art was definitely the word of the day. The cars are art, down to every detail. So many are insanely detailed with custom parts, amazing paint jobs, and meticulously etched metals. And there was no shortage of stunning cars of every make and variety.
The ASET Kustom Airbrush Art Gallery was open to the public, opening the eyes and hearts of people to the world of airbrush art. The gallery's eclectic collection of original artworks is most definitely Art (with a capital "A"). This world-class collection is one big celebration of eye candy and visual overload. My kind of gallery!

The previous evening's VIP Party afforded some way overdue catch-up time with old friends over some great live music, great munchies, and cold beer. It was also a great opportunity to explore all the art that has been added since the last time I visited ASET many years ago. The walls are filled with airbrush luminaries like Steve Driscoll, Fonzy Greaskull, O.G. Abel, and a long list of other hugely talented artists.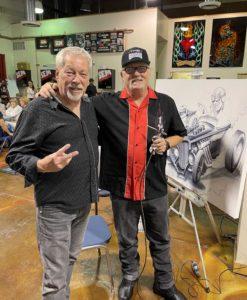 Master airbrush artist Craig Fraser was live at the easel Friday evening and all day Saturday, painting a large canvas piece in his unique style. His artwork featured the Willy's Garage Rat Truck and the ultra-smooth and extra hot black '32 Ford roadster.
Master automotive painter Charlie Hutton was on hand. Recognized as one of the most talented automotive painters and fabricators in the world today, Charley has established a portfolio of work and awards that many take a lifetime to achieve.

Local and national vendors were there showing and selling their services and goods.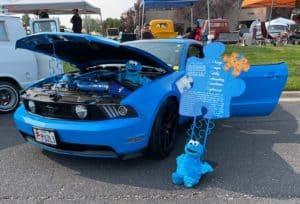 Always Unique Totally Interesting Sometimes Mysterious. In support of great causes, the Autism Ford Mustang GT was on display to share a message of hope and love.
Learn more about Autism and how you can help at UtahParentCenter.org/disabilities/autism

The Air Space Airbrush Gallery at ASET / Willy's Garage showcases an amazing collection of original airbrush artworks from the industry's top talent. One stroll through the gallery and you'll see colorful oversize bowling pins, painted car doors and hoods, hightop tables, and miles of metal and canvas artworks.
Featured artists include: Mike Lavallee, Craig Fraser, Steve Driscoll, Fonzy, OG Abel, Gerald Mendez, Steve Vandemon, Ron Gibbs, Dean Loucks, Jason Doll, Bob Soroka, Chris "Bones" Tolson, Fito, Ryan "Ryno" Templeton, Debra Mahan, Dennis Matthewson, Paul Quinn, Pamela Shanteau, Cam Miller, Ed Hubbs, Darren Wenzel, Alan Pastrana, Javier Soto, Gearboxx, Gene Chambers, Keith Eccles, and Paul Stoll.
Photos © copyright A.D. Cook 2021