That's the theme of my St. Jude sculpture. It seemed like such an obvious choice for me, mostly because LOVE is what St. Jude does and is all about.
St. Jude Children's Research Hospital does so much to help children of less fortunate families that it would be hard to share their whole story here. Essentially, they are all about finding cures and saving children. What I find to be beautiful about St. Jude is that they help those in need for free and freely share their research with the world. They are givers.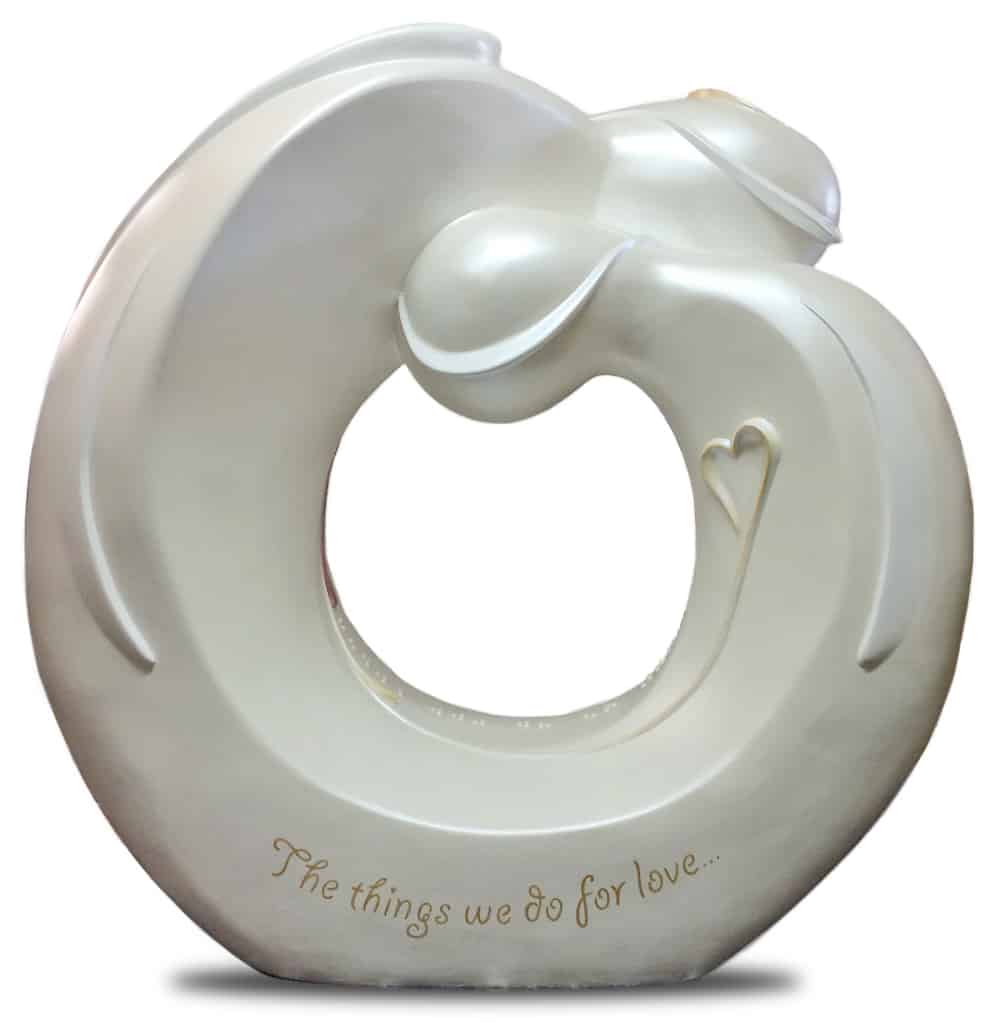 2015, 46″ x 50″ x 30″, (296.77 cm x 322.58 cm x 193.59 cm), Mixed media sculpture
So, when I was asked to give, as other artists have in previous years, I was both honored and excited. It all started one evening last summer when Las Vegas artist Beti Kristof and I were discussing the project and its great cause. She shared with me that her son was a cancer survivor as a child and that she had done five previous versions of the St. Jude sculpture over the years, including one jointly with her son Laszlo, who is also an artist.
Where there is love there is life.
— Mahatma Gandhi
Each year, for the past several years, prominent artists have helped in their way to create awareness and contributions to benefit the Las Vegas chapter of St. Jude Children's Research Hospital by creating art sculptures to be auctioned off, with all proceeds going to St. Jude. It is considered a huge honor to participate in the program.
All-in-all, ten artists were invited to participate. This year's artists are Dale Mathis, KD Matheson, Beti Kristof, Michael Godard, Don Michael Jr., A.D. Cook, Armando Flores, Nick San Pedro, Joseph Watson, and Niki J. Sands. (to my artist friends… it is a privilege and an honor to work with you all on this wonderful project of love and giving back.)
So, I quickly signed on when asked if I would like to participate in creating one of the charity sculptures this year, along with nine other artists. But I have to be honest here… I had no idea what I was signing on for. For some reason, I thought that the sculpture was a small tabletop (bowling ball size) sculpture that we would embellish with our own artistic flair. So, you can imagine my surprise when my sculpture arrived on a flatbed truck with a power liftgate.
After catching my breath and giving the project a little time to set in, the design finally came to me. It was to be angelic. The "blank" fiberglass sculpture that we are provided, designed by Las Vegas artist Dorit Schwartz, is essentially a large white smooth sculpture, and we're told that we can do pretty much anything we want with it – so long as it is family-friendly. Most artists paint theirs, and some have opted to embellish theirs with added sculpting. My plan was to both sculpt and paint my St. Jude sculpture.
Love is composed of a single soul inhabiting two bodies.
— Aristotle
I saw within Dorit's sculpture a story of the mother/child relationship… a loving mother giving all she has, of both heart and soul, to a child in need. This is, after all, the things we do for love.
So, after sketching my original idea on paper, I began sculpting, slowly building the various components up as I went. Each added element helps to tell the story. The wings become a heart on the back of the mother figure. She also has a halo to emphasize her angelic qualities. Two additional hearts – one on the mother and the child- represent the giver and receiver of love (although to give is to receive).
The mother has seven vertebrates down her back, and the child has five – both are primary numbers, which is featured heavily throughout my figurative work. Both figures have angelic wings of pearl white.

"The things we do for love" in Braille.
The theme, or message, "The things we do for love," is expressed three times in the overall piece: once in English, once in Spanish ("Las cosas que hacemos por amor…") and once in braille. I felt this was to be a tactile sculpture inviting sensory experience. Touch it. Embrace it. Feel it.
I also wanted to share my experience as an artist by including you to follow along. With each step, I posted my progress on my Facebook, Twitter, and Instagram accounts.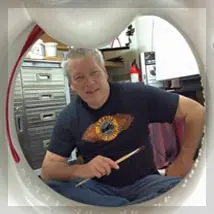 A.D. Cook, the artist with St. Jude sculpture.
Below are a few of my favorite pics throughout the project – a work in progress…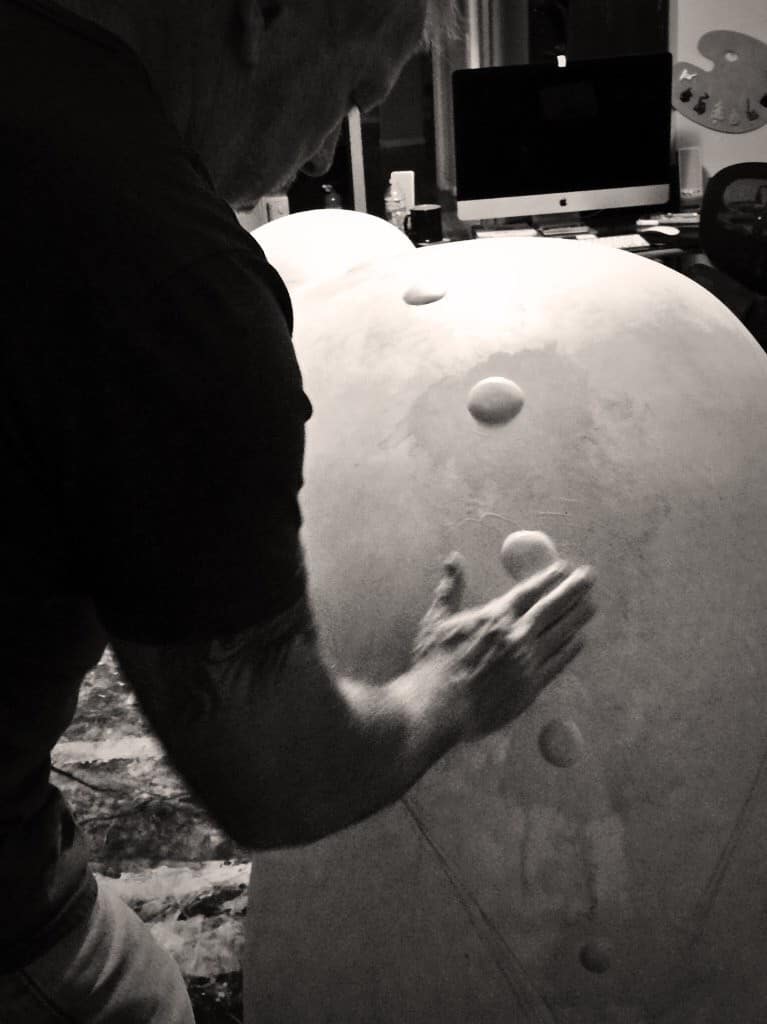 Early in the sculpting phase…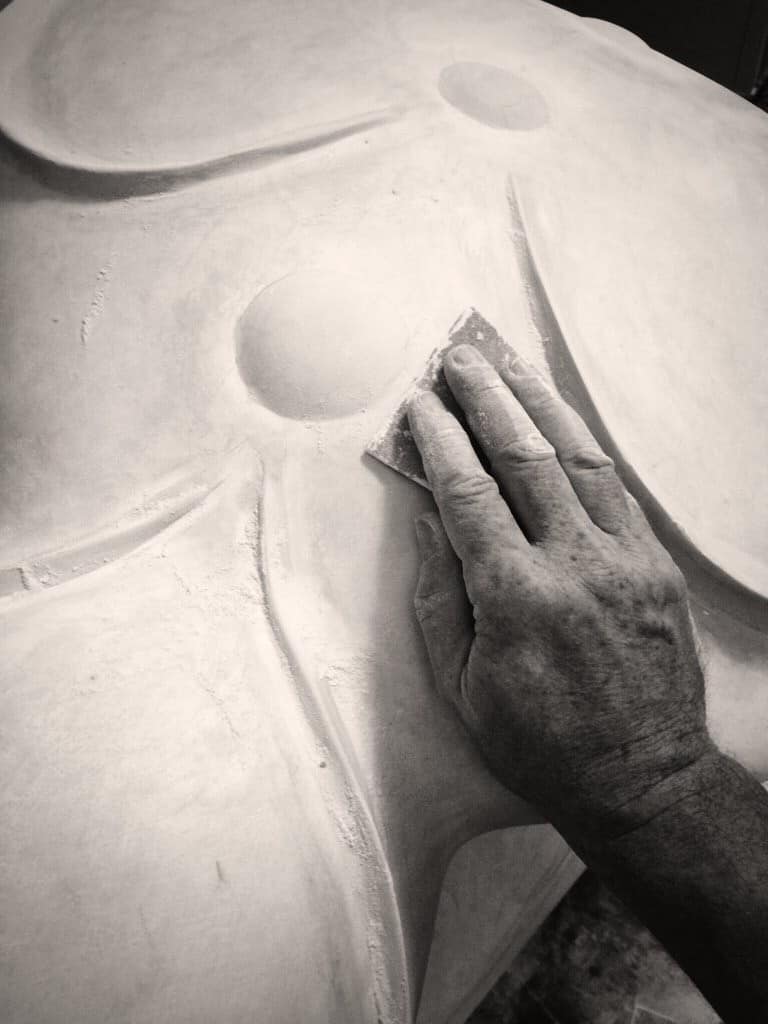 Sanding, and lots of it, was needed to make her smooth.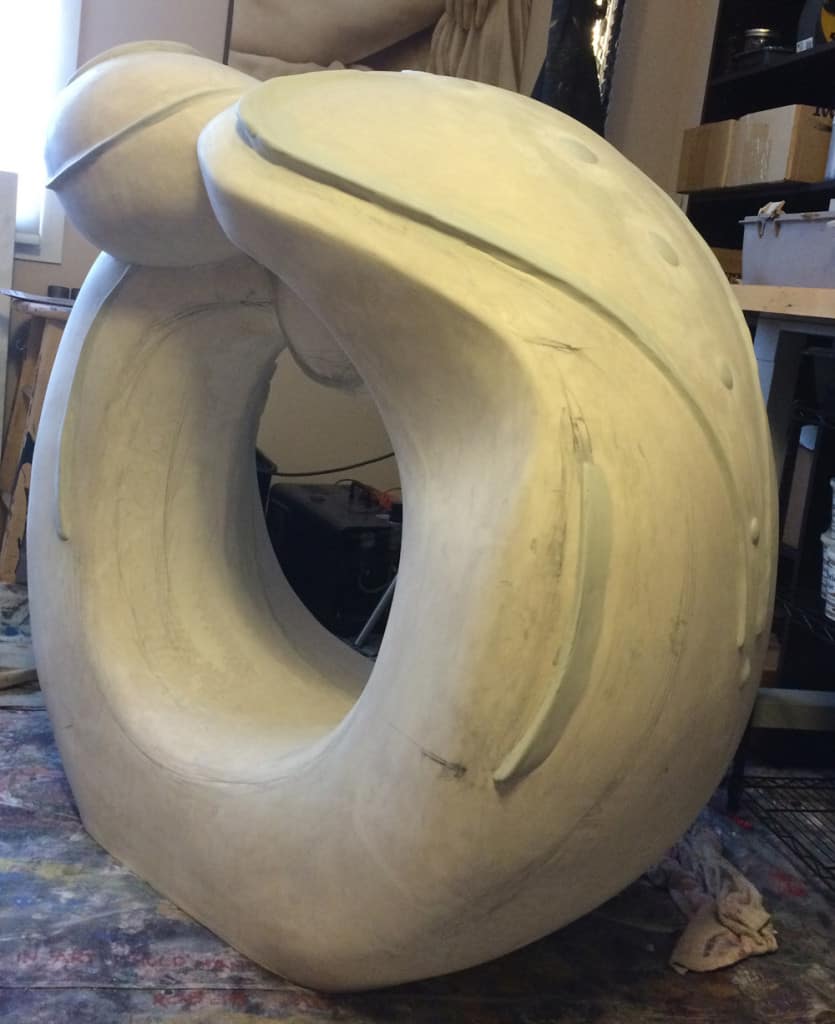 Slowly, the sculpting process builds.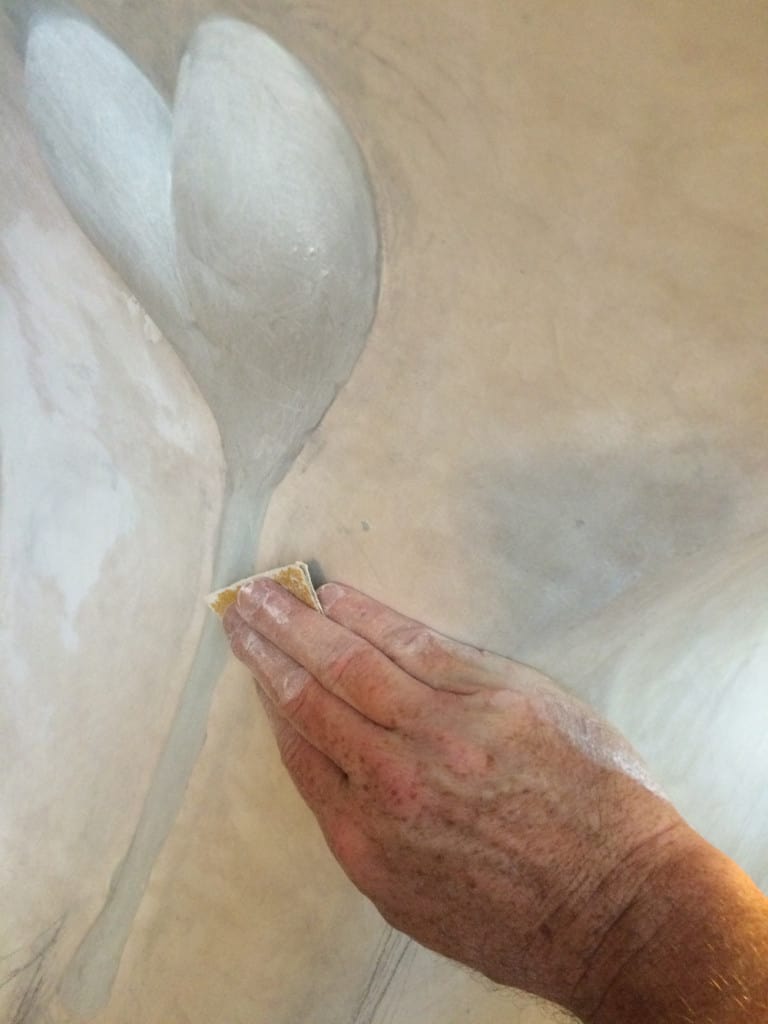 One of the two sculpted hearts on my sculpture.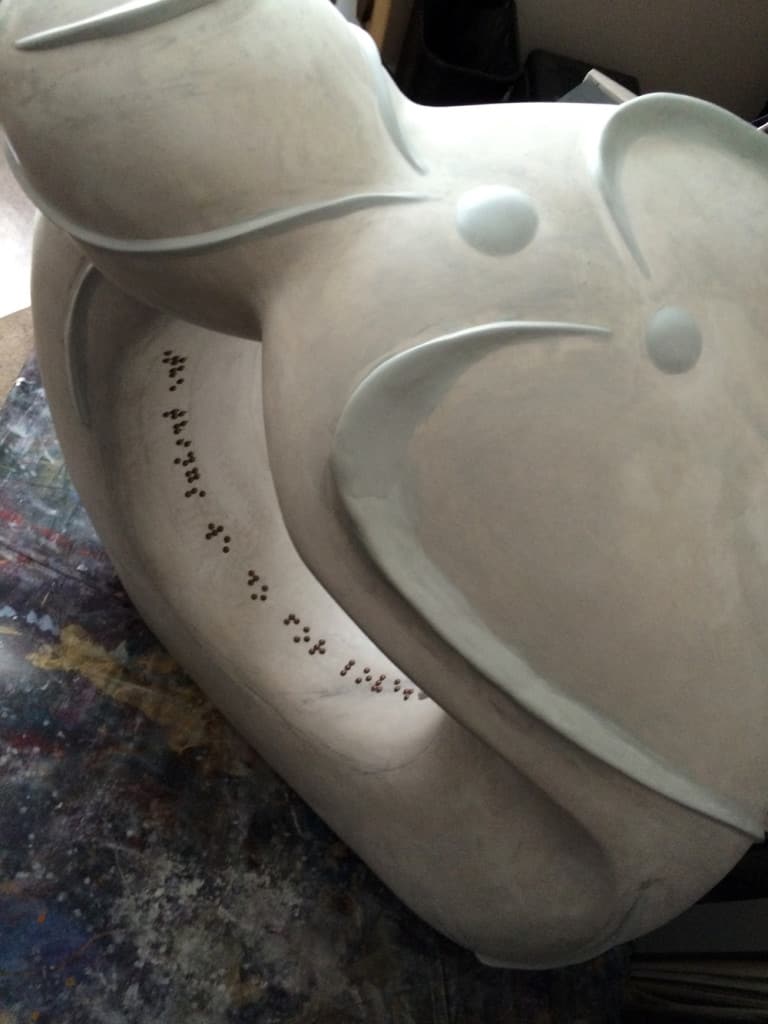 Still far from finished but making great progress – there is now braille that reads "The things we do for love."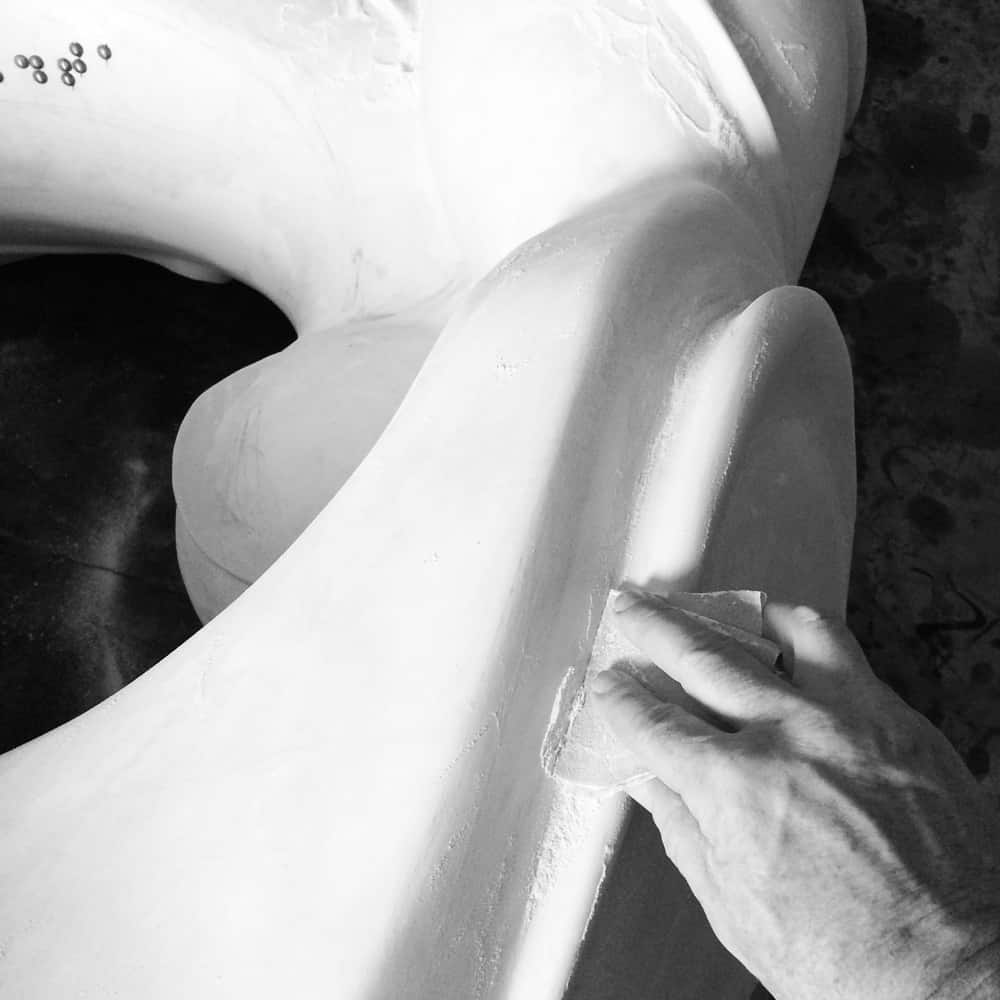 It's all about the details. Countless hours of fine sanding help create a smooth finish before painting.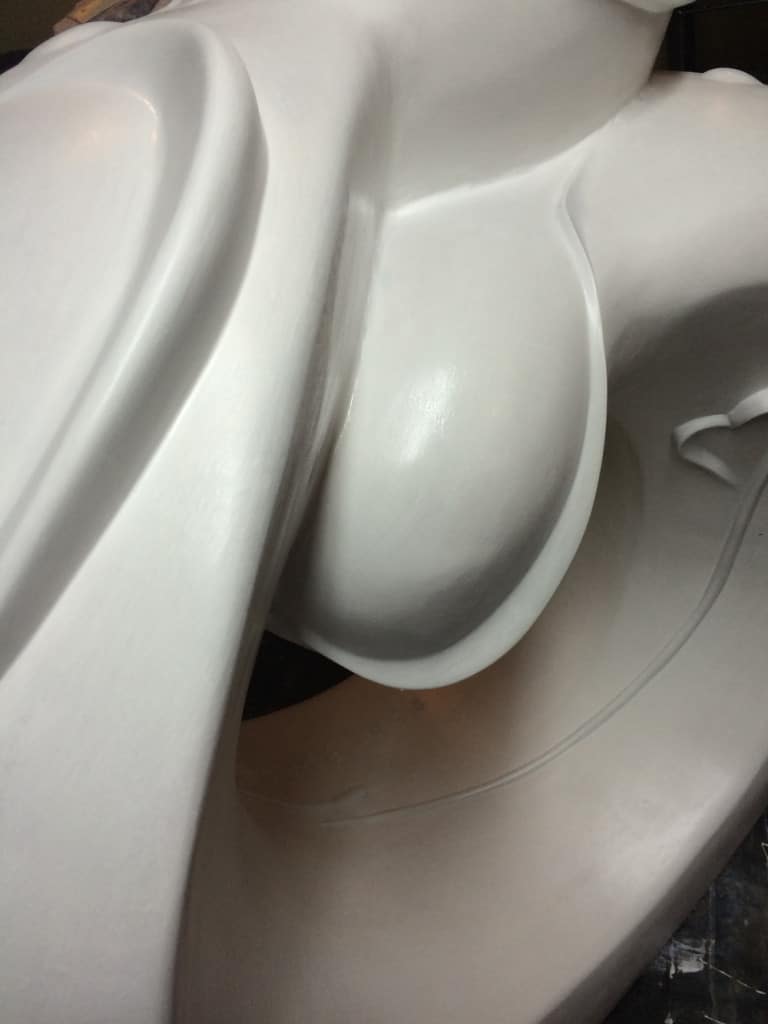 A pearl finish makes it dance. This is the first of many coats of pearl paint applied to the finished sculpture.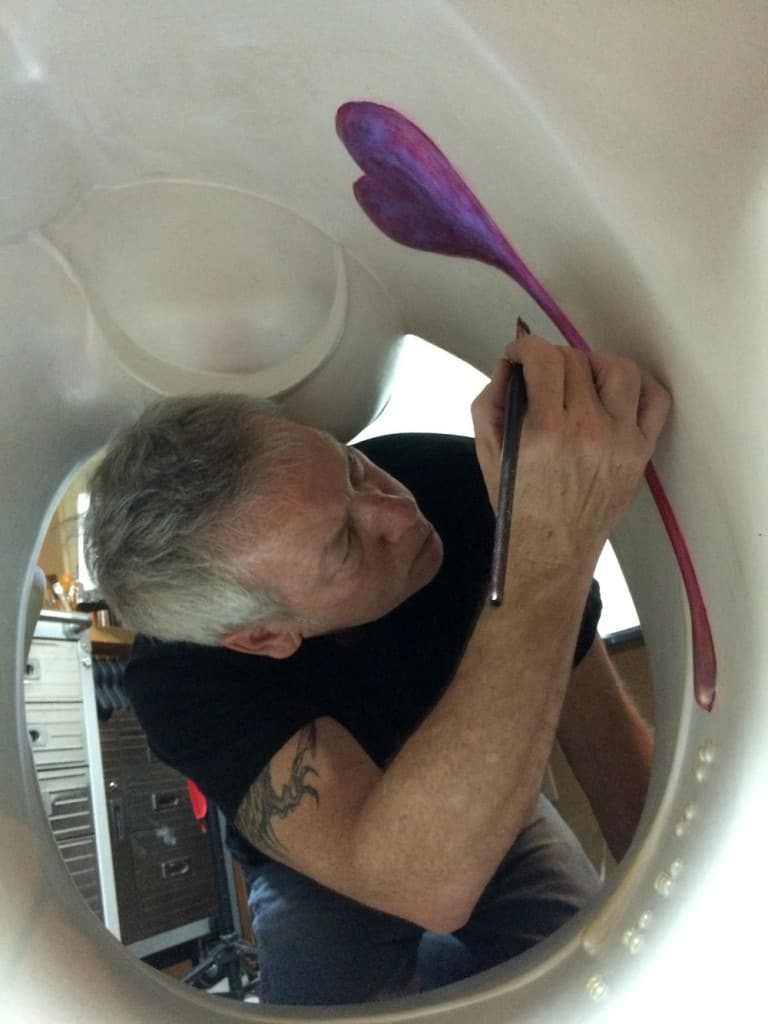 Adding color to the sculpted elements.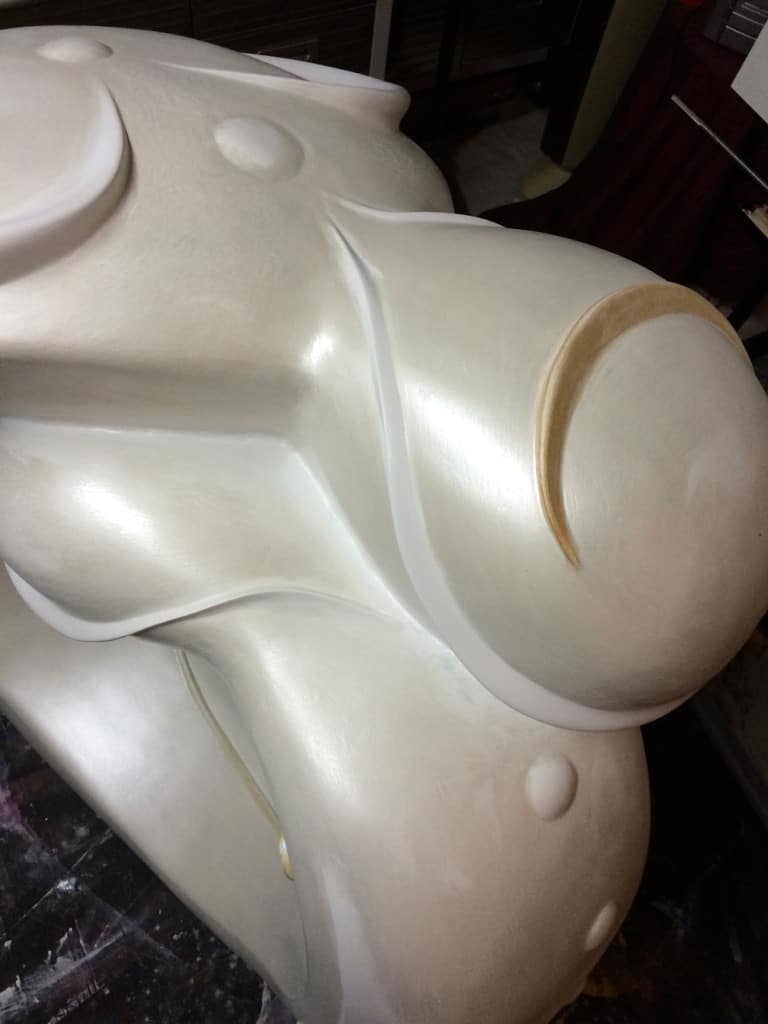 Early stages of layering the pearl colors give this piece a beautiful depth of color and intensity.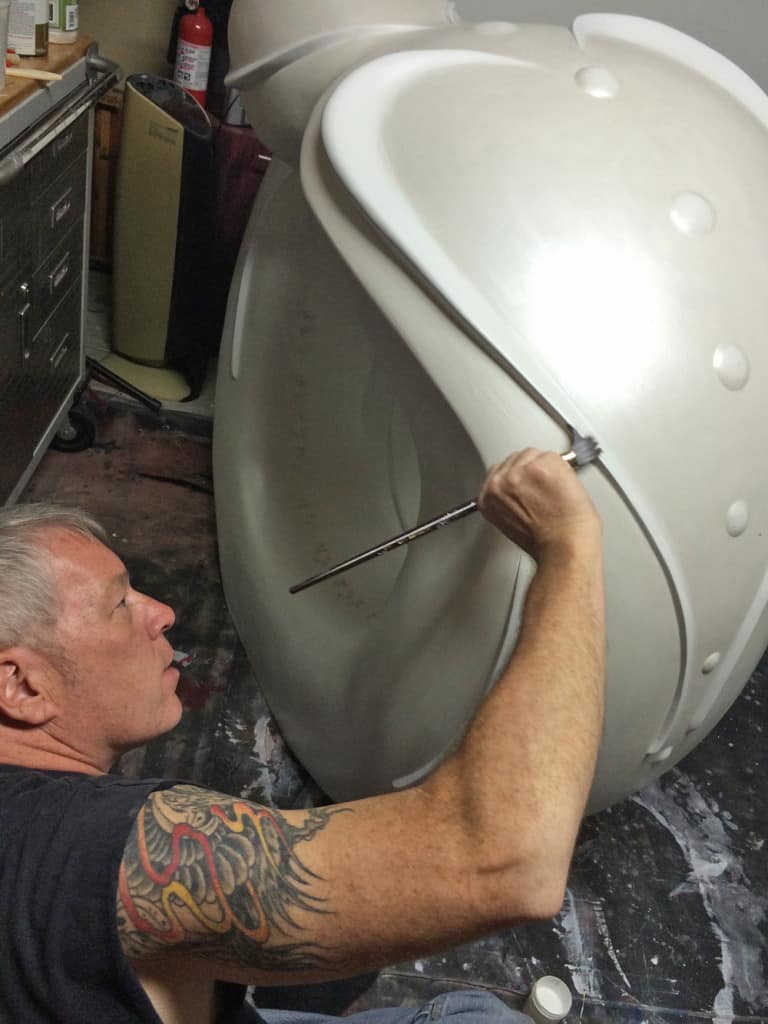 Details. Details. It's all in the details.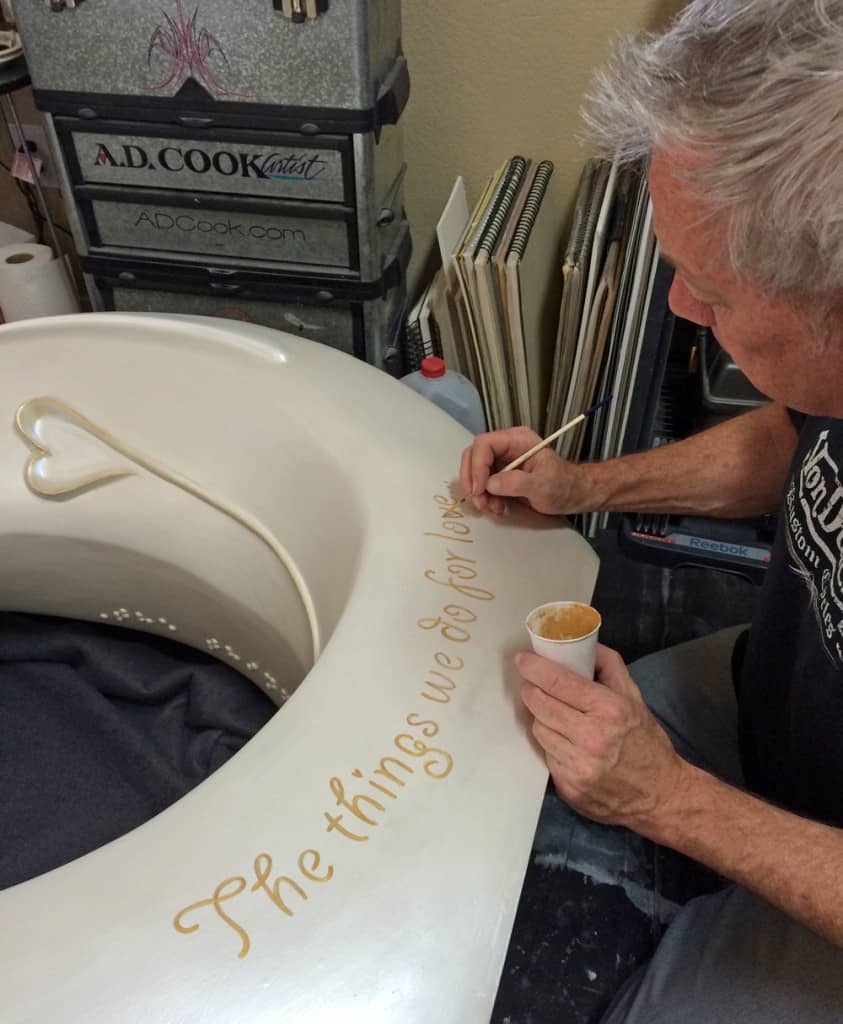 Hand lettering "The things we do for love…"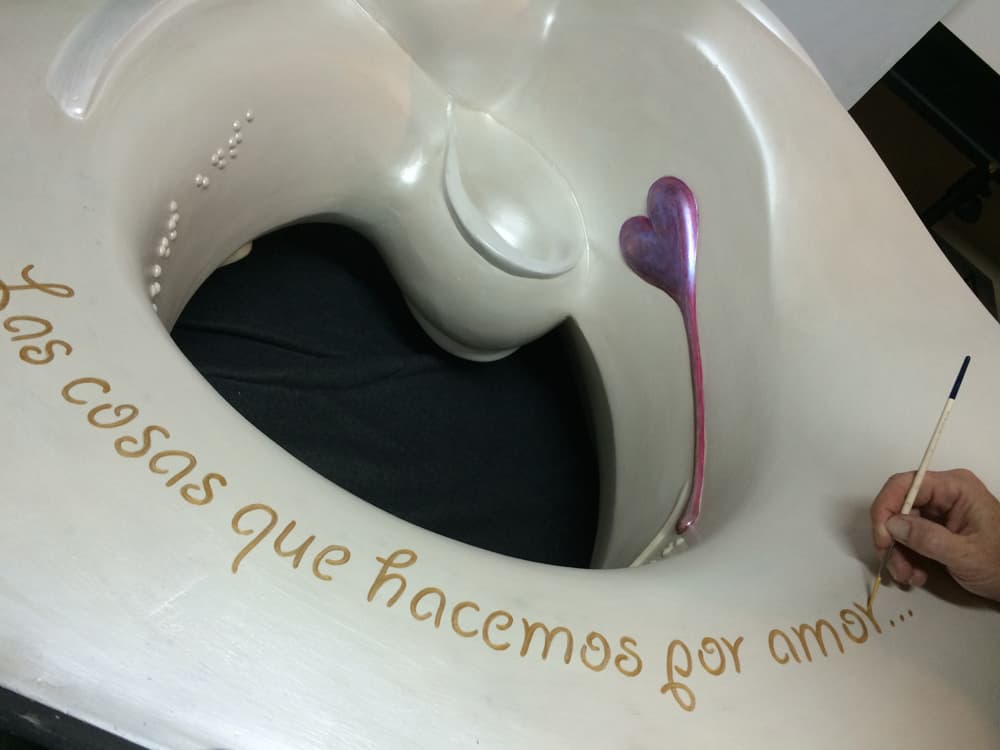 Las cosas que hacemos por amor…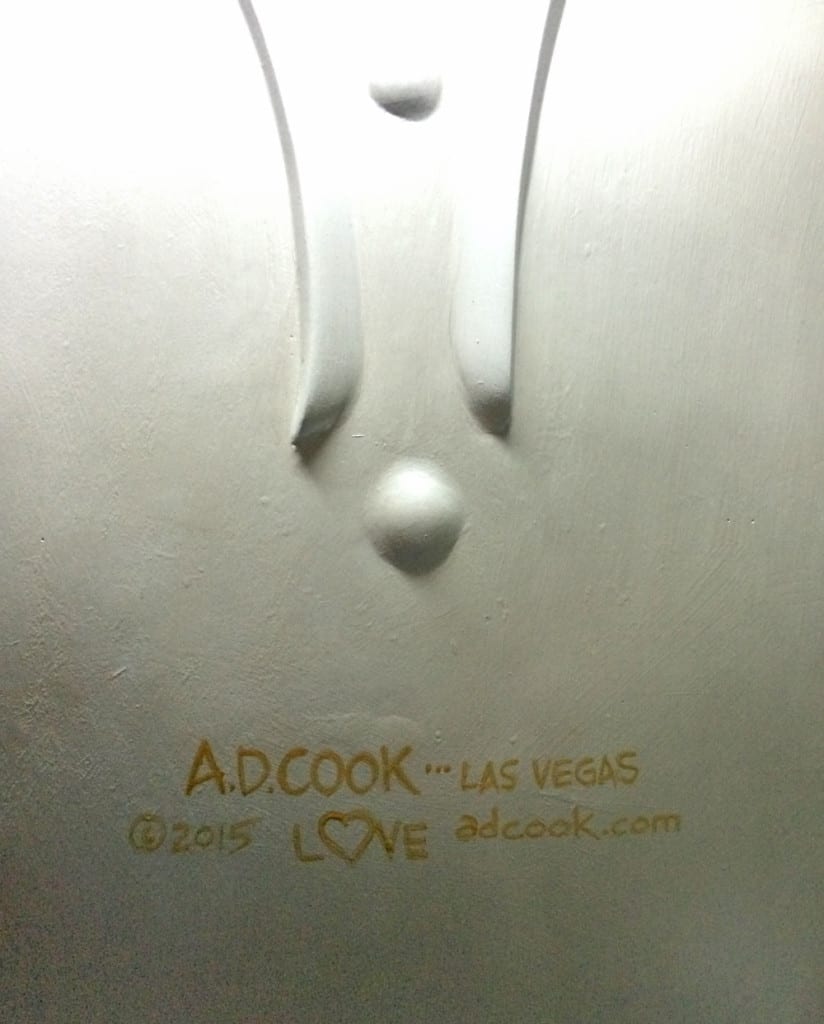 And finally… Signed 02/10/15. Cheers!
Special thanks to artist Beti Kristof-Mohn for inviting and encouraging me to participate. I'm so glad that I did. Watch for her finished St. Jude sculpture soon. Spoiler alert… it's beautiful and tells an equally beautiful story.
Love and compassion are necessities, not luxuries. Without them humanity cannot survive.
— Dalai Lama
With your help, the St Jude Las Vegas Chapter surpassed all fundraising expectations in 2014 with a whopping $1,250,000 raised between the Grand Gala Event & the Celebrity Poker Tournament. These sculptures are part of that effort to help generate funds for a great cause. Sponsors of this project play a major role in creating awareness for St. Jude and its mission of finding cures and saving children.
I would encourage you to visit the St. Jude Children's Research Hospital website to learn more about them and all they do.

This year, it looks like the grand unveiling of all ten sculptures will be at the Crystals Mall inside the City Center sometime around late summer or early autumn. Until then, The Things We Do For Love will be displayed at various locations around the Las Vegas area. Please feel free to join my email list, and I'll inform you where you can see mine up close.

Helping St. Jude is easy. Click here to donate.
If you would like to inquire about bidding on or sponsoring my sculpture or any of the other artists' St. Jude sculptures, please contact…
Tanya Amid, Chairwoman
St. Jude Children's Research Hospital, Las Vegas Chapter
Download the St. Jude 2014 Sponsorship Partner Packet (848 kb)
• • • • •