2012 marks ten years of producing figurative art as my primary creative focus…
While I've been drawing and painting my entire life – creating original art of cigars, motorcycles and Hollywood Video murals, along with a collection of abstract paintings along the way, I dedicated my art future to figurative art back in 2002. My commitment was confirmed one day after wrapping up my series of six motorcycle paintings. Since I am an avid rider, I enjoyed creating motorcycle art, but as an artist, I needed more. For me, motorcycle art was too mechanical with all its masking and hard edges. Other subjects didn't hold my interest. I wanted to create art that evoked emotion and passion and keeps me both creatively challenged and interested for a lifetime. I had done plenty of life drawing over the years and I always enjoyed the enormous variety of body shapes and sizes, colors, diversity, and beauty that is embodied within the female figure. So, with that, I share with you a brief synopsis of my last decade of figurative art / fine art nudes.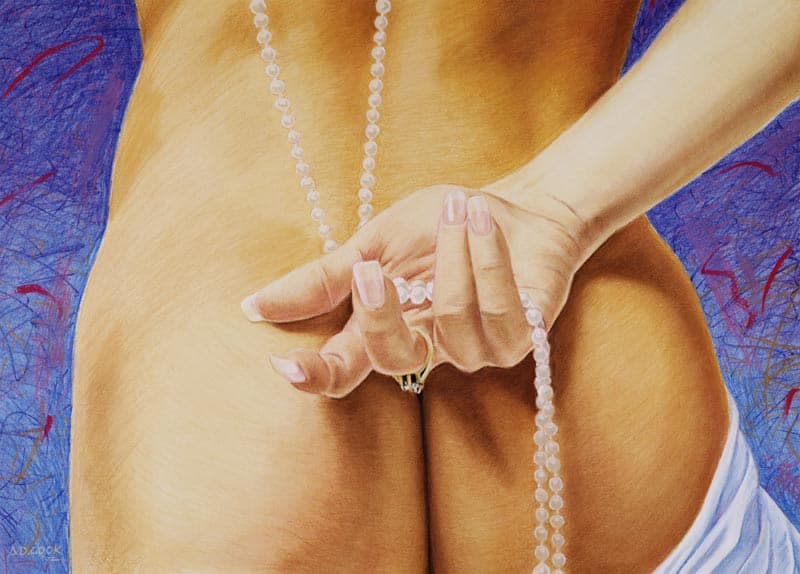 "Stranded" ~ pastel on paper © 2002
2002 -2003 started out with pastel creations. A prolific medium, I created a large collection over the first couple of years – unfortunately, many went on to collectors and friends before being photographed.
My creative energies are directed towards producing authentic one-of-a-kind original fine art nude/figurative artworks on specially prepared canvas and hand-ground metal. Most are painted life-size and larger (and often twice life-size) and feature a contemporary approach to the time-honored figurative and art nude genre. My imagery busts out of traditional art forms leaving viewers appreciating their sensual nature, beauty, and detail. My metal art has been compared to sculpture and holographic mediums – there's a dimensionality and motion visible in every artwork.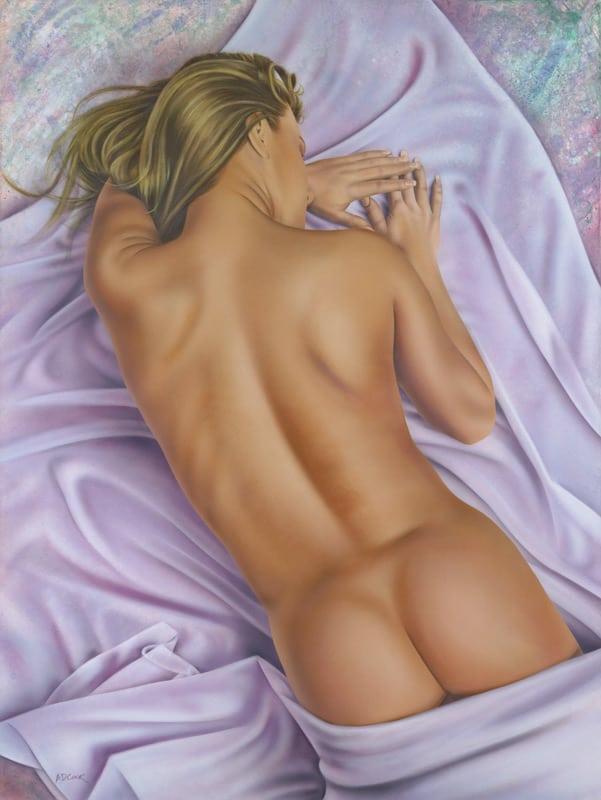 "These Dreams" ~ acrylic on canvas © 2003
In 2003 I started the painted series with "These Dreams" (above), a 48″ x 36″ full-color original on canvas before moving into my monochromatic artworks, which have been my primary focus over the last several years.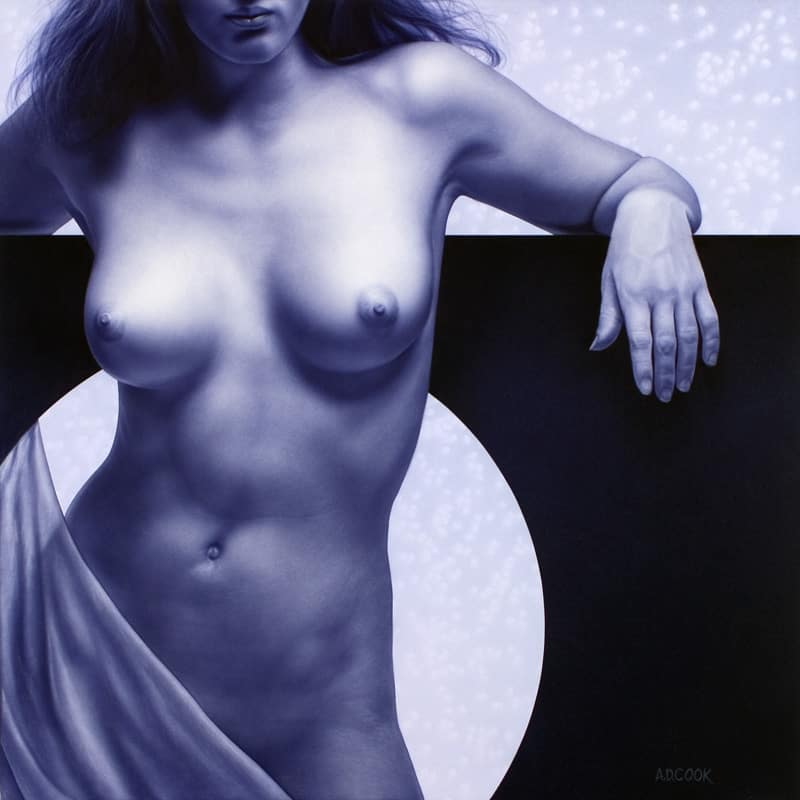 "Eclipse" ~ acrylic on canvas © 2004
My celebration of beauty is expressed through my sensual large-scale original figurative art on canvas honoring the grace, beauty, and complexity of the female spirit. These heirloom artworks are classic, contemporary, passionate, and preserve beauty for eternity.
Art is not a study of positive reality, it is the seeking for ideal truth.

~ John Ruskin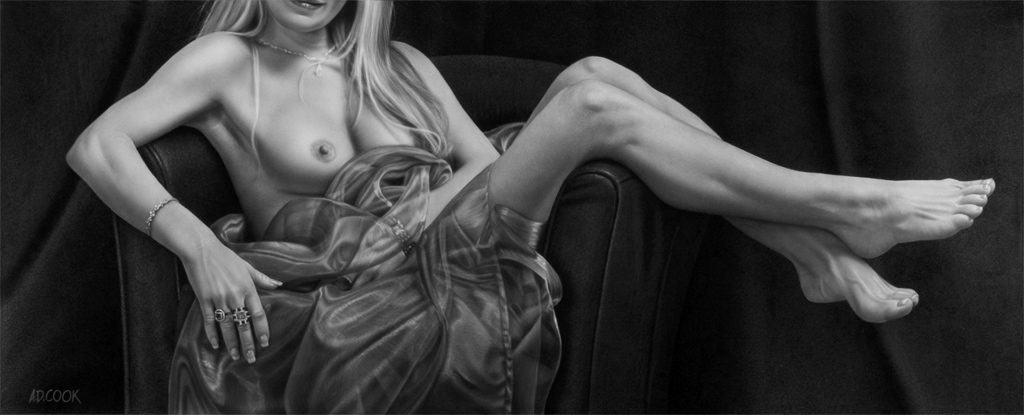 "Nuance" ~ acrylic on canvas © 2005 (commissioned original)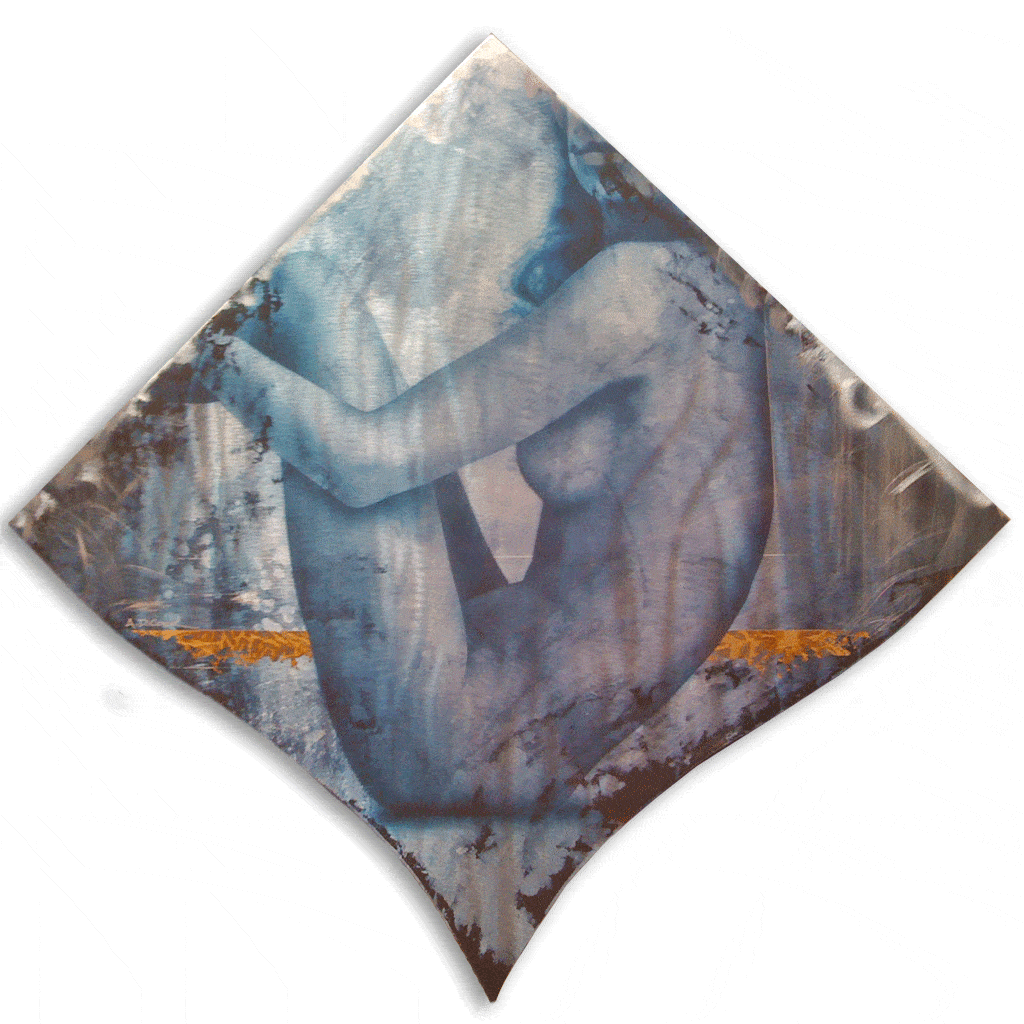 "Rose Sitting" ~ original painting on metal © 2006
I've been painting most of my life, and on metal as a fine art since 2006. My figurative artworks on metal have a continual holographic illusion of changing with the light. I create this illusion with a metal scribe – one stroke a time. Mostly are mixed media, combining color-shifting pigments, metal flakes, and gold leaf. For me, they are a wonderful catharsis to paint.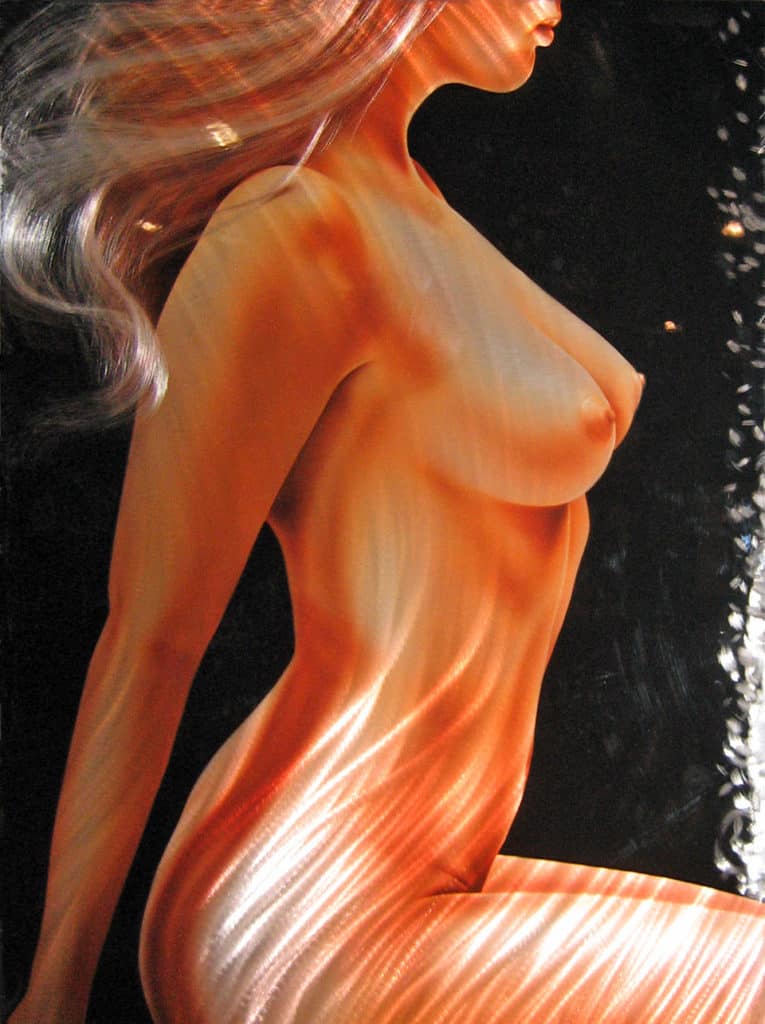 "Lynsey" ~ original painting on metal © 2007
My metal art nudes simultaneously celebrate the strength and power of female beauty, enhanced by hand-ground and specially-shaped surfaces. Beautifully elegant figures painted over and into the orchestrated grinds escalates the effects of both forms of art, forever capturing the female beauty eternal embrace.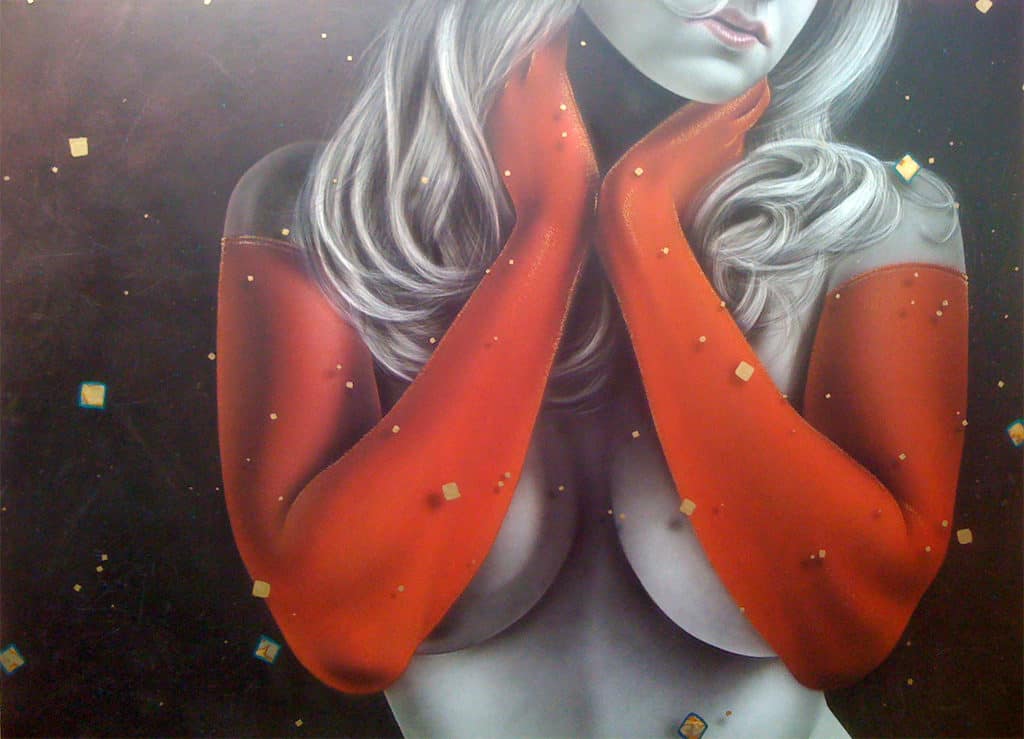 "Luxe" ~ acrylic on canvas © 2008
Artists don't make objects. Artists make mythologies.

~ Anish Kapoor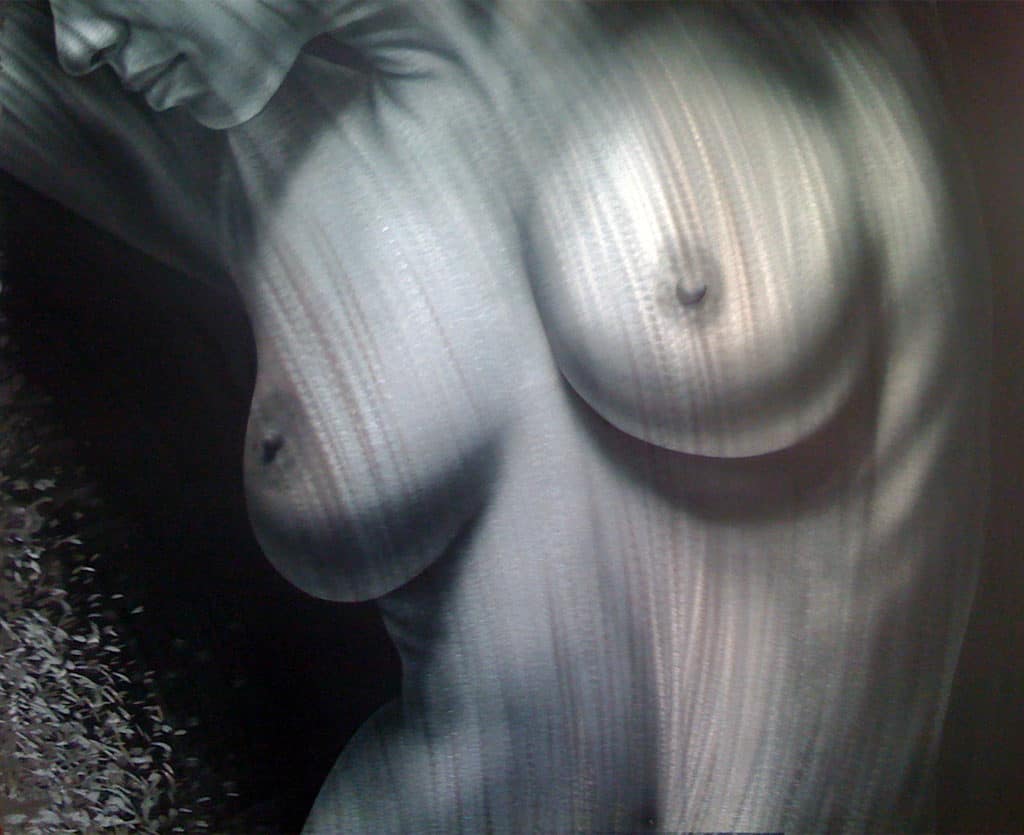 "Nyx" ~ original painting on metal © 2009
All my metal paintings change appearance with the changing light. A painting viewed by morning sunrise looks entirely different in the evening. Walk past them and they dance… like wall jewels. They take on a life of their own.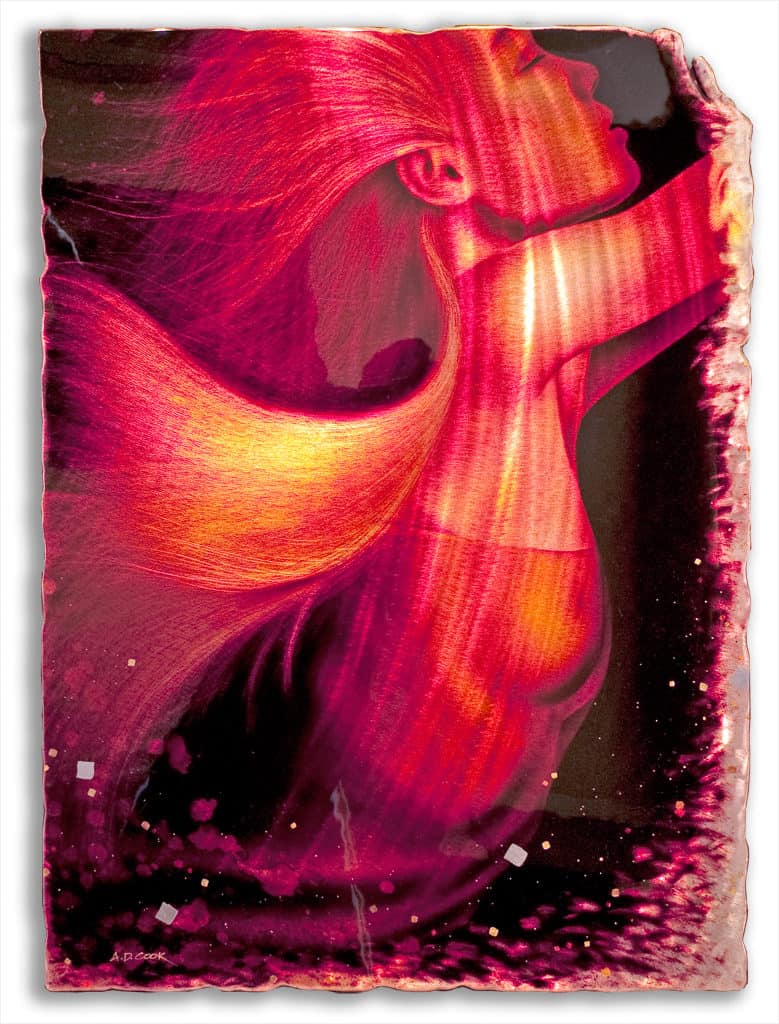 "Siren" ~ original painting on metal © 2010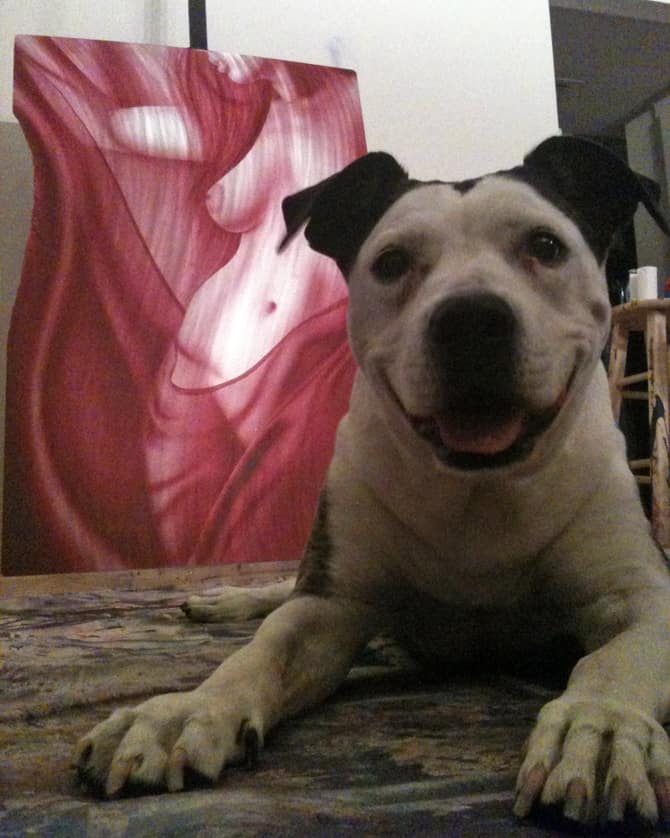 "Beaujolais" ~ original painting on metal © 2011
"Beaujolais" (above: 53-1/2" x 35-1/2″) is part of my "Wine Art Nude" series. My metal creations are an orchestrated balance of ground metal and beautiful figures celebrating life on a grand scale. Unrestricted by shape, many of my metal originals feature organic edges and are designed to create the illusion of floating in front of the wall. Additional paintings from the Wine Art Nudes series include Syrah and Muah!.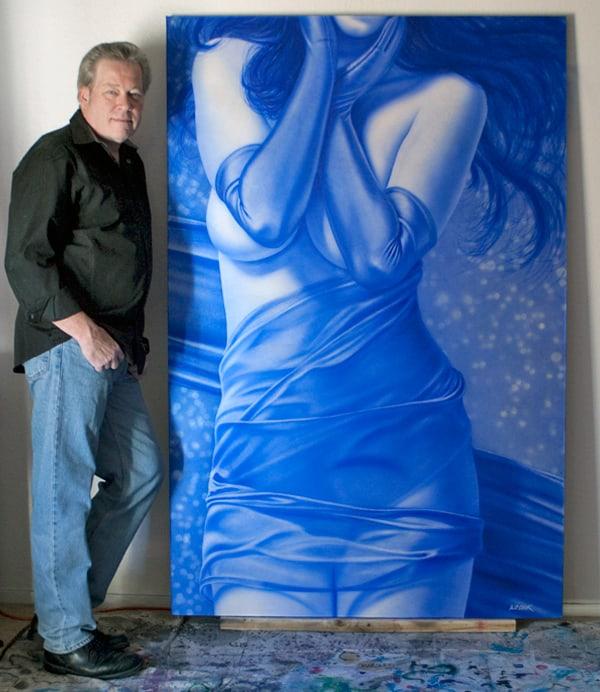 "Encore" ~ pearl acrylic on canvas © 2011
I started my current "Pearl Series" on canvas in Spring 2011. Since then, I've created nearly a dozen larger-than-life paintings as part of this ongoing collection of beautiful muses and pearl illusions. These paintings include effects more often integrated into my metal creations with the level of detail found in my canvas originals.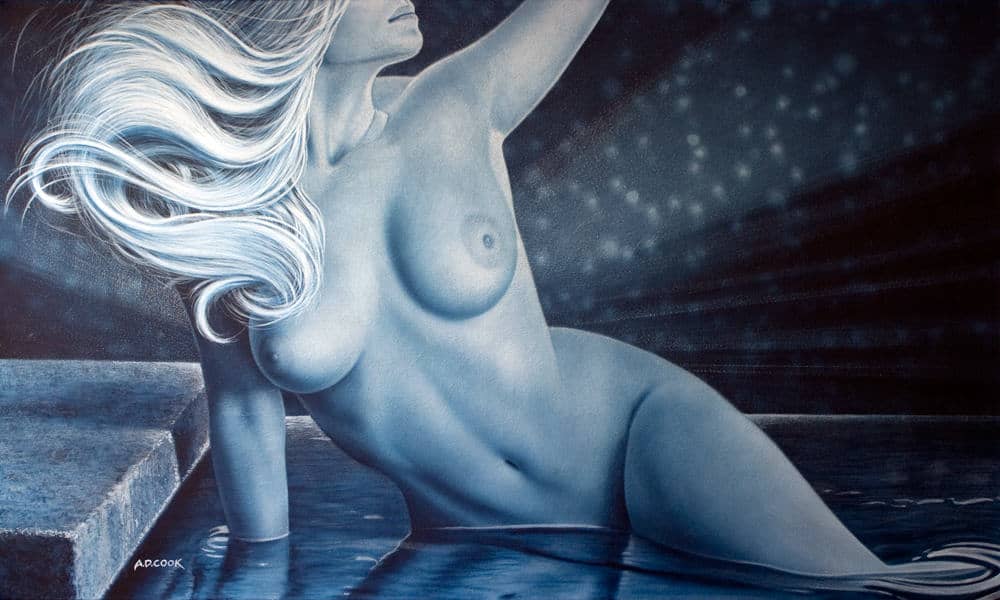 "Ascendant" ~ pearl acrylic on canvas © 2012
I started 2012 off with "Ascendant" (36″ x 60″), my seventh painting from my pearl series on canvas.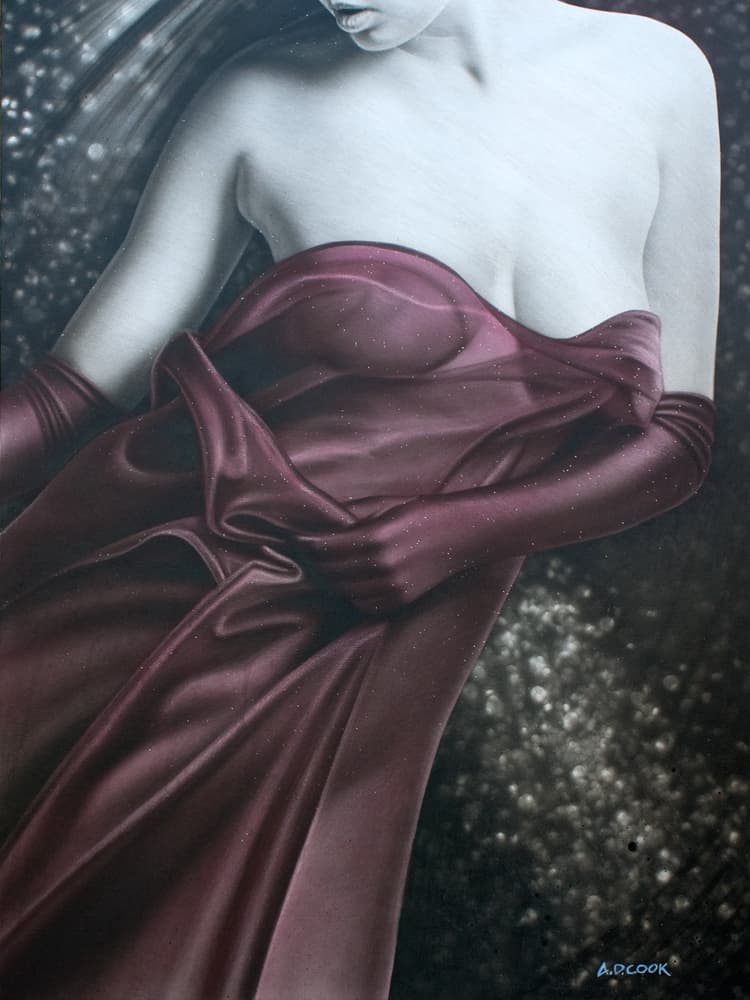 "Premier" ~ pearl acrylic on canvas © 2012
My latest series of larger-than-life art nudes on canvas is created with pearl acrylics on canvas. Like my metal creations, they change appearance with light.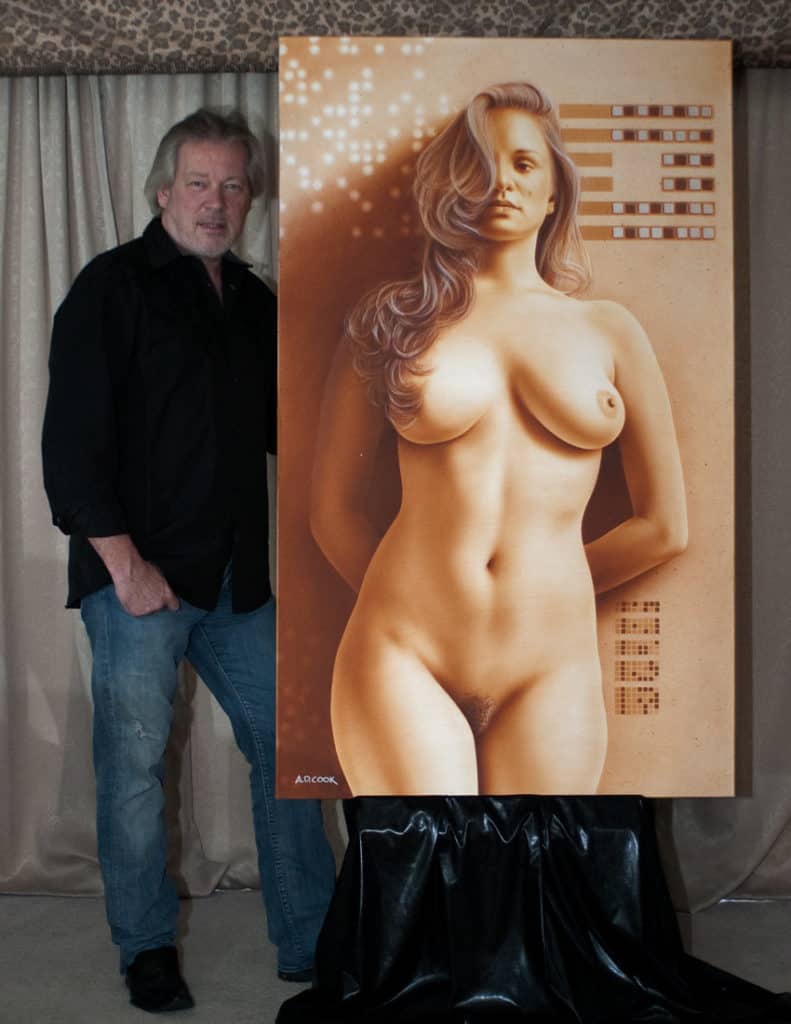 "Truth" ~ pearl acrylic on canvas © 2012
"Truth" (60″ x 36″) is my most current larger-than-life painting from the pearl series. She embodies coded binary elements into her background and color-shifting pigments.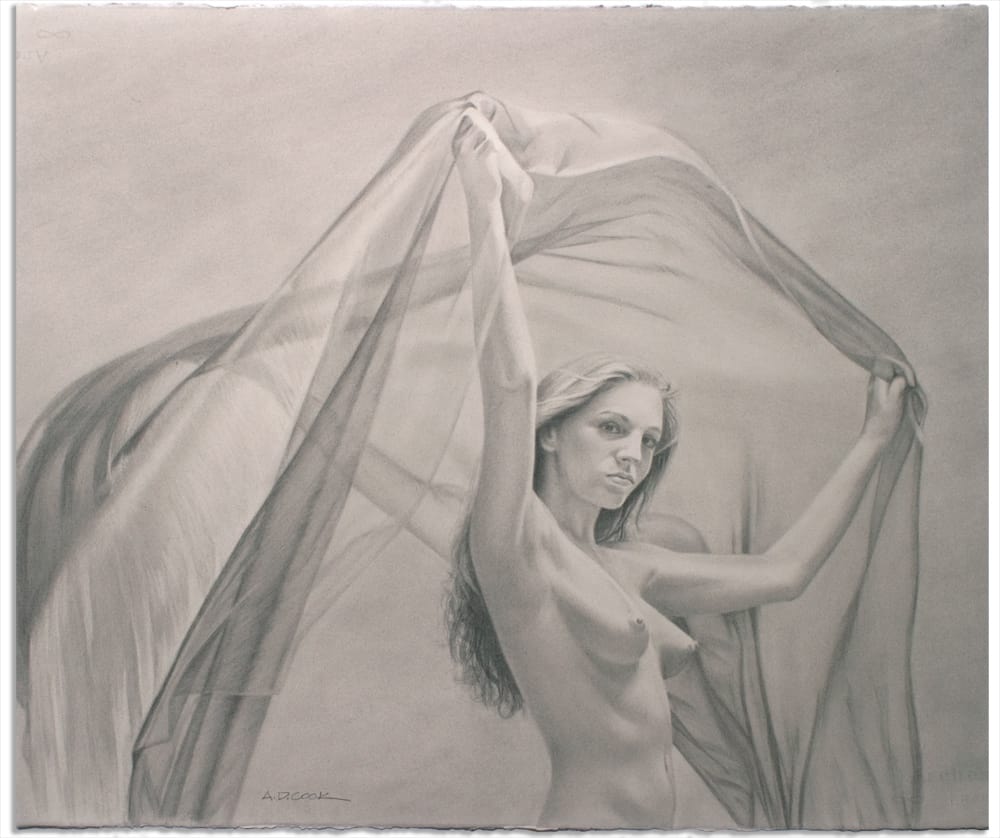 "Catching Wind" ~ drawing on paper © 2012
While figurative art nudes are my primary genre with paintings on canvas and metal as my main focus, I enjoy creating original artworks in other mediums through a wide stylistic range ~ including drawings and mixed media projects on panel and drawings on paper (like "Catching Wind" above).
Lord, grant that I may always desire more than I can accomplish.

~ Michelangelo
I've been privileged over the years to work with some amazing models – or "muses" as I like to refer to them, who have inspired my art. I've been honored as well that my art has been featured in books, magazines, and online. I take great pleasure in others taking pleasure in my creations. This web site displays over 80 paintings and drawings I've created over the last decade, and I feel that I'm just getting started. I'm excited about the future and looking forward my the next ten years… and beyond.
Creating art for eternity…
A.D.
Visit my Artworks Gallery for a complete viewing of my figurative art nudes.
Click here for more about why I paint what I paint – Truth & Beauty.