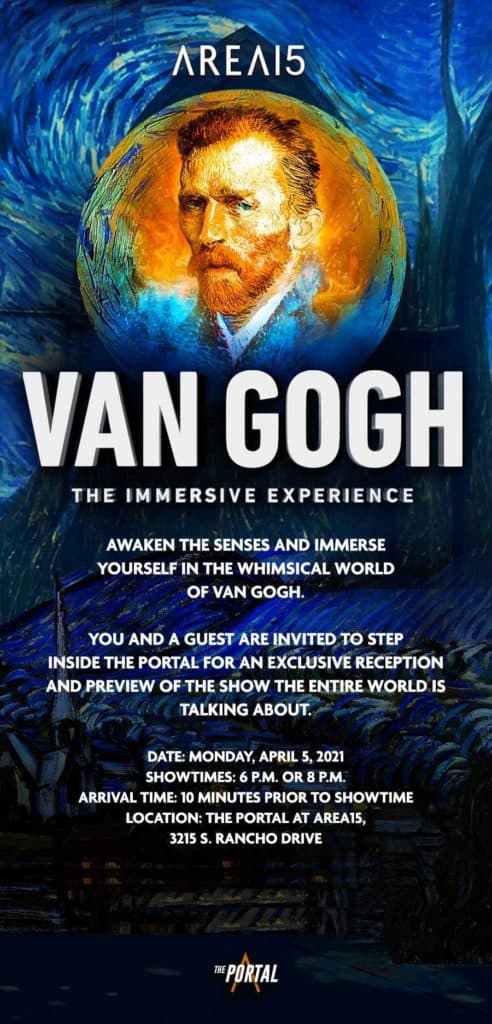 "I am seeking. I am striving. I am in it with all my heart."

~ Vincent van Gogh
I have been looking forward to this for a long time now. I originally shared the show was coming to Las Vegas on Facebook in early March with a simple post. Since then, it has come up in numerous conversations with my artist friends.
This experience, new to Las Vegas for a limited-time, promises a completely new way of encountering art. And it delivers through 500,000 cubic feet of projections, 60,600 frames of video, and 90,000,000 pixels. Wow, talk about immersion.
Experience art like never before – lose yourself in 300,000 cubic feet of flawless projections animating Vincent van Gogh's oeuvre. Wander through entrancing, moving images that highlight brush strokes, detail, and color – truly illuminating the mind of the genius.
You will be immersed in Van Gogh's works – from his sunny landscapes and night scenes to his portraits and still life paintings. The installation includes the Les Mangeurs de pomme de Terre (The Potato Eaters, 1885), La Nuit étoilée (Starry Night, 1889), Les Tournesols (Sunflowers, 1888), and La Chambre à coucher (The Bedroom, 1889), and so much more.
The exhibit is designed and conceived by Massimiliano Siccardi, with soundtrack by Luca Longobardi, both of whom pioneered immersive digital art experiences in France.
At the Portal at AREA15, 3215 S. Ranch Drive, Las Vegas, NV
Making its mark in the heart of Las Vegas.
The location Immersive Van Gogh Exhibit is taking over, is a secret venue situated in the heart of Las Vegas. To be announced before the exhibit opens, existing ticket holders will receive an email with the venue name and location once it is made public.

Renowned for transforming venues into unforgettable art experiences, the Immersive Van Gogh Exhibit strives to highlight the unique architecture of its spaces while integrating influences from its history and community. Get ready to be transported the second you step inside.

https://www.vangoghvegas.com
Make plans to immerse yourself. Meanwhile, visit the VanGoghVegas website for a taste of what you will experience and get your tickets. At the time of this writing, ticket prices are Basic $59.99, Premium $64.99, VIP $99.99, and Children $29.99. All tickets are subject to taxes and a $6 service fee.
Please note, this exhibition contains sequences of bright flashing lights which may affect visitors who are susceptible to photosensitive epilepsy, as well as others who are sensitive to moving lights. Viewer discretion is advised.