Creating A World Without Catastrophic Childhood Diseases — Curiouser & Curiouser, A Circus Couture Art Event.
I am proud to participate alongside ArtisticLifestyles and Domsky Glass in this amazing cause. Please join us at ArtisticLifestyles Las Vegas on June 8th from 7-10 pm.  Keep reading to learn more about this event, this cause, and who you'll be supporting by attending…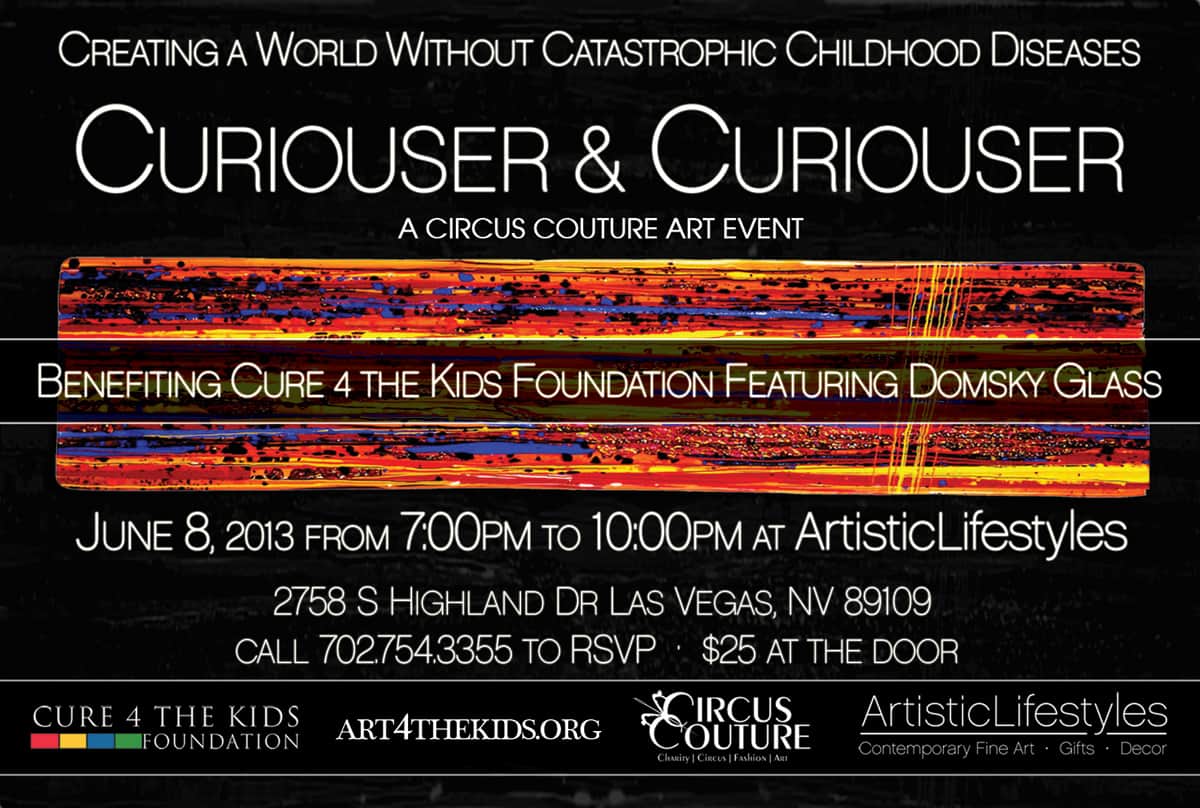 Creating A World Without Catastrophic Childhood Diseases — Curiouser & Curiouser, A Circus Couture Art Event. Benefiting CURE 4 THE KIDS FOUNDATION featuring Domsky Glass.
CALL 702.754.3355 to RSVP • $25 at the DOOR benefits CURE 4 THE KIDS.
• • • • •
Art 4 The Kids — The Mission
The mission of Art 4 The Kids is quite simple. Expose children facing a medical challenge to the therapeutic benefits of art while increasing awareness of the specialized medical services available to all families through Cure 4 The Kids Foundation.
Exposure To The Artistic Process
We believe there is a special wonder and therapeutic benefit in the artistic process. This is especially true for children under stress because of a medical condition such as cancer.
With leadership from Larry and Barbara Domsky, our goal is to expose children to the artistic and creative process and foster a life-long appreciation of art and its benefits. Through an annual in-studio artistic experience, children will learn about the planning, creation, and completion of their own art pieces and those they make for others. By its very nature, this creative process instills a sense of empowerment in the child, in direct opposition to the medical challenge the child is experiencing. To further expand the artistic benefits, the Domskys will create an in-house art program for patients at the Children's Specialty Center of Nevada, a program of Cure 4 The Kids Foundation. This will provide patients access to art materials while they are in the infusion areas of the clinic, where treatments can take several hours.
In order to sustain funding for this program, gallery events will be held annually by Circus Couture, Domsky Glass, and ArtisticLifestyles. A children's gallery will present artworks made by the children, and a silent auction will be held. All funds raised through ticket sales for this event and auctioned art will go towards developing and sustaining the in-the-house art program and to benefit the mission of Cure 4 The Kids Foundation and Cure 4 The Kids Foundation's Charity Care Plan.
Awareness
Our members are determined to increase awareness of the availability of specialized medical treatment available to all families, regardless of the ability to pay or the presence of medical insurance.
Cure 4 The Kids Foundation is the state's only nonprofit organization providing this kind of direct treatment to families facing life-threatening medical decisions. The foundation's Charity Care Plan provides the resources for treatment when none is available, ensuring no child is turned away from treatment. More than 500 families have received assistance through the Charity Care Plan. We strive to increase awareness through special events, fundraisers, and connections with community groups. Art 4 The Kids will allow children, adults, and the community at large to support the children facing a medical challenge and those working to make them healthy.
Enjoy this great video of the kids' creative day at Domsky Glass.
Curiouser and Curiouser Benefit
Art 4 The Kids — Our Events
The public is invited to a showing of the unique artwork created by children who've faced a major health battle at a very young age. Through the gracious efforts of Larry and Barbara Domsky and the Artistic Lifestyles Gallery, the artwork created by children will be displayed and available for purchase. The proceeds from the sale of the artwork will benefit Cure 4 The Kids Foundation's Charity Care Plan. These one-of-a-kind art pieces represent a rare opportunity for children to work alongside the Domskys, whose artwork is enjoyed by collectors around the world.
Curiouser, Curiouser Benefit is June 8, 2013, at 7 p.m. at Artistic Lifestyles Gallery, 2758 S. Highland Drive, Suite B, Las Vegas, 89109. Admission $25. Additional information at www.art4thekids.org.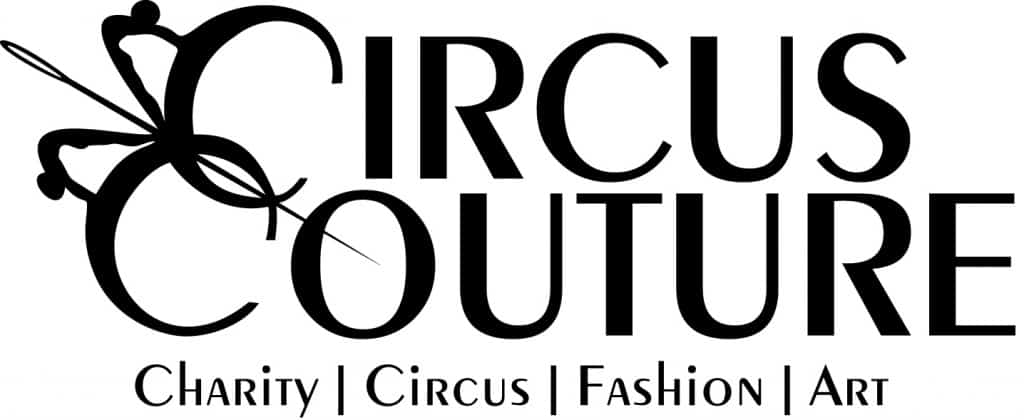 Circus-Couture.com     |     Twitter.com/Circus_Couture
• • • • •
20% of that evening's sales from the ArtisticLifestyles collection will be donated to CURE 4 THE KIDS. Want to help right this instant? Buy a work of art from ArtisticLifestyles.com, put in "Donation code; CURE4," and 20% will go to this amazing organization. Happy Shopping!
• • • • •
A few links to related sites and articles…
• ArtisticLifestyles Blog
• ART4THEKIDS.ORG (a site dedicated to the event on June 8th)
• News 13 Story
• News 8 Story
• Las Vegas Informer: Curiouser & Curiouser to be held at ArtisticLifestyles Gallery to benefit Cure 4 The Kids Foundation on Saturday
• • • • •
Join us at

2758 S Highland Dr, Suite B, Las Vegas, Nevada 89109
ArtisticLifestyles.com     |     702.754.3355
JOIN ARTISTICLIFESTYLES GALLERY FOR THEIR SECOND SATURDAY ART EVENTS EVERY MONTH
View Larger Map
• • • • •
view my original art
NIRVANA     |     TRUTH     |     NEXUS     |     INFINITY     |     BACKDRAFT
exclusively at ArtisticLifestyles Gallery, Las Vegas, NV
• • • • •
SALUTE 4TH ANNUAL WINE TASTING     |     SOCIAL REGISTER ART MIXER     |     ONE NIGHT FOR ONE DROP