I love figurative art – especially art nudes. There is no secret in that here. I've been painting the nude on canvas and metal for over a decade now. But many might not realize that I, like many, have been a fan of figurative art since I was young – very young.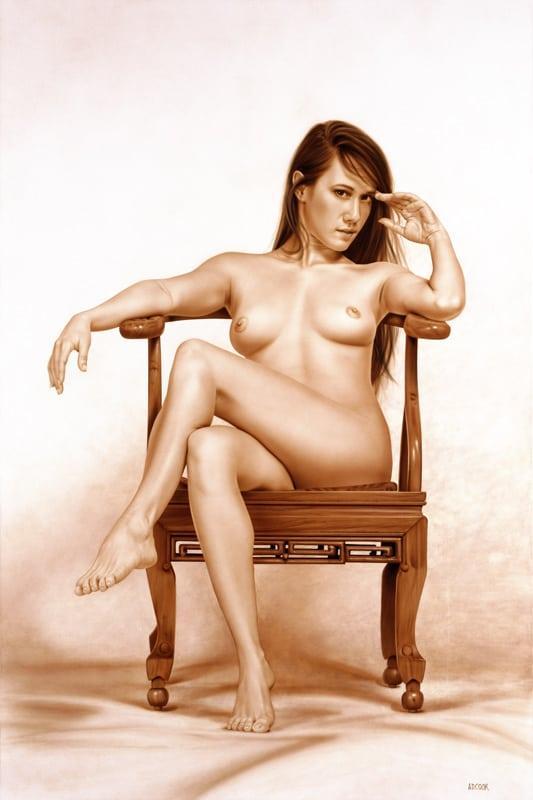 MUSE – 72″ x 48″ acrylic on canvas
inspired by the beautiful Victoria Annisova © A.D. Cook 2004
I started drawing people – mostly portraits – as far back as late grade school, learning about proportions, form, and light. All through grade school and ever since it has been my passion to draw people. By junior high school, I drew pictures of actors and actresses from my sister's TEEN magazines and, later, drew the girls in the Sports Illustrated swimsuit issues. By High School, I was drawing Raquel Welch and Cheryl Tiegs as part of my creative repertoire. Later, I drew inspiration from the beautiful Playboy centerfolds, and Dorothy Stratton and Barbi Benton were my Muses Du Jour. Of course, I never met any of those beautiful ladies, but they remain my "ideal" muses in many ways. Drawing from magazines was all part of the learning process for me. Naturally, I no longer paint from other photographers' reference images. I haven't in a long time. I've been photographing my models as part of my creative process and producing paintings from those images for over a decade. I know that the experience of the photoshoot – capturing the essence of my muse – is an essential element in fulfilling my creative vision.
So, over the years, while my art has varied from one media or style to another, what remains constant is my passion for the timeless beauty of the female figure. I have no doubt that I will always be searching for developing techniques and processes that assist me in better expressing the emotion and passion I wish to convey in my paintings. Meanwhile, I am always in search of the perfect muse to inspire my vision of timeless, powerful art.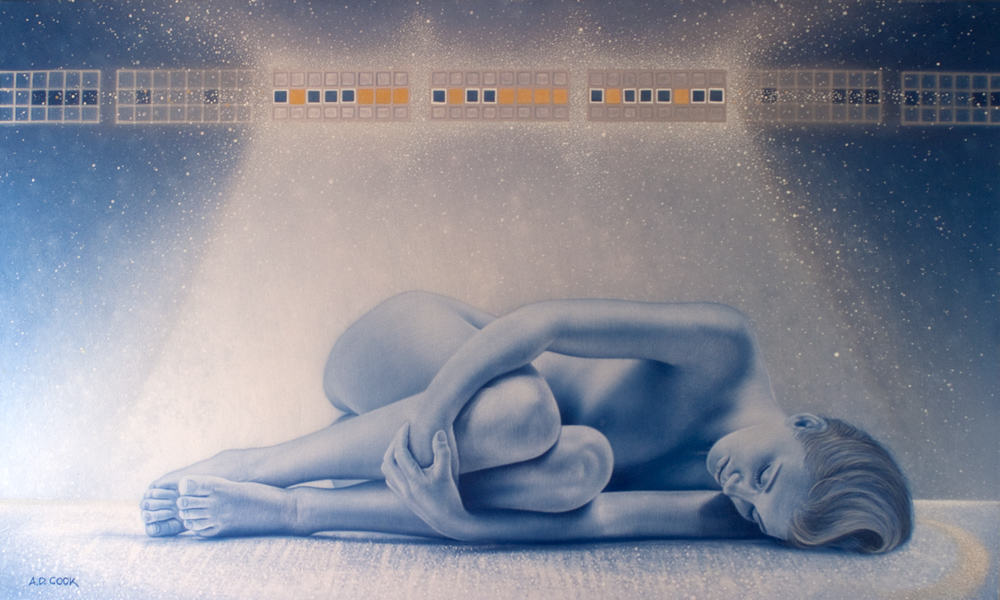 NIRVANA – 36″ x 60″ acrylic on canvas, pearl series
inspired by the beautiful Lynsey © A.D. Cook 2012
I share this with you because I believe that all figurative artists are drawn to beauty in a similar fashion. Male and female artists who paint the nude body take a different look at life and the people around them. I believe we see things differently. Figurative artists are constant observers. Sure, all artists are observers, but I believe it's different for those who draw people – perhaps because we all see people every day, yet not everyone focuses on the details – the things that make each person unique and special. Yet, even non-artists realize if something is right or wrong when looking at a painting of another person. Beautiful or ugly, real or false – whatever it is, humans are naturally aware of people around them. All people are people watchers. As observers, figurative artists reveal things about the subject that others might not see or might not take the time to see. I am forever drawing in my head – absorbing the beauty and studying the shapes and forms of those around me. Artists take the time to pause time – to capture a moment as art. Sometimes, that takes days, weeks, or months. Along the way, the artist gets to know his muse through observations of the details. If the artist is successful, that moment is realized and appreciated by you, the viewer of the finished creation. You, in essence, get to know our muse. We share her and that moment with you for eternity.
This post is not about my art. Rather, I want to share a few sources of great figurative art from other contemporary figurative artists that I admire and respect. I hope you'll find beauty in my search and take a pause for a moment to view people through the eyes of the artist.

The first stop on my list has to be the Figurative Artist Directory [ FigurativeArtist.org ]. One common passion – the art of the human form unites this talented international contemporary figurative group of artists. From serene and sublime to quirky and surprising, each artist offers their own unique style for your discovery. Created by Paula O'Brien as a random act of kindness, this site features nearly 900 (and growing), jury-selected artists, with diverse art representing the human figure. I am honored to be included on that list. Check out her Blog here > https://figurativeartist.org/blog/
• • • • •
The Los Angeles Academy of Figurative Arts (LAAFA) is keeping traditional drawing and painting alive with its anatomy, drawing, painting, sculpting, and digital art classes. They recently celebrated a milestone of 10 years in art education.
• • • • •
Kudos to Ellen Jaye Benson for assembling an eclectic and diverse collection of figurative art for your viewing pleasure. I thoroughly enjoyed seeing some amazing art here > http://pinterest.com/EllenJayeBenson/inspiring-figurative-art
• • • • •

TheGreatNude.tv was officially launched in 2007 and has been spreading the word of figurative art ever since. Over the next few years, their online "Paid Subscription-Only" magazine grew the subscription base of the publication into thousands of subscribers whose demographics include artists, collectors, curators, and fans of artworks made by serious artists who maturely deal with the nude. In addition to presenting artist interviews and exhibition reviews of some of the most exciting and provocative nudes being created today, TheGreatNude.tv presents the tutorial series Sketch Sessions – a celebration of the traditions of Life Drawing, with nude models posing for artist publisher Jeff Wiener and his guest artists.
• • • • •
A Panel Discussion on the "Future of Figurative Art" was held on Saturday, December 8, 2012, at the Brooklyn Studio of the Teaching Studios of Art in New York City. As part of their mission to engage in a dialogue about contemporary figurative realism, they invited these panelists to debate/discuss the direction figurative work should take next. Featuring Brad Kunkle,
Adam Miller
,
Martin Wittfooth
, and Michael Gormley (moderator), an exciting variety of topics relating to the figure in art were discussed and are now available for your viewing pleasure.
 • • • • •
Figurative art, sometimes written as figurativism, describes artwork—particularly paintings and sculptures—which are clearly derived from real object sources and are, therefore by definition, representational. "Figurative art" is often defined in contrast to abstract art:
Since the arrival of abstract art the term figurative has been used to refer to any form of modern art that retains strong references to the real world.
Painting and sculpture can, therefore, be divided into the categories of figurative, representational, and abstract, although, strictly speaking, abstract art is derived (or abstracted) from a figurative or another natural source. However, "abstract" is sometimes used as a synonym for non-representational art and non-objective art, i.e., art that has no derivation from figures or objects.
Figurative art is not synonymous with "art that represents the human figure," although human and animal figures are frequent subjects.
Source: http://en.wikipedia.org/wiki/Figurative_art
• • • • •
Want to see more? Check out my other Blog posts on Figurative art:
• Truth & Beauty – Beauty & Truth
• • • • •
To the beautiful muses who inspired my vision and guided my hands,
I extend my heartfelt appreciation. Without you, there would be no art.
• • • • •
ART CREATION TIMELINE     |     MODELS AND MUSES     |     THE IMPLIED NUDES