Nudity in art has been debated since the beginning of time.
After all, the unclothed human figure is an important genre in art, as it has been beautifully featured throughout history since ancient times.
The divine beauty of the nude figure has been a central eternal focus of art and has inspired artists as far back as cave drawings. This passion still exists today as an iconic and ongoing inspiration. The human form is beautiful and expressive, providing an ideal subject for art, which is why so many fantastic artists have utilized the figure for their creative expression.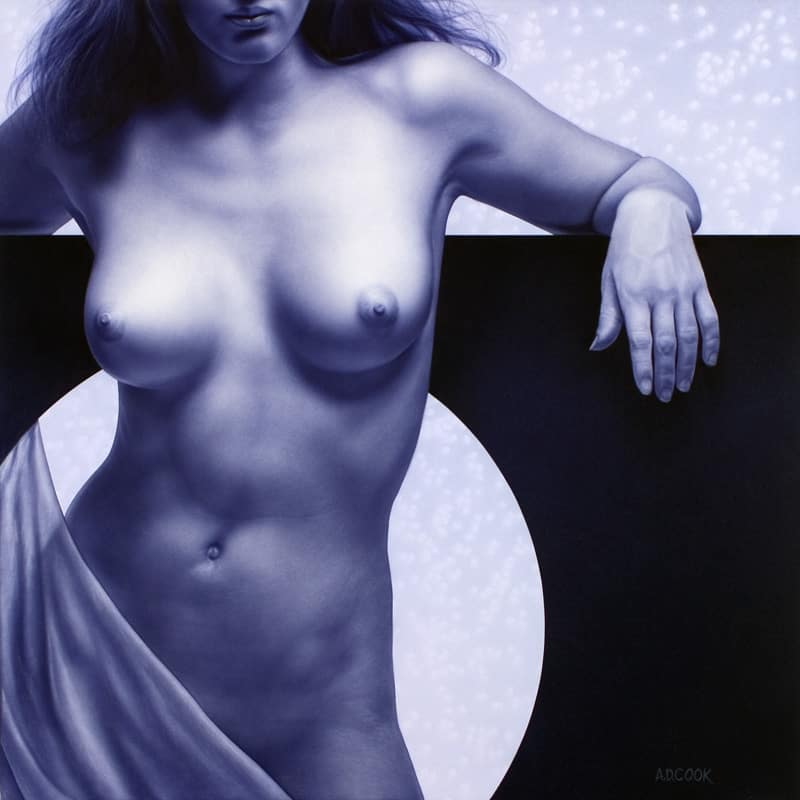 Eclipse — 36″ x 36″, acrylic on canvas – painted approximately life-size. © A.D. Cook 2004
What spirit is so empty and blind, that it cannot recognize the fact that the foot is more noble than the shoe, and skin more beautiful than the garment with which it is clothed?

— Michelangelo
Most sculptures of Greek gods, heroes, and athletes have been portrayed in sans clothing. This is because they were among the first to discover how to realistically portray the human form in art—giving it beautifully proportioned limbs, well-developed muscles, and idealized contours. They studied every detail of the human body and endeavored to represent the body with accuracy. They realized that covering the body with clothes only concealed its natural beauty, so they created amazingly realistic statues honoring athletes and placed them in their public spaces.
Today, the nude is primarily a tradition in Western art and has been used to express ideals of male and female beauty; athletes, dancers, and warriors are depicted to express human energy and life, and nudes in various poses may express basic or complex emotions ( wiki/Art Nude )… Wikipedia states, "Modern artists have continued to explore these classical themes, but also more abstract representations, and movement away from idealization to depict people more individually. In the contemporary or Post-modern era, the nude is often seen as passé, with a few notable exceptions. Few contemporary artists seek to create images of beauty, often quite the opposite."
Although I've enjoyed painting my entire life, I've directed my creative energies on creating tasteful and beautiful art nudes on canvas and metal for the last decade. I've made this my focus for a variety of reasons;
— The human form – especially the female figure, is undeniably beautiful, making it an ideal subject for my art.
— The human body is dynamic and hugely expressive, capable of displaying a full range of feelings and emotions.
— We can all identify with the human form. It's the one thing that binds us all together.
— Nudes are challenging to paint, keeping me interested in the creative process.
— In studying and painting the human form, we learn about ourselves. For the most part, the human form is relatively proportionate in its consistency. Sure, there are variations of tall-short, fat-thin, this-that, and other variations, but generally speaking, the vast majority of humans have two arms, two legs, and reasonably similar proportions. When people look at the figure in art, most can tell immediately whether something is right or wrong. In many instances, even children know this.
And finally…
— I've never found anything more beautiful. The human form in its classic beauty will never be "passé."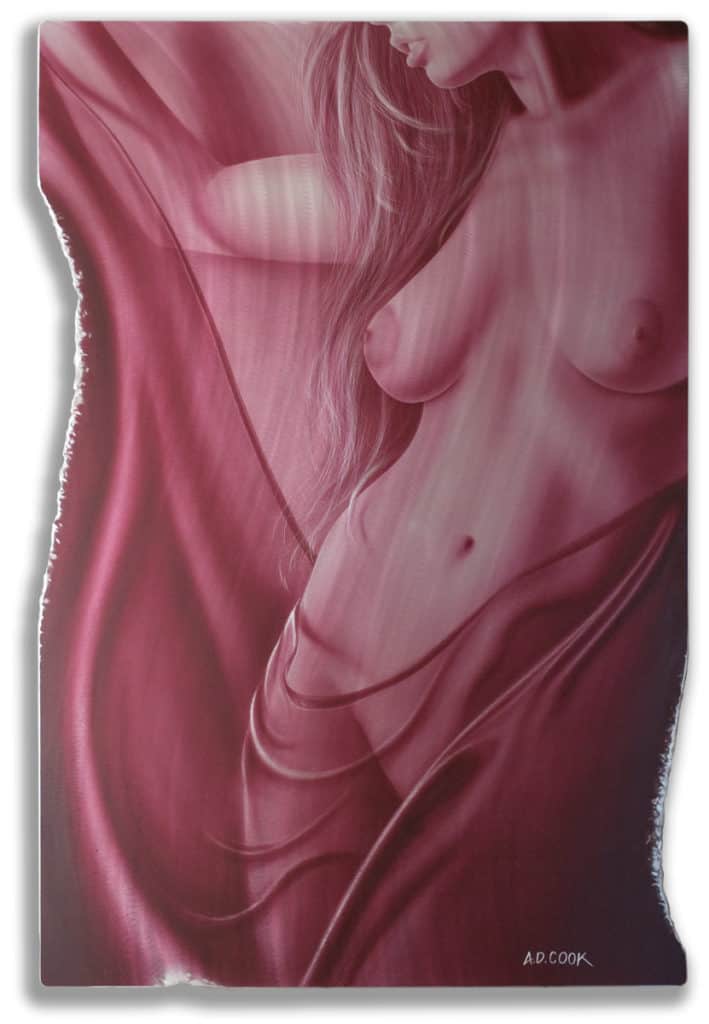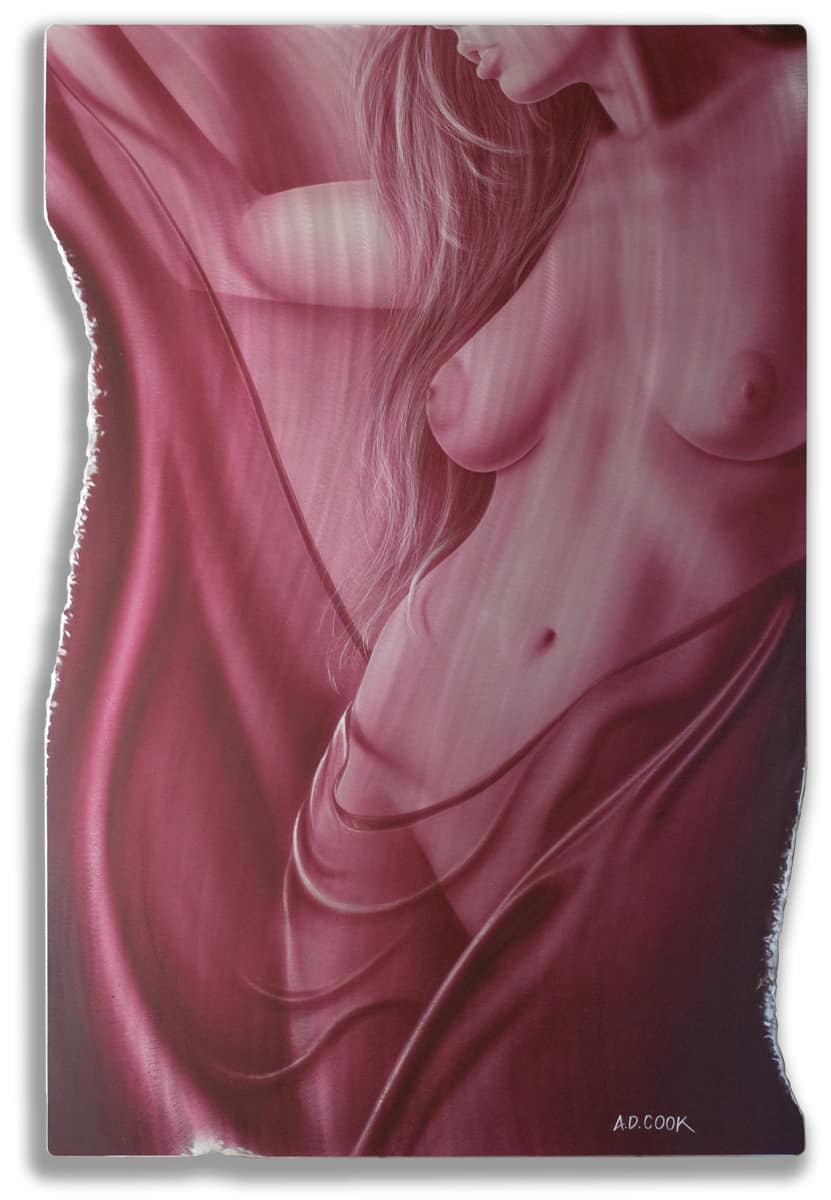 Beaujolais — 53-1/2″ x 35-1/2″, metal creation – painted approximately 1-1/2 times life-size. © A.D. Cook 2011
Art can never exist without naked beauty displayed.

— William Blake
— NUDE vs. NAKED —
Some people are uncomfortable with nudity in art. Others are uncomfortable with the naked body altogether. Beautiful art nudes challenge some people. I know that, and that's okay with me. My art isn't for everyone – just those who understand and share in that which I find is most beautiful – the female form. Often, art nudes are referred to as the "most honest form of art." I believe that to be true. Unlike many forms of expression, nudes evoke an immediate and honest response from their viewer – and often, the more real the representation, the more honest the feedback. Love them or hate them, the viewer typically expresses themselves without hesitation, and the response is rarely just "That's interesting." As an artist, I have no desire to create art that people are indifferent about, or God forbid, art that merely occupies my creative time or your wall space.
To be naked is to be deprived of our clothes, and the word implies some of the embarrassment most of us feel in that condition. The word 'nude,' on the other hand, carries, in educated usage, no uncomfortable overtone. The vague image it projects into the mind is not of a huddled, defenseless body, but of a balanced, prosperous, and confident body.

— Lord Kenneth Clark, The Nude: A Study in Ideal Form
So it seems that Lord Clark (quoted above) concludes that the distinction is that the nude is an art and the naked is not. I've often read that nakedness is about sex or vulnerability and that nudity is about art. I'm not entirely sure that I buy into that overly-simplified definition. Some art scholars suggest that artist Lucien Freud's paintings represented his subjects more naked (exposed) than merely nude. Certainly, we've all seen artistic representations that could go either way. And while many have concluded – sometimes jokingly – that it's all about the lighting, I believe the distinction lies within the viewer's minds and hearts. Perhaps, in reality, the muse is nude and the artist naked. After all, in many ways, the artist is as exposed, or more so, than the model.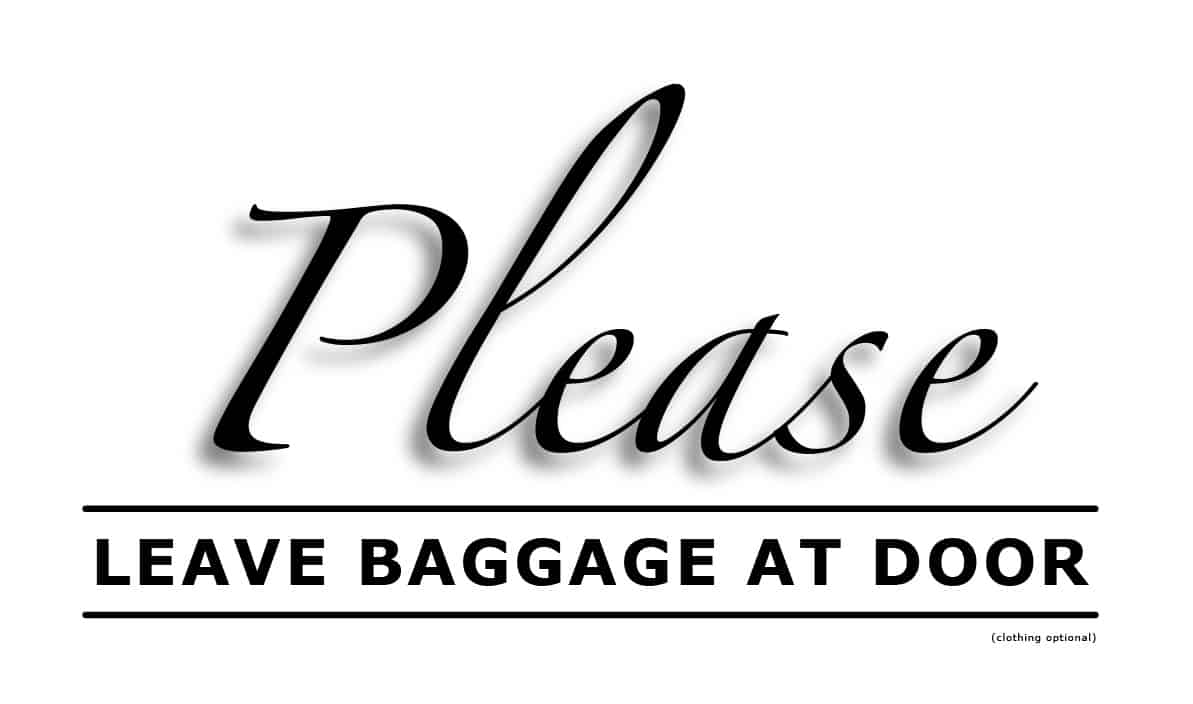 On the door of my studio is a sign that reads, "Please Leave Baggage at Door."
A reflection of my sincere hope that visitors to my creative domain enter with an open heart and an open mind.
In my own work, I encounter those who either embrace artistic nudity or feel challenged by it. I experience it every time I create something new. Some tell me it's erotic (although I disagree) or interpret my art to reflect their likes, ideas, or fears. Art is supposed to do that so that I can accept that opinion. These responses tell me a lot about you, the viewer. When you look at art, what do you see? Do you look at and appreciate the painting in its entirety, or do you search for the hint of a nipple? Does it matter? Should it really?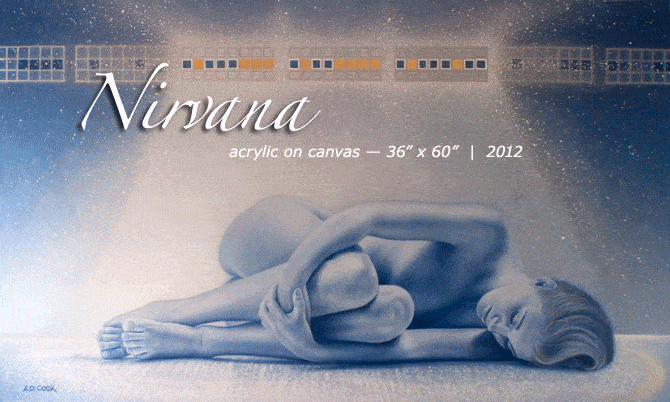 Nirvana — 36″ x 60″, mixed media on canvas – painted approximately life-size. © A.D. Cook 2012
Our society throws out such mixed messages that it's easy to see why people are confused. On the one hand, we're told by the government that nudity in art is wrong, at the very least, not right – on the other hand, nude statues prevail in many of our government buildings across the country. Ironically, in 2008, the Department of Justice purchased $8,000 in curtains to cover an art deco statue because her breasts were embarrassing to the residing Attorney General at that time, John Ashcroft – he's gone, and so are the curtains. But in reality, Washington D.C. boasts several beautiful and historic nude sculptures – Visit "Naked Washington: "Where to Find Nude Sculptures in DC" by Sophie Gilbert for some excellent examples. And here is a great video tour from 4 NBC Washington: "Nude D.C.: Statues in the Buff."
Nudity is a problem for Americans. It disrupts our social exchange.

— Eric Fischl
For centuries, thoughts about nudity in art have also been controlled by the church, in some cases raising eyebrows for centuries. Other times, as is commonly known, churches have some of the best examples of figurative art anywhere to be found. While I've never been, it is my sincere desire to see the Sistine Chapel at the Vatican up close one day. Until then, I'll have to appreciate the virtual 360-degree online version here: Vatican.va/various/cappelle/sistina_vr/index.html.
As many know, I reside in Las Vegas. The largest collection of figurative art nudes anywhere can be viewed here, indoors and outside.
Showcasing reproductions of Renaissance sculpture, including Michelangelo's David and a plethora of other great masterworks, the few miles known as "The Strip" has an impressive display of iconic imagery boldly displayed. Check out my post "The Strip Revealed, Figurative Art in Las Vegas" for more.
When we respect the nude, we will no longer have any shame about it.

— Robert Henri
In the end, I have no doubt that figurative art – whether naked or nude – will be debated long after anyone reading this post has long since parted. In the end… it's art – get over it. Enjoy it. Learn to appreciate the beauty of human form. Our bodies are God's greatest gift to us, and I believe in some of His most beautiful creations. To be less than impressed or, even worse, embarrassed is to undermine that beauty. Perhaps the real question is, "What is art?".
Naked is a human commodity. Nudity is God's art.

— David Allio

— RELATED REFERENCES —

• The Nude is a work of art that has as its primary subject the unclothed human body. As the product of a creative process, the nude is a genre of art in the same sense as landscapes and still life. ( source: http://en.wikipedia.org/wiki/Art_nude )
• Figurative art, sometimes written as figurativism, describes artwork—particularly paintings and sculptures—which are clearly derived from real object sources and are therefore, by definition, representational. ( source: http://en.wikipedia.org/wiki/Figurative_art )
• Erotic art covers any artistic work that is intended to evoke erotic arousal or that depicts scenes of love-making. It includes paintings, engravings, drawings, sculptures, photographs, music, and writing. ( source: http://en.wikipedia.org/wiki/Erotic_art )
 • • • • •
Read my post "Truth & Beauty – Beauty & Truth" to better understand why I paint what I paint.
For more examples of fantastic classic and contemporary figurative art, visit FigurativeArtist.org.
TheGreatNude.tv — Jeffrey Wiener has created a digital-age social media platform for an ancient art form. As the publisher, his mission is to facilitate the evolution of life drawing as the world of paper comes to a close. In order to create a bridge to this future, TheGreatNude.tv catalogs the artists – both current and historical practitioners of life drawing – and digitizes the practice of life drawing through technology and social media.
Visit my Model Mayhem profile: MM #531
• • • • •